Wand'rly

an online magazine for full-time travelers.
a family of five living on the road since 2008 in a variety of rigs over the years.
The Magazine
Wand'rly is an adjective. It's a tendency to make a motion of one's life. The abbreviation is there because Wand'rly is also about minimalism. Live simply to live big. Be small and be grand. By having few possessions, little debt, and a willingness to try something different, you can in turn reap the exact opposite of what most people think of as wealth: ample time to spend traveling the world, on your own or with a family.
Every six weeks or so we release a new issue full of articles on how to get yourself to the full-time traveling lifestyle, the best places to go once you do, and occasional interviews with other people already doing it. Check it out, and if you dig it, $5 gets you a monthly subscription.
The Family
Before we started Wand'rly, we were already a traveling family. Our history is a bit mixed up–we're a modern family for sure–but it goes something like this.
Nathan, our dear old dad, meets Renee, the mama, while they're both attending art school in Pittsburgh, PA. They fall in love, but life happens, and they end up going their separate ways.
Nathan graduates, goes on to have a little boy named Tristan, while Renee throws her world into a backpack and tours around Europe for six months. They keep in touch, and when she returns, she inspires him to go out and travel as well.
So he becomes financially independent (by becoming a freelance web designer) and hits the road full-time, living out of a beat up old Class C RV. A year later, Renee calls him up out of the blue. He ditches the RV, buys a VW Bus, and convinces her to live in it and travel full-time with he and Tristan.
They tour around for another year before having a baby, and then another. Each time a new one is born they settle down for a few months while it finishes cooking, then hit the road again. In January 2013 they put the Bus into storage, bought a 31′ vintage Airstream, and along with Renee's mom, all six of them continued on down the road. That lasted a few years before Renee's mom went off to live the Florida life and the rest of the family climbed back into that VW Bus and headed to Mexico for a year and a half. A few years pass, and they now find themselves building a homestead in the San Juan Mountains of Colorado at 9000′.
Nathan, Editor-in-Chief, Dad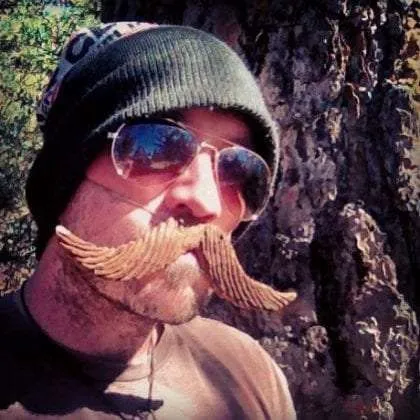 Born on a farm, Nathan spent most of his life in rural Pennsylvania. Then he crossed the nation for the first time in 2004 and was hooked. He immediately set out to accomplish one thing: figure out how to travel as much as possible. And that's what he's done. He founded this whole Wand'rly Magazine thing hoping that he can inspire others to do the same, if so be there dream.
Countries: 5
US States: 49
National Parks: 34
Renee, aka Lady, the Mama
Detroit born and raised, Renee was the first of our crew to do the full-time travel thing, having backpacked solo across Europe out of college. She inspired Nathan, and he in turn showed her that it doesn't have to be a once-in-a-lifetime experience.
Countries: 8
US States: 44
National Parks: 29
Tristan David
Tristan hails from Pittsburgh, PA, but has been on the road since 2008. He's been to more states, national parks and cities than most people three times his age. He digs climbing rocks and can read a 200 page book in two days (as long as it involves dragons or knights or some type of invisibility cloak).
Countries: 4
US States: 35
National Parks: 30
Winter Erik
Born in Astoria, Oregon, Winter hit the road at the age of 4 months, living in a Volkswagen Bus. Within a summer he'd traveled from the Pacific Northwest to Michigan and all through New England. Having recently turned 3, he's been back and forth the continent time and again. He can also ride a bike, which is pretty cool for a three year old…
Countries: 3
US States: 41
National Parks: 29
Wylder Reisen
Wylder's middle name means "to travel" in German, and is pronounced like the action of the sun first thing in the morning. He hails from the Smoky Mountains and, like his brothers, has been everywhere, man.
Countries: 2
US States: 32
National Parks: 28