Bad to Güd: Life Lessons From a Fifty-Two Day Road Trip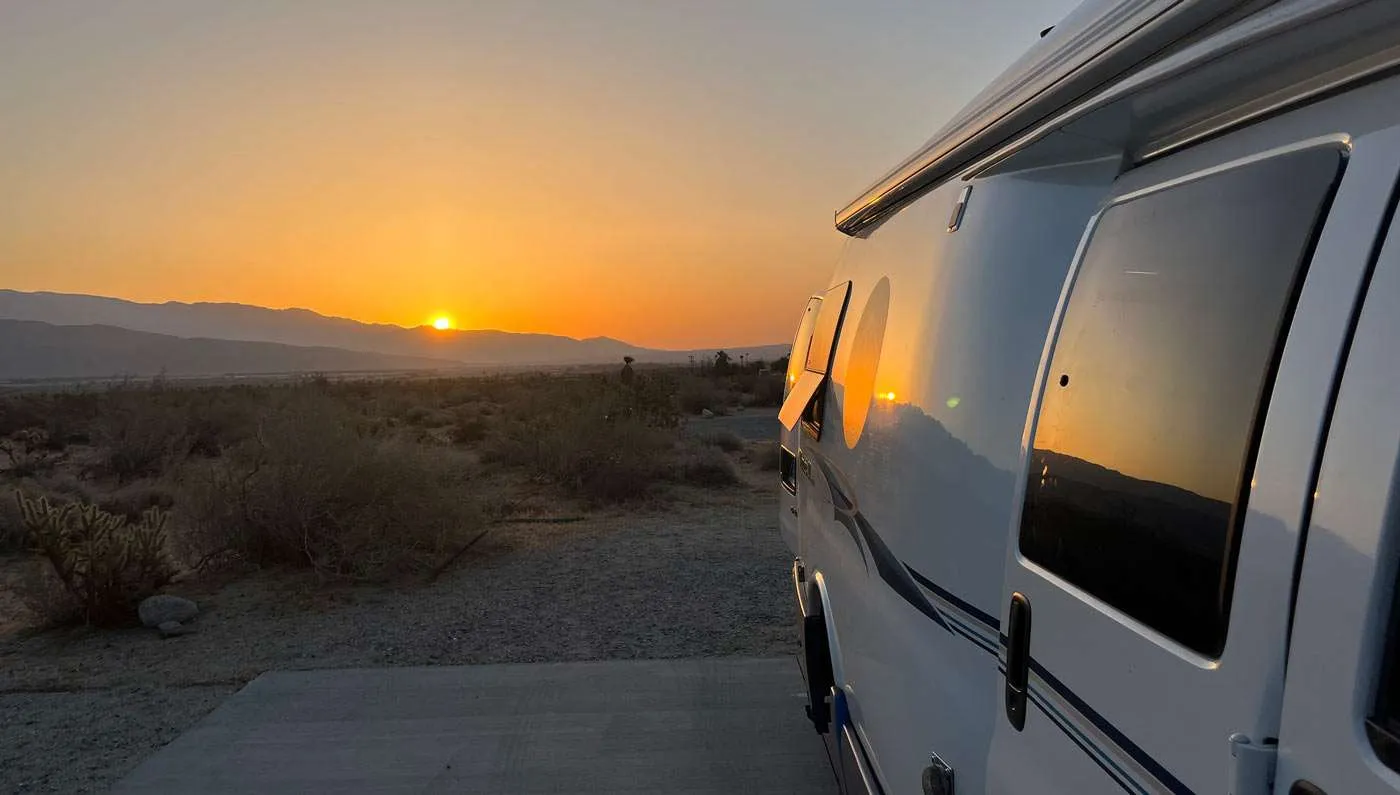 It was the second day of our trip and I was rusty driving our 2005 twenty-two-foot Roadtrek campervan (known as Riggy) for the first time this year.
Being wider and longer than our car, it requires more concentration. That cloudy morning we were driving from Portland to Eugene. Traffic was light so my guard wasn't high. About two hundred yards ahead an older SUV with a trailer was pulled off on the shoulder and two people were tying a tarp onto the trailer. As a precaution I looked to move into the left lane. There was a huge truck hauling a load of cars passing me. I calculated he'd still be there when I reached the SUV. My intensity level heightened since I needed to thread the needle between the truck and SUV, getting as close to the truck as safely possible. But there was plenty of room.
I clutched the wheel, focusing on the road ahead while my peripheral vision witnessed a nightmare unfolding in slow motion. A woman who had been standing on a bumper fell backwards and momentum slid her onto the freeway in front of us. Her companion grabbed her jacket and pulled her out of the way just before we rambled by with no way to alter course.
Colleen, my wife, hyperventilated for the next five minutes while I kept replaying in my mind what little I could see of the dark surreal figures. A friend later commented that these events could have ended her life and ruined ours.
The day before the trip I cleaned Riggy. I vacuumed and scrubbed the stovetop among other things. Then I opened the propane line to get the cooling going in the fridge. That evening we were packing the kitchen for the trip and met with the strong smell of propane. It was 5:30 pm Saturday evening with plans to leave Sunday morning. Suddenly the whole trip was in jeopardy. My best guess was a hole in the propane tank, which is underneath the derriere of Riggy. How could I find someone to help?
Our trip in question, I desperately called some mobile RV mechanics hoping that one would make a late house call. None would come but two of them offered sound advice. The first suggested turning off the propane. We wouldn't have a fridge but we could find a propane shop in Eugene where we were planning to stay with friends for a few days and it would be during the workweek. Trip saved!
The second one asked if the knob on the cook stove could possibly be open. Having scrubbed the stove the day before I immediately knew he found the problem. Sure enough it was open and this solution was better than any of what I considered to be best case scenarios. I closed the cooktop knob and opened all doors and windows with a fan on full blast. The trip was a go and I felt very lucky and appreciative.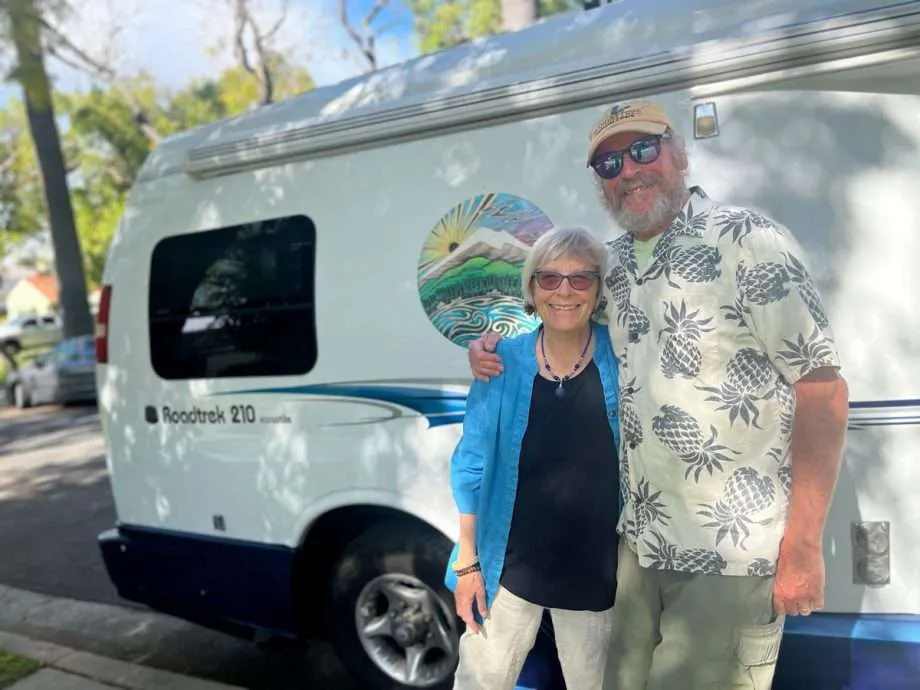 We weren't even two days into what became a fifty-two day trip and we felt pretty ragged as we rolled into Eugene. We slept twenty nights in Riggy and thirty-two in friends' houses and Airbnbs. I slept better in Riggy than at home. We went almost four thousand miles on two hundred and eighty-three gallons of gas averaging 13.8 miles per gallon.
Our next to last day of the trip was at The Bowl and Pitcher Campground in Riverside State Park in Spokane. An elderly gentleman was the camp host. He had unusually large hearing aids in each ear and was adept at maximizing their benefit by tapping them so that he heard everything I said. Making conversation, I asked him where his home was. He responded, "I live right here." He then answered my puzzled look.
"I live full time in this RV."
"Where has your favorite place been?" I asked.
"Right here!" he responded.
"This campground?" I asked.
"No, wherever I am is my favorite place. There is beauty everywhere and I do my best to see it."
I walked away feeling like I'd met the Buddha. And later when I was walking by his campsite I saw his wife slowly ambling next to their camper with a walker, which put an exclamation mark on his profundity.
Home to Colleen and myself is a four thousand square foot home we designed and built in 1993 on an acre and a half horse pasture. Much of this is now a pond and well cared for garden that has many facets ranging from wild to well maintained.
Home on the road is approximately one hundred square feet with a comfortable bed nestled in the back that by day has a fair amount of stuff on top of it to create space elsewhere because our planning and packing needs some work. By night all the stuff moves to the front two seats. In two minutes it's transformed from storage space to bed and vice versa in the morning.
We have a two burner cook stove with a fan and light above. There is a microwave and convection oven that only works when we turn on the loud generator – which we rarely do. There is a fridge and freezer that are about four feet high and a foot deep. We took out one of the two back seats and put in a cabinet that has a shoe storage area below and a platform on top for a Yeti cooler that we call Yeta. She stores food that we want to keep cool but is bulky such as bread and vegetables. We rotate hard blue ice between the freezer and Yeta every two or three days – works great!
Forget figuring out every last amp and detail, we'll show you the things most vanlifers need to live full-time in their rides, the equipment and costs you'll need to put into the system, and how to hook it up all by yourself.
There are solar panels that charge the battery system during the day (as does driving.) We have a pantry and clothes closet as well as a water closet, which is a door that opens to a toilet. There is a sink with hot water and a pull out spice rack. We have a furnace and a heat pump with both heat and air conditioning that requires the generator. The fridge, hot water heater and furnace all run on propane and battery. The ten-gallon propane tank will last for a month of use. There are also outside "belly bins" that have a lot of storage capacity.
There's a hose to empty the dirty water and sewer tanks and a different hose for filling the water tank. And as a special bonus – an outside shower with hot water. There is also a heavy-duty extension cord for plugging Riggy into electricity, which we rarely use. The large storage areas under the bed hold lots of clothes and many gallons of filtered drinking water as well as small propane tanks for our camping cook stove that we use on campground tables under a dignified tablecloth. We have an outside rug, folding chairs and small table that we can set up in a minute to make anywhere a comfortable breakfast, lunch or dinner spot. How they crammed all of this into a van that is twenty-two feet long, eight feet six inches high and seven feet four inches wide is an amazing technological feat!
In many campsites we have the smallest RV, yet I'd guess we often have the largest home. You might wonder if this downsizing might challenge our relationship. Truth is we seem to get along better in Riggy than at home, working tandem to make this tiny home an art form. After all our first "date" was a several month road trip from Washington state that was supposed to have a New Jersey terminus but ended up in Mazatlán, Mexico.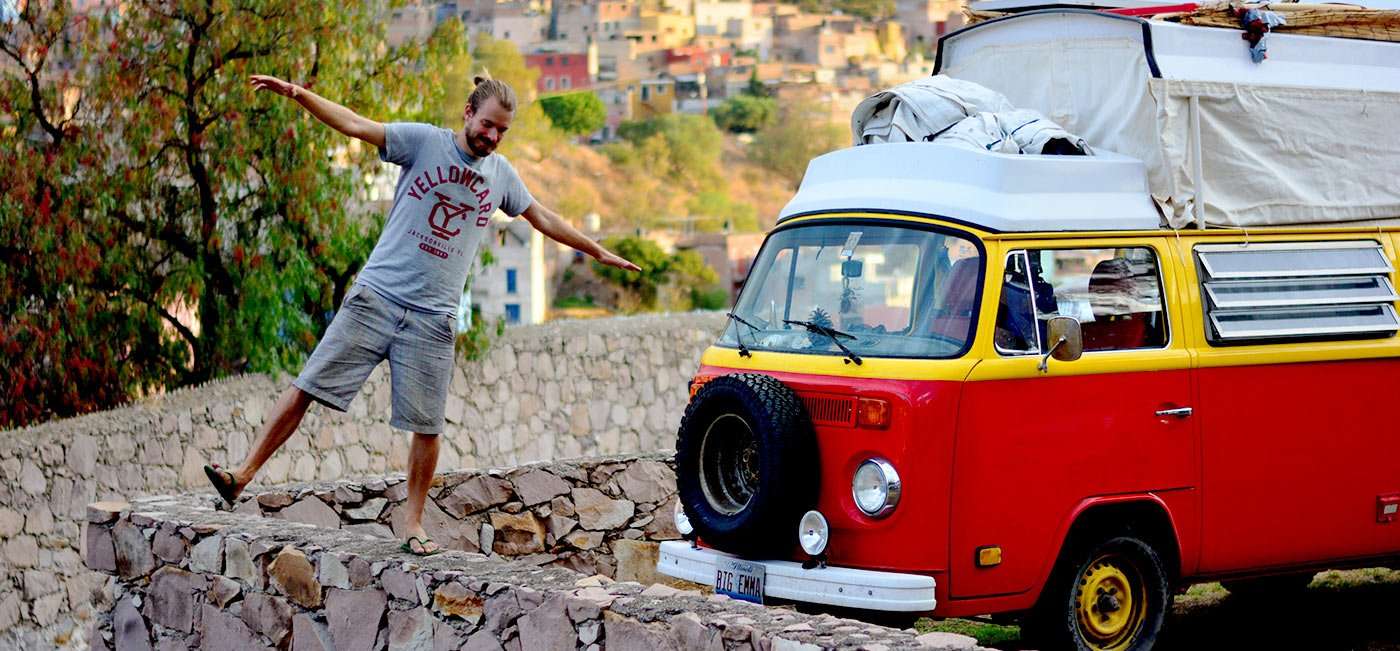 A couple exploring Mexico by VW Bus.
The high temp of this trip was 98 degrees and the low point 22 degrees. We used the air conditioning for the first time in the former and found out that the furnace works on battery in the latter. And we surprisingly found it easier to stay in Riggy than move our stuff inside for just a day or even two when staying with friends.
We got to Eugene frazzled by our lucky non-encounter minutes before and feeling fortunate to not have to fix the propane system. We were also pretty disjointed packing Riggy for the trip. As usual we spent most of our time preparing our home for the two month trip.
A different compartment of my brain needs to be opened and cobwebs dusted to get in Riggy mode. One night at a good friend's home in Portland and four nights at our close friends' home in Eugene let us start focusing on the trip. We repacked and stashed California clothes below. We had brought all we needed and then some.
In the two years we've had Riggy we've slept in her sixty-one days. Clothes are the biggest waste of space and on this trip I probably used about half of what I brought.
The first two summers had a big learning curve figuring out all the systems. Colleen does an amazing job of stocking the pantry and fridge. I'm in charge of mechanical things. Every trip we learn new things.
Phil in Eugene helped me fine tune the living space and cut a floor mat to size. We left Eugene rested, focused and ready for the unknown.
Now back home, friends ask if it's great to re-enter our luxurious home and gardens. The first night I diligently went to put all 1205 trip photos onto my desktop computer and only half of them copied no matter how creative I got trying to do end-runs around the system. I looked out to the garden and saw a jungle of weeds. Colleen saw garden pots full of dead remains of last year's plants. Is it possible that it takes more than things to make us happy?
We met a woman about our age at a hot springs in Bishop, CA on our first day heading north. She's an artist that lost her home and everything in it to a wildfire in Talent, Oregon.
She has shape-shifted her life to a much larger campervan than ours and is nine months on the road, looking for a more permanent place to call home. We gave her an idea for the title of her memoir: Fire Walk: My Forced Reinvention.
A couple at that same campground had recently retired and bought a beautiful newish used trailer. He had a heart condition and they decided it made more sense to live a more expansive life than to accumulate more money.
Riggy is old enough that we had to send a picture of her before they let us stay at an RV hot springs resort in Desert Hot Springs, CA. We passed the test. It was an exceptionally well kept facility that also had many manufactured homes for permanent or part-time residents. I spoke to a few residents who said they were priced out of places on the coast and escaped to a cheaper and easier lifestyle. There was a sense of resentment about a lifestyle they didn't realize they were holding onto by a thread – severed by conditions beyond their control.
A woman who lives there half time said she's in a women's book group and a hiking group that meet regularly and help her fill the void of her husband's passing.
A friend that we visited along the way talked about how the "coastal elite" are out of touch with so many people that he's met in inland bars. He describes them as angry. I know that I live in a bubble isolated from the have-nots. They are never far away. We all see plenty of them living in cars and RVs in highway rest areas, downtowns, under bridges and in parks and other places. I could rant all day about how exorbitant corporate profits could pay for Medicare for all and programs to expand the middle class and shrink the lower class. But I'm guilty also.
We parked our very well maintained but older camper on a tree lined street in a well-to-do South Pasadena neighborhood while we stayed for two weeks in an Airbnb in what had been the garage of a home. When we bought Riggy our philosophy was to spend little enough that we would never feel guilty to pay for a hotel or Airbnb.
One day Colleen was getting something from Riggy in South Pasadena and made a comment to someone who was passing by. She said the woman looked her over as if deciding if she was a homeless person invading the neighborhood. There is a fine line between worlds.
That phase of our trip included the great joy of picking up our five year old grandson Rowan at his school and walking him home and doing the same with his ten year old brother Theo. We got to hang out in their beautiful home and gardens which often included back yard dinners.
Riggy is kinda old. At 17, she'd be about 95 human years if she were a dog. I've decided to shape-shift this phenomena and label her vintage. She's not a hybrid but her name is. She was named after the term rig that was a common name for vehicles when we lived in Idaho. But she's also named after Riggins, a character in the TV series Friday Night Lights. Both of these references are male but she feels like a she so we call her that instead of they. Her formal name is Rigalberta Van De Kamp. But ninety-five percent of the time she's Riggins or Riggy.
In summer, I mostly sleep outside our bedroom on an upstairs deck when we're home. But when we go camping I sleep inside in Riggins. Something seems backwards about this.
Most of the people we met in, largely, state parks and two different lavender farms (via Harvest Host) were in many ways like us. They were mostly retired or close to it. They bought older campers or trailers or other contraptions that I still don't know what to call, as homes away from home. They were mostly "deals" in good shape. Covid avoidance certainly played into many of their stories. But a common thread was not wanting to sleep on the ground and deal with tents as well as having a private bathroom.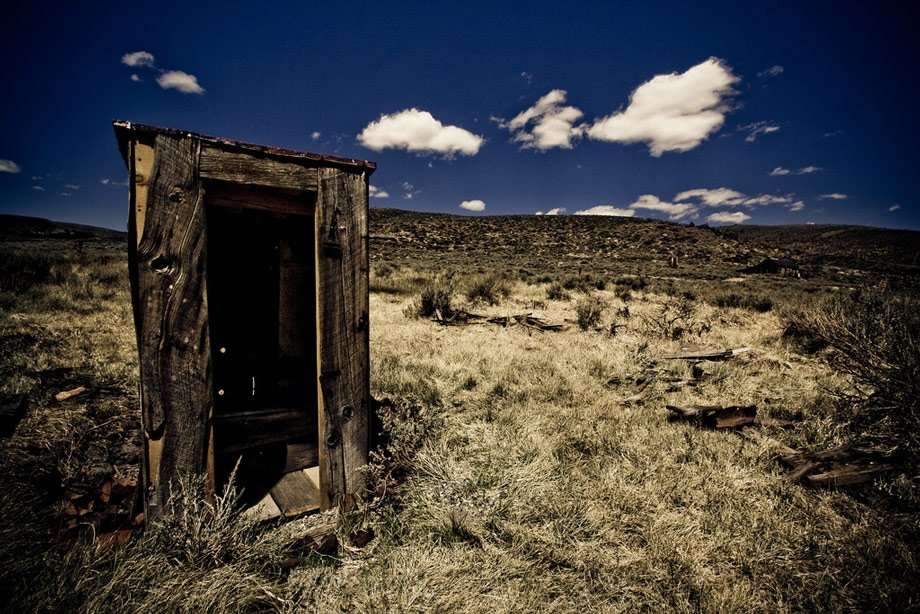 Where to find hot, clean showers and how to relieve yourself for those travelers who have no built-in shower and bathroom.
We went to a concert the other night and heard a couple acoustic musicians at the unlikely spot of a dog park/taproom. The musicians had a Tom Waits type sound and we bought their CD. It has a graphic of a Check Engine light (like on your dashboard) and next to it a quote: It's probably nothing. Well…we had that light come on driving around LA and I hoped it was nothing. But it wasn't. The maze of what to do was transformed by the mechanic both of our sons have used. He said to bring Riggy in at 8am (meaning driving her during morning rush hour on a freeway). Paul was amazing and quickly took care of Riggy. He also gave us an education about the Armenian genocide last century and showed us pictures of his family trip to Europe. A worker took me under the lift and showed me Riggins' underbelly. He explained what everything was as I took pictures. That alone was worth the price of the repair.
Driving Riggy in LA was a lot easier than I expected. In fact it was easier than driving our daughter-in-law Shannon's Prius that she nicely lent us whenever we wanted. It must be the out of state license and my slow driving demeanor which caused people to not expect much from us. We were a tortoise amongst hares that surprisingly seemed to appreciate our diversity. The Prius was a completely different experience with tailgating and honking aplenty (geese?)
In Joshua Tree, Colleen opened our bathroom door and it fell apart, which made the bathroom unusable. I asked a guy in a parking lot to help me jerry rig it together, which he nicely did. But next time we used it, it fell apart again. Colleen pointed out a great spot in a campground to park while we used a public restroom. Exactly where she pointed and where I pulled over was a six foot rattlesnake – slithering along the ground. I gave him a chance to move on before getting out. We asked a nearby guy in a campervan to help with the door – which he not only did but searched high and wide in his camper full of boxes of tools for the right ones to fix it. But he couldn't find them. However he gave me the insight of exactly what needed to be done. Problem was, it was getting on nightfall and the next morning we were heading to one of the most remote spots on our trip – Anza-Borrego State Park.
Our son Devan had a nearby friend so we asked him to ask her about a handyman. Lo and behold the amazing Larry came by at 6:30am and spent well over and hour gluing and nailing it back together. He also told us tales of growing up and catching rattlesnakes as a ten year old, milking them and selling the venom to the hospital for anti-venom. He said he hadn't been scared of them at all back then but now is. He gave us insider intel about coexisting with rattlers.
We had a most beautiful campsite in Anza-Borrego State Park which featured unobstructed views over the expansive desert to faraway mountains from our outside dining room. We originally were scheduled to have a bathroom view campsite but I went back to the check-in kiosk where the super nice ranger upped our experience. We were treated to coyotes, rabbits, geckos, another rattler and many bighorn sheep while there. We also experienced 98 degree temperatures and used our air conditioner for the first time – relieved that it worked. But we opened our doors and windows to the refreshing night air when we slept. We also used our outdoor shower for the first time, in our bathing suits. And we luxuriated in a walking distance hotel that let us use their pools for a small fee.
We drove north through the boonies of Eastern CA and into Nevada and then CA again before hitting Eastern Oregon where we hit 22 degrees at a hot springs. There we found that our camper had a furnace that works without being plugged into power which we oddly had never tried before. We only needed it for a half hour before bed and an hour when we woke up. One of my favorite photos of the trip is me in sandals and bathing suit and down vest heading to the hot pools in 28 degrees.
Our Eugene friends met us at that hot springs with their luxury camper van. We had an agenda to brainstorm strategy on some land they may sell in a tiny town in Arizona. Our only neighbors were unbelievably both from our hometown and had landed in that same Arizona town. They gave our friends intel about a winery that may be coming there…which could have a huge impact on everything.
A couple days earlier we had gotten to a state park campground in Nevada near dark. It was full. We asked a guy walking his dog for any suggestions. He told us that if the campground is full you can stay in any open disabled spot for one night…which we thankfully found. We were treated to an incredible sunset. A neighbor gave me a tour of his tricked out custom interior Sprinter van (and some coffee) the next morning. He had rolled and totaled it in Mexico prior to the remodel. He was a healer who says he got someone walking that had been in a wheelchair in trade with that guy's brother who did the work on his van labor free. He paid for materials.
Our next campground, just over the Oregon border, had a tent camper on a big motorcycle who lived in North Idaho near where we used to live. His biggest concern seemed to be not having creamer for his coffee but space was tight. He was originally from Philly like me and had great stories about his Methodist turned Quaker strong minded dad. When he left he wasn't sure if he was going west to Klamath Falls or north. His plan was to go to the crossroads and let his bike decide…and off he went in a cloud of smoke.
Back when we were on the coast of CA, Devan was with us when we checked into El Capitan State Park. We had a nice enough campsite but he did some magic on his iPhone and presto-chango we had an amazing ocean view spot for three nights. One night he and his girlfriend Miya drove out from nearby Santa Barbara with a stupendous homemade meal for all of us.
The couple next door were taking their two small daughters on their first ever camping trip. The girls had small chairs that they kept edging towards our campsite. We took the bait and chatted a lot with them. Turns out the parents were in the process of having a Sprinter van customized into a camper so we gave them a tour of ours and likely gave them ideas. Those little girls will expect camping neighbors to always be that friendly and will probably create that scenario.
Before El Capitan, our other son Jerome and his wife Shannon treated all of us to a beautiful Airbnb with a hot tub and pool for a week in the idyllic wine country near Solvang. Shannon noticed that anything missing in the house could be found in Riggy, so she called her "the everything machine." And what better way to use a home away from home than to visit your kids no longer in your home? It was a special bonus getting reacquainted with the grandkids that are different every time we see them.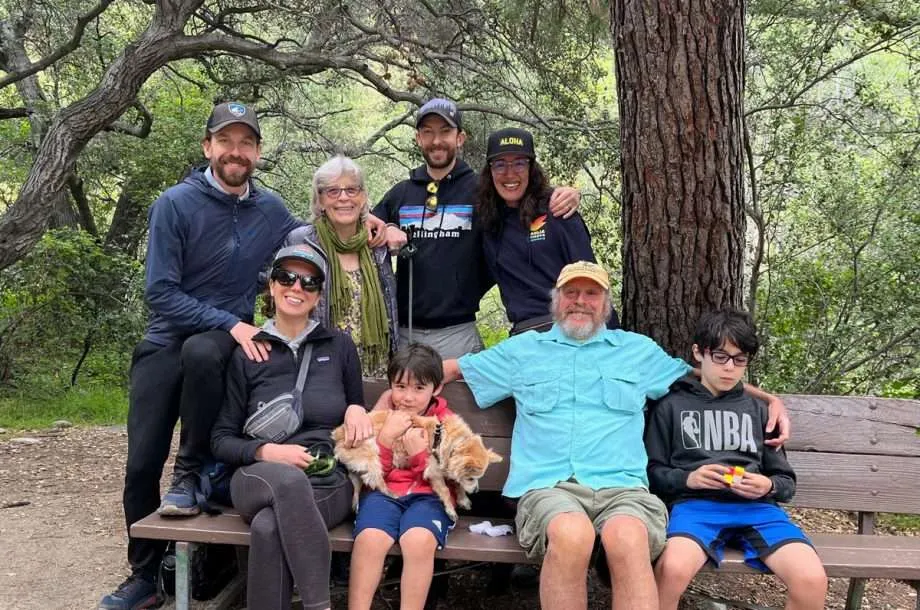 Towards the end of our trip we stayed in Walla Walla with friends that we hadn't seen in sixteen years. We went for a nostalgic tour of Whitman College from which both our sons had graduated. I was absorbed in some flowers next to a parking lot. So absorbed that I forgot about the concrete parking bumper behind me and tripped over it and fell onto the same hip I had broken in a similar fall exactly a year before. I lay on the ground knowing that I might get up and not be able to bear weight which would mean another break and another ruined summer. Or I could be lucky. I gathered my courage and stood up. The universe was kind. I was able to walk. Who knows how much harder the fall needed to be to cause another break. I live in thanks and will try to be more careful.
Lessons from the road were abundant. The basic theme is similar to what I consider my life directive: Set goals but keep your peripheral vision. Some of the best experiences related to creative problem solving as well as an abundance of good luck. I once saw a bumper sticker that said, "Jump and the net will appear." Buying Riggy and the learning curve that came with her had some elements of that quote.
I feel that it's good to get out of my comfort zone periodically to help me not get too stuck in the mud and also to look around at what's going on in other places. I saw a lot of people like us trying to make the best of life while staying away from crowds. But I also saw a dark underbelly and hope to not sweep that under the rug. I also know that the two-hundred and eighty three gallons of gas we burned has consequences in these days of climate change.
My advice…listen to your inner fire that is always burning like the core of the earth.
* This essay has approximately one word for each trip mile.