Air-Schooled Traveling VW Teacher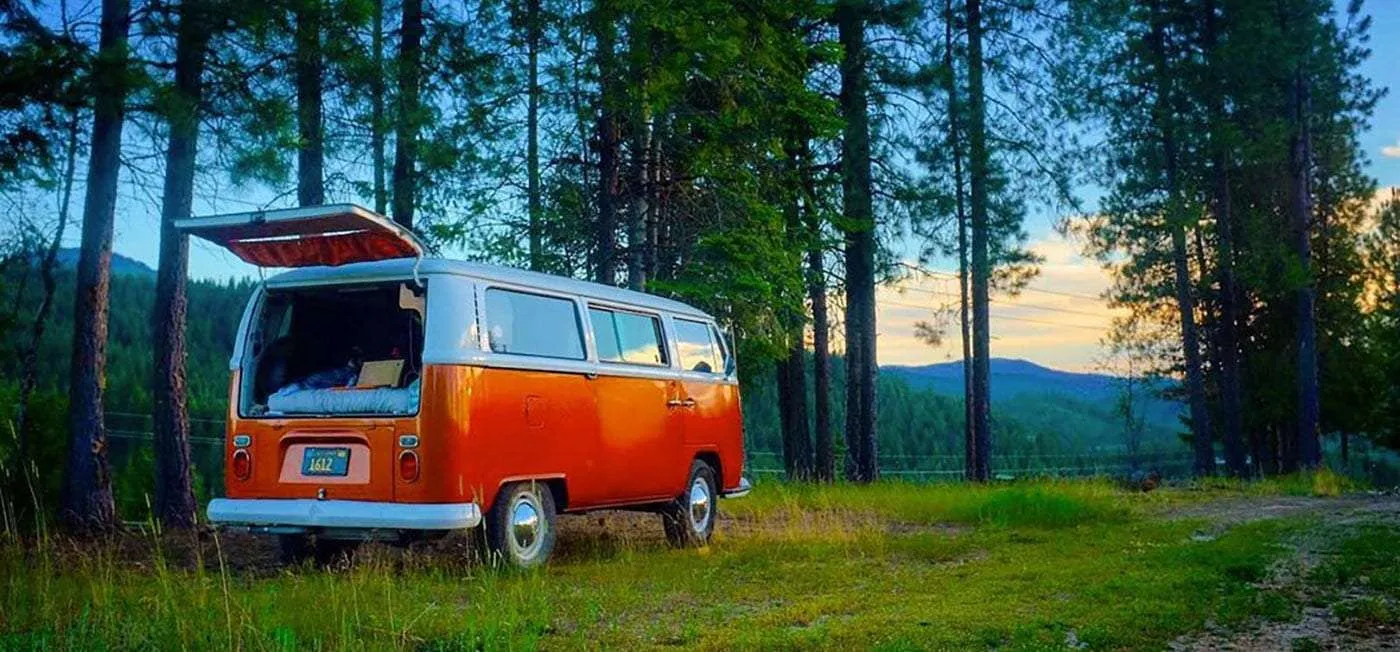 Robbie McCarthy is a different kind of teacher.
Though he was once a public school teacher, his life has a taken somewhat of a turn in recent years. For five months out of the year, he tours the United States teaching people how to maintain their vintage Volkswagen Buses.
"I was a middle school music teacher in Arizona," he tells us from a dirt road in Montana, where he and his own VW Bus are calling home for the night. "I later taught younger kids at a wonderful nonprofit music school in San Diego. I also spent three years working at Legoland, California, where I was a Master Model Builder of all the LEGO displays you see in the theme park." Born in LA, and having spent a few years living in Arizona, he now calls San Diego home.
Robbie's home on the road is a 1969 Volkswagen by the name of Buddy. And it's a beauty of a VW, one of the more interesting, shiny and roadworthy you're likely to see in the wild.
"Buddy and I met on April 30th, 2012," he recalls, "and I drove him home on May 2nd, 2012. Drove would be putting it kindly. The Bus didn't idle, so I clogged up the 405 during rush hour with a shifter that wasn't bolted in completely, and an engine that wouldn't stay running! I pulled over and added oil, because that was the only thing I knew how to do. Then it leaked all over my parents driveway because it didn't actually need the extra oil."
Like many a vintage VW enthusiast, he began his life with Buddy knowing little more than how to drive a stick and maybe keep your cool in the middle of a freeway breakdown.
Four years later, Robbie began what he calls his first, "unofficial tour."
"I quit my day job and drove around the country in a car I built, to cross that off my bucket list. There was no real plan starting out. The trip lasted much longer than anticipated, because every time I would meet someone and help them with their Volkswagen, they would insist on giving me money, food, and/or lodging. Doing what I love, while on vacation, and making money doing it? Air-Schooled was made official that fall, and I see no signs of stopping as long as my bus Buddy is up for it."
Air-Schooled is the name of his company, which consists solely of himself, the VW and his Spotify account. This summer, his tour has taken him from San Diego to various destinations in California, Oregon and Washington before heading east with stops in Idaho, the Midwest, and New England. On the way back, he'll head south as far as Huntsville, Alabama before rolling through Colorado and eventually back home to San Diego.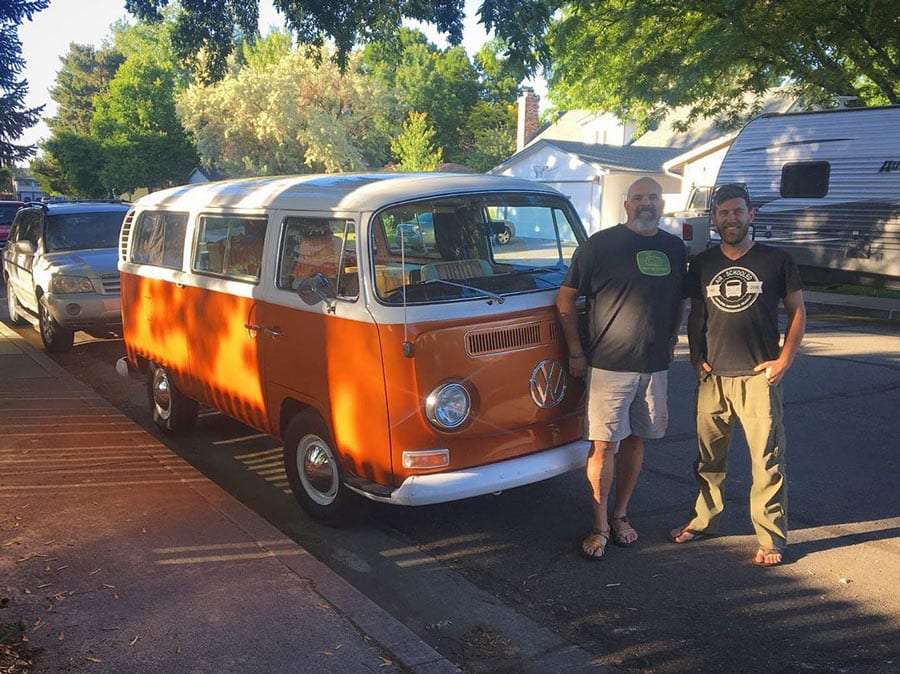 Along the way, he meets up with various Volkswagen owners and they spend the day together learning how to keep these engines, often older than their owners, running as close to peak performance as possible.
"Each lesson day is catered to the student, the cars, and what they need from each other!" he explains. "I have taught people how to fine tune every nut and bolt of their restoration, and I have taught people 'Righty-Tighty Lefty-Loosie.' An advanced student is someone who knows exactly what their lesson day is going to involve, like, 'I want to tune my bus to pass a smog test, and figure out why the rear brakes sound like a sousaphone.' Most of my first-time students have a more broad desire to learn about their vintage Volkswagens; they ask for everything from tune-ups to roadside fixes, from driving lessons to preservation techniques."
A lesson with Robbie will run you around $580. Learn more about his tour and business on his website.
"One of the hardest things for new owners to understand," he continues, "is that a dirty old part is almost always going to be superior to anything bought new today. There's a reason my Volkswagen is as reliable as any new car; nothing on it is new. I clean, lubricate, and adjust everything according the the manufacturers specification, and I drive it. Every part possible is over thirty years old! Most are almost or over fifty." He has a motto, "Clean! Lube! Adjust!"
He's seen quite a bit in the years he's been running Air-Schooled, and he believes anyone is capable of maintaining a 30 or 40 year old vehicle if they have the desire.
"I think everyone is capable of learning how to better care for their car. Some of my students don't want to be their own mechanic and only want to learn about roadside troubleshooting for their weekend trips. Some folks who showed literally no mechanical aptitude when I met them are now solving problems and doing repairs on their own, though their skills are quickly passing their confidence levels!"
Desire and dedication are key ingredients in owning a Volkswagen Bus, at least owning one that runs. Robbie comes as prepared for any situation as he can.
"I carry everything that I have found to be useful and impactful," he notes, "But I'm still learning!"
He improvises at times, making parts from whatever the owners may have on hand. Or he has come up with his own solutions to minimizing what he needs to carry with him. "Truth is," he provides an example, "I would rather carry one sheet of gasket paper, than four dozen paper gaskets of different sizes and shapes."
But he expects his students to be somewhat prepared and responsible for their lessons as well.
"Every student is responsible for their own chemicals and valve cover gaskets, no matter what. From there, we make a list of jobs together, and the corresponding parts are all ordered ahead of time. Sometimes we don't have a part, and we make it out of whatever we have on hand. Most of my clients are patient, and understand that the classic car world moves at a slower pace than most, so orders are usually sent out weeks ahead of time.
"Since my days are all 100% hands on and instructive, I often leave people with a car that needs their immediate care. Of course, they're also left with thorough instructions. Sometimes we just can't progress any farther, and I use my own car as a teaching tool to give hands-on feedback of how something goes back together."
He has confidence in his students, though, perhaps more than even they do. "Most people underestimate their skills," he relates, "and I never give a task to someone I don't think can handle it."
That's not to say that curious situations don't arise. When you're showing up at a stranger's home, to work on their decades-old vehicle, things are bound to get interesting.
"I have a nut allergy," Robbie reveals, "and one customer's bus was sitting in a field for over a decade and rodents had filled the engine compartment with nuts. It was like a living nightmare!"
Still, even that wasn't his worst experience.
"The physical worst shape has to be my second paying client ever," he recalls, "before I even had the name Air-Schooled. After a few e-mails, a high-school-aged kid behind the wheel of this noisy red bug pulled into my driveway and the engine caught fire as we popped the engine hatch!"
Robbie McCarthy, teacher, mechanic, traveler and driveway fireman.
When it comes to touring, Robbie's route is based on where his customers are, not the other way around. "My route is always determined by where I work. It's probably one of the most common questions I get: 'Where is your school?' It's wherever your Volkswagen is!" He's learned a lot over his traveling years, like staying away from the Southwest in the middle of the summer heat, and making a schedule that won't leave his classroom baking in the sun, "though," he admits, "I haven't figured out how to dodge rainstorms in Summer New England yet…"
He works between three to five days a week, including travel days, and plays disc golf on his days off, finds local music in the evenings. He has other guidelines for himself, like capping any single day's drive to 400 miles — quite the feat in the type of vehicle notoriously known for wanting to die on the side of a road after an hour or two — and not driving more than 100 miles on a work day.
Still, his idea of a nice weekend may not be the same as yours. "My idea of a day off is driving my Bus through some beautiful scenery with good music on. I enjoy the current blur of work-life 'balance.'"
He uses satellite imagery and BLM maps to find free, safe places to camp in his Bus, paying for a campsite only when he needs a shower or perhaps a fire ring in a crowded area, though these are a rarity. "I can count exactly five times in the last four laps of the country that I've paid for conventional camping."
"I know the euphoria won't last long," he professes, "as the East Coast has significantly less public land, and I'll have to camp at a few truck stops once I leave the wide open West. Luckily my travels have left me with many friends, family, and alumni who I happily stay with when I can, of course sleeping in my bus because it's the most comfortable bed in my world."
Robbie first fell in love with Volkswagens when he saw a pop-top Bus at the beach during his childhood.
"I remember," he says, "it was two of my favorite things: a unique car and camping! Having a regular car in college allowed me to drive around Arizona (State, Class of 2012!) and see how much of my country I have yet to explore." When it came time to travel more of the country, his mind went straight back to the Volkswagen he'd seen as a kid.
"This was a few years before the #VanLife and general VW Bus aesthetic explosion, so prices were significantly less than they are today, but I still could never of dreamed about owning a classic without my dad's help!" Robbie says that, aside from helping him get the Bus financially, his dad made sure Robbie was at his side anytime he was fixing anything. "I grew up tinkering and building things, of course a career with a car that requires constant quality maintenance is where I ended up!"
Interested in learning more about Air-schooled? Check out Robbie's website.