The Best State Parks in Texas for Full-time Travelers
With a count over one hundred, you could stumble across a state park just about anywhere you roam in Texas.
And really, who doesn't love just happening across some gem. For those of you who would prefer a little more direction, though, we've compiled a list of some of our favorite parks in the Lone Star State, particularly of relevance if you do this traveling thing all your days long.
10. Autumn Foliage in Garner State Park
Fishing, birding, rope swings and kayaking opportunities, this state park is closer to resort than nature, but just look at these photos and tell me you don't want to find out if these colors are real.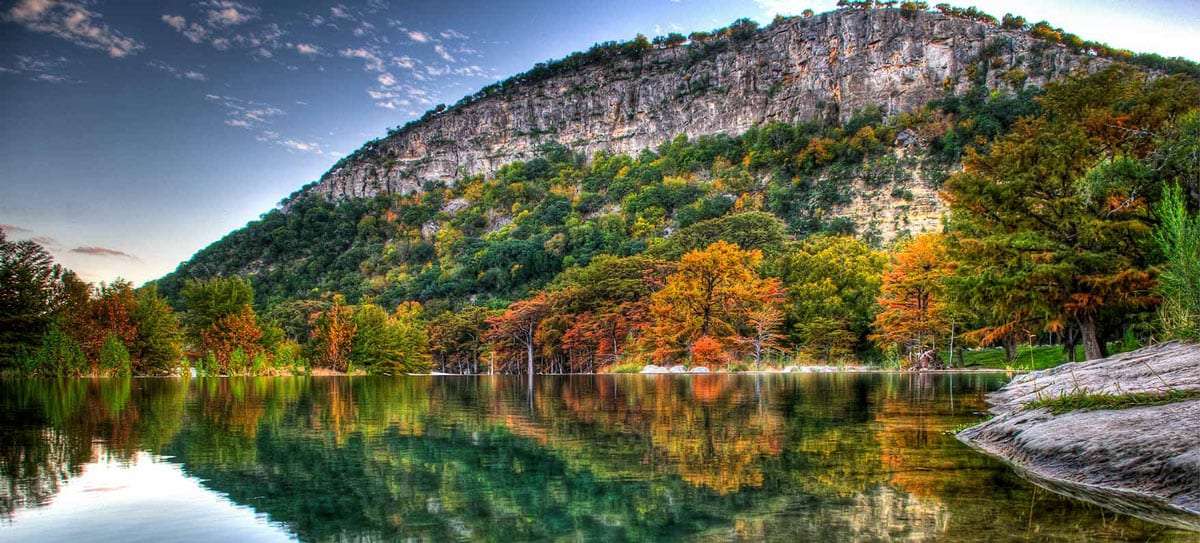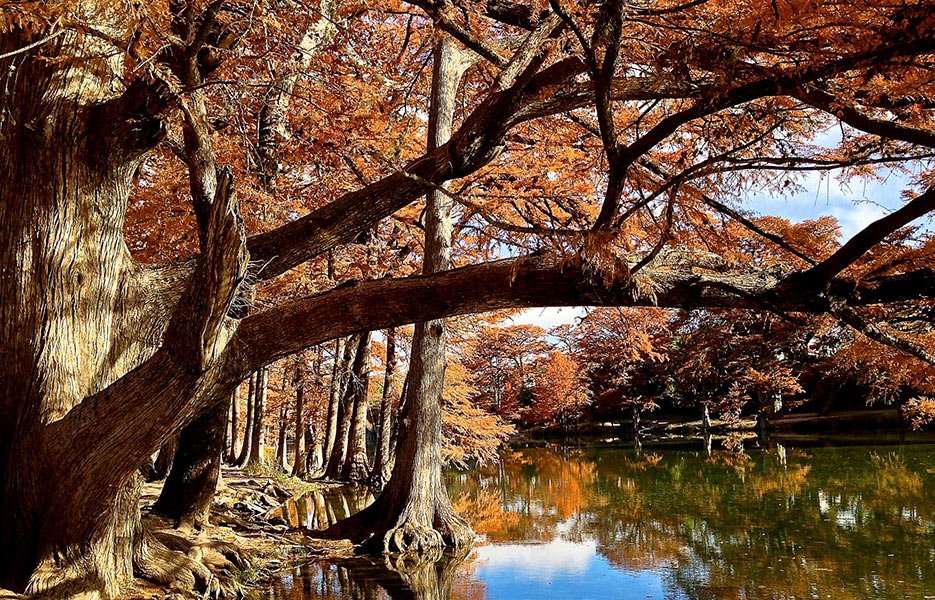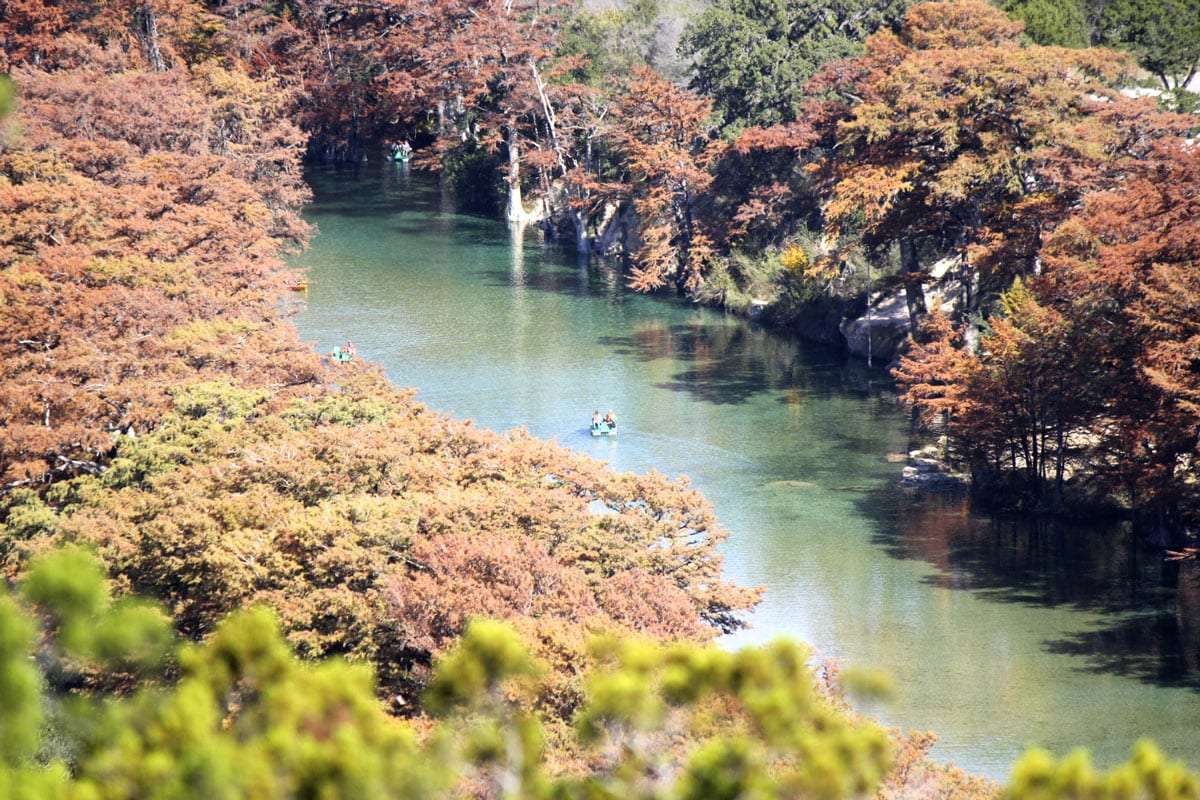 So clearly, it's all about the Autumn foliage here at Garner State Park. And with average highs from September to November in the 80s, it's got to be one of the warmest places to watch the leaves change in the nation. What does that mean for full-timers? Well, it's downright frigid at night in most of the places where the leaves really change vividly. September in Vermont is like parking your RV in a Slushee machine. We've even suffered some bitter days in Georgia as the hues went golden and fiery in the Blue Ridge Mountains. Skip the scarves and grab a paddleboat next Fall.
09. City Living in McKinney Falls State Park
Okay so just getting right to it…McKinney isn't that beautiful.
In 2008, my son and I did a "city hike" from Barton Springs to McKinney Falls. It was a 9 mile hike through some of Austin's most promising neighborhoods, and then the strip mall that surrounded it at the time…which wasn't all that bad. Ben White Boulevard at the time wore a skirt of a few fast food chains and some warehouse type businesses. Once you cleared that, it was open fields and forests the rest of the way.
Since then, Austin has outgrown itself several times over, and where endless nature once circled the southern end of the city, now developments are popping up one after another, bringing traffic–and traffic noise–with them.
The state park itself is still beautiful enough. Old pecans and live oak trees. El Camino Real de los Tejas National Historic Trail cuts through one end of the park. Two sets of waterfalls and some decent hikes fill the rest of it. But it's not exactly spectacular.
What McKinney Falls is, though, is close to Austin. And Austin is a great city, one of our top three in the nation. Eclectic food covering the gamut of cultural variety and settings as wide ranging as food trucks scattered throughout the neighborhoods to upscale dining that'll make you wonder if your suit is expensive enough. Underground jazz clubs, rooftop smoking patios, dogs allowed nearly everywhere and firepits in places you didn't think a city could fit a pile of burning wood. Green spaces, the "Texas Colorado", and more music and cowboy boots than ten hipsters in pearl snap shirts can shake a banjo at.
While Pecan Grove RV Park on Barton Springs may be closer to the action, McKinney Falls also offers a modicum of nature but big RV spaces. So you don't have to feel like you live in a city to enjoy it.
And UBER will pick you up right from your campsite.
08. Small Town Charm in Bastrop State Park
Much like you don't necessarily go to McKinney for the scenery but rather the location, Bastrop is a similar deal. There are a few campgrounds, though one is strictly for tenters (spots aren't even close enough to the parking area to make camping in a van or truck camper realistic). Piney Hill is one of the RV-suitable parks, and definitely has more of an RV park vibe to it, where everyone is close together (though not RV park close) and there isn't a ton of foliage providing privacy. The best of the campgrounds is Copperas Creek, which has a very wooded feel, and especially in sites 62 – 68 (with 62 & 63 being dream spots) and then 55-58 also having a very wooded, natural feel. You'll hear highway traffic from any campsite in the park, though. The sites are not terribly huge. Trails run through the park, largely through the Lost Pines, a forest that–though having recently burned down a few years back–is comprised of a rare breed of Loblolley pines juxtaposed against post oak and a variety of creatures from deer to squirrel to cardinals, just a classic woodlands experience.
It's a short drive–and soon to be a bike ride once they complete the connecting trail–to quaint downtown Bastrop, a charming Texas small town where you can get exotic tacos or craft beers, fancy pizza or down home cooking. There is a riverwalk in town which follows the Colorado, and ample opportunity for kayaking or learning about the history of this area, one of the first towns in Texas to rebel against Mexico.
Plus, full hookups and monthly spots are available in the state park, a rarity in the world of state parks.
Also nearby is Buescher State Park, a much more serene experience with the even smaller, though equally enjoyable, town of Smithville right next door.
07. Scenic Drives Around Balmorhea State Park
We've been to Balmorhea twice. Both times I thought, "what's so great about this?" I couldn't understand why it was a state park, why it was given a name at all, really. Then the third time we discovered the pool.
Still, for my money it's not even the state park itself where the real beauty of this place resides. It's the drive south along TX 17 to Fort Davis, where rugged escarpments jut out from the mountains, layered in mossy green and thick with West Texas forest. While Texas holds many of the best drives in the nation, this is one of the most peaceful and empty you'll find in the Lone Star State.
06. Dark Night Skies over Davis Mountains State Park
West Texas is internationally recognized as one of the darkest skies left in the world, and certainly in the modernized world. When the moon is new and the clouds forget to clock in, you're sure to be treated to what sometimes seems like an unreal amount of stars. Start counting tonight. Look for Orion. Get yourself some charts or a fancy iPhone app and join in the fun as you try and figure out the constellations or just do your best not to let your jaw drop to the floor.
Nearby Fort Davis also holds a slew of authentic Mexican restaurants, an organic grocer, a rarely open bar in a boutique hotel and a little pizza place (give or take any one of them every now and then as businesses close and reopen, change hands and change faces).
05. Christmas in Autumn among the Lost Maples State Natural Area
Texas is known for a lot of things. When it comes to flora, cacti and Live Oak spring to mind, maybe Ash Juniper and Pecans for those in the know. But maples, well, not particularly.
Which is what makes this Hill Country state natural area about two hours northwest of San Antonia all the more spectacular. When the weather participates and you've shown up at the right time of the year (November), you can more or less expect one hell of a show amongst the leaves.
But more than that, if the weather is particularly graceful, the Red Oaks will turn their namesake color and mingle with the evergreen Live Oak and junipers so prevalent in this area, and all of it can last into December. Making for a particularly "holiday" feeling collage of red and green.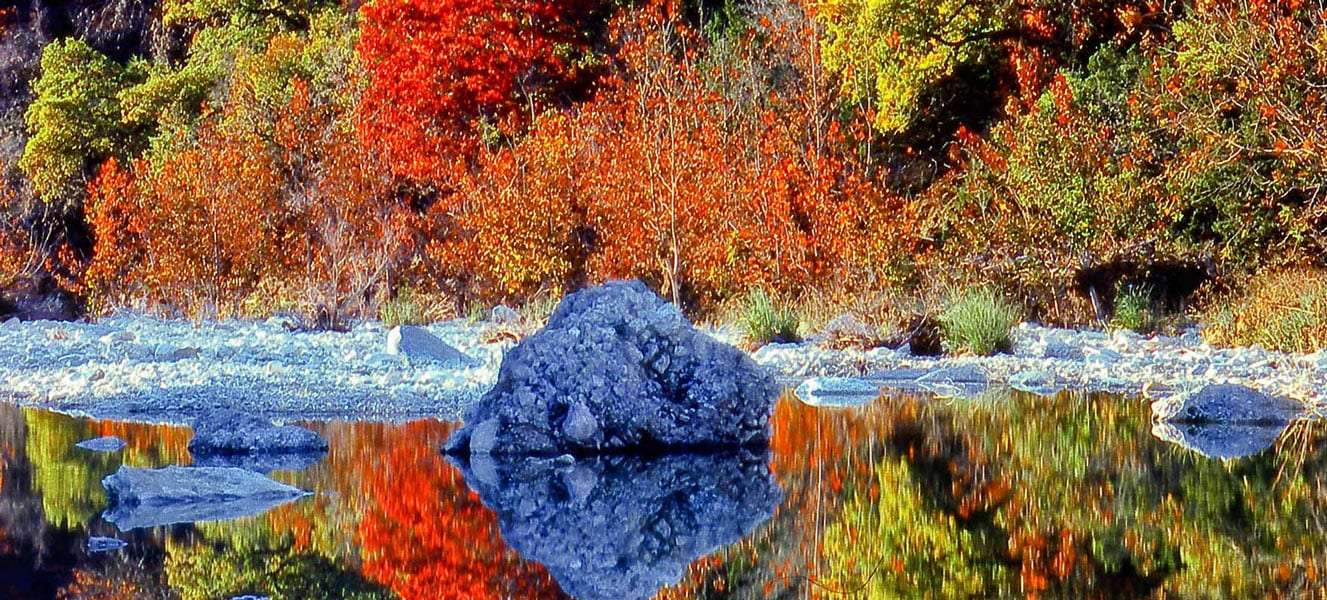 04. Escape the Oil Fields via Caprock Canyons State Park
It's no big secret to anyone who's traveled around Texas' panhandle…it stinks, it's kind of just flat and there's a certain feeling of downtrodden depression in the air. Sorry, panhandlers, but you have to admit that compared to the Gulf Coast, the Hill Country and Big Bed, well…it's just different.
And then you stumble upon this…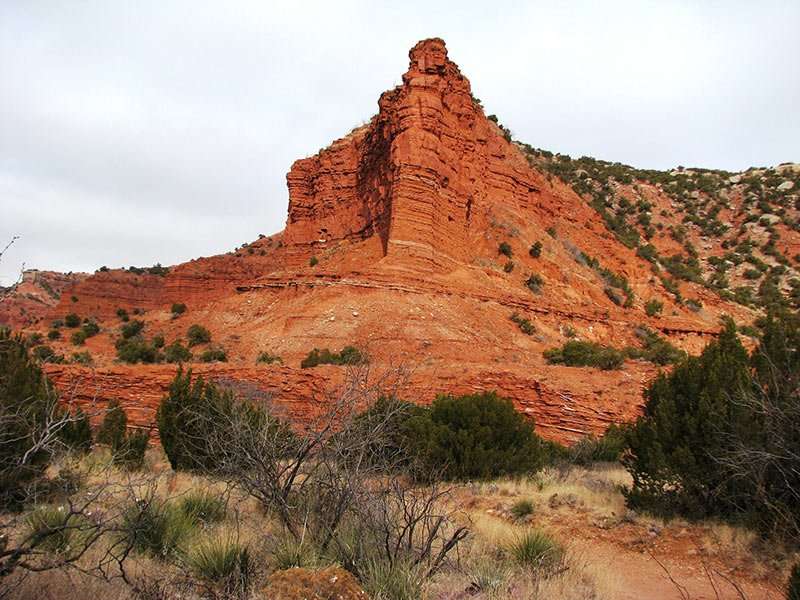 Oh, and maybe some of these guys…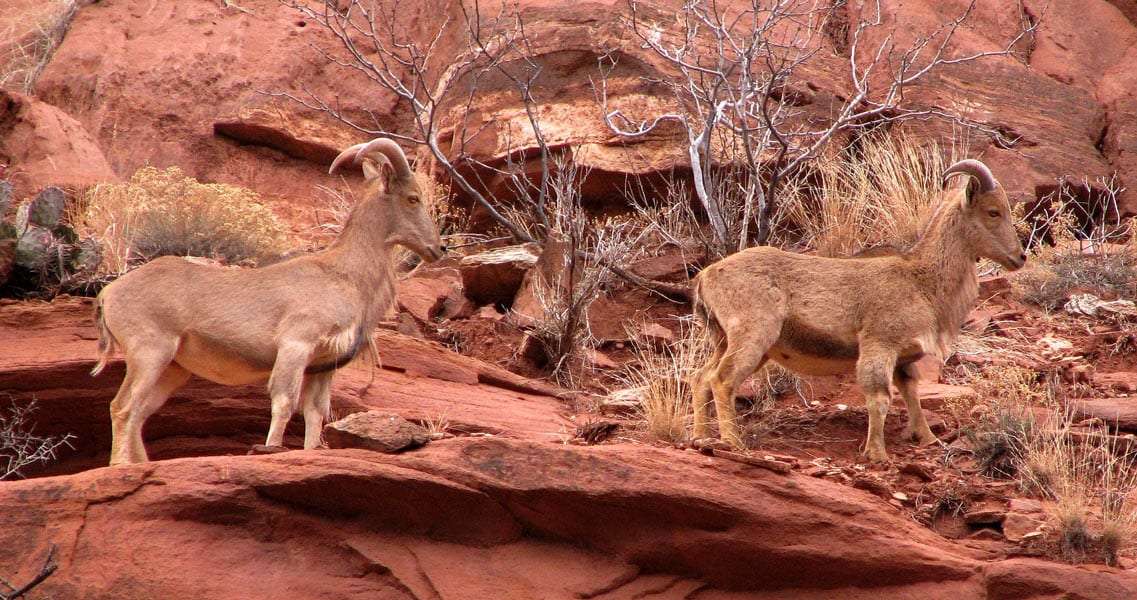 03. Wet and Wild in Pedernales Falls State Park
The reasons why Pedernales is perfect for full-timers? Well, it's off the grid. So take that as you will, we find it a great place to disappear for awhile, but still be only 15 or 20 minutes to the conveniences of small Johnson City, Texas.
The campsites are huge, and the river is, well…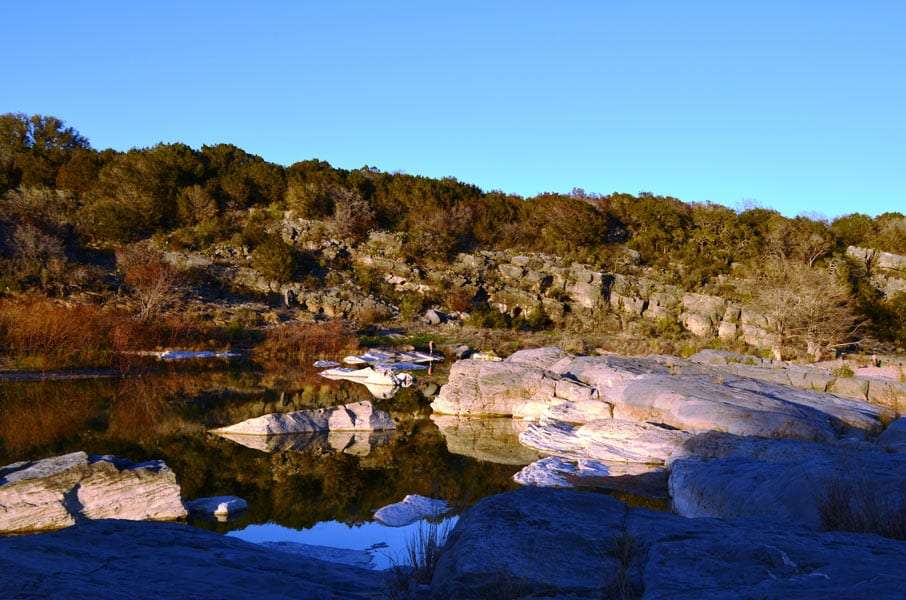 02. Palo Duro Canyon State Park
Some people think this should have been a national park, and like Caprocks Canyon, it's a beacon of grandeur within the panhandle.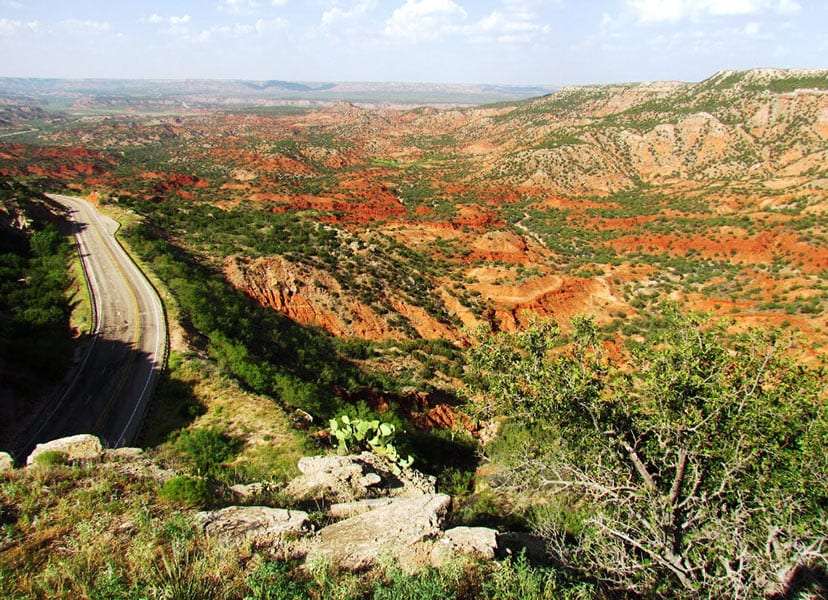 In fact, as there has to be a "…of Texas" for everything in the Lone Star State, they've nicknamed it the Grand Canyon of Texas.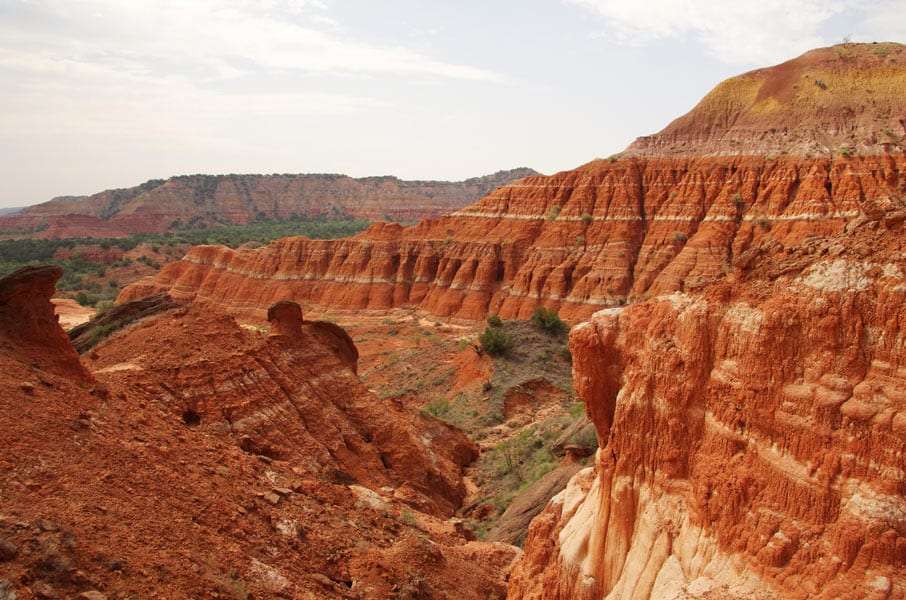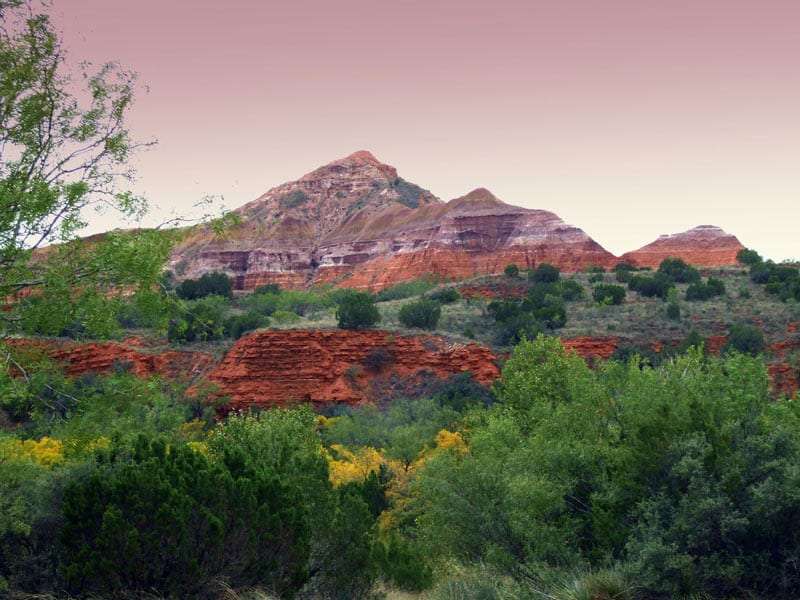 Palo Duro is not just a desertscape, though, and beauty can be found in this gem all the year long.

Palo Duro Canyon does live up to it's nickname as Texas' Grand Canyon. It's the second largest canyon in the US, and though not as deep or long as Arizona's Natural Wonder of the World, it is wider, and guaranteed to be a helluva lot less crowded.
01. Go West Young Man, into Big Bend Ranch State Park
Texans, and indeed many other travelers "in the know", speak of Big Bend National Park as a holy land.
It's not that this massive U-turn in the Rio Grande is necessarily spectacular compared to some of the great National Parks, but it is impressive. And remote. Remote as hell.
But to say that Big Bend is the National Park is to calling a Slim Jim the best meat in the store. While the National Park is cool, the small-to-ghost towns that dot the perimeter and the endless ranches and dirt roads to explore outside of the park make for the whole picture.
And dare I say it, because I do every time someone asks, the State Park is even better.
Why? The colors in the canyons pop maroon and deep forest green alongside the paler tan and grey earthen tones. Creeks and washes and rivers dry and flood at will, like the desert crying each time its gods drop rain on the mountains surrounding. And for the River Road, that winding desperate beauty always trying to reach her man, the Rio Grande. Two lovers divided by nothing less than a cliff.
You can get more lost–whether you're on some 4×4 road 90 miles into the back country or ten seats deep in one of the local bars–in this part of the nation than is possible anywhere else. The lines between countries begin to blur and even the very notions that seem to make up this nation start to disappear.
Republicans and Democrats give way to tourists and wanderers and locals. Some travelers stay for a month and become family. Some natives breathe their whole lives along the river barely making it further than the big town of Alpine, and even more have stories too complicated to summarize in a single telling. This is a place outside of the rest of the nation, away from the traditional confines of what many people think about when they think of Texas…but also exactly that.
The landscape is an Old Western. The conversation universal. The river meanders and don't expect your food to be served fast.
Let's take a look.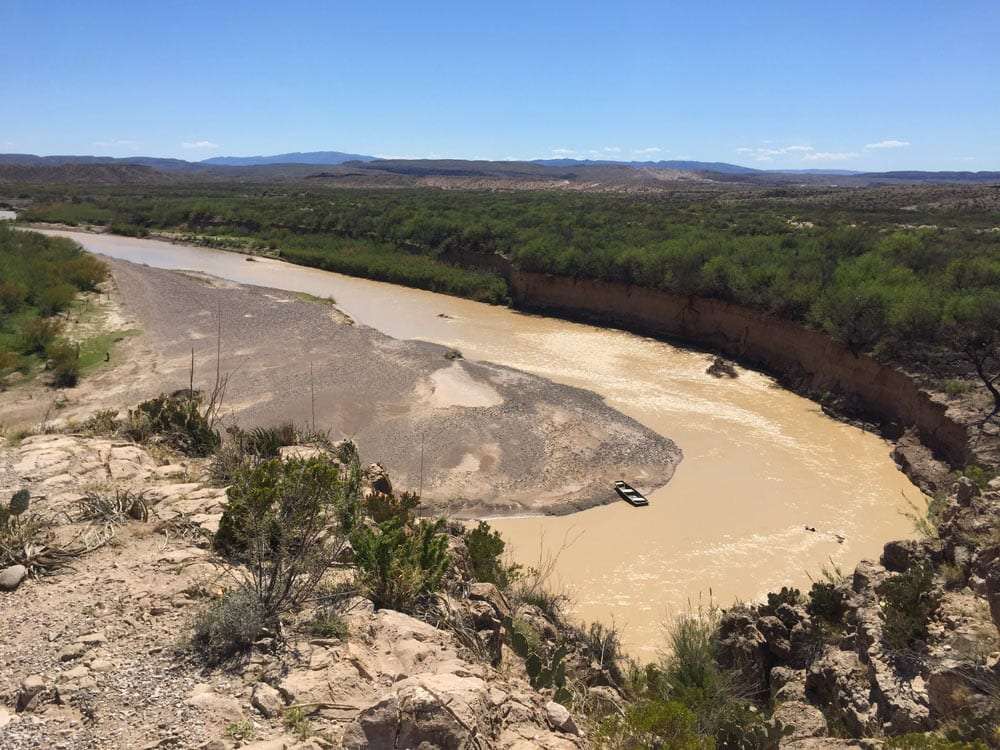 Mexicans from the village of Boquillas cross the riverborder here to drop off handmade art for sale to interested hikers and tourists. Some sit on the opposite side of the river singing familiar tunes but in Spanish. Others cross the water, drop off their goods, and perch high enough on a cliff or far enough from the parking lot that if any rangers did show up, they could likely beat them back to the water and into their homeland.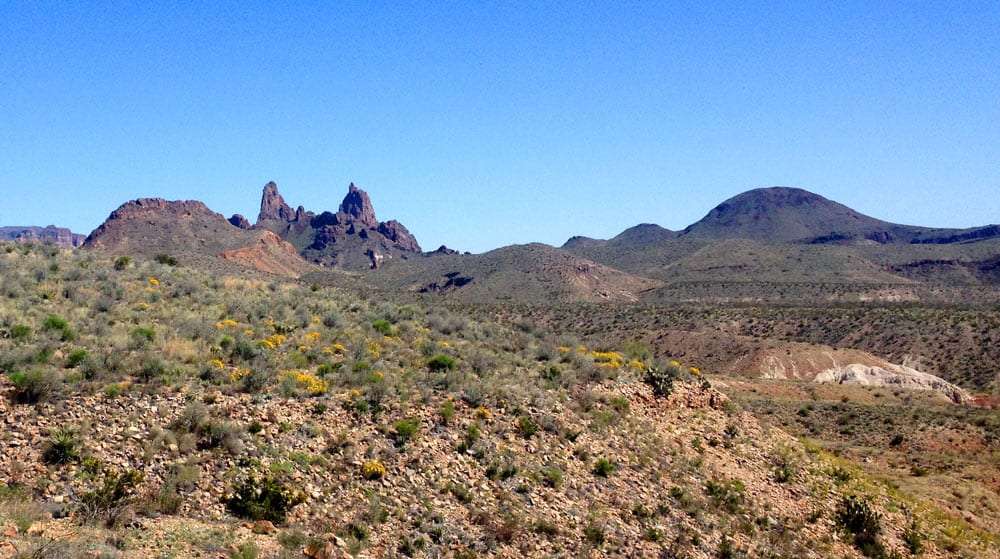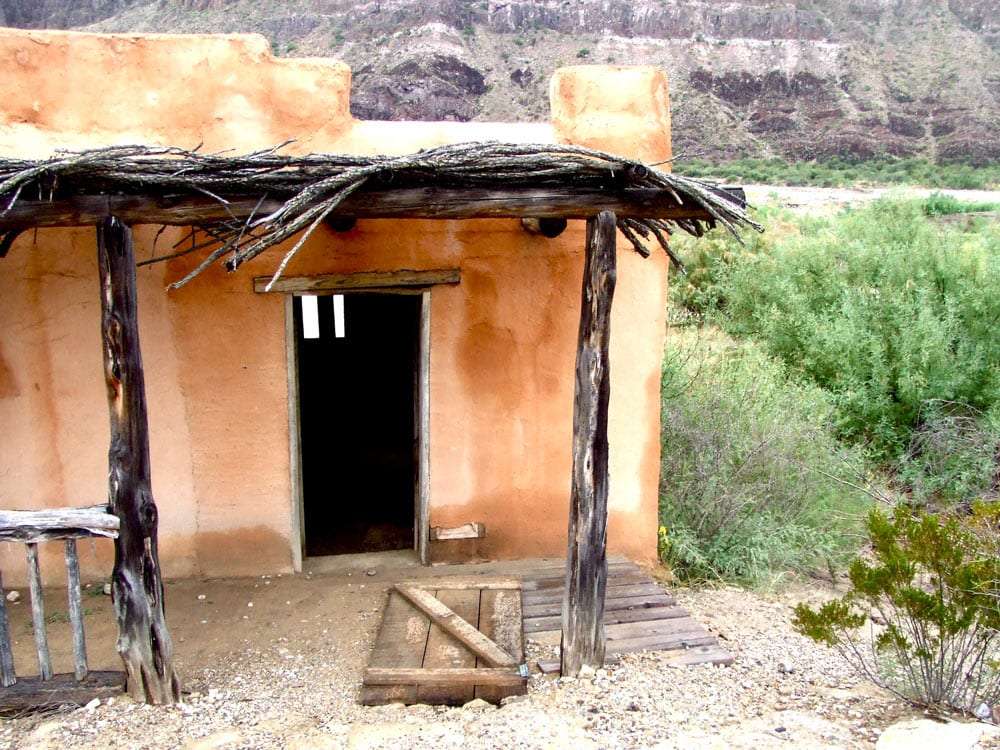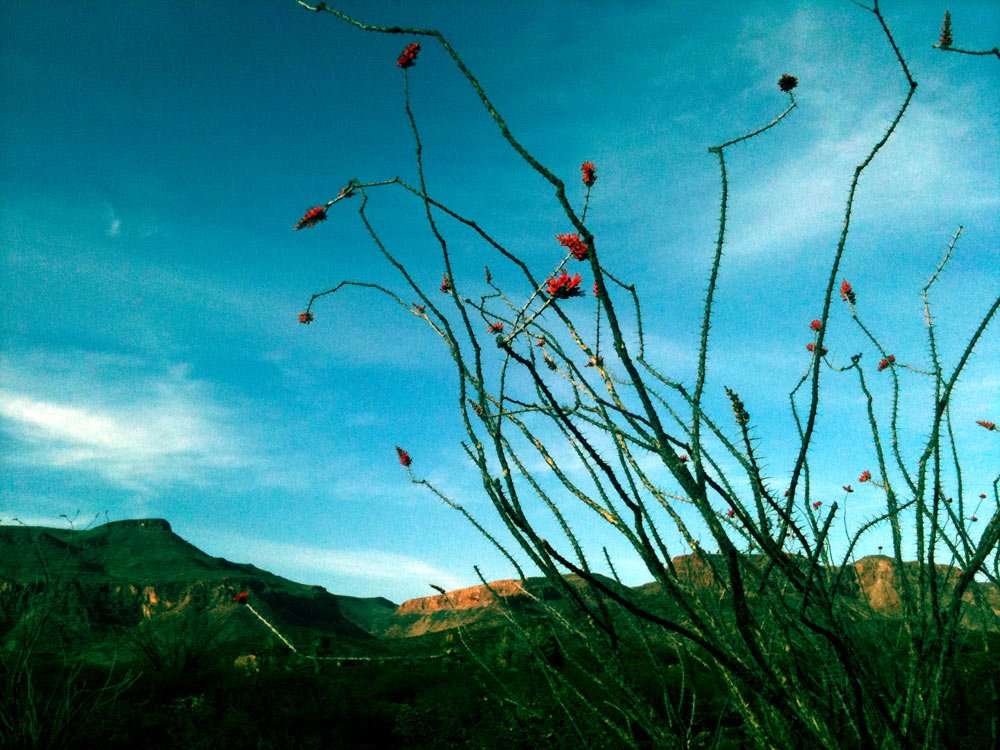 Ocotillo appear to be dead, thorny bushes for most of the year. As spring comes around, they grow velvety fur all around their stems and, each for only a moment in time, bloom bright red flowers.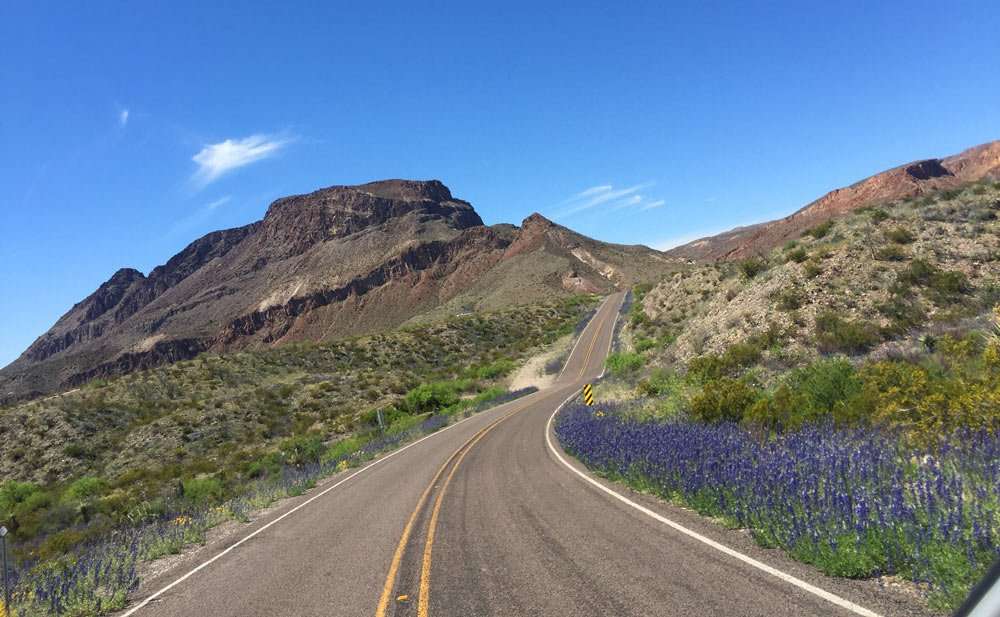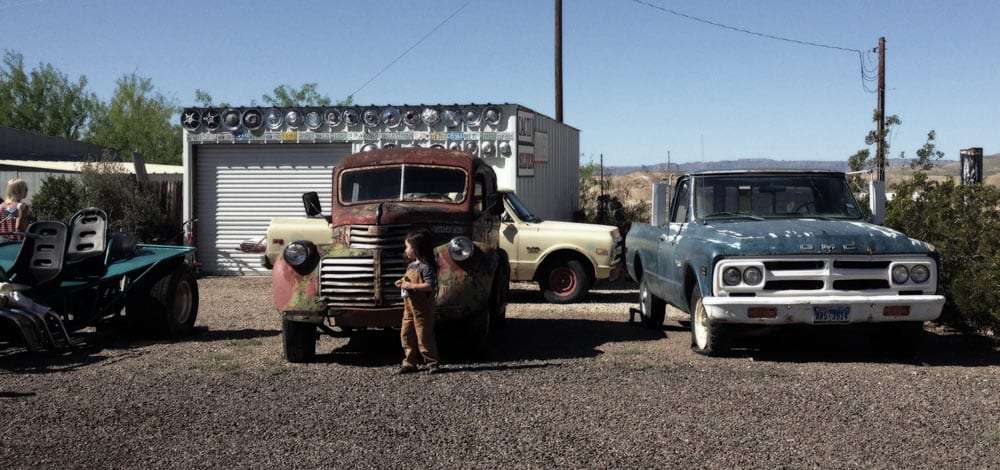 Diversion of water from the Rio Grande itself and its tributaries means that the once powerful river is sometimes little more than a wading pool today. It's easy to imagine how in decades lost a rushing river could make sense as a border between two countries. Today, you can walk across the Rio Grande and not even get your knees wet. While all nation's borders are technically just imaginary, when you have a physical, literal line drawn in the sand, it tends to make you think about what keeps us from becoming good neighbors with Mexico as that border dries up.
Adventure doesn't only arrive in the wilderness here. Whether you want to bump elbows with bikers in a tourist trap or make friends for life in a dive bar, all types are welcome. Just be nice. And maybe be weird. But naturally though, you can't fake that stuff.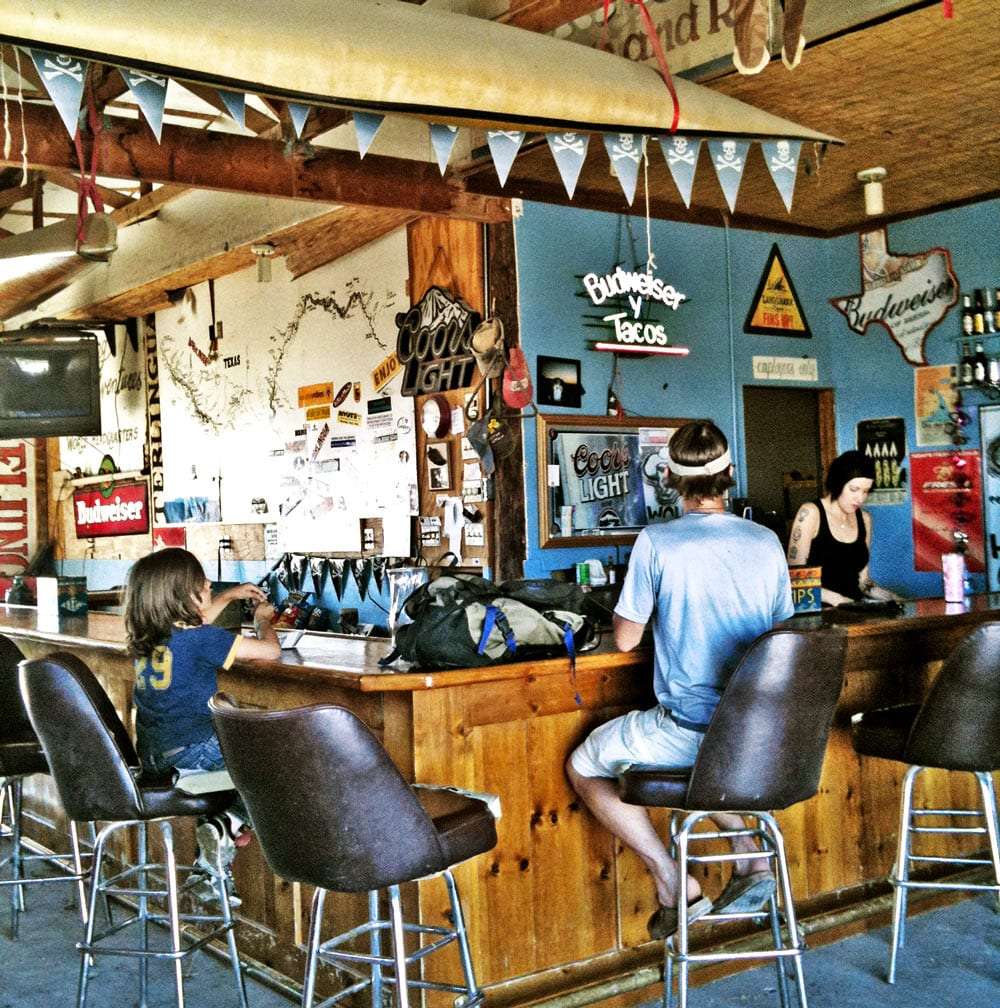 We're all bound for a different experience, but for our money…well, we'd be fine if our money up and left us and we had to move to Big Bend.
At worst, we'd have an entire state we could pack up that one time a year and call vacation. I've even heard they've got palm trees over there in Padres Island. Maybe we'll have to go and up and try that spot sometime.