Small Town Profile: Cocoa Beach for RVers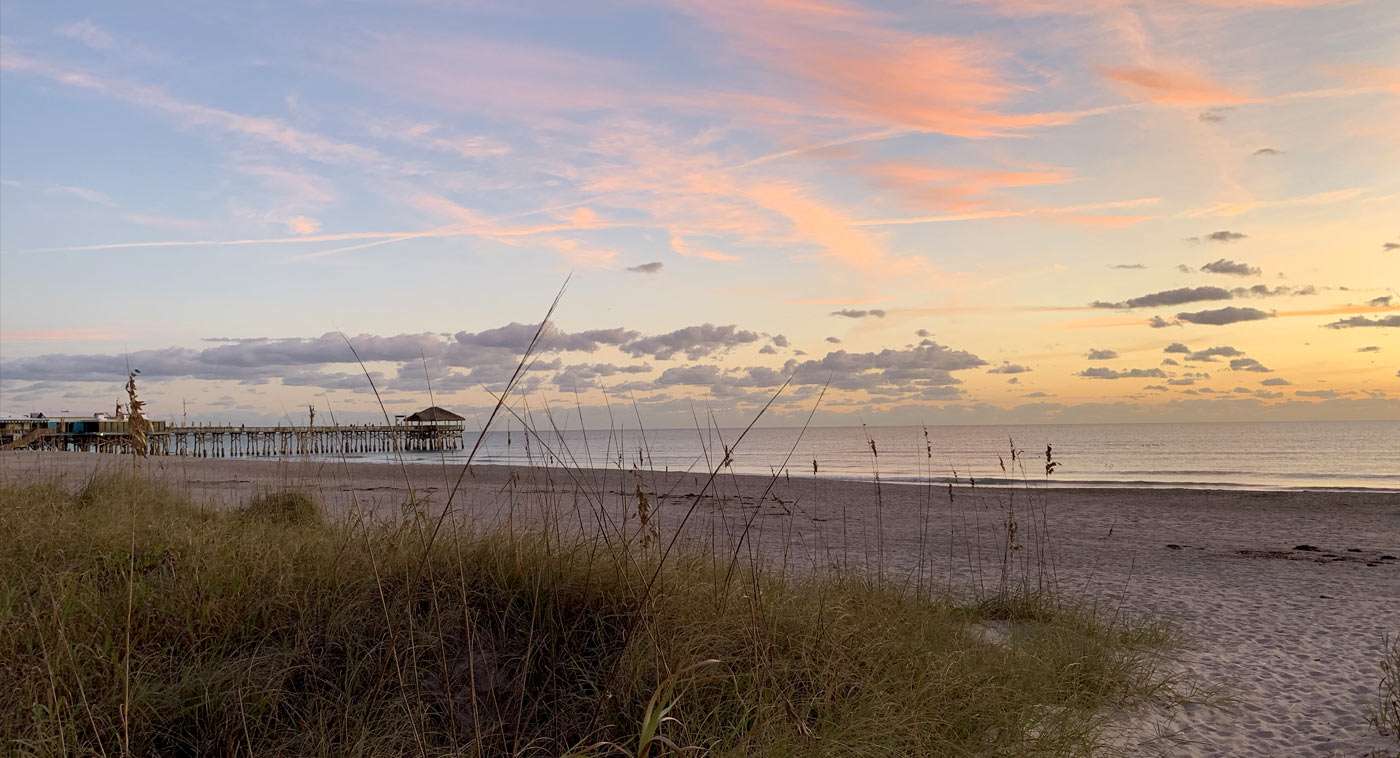 "I bet you're happy!" a neighbor says as we unload our bags into grandma's little beach house in Cocoa Beach, Florida. "Colorado – brrrrr!"
It's the standard greeting, anytime we visit this little surfing community where, at least on this particular block, a stone's throw from the beach, we've become well known. Grandma lives in a small subdivision, more of a collection of one story, efficiency apartments than something you'd see in the suburbs, and most of the year it's a pretty quiet place.
Then we roll into town, kiddos blazing like the Lone Ranger's last stand, and a little life gets sparked into the senior-dominated sidewalks and sleepy street.
"I wouldn't want to be you!" the same man, or a similar looking guy who lives next to him, will say as we leave. It makes me a little frustrated, because frankly, when we leave Florida I'm typically pretty happy, even if we are headed north to Colorado where the snow will be deeper than our youngest son is tall and the temperature rhyming with "wheezing." He, like most retirees who flock to Florida, comes from the Northeast, Pennsylvania or New York, where the winters are biting, bone-bristling affairs, something akin to Hell on opposite day, complete with Satan who shows his face in the form of every miserable soul desperate for May.
This man, however, and his neighbors, are irrelevant. We're here to see grandma, and grandma has the biggest smile you'll ever see on a woman. It's pure luck that she chose this place, a Michigander herself seeking somewhere new to call home, she followed the geese south and just so happened to land in what we now appreciate as Florida's best beach town.
Given that we've traversed the entire state for months at a time, multiple times, that's a pretty good assessment.

It doesn't take long for the boys to change into their swimming shorts and the adults to load up our arms with bags full of beach towels, boogie boards and bucketloads full of alcohol. Grandma has to work. I have to work even here, where most folk come to vacation. Still, this afternoon we have all to ourselves and on a November day, not quite Thanksgiving, we largely have the endless miles of beach to ourselves.
A pier stretches out, not a quarter mile north of where we've stuck our toes into the sand. Few locals and fewer tourists, who've come for the affordable rates that a chilly-for-Florida November entail, sit at one of the outdoor restaurants on its wooden planks. They sip beers or mimosas, fruity blended drinks or iced tea. It'll cost them $3 to walk to the end of the pier, unless they know to keep their receipt after buying a drink at the first restaurant, which'll get them free access to the bar further out to sea. This is in addition to the $15 they've already paid to park at the pier, nearly unavoidable since you can't park on most interior streets in town and those directly on the ocean come with a parking fee as well.
For most people, this won't matter much. A hotel room on the beach costs somewhere between $70 and $110 in the winter, or AirBNBs–entire houses–can be had for the same price. From there, little stands in your way of a day at the beach than an elevator ride and a few steps down a side street.
If you're the RVing type, Carver's Cove is the way to go. Expect to be packed in like sardines at a Phish concert, but it's just off the Banana River and the closest to Cocoa Beach's pier and downtown as you can get.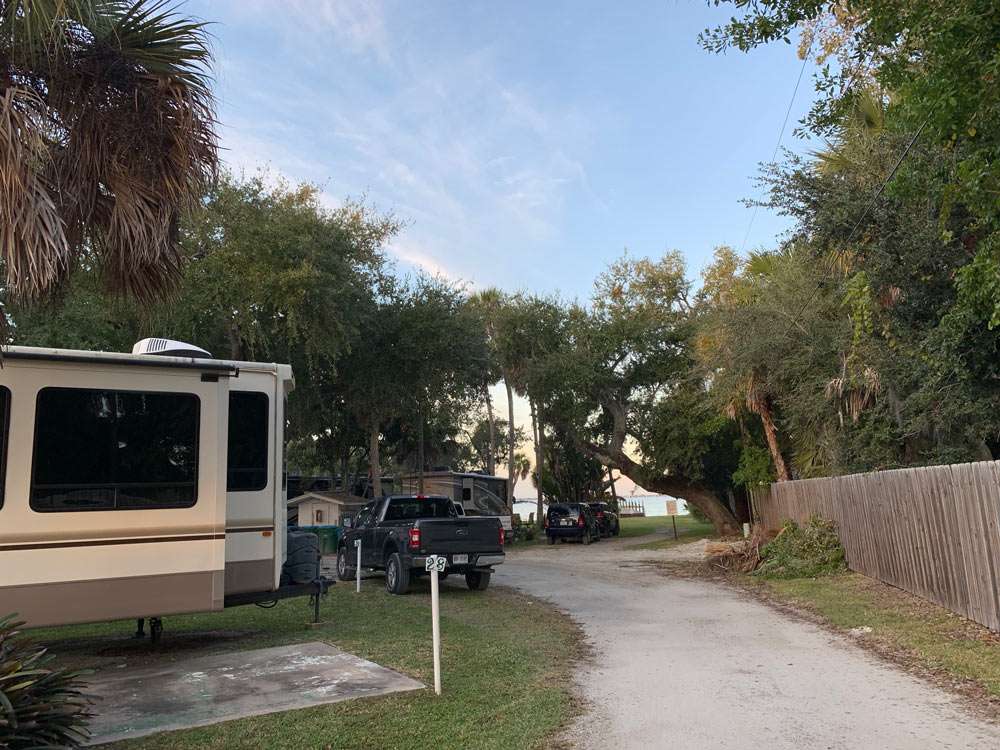 Turns out, though, that spending the day at the beach is only absolutely thrilling to our kiddos for so long. A few days in and they're ready for a new experience, and I wouldn't mind drinking a beer that didn't have sand all through it. We set out to find our next adventure…
Things to Do near Cocoa Beach, FL
Canaveral National Seashore
This one is actually over an hour away, but if you yearn for the great outdoors, this is one of the few stretches of natural land remaining on Florida's Atlantic Seaboard. For those of you who prefer to stay in the car and only walk a few feet, multiple beaches can be easily accessed from the park's main road in from the north (via New Smyrna, Florida.) The lagoon side is home to manatees and dolphins, alligators and insects galore, while the oceanfront real estate in this — one of seven national seashores in the US — promises sandy beaches, birds like Great Blue Herons and terns galore, and easily accessible boardwalks to help you cross the dunes without harming their precious (and protected) natural state.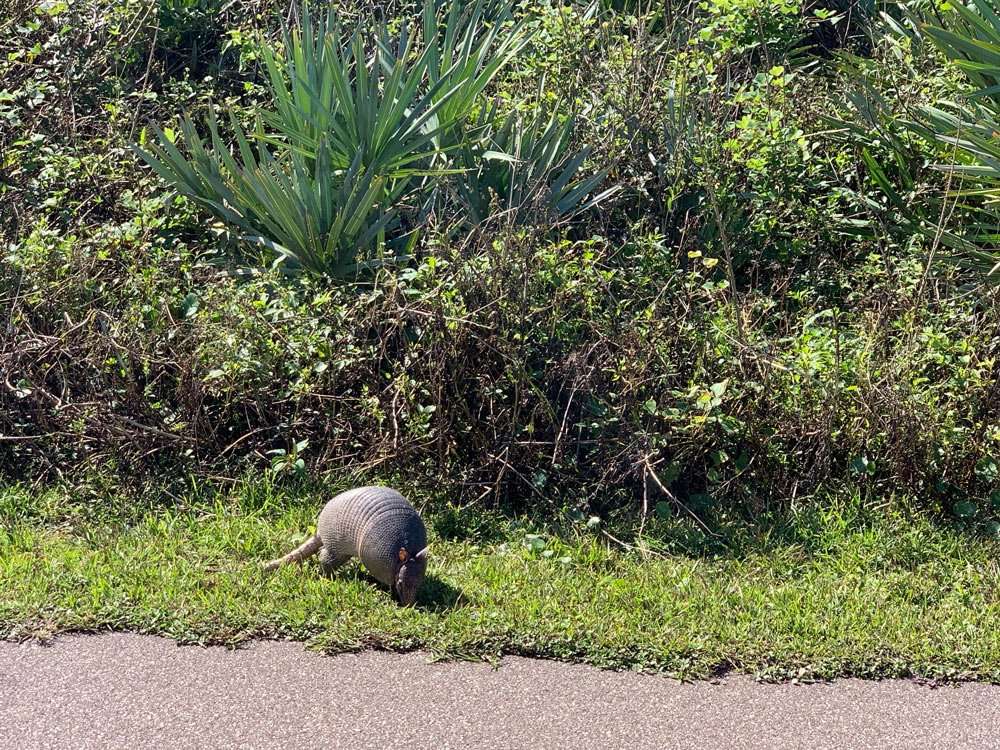 If you've brought the kiddos along, be sure to stop in at the Apollo Visitor Center, where seriously some of the most friendly rangers and staff we have ever met are on hand to teach you and the youngsters all about what makes this area so special. Hint: it's the turtles!
Armadillos are abundant at Canaveral National Seashore, though they aren't native to Florida. They were brought to the Sunshine State from Texas at some point, and now thrive throughout the state.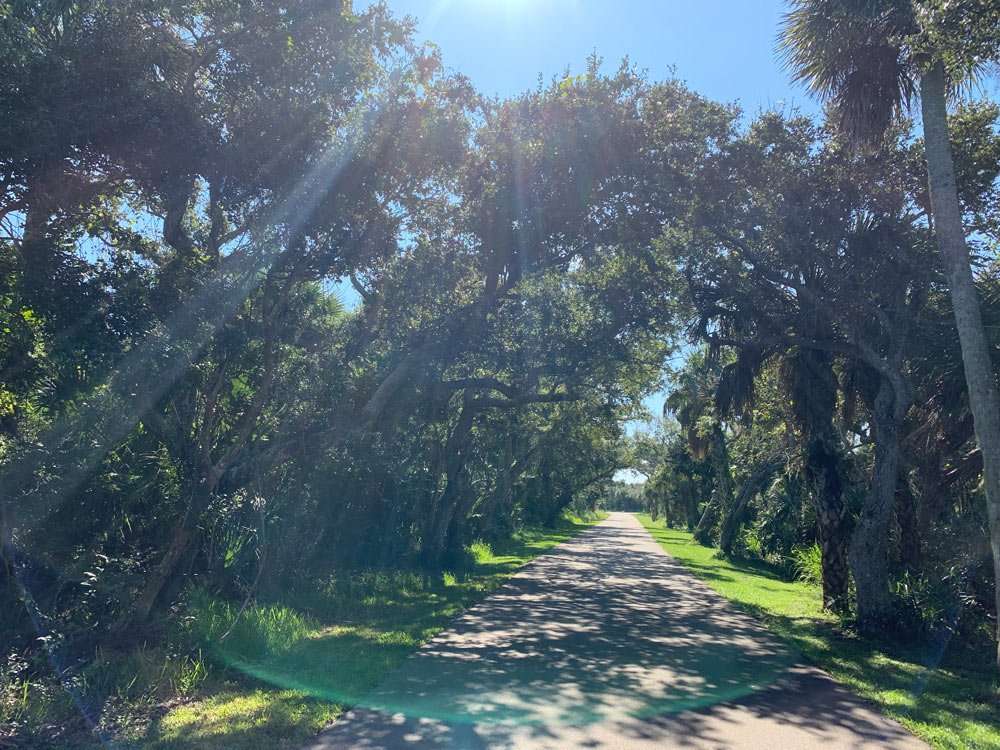 Beyond what you can easily drive to, the bulk of Canaveral National Seashore is hike in only, including the camping. Once you register for a backcountry permit, you can journey south along the coast to find the perfect spot to laze away the day watching the wildlife or snag a campsite and have a fire with the ocean rising and falling only yards away.
Your national parks pass will get you into the park for free, otherwise it's $15 / vehicle or $5 if you're on a bicycle or traveling via foot.
Kennedy Space Center
While nowhere near as affordable as Canaveral National Seashore, and nearly as expensive as a trip to Disney World, the Kennedy Space Center is just north of Cocoa Beach and is essentially a museum of artifacts and new ways to experience mankind's attempts to explore outer space.
Or you can skip the fees and watch from the beach — or nearly anywhere in Cocoa Beach — as space launches are a regular occurrence. Doing this is absolutely free, and between the rumble that permeates the space coast during a launch and the flame + smoke, it's not exactly a lacking experience.
Ron Jons
Many a minimalist traveler would balk at the idea of visiting a big ol' store as something of legit "to do" in any given place they explore, but there's something about Ron Jons that keeps us coming back. Perhaps it's the fact that, when traveling to Florida, we typically find ourselves with a shortage of swimwear, goggles and the type of toys that make the beach all the more enjoyable. Or maybe it's just the silly name.
Ron Jons was founded by a surfer in New Jersey, a state many say holds the best surfing on the East Coast. Apparently though, New Jersey is cold as a shark's fin and so he decided to open his second location, the Flagship Store, in Cocoa Beach, another infamous surf mecca on the Eastern seaboard.
It's now a two story affair that spans multiple blocks. You can buy surfboards, boogie boards and skateboards. Expensive clothing by companies like Hurley, Fox and Rip Curl fills the majority of the store. Trinkets and knick knacks, and what Ron Jon himself calls, "the world famous Ron Jon t-shirt" consume the rest of the space. There's no need to buy anything, of course, to get the experience, but if you do make a purchase, they'll hook you up with some stickers. We have about 100 of them.
Across the street, Cocoa Beach Surf Company is the knock off, cheaper version, so if you're looking for a deal but still want the multi-story experience, duck over there. The fish tank with giant moray eels hanging out, twisted up in their caged reef, is the highlight. They also offer the most affordable surf lessons we could find in town.
Or look for Beachwaves, a Cocoa Beach chain that sells every piece of junk plastic, souvenir and cheap clothing you'd ever need for a quick stint at the beach.
The Pier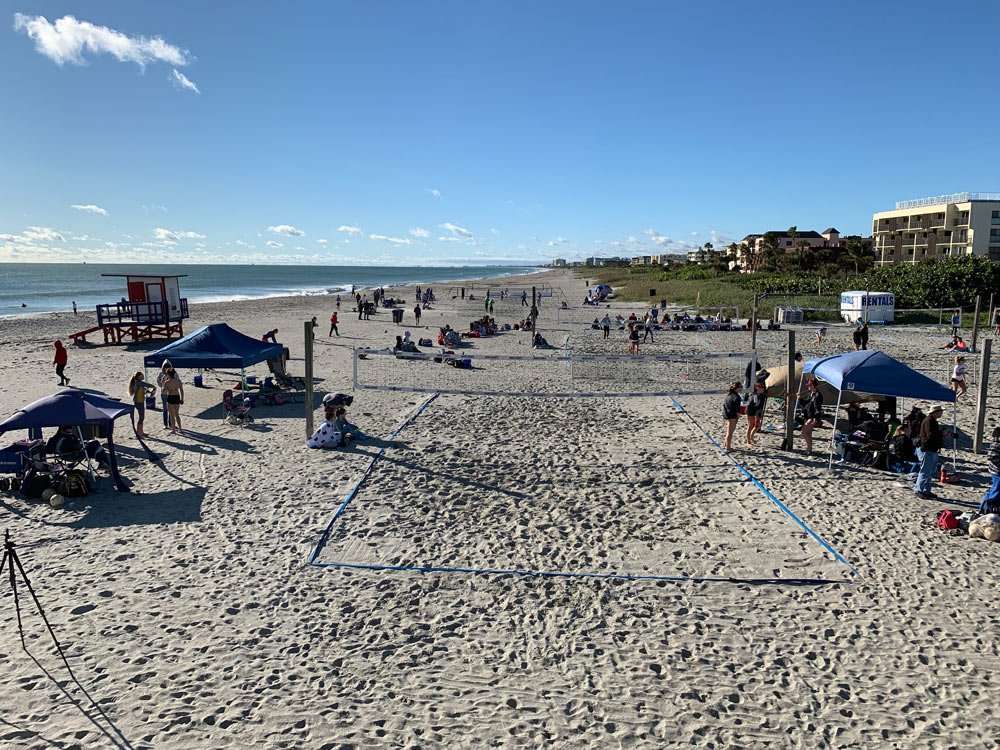 There was once a small arcade at the pier, a couple of racing games, air hockey and an apocalyptic shooter filled a room overlooking the ocean, just off of the first restaurant. This afforded us the ability to have a bloody mary before breakfast while the kiddos got some rare screen time in. For whatever reason, I guess money, it's been replaced with a banquet room so people can get married with the smell of saltwater in their bouquets.
Aside from the drinks and fees mentioned previously, the pier is not just about the pier. Yes, there are places to buy saltwater taffy, tie dye shirts dads will wear home to let everyone know, "I've been to Cocoa Beach," and signage recalling the history of the town–largely about the show I Dream of Genie, and the surfing and space history–but what there is really to do here is kick it with every other tourist who seems to want to stay as close to the boardwalk as possible.
Doing so ensures you quick access to a couple of volleyball nets, an ice cream shop, a lifeguard and umbrella rentals. For our lack of money, though, finding a spot even a hundred yards from the pier will give you a little more elbow room.
The Beach
Not simply a pier, the beach stretches for as far as one could want to walk.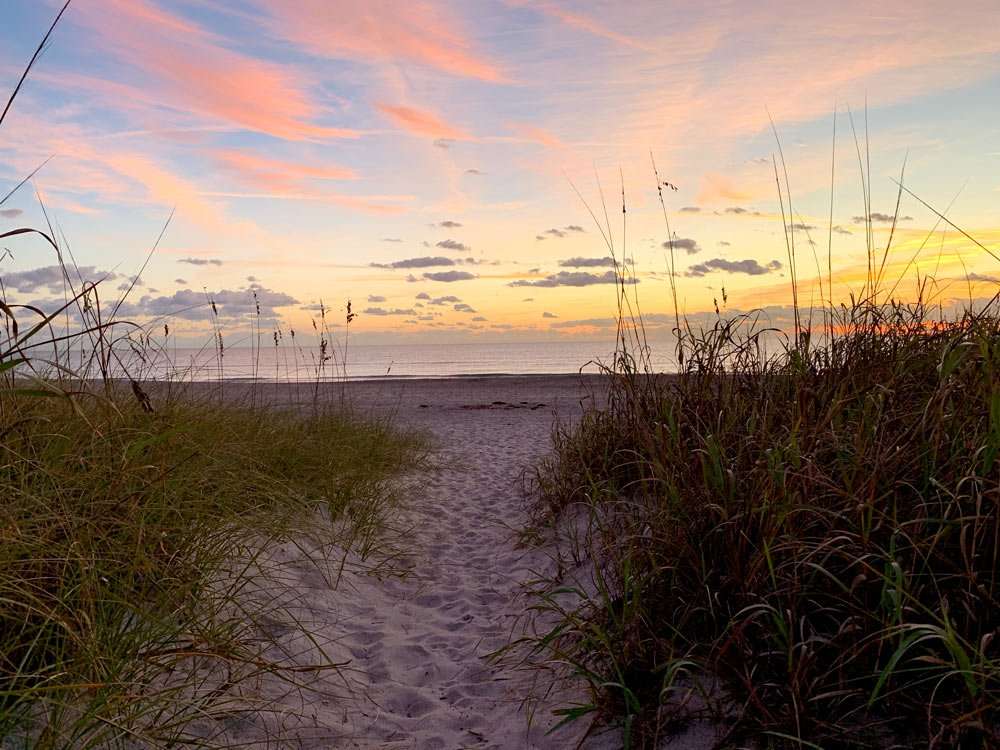 If you can keep the seagulls from invading your blanket space, birding here is easy to do and quite enjoyable. Pelicans, both white and brown, soar in groups of three or four, hover-surfing just above the waves even as they curl and crash beneath them. Osprey are abundant, circling, eyeing the water, desperate to stretch their talons toward the ocean surface and snatch today's lunch. Great blue herons, and their "great white" counterparts, sandhill cranes and more can be found here. If you're lucky, you'll see a wood stork. We've yet to spot an actual flamingo…
Kayaking with Dolphins & Manatees
Cocoa Beach lives on Cape Canaveral, the entire stretch of land being separated from mainland Florida by two "rivers," the Indian and the Banana. It's the Banana River that hugs the western side of town, creating a largely waveless body of water popular with fisherman, jet ski enthusiasts and kayakers alike.
Should the wind participate, anyone would have no problem renting–or bringing their own–kayak into the Indian River. If you're feeling a little shaky, we can't recommend John at A1A Beach Rentals (321-505-7455) enough. He's a tour guide, Cocoa Beach OG and all around good guy all in one.
Surfing Lessons
John also gives surf lessons out of Cocoa Beach Surf Company (321-799-9930). Our boys took some lessons from him and our youngest was standing the first day, even with heavier-than-usual waves. A surfing lessons costs around $50 for a one hour lesson, though other schools charge a little more. In the summer, you can get killer deals on surf camps, where for $150 or so you get five days worth of half, or sometimes all day, lessons.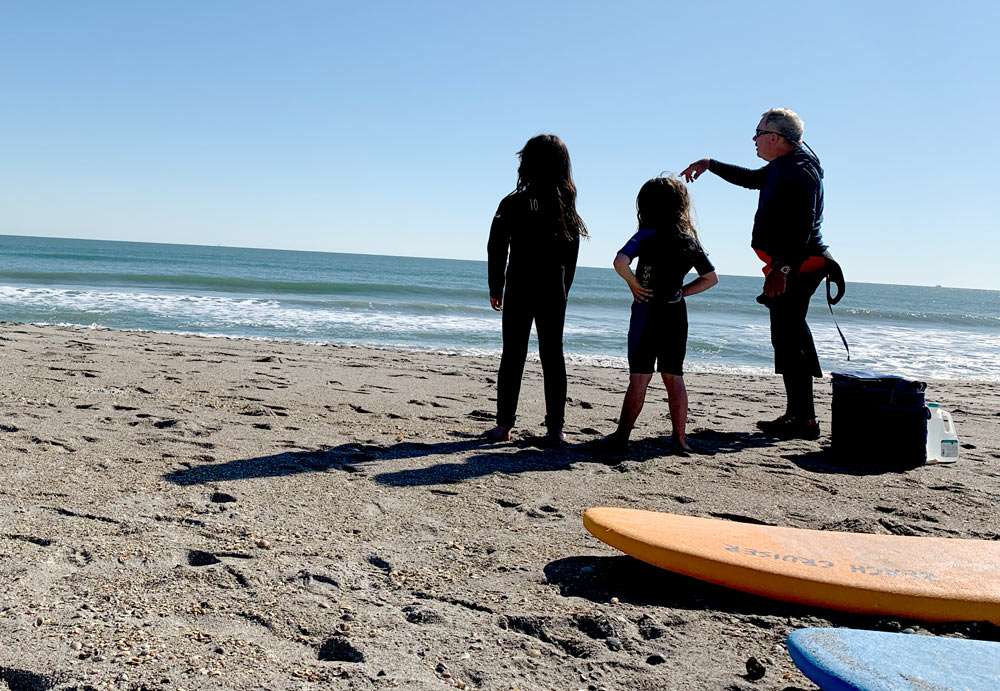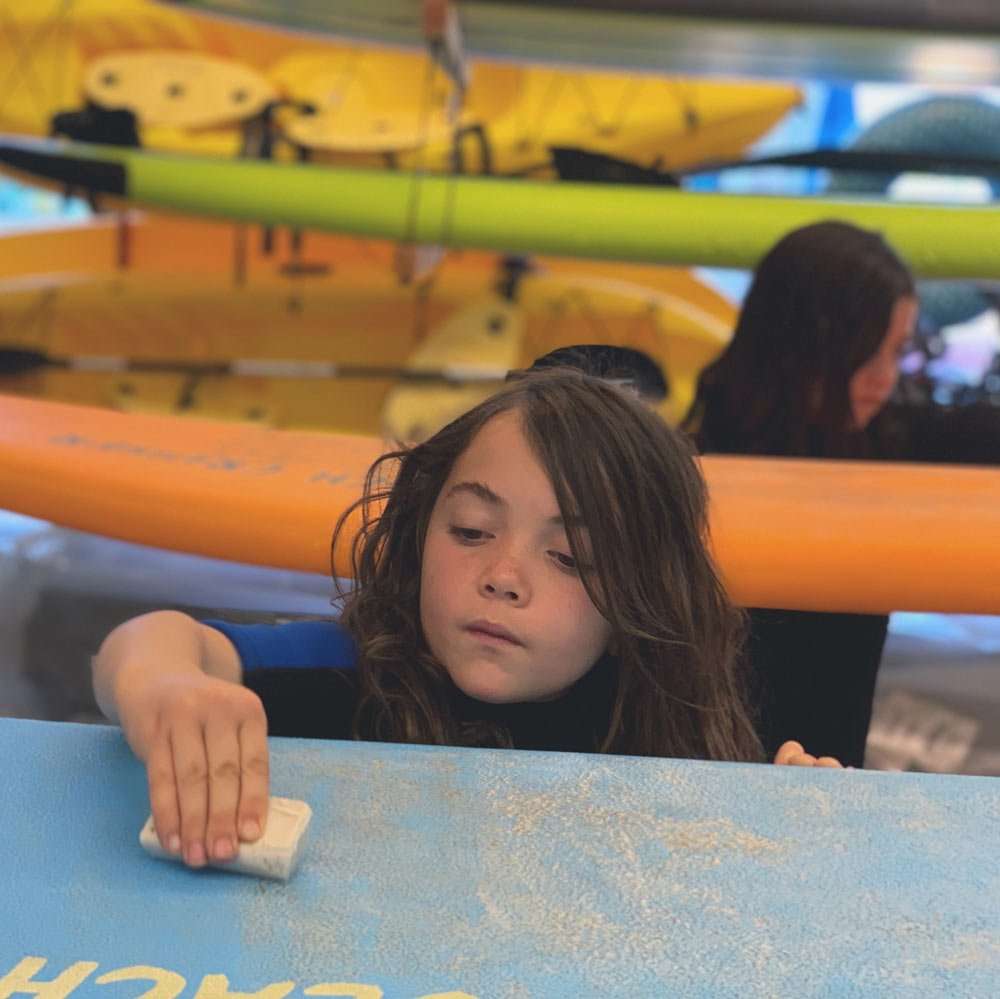 The Skatepark
Though it's only open after 2:30pm, perhaps because it's near a school, Cocoa Beach has a great skatepark only a few minutes from downtown.
Other ideas, which we have yet to personally participate in, include bioluminescence tours in the Indian River, though its arguably not great for the creatures which create this spectacular light. If you can see it on your own, without promoting the touristic side of things which tends to overwhelm nature anytime people start to pay to view it, that's your best bet.
There are also plenty of city parks, playgrounds, bowling, miniature golf (galore!), go kart tracks and ice cream shops in town.
Bars & Restaurants
You won't find any shortage of places to soak your soul in spirits on the Space Coast. From dive bars to upscale restaurants, tiki bars to burrito shops, they've got it all. Particularly seafood.
We'll leave it to your Yelp!ing skills to find the perfect place for you, but a few of our favorites include watching every and any NFL game at the Ale House (5590 N Atlantic Ave, Cocoa Beach, FL), Indian River views from the big deck at Squid Lips (2200 S Orlando Ave, Cocoa Beach, FL) and romantic dinners at Flavour Kitchen (15 N Orlando Ave, Cocoa Beach, FL) in downtown Cocoa Beach.
The Ale House not only has craft beers galore, and shows all the sports you'll care to watch, but their seared tuna fish tacos are the best I've ever had. Squid Lips is typical seafood fare, and we've never been there when they didn't have a band. Be sure to feed the cluster of (somewhat disgusting) catfish off the back pier. Flavour Kitchen is hands down the best restaurant in town as far as how good the food tastes, but the atmosphere and sangrias don't hurt either. Epic Beach Bar is hands down the best burritos on the island.
Our favorite place in general, though, which combines craft beer with a kid friendly, outdoor atmosphere which is connected to a Mobil gas station, is the 4th Street Fillin' Station. You won't be disappointed.
Vanlife in Cocoa Beach, Florida
If you're not the RVing type, but have chosen to live out of a van and prefer to live free and cheap, Cocoa Beach is not going to be hyper-friendly to your lifestyle choice.
That said, Sprinter vans exist here galore, so depending on your setup, and how stealth you can be, you may be able to find a parking spot where you won't get hassled. There are large Publix grocery stores where you may find yourself anonymity, and a Walmart (321-452-6058) across the Indian River in Merritt Island, though we don't know first hand if they are okay with overnight camping or not.
Otherwise, there isn't much parking on the neighborhood streets, and it's all paid / no overnight parking near the beach. Your best bet for vanlife in Cocoa Beach may simply be to spend a day at the beach or a bar, or drive around and look for a long-haired surfer type who looks like they may have some driveway space and try and be friendly.
The Best AirBNBs in Cocoa Beach
That the only real options for camping are RV parks, we have spent months renting AirBNBs in Cocoa Beach over the years.
A few highlights…
The Diplomat. This large condo complex has a heated pool that doesn't see that much use given the hundreds of units here, and private beach access (though anyone can walk the entirety of the beach here.) We have specifically stayed at Doug's Place, which we would not necessarily call "upscale" but it's nicer than the others we'll list here simply because of the comfort of the couch, the appliances and kitchenware provided, and the generally updated nature of the place. You're just across the street from a great Publix grocery store, and the popular Florida Fresh Grill (another place considered "upscale" in Cocoa Beach, though it is a restaurant in a strip mall…) Downsides are a poor outdoor situation, basically just a 3′ wide walkway that gets awkward to sit outside on if you have neighbors walking by. Aside from the Publix, the area isn't exactly walkable, but it's only a mile to plenty of things to do.
Casa Playa. This AirBNB is on Flagler Lane, and is easily our favorite. The downsides are that the water doesn't stay hot that long and the 1960s' decore is a little cheesy and kind of junky, but the positives are the location. There's a decent pizza place, an okay grocery store, an excellent burrito joint, a fancy italian restaurant, Ron Jon Surf Shop and Cocoa Beach Surf Company all within easy walking distance. It's also about 100 yards from the beach. Like the Diplomat, expect a smart TV and blazing fast internet speeds. The position of this particular condo, and wider walkways, even gives you a dedicated outdoor space where you can see the heated pool–just downstairs–and feel comfortable outside in your own little space. It's also on Ocean Boulevard, a great street for bicycle rides, walks and runs, which leads to the Pier about a mile away.
Finally, and this is by far #3 on the list, Jack & Leslie's Place is a bit larger than the other two (though still a two bedroom, as all three are). It also has a front yard, a much more relaxed street and it's not in a big building complex. There's no pool, and you're not encouraged to swim in the Intracoastal, but there is a dock there and you can set off on a kayak if you're the adventurous type. Dolphins and manatees frequent the waters just outside of this place. On the other hand, you can't really walk to much and it's more expensive than the other places mentioned here, without necessarily being better in most other ways.
More Photos of Cocoa Beach, Florida
The public library in Cocoa Beach has good, free WiFi, the usual books to rent and computers to use, but also bins of Legos for the kiddos. DVD rentals too, should you be visiting in 1999.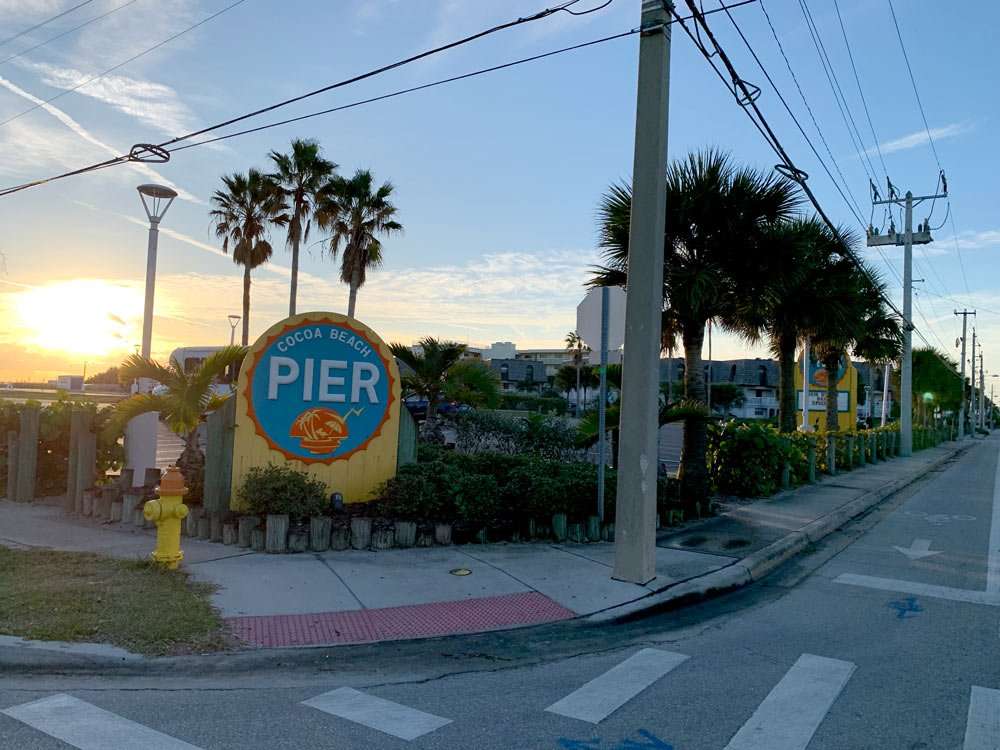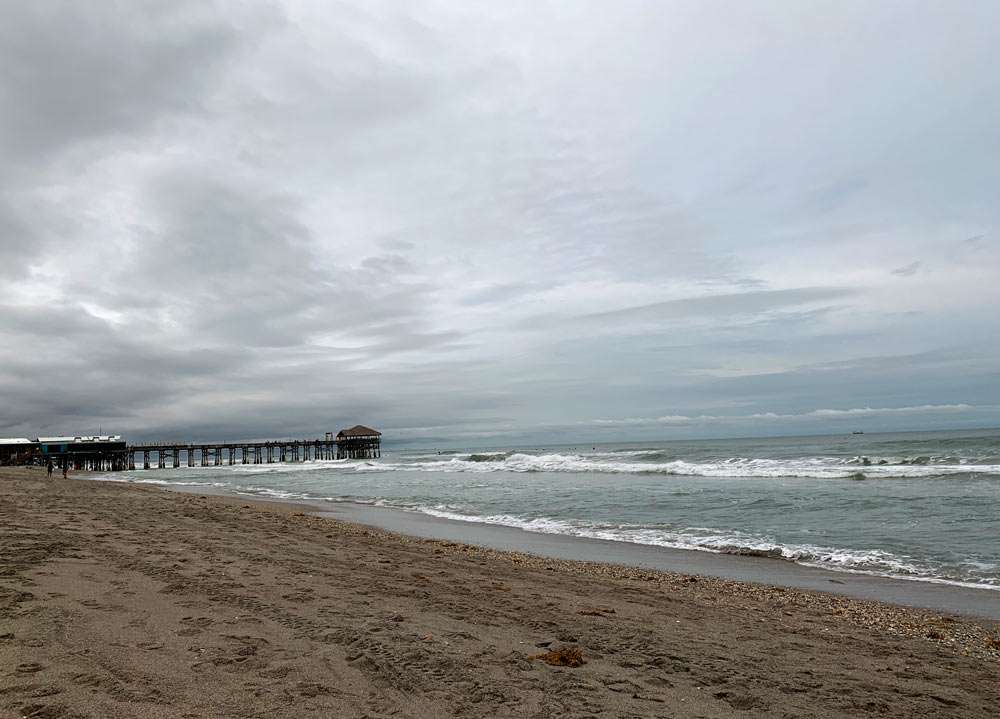 Other things to check out in Cocoa Beach include giving the following a Google:
Comedy Club
Beach Shack
Surfside Playhouse,
Historic Cocoa Village Playhouse
It's not the wide open free camping of the west that we typically recommend here, but within steps to the beach and less than an hour from Orlando, Cocoa Beach's surfer vibe gone extra laid back attitude is exactly what we appreciate after long days driving the hectic I-95 or Florida Turnpike.
Our little family packs our life back into our van and heads out of Florida, that neighbor still there, like he's been waiting for us to leave–and the peace and quiet to resume–as he calls out, "Sorry you have to go!"
You have a nice winter, too, friend.