Full-time Traveling & Vanlife with
Newborns
We have been dumping newborns into vehicles and floating them around these American highways for some 9 years now.
Our oldest son was born in a conventional manner, and did not hit the road until the ripe old age of 7. But the next three young men we'd conceive all came into this world with only a few months of the lavish lifestyle some refer to as "living in a house, with walls, and no wheels."
Our second son was hoisted into a Volkswagen Bus at four months, after which we proceeded to cart him all through summertime in New England and Michigan's Upper Peninsula. The third was moved into a 1976 Airstream travel trailer by six months, and our youngest, born just this gloriously flippant year of 2020, saw himself in a self-made Sportsmobile van at only eight weeks into this world.
All of this to say that it can be done. Whether it's a good idea or not, is completely up to you, dear parents, and likely the status of your baby's health as they emerged into this world. But should you intend to take the dear child out into the wilds of vanlife for the long haul, or just a couple of weeks on an Autumn lane, here are the things we've found most important to ensure your newborn is safe and sound while camping on the road in a van or RV, and some of the things we've found a bit more difficult than perhaps we'd like them to be.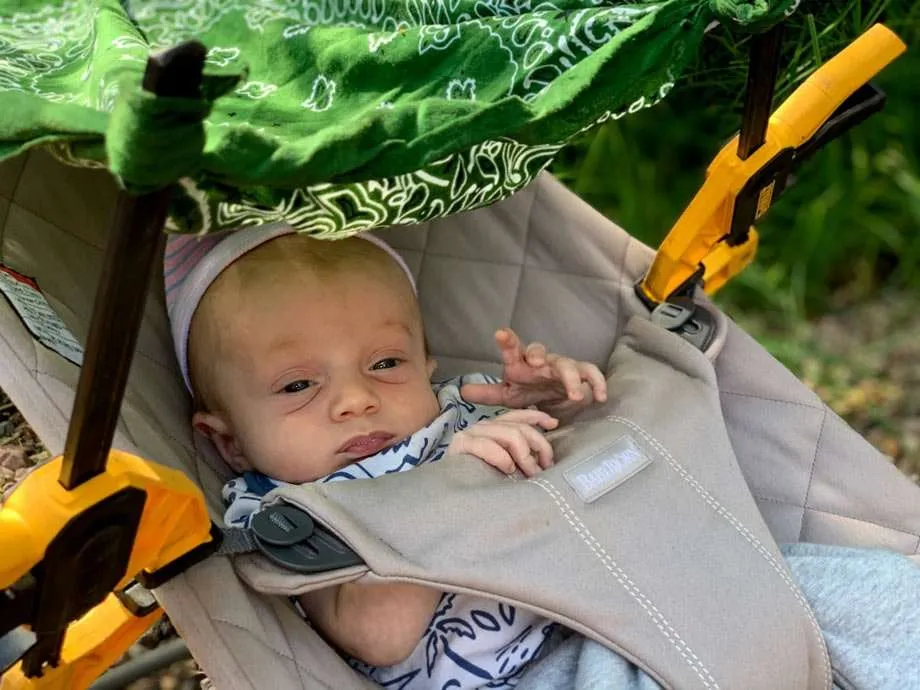 Formula
If you find yourself in a situation where you are feeding your child formula–whether by choice or necessity, we have no qualms nor judgements to extend on the matter–then you may quickly realize that your little bundle of joy's stomach may not be particularly keen on switching brands or even varieties within one company's offerings on the regular. This becomes an issue as you travel because, well, not every corner of this great nation–and certainly continent or beyond–is going to have that swanky Whole You and Baby Organic Grass Fed Baboon formula that comes in a recyclable box made of Grandma hugs.
In fact, outside of powdered Enfamil and ready-to-feed Similac, you won't find much consistency at all in this world.
As parents who have had to give our latest little guy formula for reasons largely out of our control, we've found three truths to be self-evident.
Powdered formula is a massive space saver. I mean, you can buy months worth of the stuff, and stick to one brand. The varieties they sell at your local grocery store have an expiration date often into the next calendar year. Whether it is any more or less healthy for your baby is not an opinion we feel qualified to share, but if you don't mind mixing it up every time you need to make a bottle, it is absolutely the winner strictly from a space-saving point of view.
We had largely landed on Similac's Alimentum variety, a ready to feed formula. You can get it on Amazon here. But there's really no need to do so. We didn't arrive at the "purple Similac" because it was a product we necessarily believe in, but purely because it is the most prolific on shelves across America today as we could find in a ready to feed bottle. We prefer ready to feed because it's not uncommon for us to visit a grocery store two or three times a week, and so we don't need to keep more than two in the van at any one period. If we were in an RV, it'd be far less of a concern. But, it is sold basically everywhere that you'd find any variety of formula, and having it mixed up and ready to go is a major relief as opposed to crawling over sleeping children and dads in the middle of the night. It's also more expensive than powdered formula.
A family with children of vastly differing ages, some already off to adulthood at this point, begins anew with a toddler while traveling the US in an RV and the world in a Jeep.
However, we've recently switched to using cases of these Similac Organic 2 ounce bottles. We buy them here on Amazon, two cases at a time. That's as much space as we feel comfortable dedicating to the stuff. You will rarely find this variety at a grocery store, even a nice Whole Foods-type place. So, it's all about ordering the stuff online. Which means you have to plan ahead. You need to not only keep an eye on when you're getting low, but also make a plan for where you'll have the stuff shipped to. That's not always easy for the full-time traveler, but we do have tips on how to make getting mail at random places while traveling easier here. It's also probably significantly worse for the environment if you can't find a way to recycle these things, or even if you can. But the convenience of 2 ounce bottles is a world of a difference. You don't have to dedicate any valuable fridge or cooler space to them. They can stay in their individually-wrapped bottles until you're ready to use them. They're easy to pack one or two into a diaper bag or backpack, and in all reality, are a bit of a dream. A dream that ends in a massive plastic island in the middle of the Pacific? Probably yes. Hard to make sure you never run out? Also a, "Yeah, yep, mmhmm." More expensive as well? You betcha. But, a dream nonetheless. And it's temporary, babies don't chug formula forever.
Strollers & Carseats
We once watched a movie in which Paul Rudd was a hippy living with his babies and their mama all in one bed, at least that's how I remember it. At one point, the mom in this movie said something to the tune of, "You use a stroller? That means you're pushing your baby away from you."
We ended up feeling the same way.
For the first two traveling toddlers, we strapped them onto one of those little backpack like carriers that makes it easy to tote them around. Something like this little number, though a cheaper one could be just as effective.
This latest go 'round, some friends of ours offered us this really cool carseat though, which also turns into a stroller. But not in some big clumsy way. This thing is small, agile and just makes getting your little guy or gal in and out of your vehicle and onto the street so wonderfully easy. It's called the Doona and it changes lives for real. This thing is so absolutely sick, I'll use the term "sick" even at 41 years of age.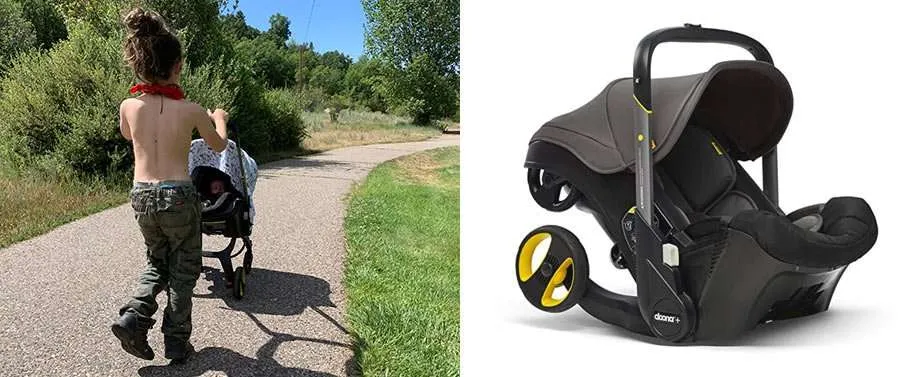 Regardless of the type of carseat you choose, the big thing will be where to put it.
In an RV, it may be difficult to find proper backseats, and most carseats are pretty emphatic about how bad of an idea it is to put one up front. In a van, you have more options since vans with families are often going to entail having some type of back row of seats anyway. But for anyone who's done the vanlife even as a single, packing up and then setting camp back up later that day is one of the more annoying aspects of the life. Anything you can do to reduce how much setup is involved in converting your car into your home and back again makes a big difference.
With a car seat, you're going to have to realize this is a big one. You can't toss a car seat in and out like a sleeping bag. It needs secured, and whatnot. But dedicating an entire van seat 100% to your baby's car seat–i.e., where you don't move the base, ever–is a big commitment, too. Only you can figure out what's right for you, but it's worth considering. And practicing in a normal car, too, for that matter.
Shots & Checkups
Unless you intend to return to wherever your baby was born every two months, the reality is that you're going to be finding random doctors in random places to give your baby her vaccinations and regular checkups. This also means you are very likely to be paying out of pocket for those vaccinations, since most insurance plans won't pay for checkups and vaccinations and things like this when you're out of state. Bummer, I know. In our experience, paying for vaccinations and the checkup at the same time costs around $180 – $220. You might as well do them both at the same time, since that's what would typically happen if you were at home anyway.
It's also worth noting that even if you are willing to pay out-of-pocket, you can't even always do so. If you want to be really strict on when and where your baby can get their checkups and shots, you should do some modicum of planning ahead. Babies tend to get scheduled for these things every two to three months, so knowing where you might be in that time frame isn't the worst idea. For example, we showed up in a little town in Florida where we'd planned to spend the holidays, and the local pediatrician was literally like, "Yeah, hmm, let me see what I can do…" before taking twenty minutes to return to the phone with, "…so I guess, no, we are unable to just let you pay us to be doctors."
Her fault for not being able to give a child the service she specifically requires due to a legal glitch? Our fault that we didn't plan further in advance to ensure there would be no possible reasonable explanation for why a pediatrician's office couldn't administer some simple vaccinations and ask how much tummy time the guy is getting? Should it really be so complicated in these United States?
Healthcare access aside, this may simply all prove to be one of the more stressful things about traveling with a baby, "Is every random doctor really the best thing for my child? Or should I have a consistent doc who knows my particular baby over his first years?"
All that we can say is, it's up to you. In general, it's always worked out for us. Was it never stressful? Of course it sometimes seemed like it was always stressful.
Where to Camp
This is not an attempt at advising you on any specific locations, mind you, but for those of you who may be new to this whole living on the road thing, there are essentially three types of places you can camp.
They range from fully outfitted private RV parks with full-hookups, bathrooms with hot, pressurized showers, laundromats, ice cream socials and all varieties of amenities in between, to more or less camping in the woods.
Staying in RV parks is where the higher end comes in, though certainly there are all shades of classy to dumpy private establishments. Still, most can be relied upon to have at least full-hookups, a place to do laundry, bathrooms and very little space between you and the next rig. Privacy is unlikely. Ease-of-use is high. RV parks are the easiest to exist within, especially with a baby, because they have unlimited amounts of electricity and water to provide. On the other hand, babies can be loud, and having a screaming young one while parked six feet away from the next guy, thin walls and all, can be very uncomfortable. They tend to cost $40 – $65 / night or more.
Every state park in the fifty United States which offers camping suitable for RVs. Info on fees, hookups & more.
State parks are the middle of the road. They often–but not always–offer at least an electric hookup, and bathrooms with showers housing a modicum of spiderwebs. Water isn't always at your site, but usually available to fill up your tanks or jugs or water bottles, however you choose to roll. Your spot will likely be at least somewhat larger than the average private RV park, and something about your immediate surroundings–a river, a particularly fine forest or a reservoir, for instance–will be the reason that particular patch of land is deemed a "state park." Swimming pools and campground stores and Junior Ranger programs round things out nicely. They tend to cost $20 – $50 / night.
Camping on public land is the "camping in the woods" mentioned previously. It won't always be "woods"–think open deserts, vast prairie grasslands, stretches of beach and forested mountains alike–but it's typically the most spacious and beautiful camping you'll find. There are few amenities. It is quite often free.
Public lands, on the federal level, equate to national parks, national forests, and Bureau of Land Management property. Sometimes there will be actual, constructed campgrounds. These tend to cost $5 – $20 and may be considerably more or less spacious than state and private RV parks. Expect vault toilets (i.e., no flushing toilets, just an outhouse) and maybe a place to fill up water. Anything more is rare. These are the types of campgrounds you'll most often find in the national parks and monuments, too.
But camping on public lands can also mean absolutely free camping, well into the wilderness and free from not only fees, but neighbors as well. This is easily the most beautiful, and for many, most enjoyable type of camping.
Baby Food
At some point, your newborn will start rolling into the 3 – 6 month clothing range. Somewhere in this vicinity, they'll be ready to start eating baby food. The stuff is prevalent in all grocery stores, pharmacies, even gas stations may have a jar or two of it lying around.
However, should you want to make your own, we can't recommend the BlendJet enough. No affiliate link here, just a simple, 12v rechargeable blender that's powerful enough to crush ice and therefore easily makes baby food of a blend of breast milk / formula and whatever else is appropriate to feed a baby. Think bananas, avocados, peas, stuff like that. Some people think making their own baby food is hard, and that's a completely viable standpoint, but when you have a banana, an ample source of breast milk flowing freely from mama, and this little blender, it's really not much more difficult than opening a jar of baby food that may have sat on a shelf so long it's older than your baby is.
Breast Pump
For those who will need to pump their breast milk, the right breast pump is a pretty major investment. If you might only need do this once in awhile, you might be able to get by with a hand pump. Some are super simple and cost about $13. Others are only a bit more complicated, and convenient, and cost about the same. But manually getting the goods from the source is tiring and annoying for many a mom.
As we regularly want to have breast milk on hand that doesn't involve sticking the little guy onto the milkers, we ended up with Spectra S1 Plus Electric Breast Pump. It's rechargeable, so you don't have to rely on RV park shore power or draining your solar powered batteries while using it overnight. It's relatively small, and very easy to use, with a timer and light built right in. It is a bit expensive though, so that's the major downside.
Living off Grid
A few other items of note.
Mr. Heater is the way to go if you don't expect to be cold often, but don't want to get caught by surprise. Keep 3 or 4 of those little green canisters ready, as they don't tend to last more than a few hours tops.
Having a sink large enough to fit baby in makes it easier to wash the little guy. We use this one from Ruvati and it's perfect.
We also make great use of our Baby Bjorn bouncer, though no doubt much cheaper options could do a similar trick.
And for the love of all sanity, get yourself some flip flops. Being able to slip them on and off to get in and out of your rig as quickly as possible without removing boots or tying shoes makes all the difference. Baby will cry, you'll want to check in on him, and you may then want to go back out and watch the stars. Flip flops just make it all so much easier.