How to Travel Full-time A Complete Guide
to Perpetual Travel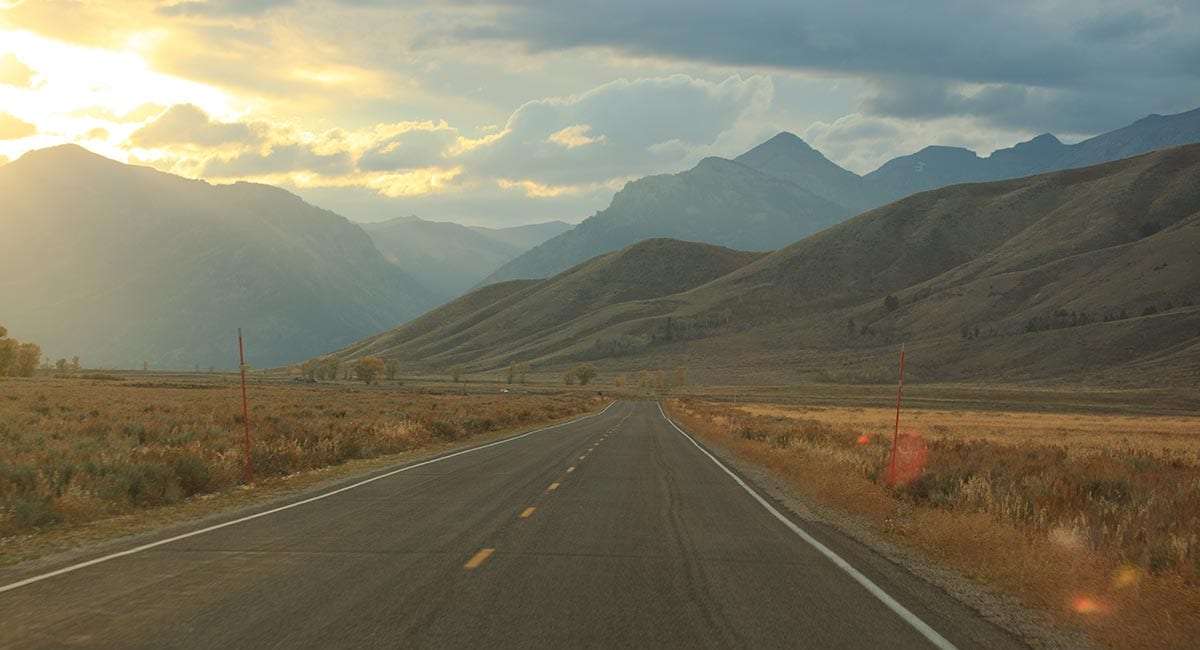 The entire prospect of this magazine aims to answer this question, but the realization suddenly dawned upon our dear office on wheels that perhaps not everyone might have the time or desire to read each and every article and blog post on this site.
Thus this all-in-one guide is born. There will be links, there will be references to other articles, but more or less this is your "How to get on the road, ditch your job, and live in an RV full-time" field guide.
How to Make Money while Traveling
As the idea of perusing the countryside through your windshield floats to the top of your brain on a daily basis, you'll no doubt be consumed with thoughts of all the grandeur that will undoubtedly take place with your new mobile lifestyle. Climbing mountain peaks, epic oceanside vistas over lunch, winding roads through otherworldly desert landscapes, these are the things that dreams are made of.
And then you'll realize that all of this flirting around with nomadism will require an income source.
How you'll make money on the road largely depends on you. It's true that most folks who we've met doing this are earning their cash via the wwws, Mr. Internet.com. Software developers, web designers and people doing support work for internet companies seem to make up the majority of those who've managed to make a movement towards mobile awesomeness.
Writers and photographers abound, too.
But those aren't the only ways to make a living on the road. While they do have online income as well, our friends Jim & Rene of Live.Work.Dream can speak to the value of workamping. While you won't get rich, exchanging your time for free rent and even a few extra bucks can be a great way to add yet another trickle to your income stream. Similarly, serving as a campground host–typically at state parks–usually doesn't pay anything, but it can eliminate your rent altogether, minimizing your expenses.
Lauren and Travis Hardy are another example that comes to mind. They travel around in their 1963 Airstream selling handmade and unusual items, a mobile boutique if you will. Their living space and shop are one in the same, and the unique lifestyle they've created has allowed them to travel from Maine to Southern California, Oregon to Georgia, doing what they love and seeing the nation all along.
The biggest factor on whether you'll be a successful freelancer or entrepreneur is you. If you're dedicated to your dream, creating an income source to support that dream is as important as anything. You'll need to be the type of person who can balance a beautiful day at the beach with the hours necessary to make sure those beach days can continue.
What to Live in
Some full-timers rent vacation houses. Get a spot for a month or two, typically out of season, and you'd be surprised at the discounts you'll get for volume. Vacation renters often love people who will take their property for a few months, it adds some regular income for them while at the same time removing a lot of the hassle that comes with renting to someone new every few days.
Most of us live out of some type of vehicle, though. From rockstar Class A RVs with all of the comforts of home and half the space to tow along trailers to Volkswagen Bus campervans, when we meet people on the road, this is how they're living. In a nutshell, here are some ways to help you narrow down your decision making.
Slow Travel or See Everything?
If you're the type who loves to immerse themselves in the culture of the places you visit, there is no doubt that renting vacation houses is the way to go. It's only after a month or so of living somewhere that you really start to experience the nuances of what makes any given location tick tock around the clock all night. The checkout ladies at the grocery store will get to know your name, you'll meet a friend or two, and the surface fluff–aka the "touristy" stuff–will begin to fade as you learn where the locals hang out, and why.
The downsides of living in vacation houses is that it's easily more expensive, and you have to live out of suitcases, moving your clothes and gear with you every time you switch destinations. Depending on how you get to the places you go, this can be a bit of a pain. If you drive from one spot to another, maybe it's not such a big deal, but if you're flying around the world, how much can you carry with you on those planes?
Also, if you stay somewhere for two or three months at a pop, you won't see much of the world. You'll see some of the world more clearly, and that is a beautiful thing, if you take it slow (can't recommend it enough!) but you won't knock out all 50 states any time soon. If you like the freedom of having your home come with you, and all of your stuff, too, then an RV is the way to go.
Freedom or Comfort
Let's say you've realized that the RV life is for you. You'll float around with your fridge never too far away, the open road yours for the picking and any time you don't like your location, open up an atlas, point your finger and go.
The term "RV", unfortunately, is pretty broad. I've found that there are two ways of classifying all RVs: big and small.
With a massive Class A or the Fifth Wheels that can be just as spacious, you don't really have to give up that much space in exchange for this lifestyle. Particularly if you were a young person or couple who lives in an apartment anyway, you might not notice much of a difference in the amount of space you're living in as you hop into your grand old rig and head out into the world. The fanciest RVs have big TVs, big fridges, hell I've even seen those with slide outs that open up to a deck.
We've gone days, if not an entire week, at a time watching as retirees in these types of large, cushy RVs never need to leave their house for all of the comforts that can be stocked inside. Of course, there are plenty of extremely active people who engage themselves in the places they go living in big rides, too.
Jason and Nikki of Gone with the Wynns come to mind, as does the family behind Where in the Howell are We?
Both of those groups prove that just because you've got a giant motorhome, that doesn't mean you can't get out and into the wild. It's possible, but there is a limitation that size like that brings, whether it's where you can physically fit, how easy it is to maneuver around the backstreets of small towns and cities, and the gas you'll guzzle all the while.
On the other end of the spectrum is the VW Bus, Class B "campervan" and Sportsmobile-type rides. These are all essentially vans that have been kitted out in one way or another to provide living space and a variety of other conveniences for making a life out of such a small space.
Volkswagen Buses (often referred to as "Westies / Westfalias" when they've been converted to campervans) are about as small as a home on the road can be, but still pack in a fridge, Coleman stove, often a sink and even a propane heater. The older the better (vintage cred goes a long way to making it on the road), when kept in running order they can be taken nearly anywhere, you can almost literally call any legally available parking spot your home, and an entire subculture is out there just waiting to chat with you about your choice of home-on-the-road.
True Class B RVs are more like suped-up conversion vans. A company takes a van like a Chevy 2500 or Ford E-250 and kits it out with screened windows, a fridge, beds, sometimes a shower and toilet; just about anything you'd expect from a normal RV but in a much smaller space. They're typically as long as "extended" vans, have running boards which limit their clearance, and if you wanted an option with satellite television and a flat screen, it wouldn't be impossible to find. Roadtrek, Pleasure Way and Airstream are all brands to look into for this type of campervan.
When I refer to a Supervan, a term I may or may not have made up, I'm talking about rides like Sportsmobile customizes for you. The ingredients are essentially this: take a van, add four wheel drive, a pop top, a kitchen, throw on a bunch of cool looking gas tanks and ladders on the outside, and go wherever you frickin' want. I have lived in a Class C, then a Volkswagen Bus, and currently a 31′ Airstream and my next move will be to a Supervan, if that means anything to you.
The extremes of the spectrum covered, you'll no doubt realize how many in-betweens exist within this range. Motorhomes vs. trailers, vans vs. RVs, fifth wheels or pop ups, truck campers or school buses, there are literally dozens of combinations available to suit any particular family or couple's needs.
What I find though is that figuring out exactly which one is right for you before you hit the road can be daunting, if not downright impossible. The best advice possible is this: nearly everyone I know is either happy with what they have, or wishes they'd have gone smaller. Their are families living in rock stars who wouldn't have it any other way, and there are those living in mid-sized RVs who wish they would have gone for a campervan. I've never heard of anyone who wishes they could go larger.
One way to test things out for yourself is to do an extended rental from somewhere like El Monte or Cruise America. I suggest at least two or three weeks to really get the feel for what day to day life is, after giving yourself a little time to let the sheer thrill of the adventure fade off a little.
New or Used
The final big decision is all about how you want to spend your time and money. Every RV, like any other vehicle or home, requires maintenance. How much maintenance depends on what you buy, and that choice stems from your personal situation.
It's no big eye-opener that buying used is cheaper, at least in the short term. I find that it's vastly cheaper even in the long run, but instead of dropping a set amount of money up front and then paying a fixed monthly payment, when buying used you essentially put a downpayment on your rig and then your "monthly payments" are whatever you decide to do this month to either keep things going or get them where you want them to be.
I'll use our 1976 Airstream as an example, again going with the "extremes" model here. Because we chose to go with a vintage vehicle, we only had to pay $7000 up front. That meant I was able to save for a year or so and buy the trailer outright. No payments, to me, is important, because I like to spend the money I have on wants instead of needs.
Within three months of owning the Airstream, however, I'd dropped a couple grand into redoing much of the interior to suit our family. Would I have purchased a new Airstream, I could have gone for many of the options and color schemes we wanted right out of the box. Not exactly what we did by any means, but something suitable would have been available. In addition to maybe $2000 worth of paint, polishing tools and liquids, and all of the random hardware, wiring and exterior gear needed just to get her roadworthy, I spent nearly one hundred hours working on her. That included learning how things worked, fixing them, and a lot of driving back and forth to the closest Ace Hardware.
We also bought a used van to tow her with. It was a beautiful piece of machinery, a conversion van that was kitted out enough that we could use it for a bedroom as well as a means of hauling our Airstream and family around. However, it was almost 20 years old when we got it, and though it was a champion on its own, the weight of the Airstream was too much for its cooling system. Everything was rated correctly, I did my research, it was just that a van of that age couldn't do the job any more. We ended up putting, again, weeks of time into it before we broke down and bought a newer 2006 Ford E-350 that was more than enough to get 'er done. I took on a payment, even for a used vehicle, in order to spare myself any more of my own time tinkering with what wasn't working on the side of the road.
Aside from oil changes and keeping air in the tires, we've had nearly no issues with this new van since. Because it was used, I was able to pay it off within the year, and we ended up with something reliable and affordable.
Back to the Airstream though. A few months down the road and we needed new brakes, the old ones were shot. New tires to replace the cheapos I'd opted for the first time around. Our electrical system required a good deal of updating, almost as much as was involved in getting the plumbing and water system in general ready for boondocking. Throw in a busted frame, replacement of our nearly forty year old axles, and the minutia of little things like getting propane leaks fixed and replacing everything from the toilet and much of the sewage systems to the fridge, and we're now close to $20,000 into this vehicle.
I could have purchased a used Airstream from the mid-2000s for around $30,000. I would have still had to do some upgrades, yes, but nowhere near what I've done to our 1976. I also would have saved probably two to three months in actual time working on the thing. Would that have been worth $10,000? If you're desperate for time, yes, but for me much of what I learned working on the old girl was worth that $10k.
If we were to have purchased a brand new or nearly new Airstream, our price tag would have been closer to $50-$70,000. Even if there was never an ounce of maintenance required on the thing for as long as we might live in it, all of that time I spent fixing up the old would have been working my job to pay for the new. I don't mind my job one bit, but on any given day, if I can do it for half of the day and spend the other half learning how alternating current works, then I choose the latter.
How to Get Rid of Your Stuff, Ditch Your House
Once you know how you'll make a living and the logistics of your living situation, it's time to remove the old baggage that's keeping you in one physical location.
As for getting rid of stuff, well in theory it's as easy as one more piece of pie, please. You can throw it all in the trash. Donate it to Goodwill. Sell it on Craigslist. For us, it's always been a combination of all three.
We'll have a yard sale. I price things cheaply so they'll go, if my goal is to eliminate "things" then no better way to do it than to have a stranger pay me a few bucks to haul it away.
From what's left, we'll see if any of it is good enough to take to Goodwill. Surprisingly, almost everything is (they have a "broken cell phones" section after all).
Load it up, drop it off, get a receipt for your taxes if you'd like.
Whatever's left is trash. Throw it in the bin, recycle it, just get it out of your life.
If you're a renter that's really all there is to it. If you own a home, you'll need to make the big decision: Should I sell my house, rent it out, or just let it sit?
Whether you're selling a house or just getting rid of a bunch of stuff, you're bound to run into some emotional ties with things that you don't want to get rid of. All of those pictures your kids have been drawing all of these years that you keep in a box under your bed just in case you ever want to look at them. The fine china, those extra pants you know you'll need if you're ever asked to officiate a Hawaiian themed marriage (again). Emotional bonds can hold us back just as strongly as a desire to adventure can leave us longing for the road.
My best advice is this: weigh what's more important to you. You can collect things, or you can collect experiences. I know which one I choose every time.
How to Do it all with Kids
Now what about those little ankle biters you've found yourself with over the years. Is it parentally responsible to just pull them out of school, get rid of all of their stuff, and remove them from their network of friends? That's not an easy question to answer.
Does travel open up a young person's mind to new things, experiences they never would have had anyway? Will they learn more from a hike through Yosemite than an entire quarter of public school? Will spending their days with their family instead of a teacher and classmates make for a more close-knit home life?
As you can see, depending on the questions you ask, the answers can gravitate heavily one way or the other. If you've got tikes, and want to travel, you'll need to arrive at this conclusion yourself: travel is infinitely better for anyone, regardless of age, than stagnation. It encourages life outdoors, provides input from channels you may have never even dreamt of were you not thrust into their midst, and all in all teaches children how to think, how to solve real life problems, instead of being presented with predesigned courses and pieces of paper intended to lead them in a specific direction known as fact memorization.
If you disagree, that is completely fine. But I think a general acknowledgement of those truths is necessary for any parent who decides to gift their children with a traveler's gear.
The Little Details
Now that we've got the big stuff down, let's talk minutia. Getting mail is hard when you don't have a fixed address. The Internet does, indeed, suck monumentally when you're relying on free WiFi and cellular connections compared to high speed at home. Doctor's visits, grocery shopping and your daily showering routine will all change significantly. Even trying to buy a six pack will be somewhat of a new adventure as you meander across state lines, and state laws.
Luckily, we've written an entire issue on how to navigate all of these things.
Where Should I Go?
It's funny how easy it is to imagine yourself traveling. It's even more comical when you finally get behind the wheel and realize you're not sure exactly where to go.
While most of us will start out with some destinations in mind, places we've long wanted to experience, it's easy to burn through those pretty quickly. Even if you do know that you want to go to Austin, Texas and then Boulder, Colorado, well, there's a lot of stuff in between. How do you figure out which campsite is the best? Or which region you should even begin looking in?
For some people, these decisions define them. Take Brian and Maria of the Traveling Pint, for example. They began just randomly wandering about. Early on, they were wondering what to do and so headed to a brewery. For the past few years, touring from one brewery to the next has become what they do. It makes sense: craft breweries and great places go hand in hand. Towns like Boulder and Asheville, North Carolina have breweries precisely because of the conduciveness of the great outdoors, great small towns, and great beers. People who like one of those often like the other two as well. Voila, a solution has been had!
When I first began traveling, I was more or less aimless. Drive down the road, listen to people's suggestions, go there. I soon realized that I loved really, really small towns. So I found a list of the smallest and started checking them out. After a year or so, and by this time I'd picked up a new girlfriend who had input of her own, we found that state parks were our preferred places to stay. We also realized that you could find really great natural areas and exceptional small towns with a simple method:
Find a nearby National Park.
Look at the towns around it. Just do a search on Google Maps like "bars near Mt. Rainier National Park" or "coffee shops near Redwoods National Park". That will give you a list of two or five towns to set your sites on.
Then, in each one of those towns do a search for "Walmart" and "McDonalds". If either one of those show up, you can be pretty sure the towns will be large, and likely surrounded by strip mall. I avoid those and focus in on the others.
From there you can make your individual decisions: do I stay in the park and visit the towns, or find an RV park in the town and visit the National Park? You may also love strip malls and want to be back to back with your nextdoor RVing neighbor, in which case ignore all of the advice I ever give.
How to Save Money
Finally, once you've figured everything out and you're on the road, you're going to want to save some cash. While there are a lot of ways to save money on the road, there are three surefire ways we've found to cut some of the biggest expenses.
Firstly, if you take it slow, and stay in any given RV park for a month or more at a time, you can often get killer monthly rates from $300 – $600 / month. You'll also save a ton on gas this way.
If you do want to travel around a lot though, look into state parks instead of private RV parks. Rates are typically closer to $20 / night, and while they may not always have full hookups, that's comparable to $35 – $50 / night in private RV parks these days.
Finally, joining membership clubs is definitely a good way to go. I am a member of AAA, Good Sam and KOA. All three get me 10% off, but not all three work at every single park. I've also used Passport America, where you get 50% off overnighters, before and it proves to be easy to make a profit on as well.