Discovering the Diversity of Lake Atitlan, Guatemala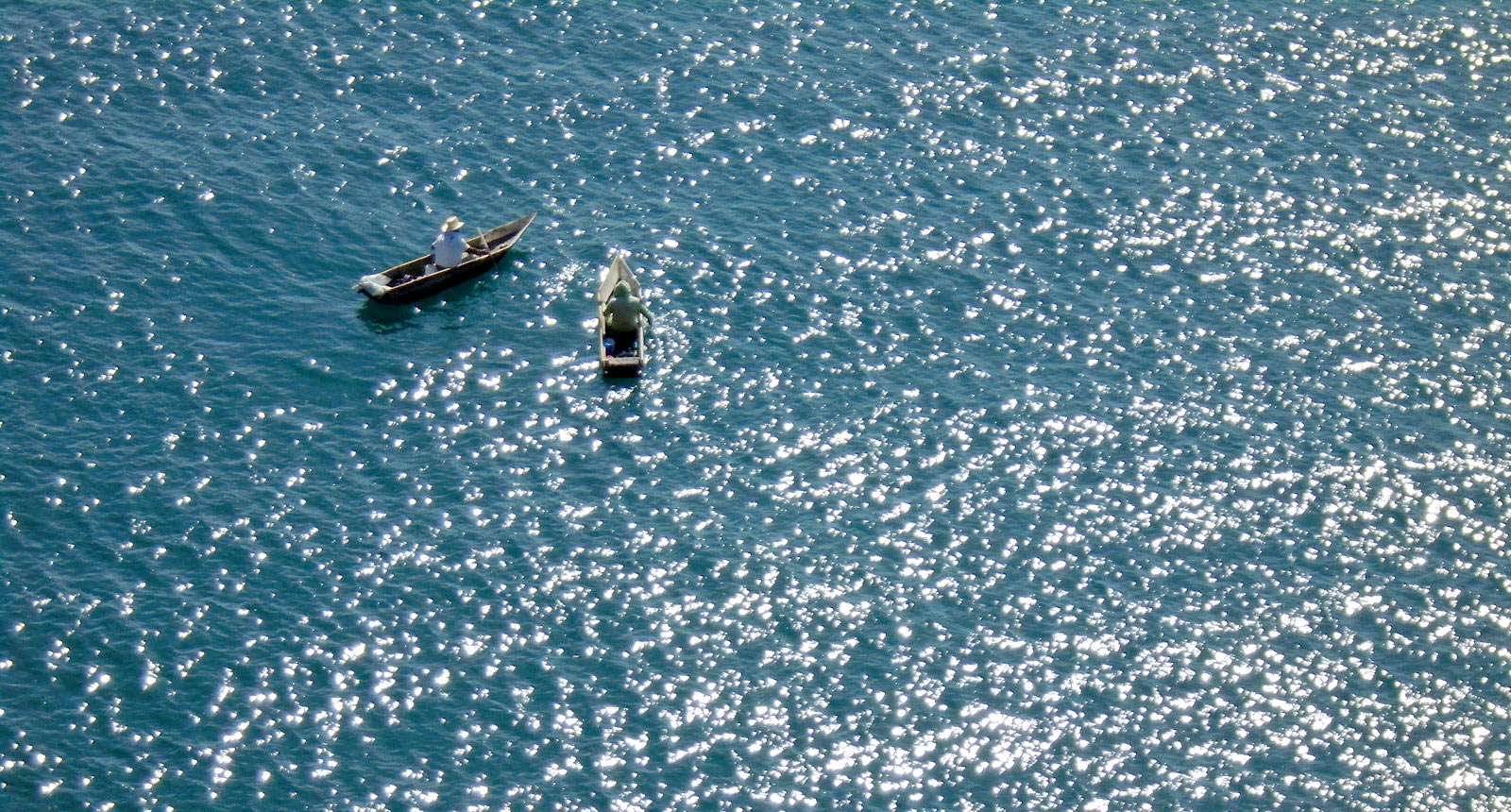 Touching both the Pacific Ocean and the Caribbean Sea and bordering Mexico, Belize, Honduras and El Salvador, Guatemala delights travelers with ancient ruins, mystical highlands, and a colorful culture. It also is the home to Lake Atitlan, one of the most magical spots we've ever called home on the road.
As with many before us, we arrived at the tiny village of San Marcos intending to spend a month there. Three months later we left the lake on the very day our visa was to expire, totally captivated by the people and the land.
The trip down to San Marcos is an adventure in itself. While the lake sits at just over 5000 feet elevation, driving in from southern Mexico found us dropping over 4000 feet in elevation in less than 10 miles on one of the most winding, brutal, scenic roads we've ever driven. We faced poured asphalt, single lane dirt tracks, 180-degree corners, and potholes the size of a VW bug. After a full day crossing borders and enduring torrential downpours, and a near full loss of our brakes on the descent, we were never so happy as when we pulled into the hamlet of San Marcos and found Carlos, an American ex-pat from Georgia who became our first landlord in our months at the lake.
Where to Stay, Towns & Villages Around Lake Antigua
The lake consists of a very diverse group of 11 towns and villages, although a few really stand out for what they offer when exploring the area. While we stayed in San Marcos for the entire length of our stay, we did spend plenty of time on lancha's, the small commuter boats, heading to villages around the lake for crafts, shopping, and eating.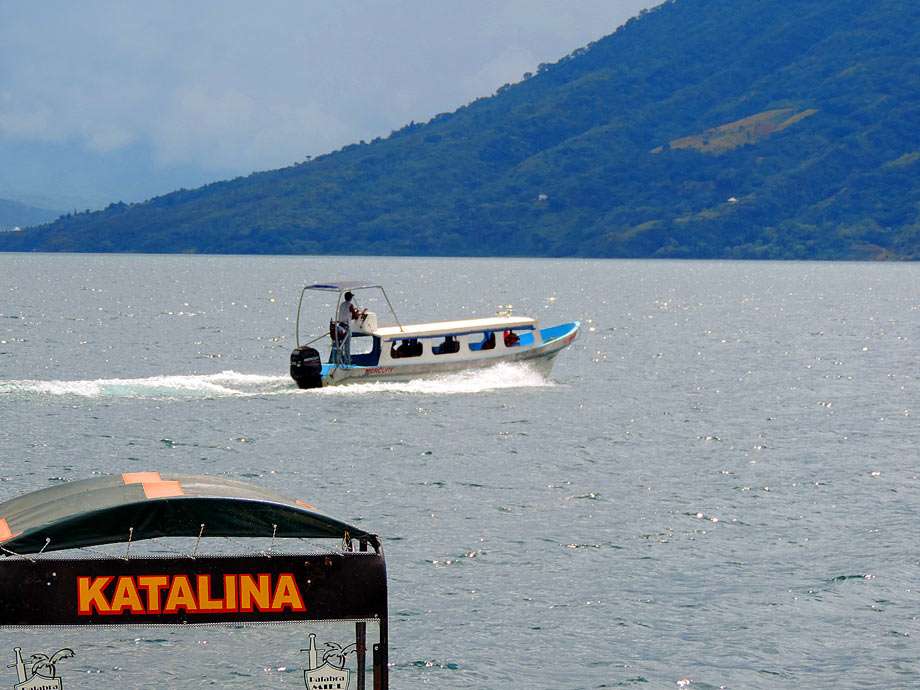 Hostels and guest houses are readily available throughout the region with a few of the villages; Panajachel, San Marcos, San Pedro la Laguna and San Juan la Laguna offering up the most options available for the traveler. Smaller villages such as Tzununa and San Pablo still have some interesting sites and stays for those looking for a truly local experience.
This family of three has traveled from Alaska to Argentina, coast to coast in the US, and who knows where to next!
Panajachel is the largest village on the lake with around 15,000 residents and the only village with easy access by road. Lots of travelers coming in from Antigua or other areas in the country bus into Pana, as it's affectionately known. Pana offers what some consider "real" grocery stores, hardware stores, and plenty of restaurants, hotels, and bars. Pana is a good introductory town for the entire lake district and is also has some options for a bit of nightlife after 9:00 pm.
Things to Do Near Lake Atitlan
There are plenty of things to keep you busy for days on end and if shopping is your thing, head to Calle Santander for some of the very best buys in the country. As always when traveling, hard bargaining is expected, but it's good to remember that at the end of the day the 20¢ you're haggling over means a whole lot more to a local merchant than it does to you. The goal is to find a happy medium for everyone involved while enjoying the spirit of the culture.
We generally headed to Pana only when found we really needed to head to the "big city" for a part from the hardware store, but on one visit found an unexpected delight at Crossroads Café, an institution in town. Crossroads is one of the spots to hit to drink some extraordinary coffee, have a sweet, and visit with travelers from around the world. If you ask, they'll even show you the "secret" room.
If you're staying in town, it's easy to indulge in a variety of spa treatments, book a sunset cruise, or even take a cooking class with a traditional Mayan chef. For those wishing to settle in for a bit, Pana offers up that intriguing elixir of great natural beauty, easy travel connections, helpful travel resources and a thriving ex-pat community who are willing to aid newbies.
With a thriving travel vibe, all the bigger villages surrounding the lake offer up a myriad of lodging options, but Pana does offer up a larger variety of choice. Those looking for a more "Western" experience still coupled with Mayan hospitality can find modern hotels offering excellent amenities for $75 +/night, a cost far above the more local bed & breakfasts and guest houses favored by the backpacker crowd. Hostal Abu is a favorite for its central location, cheerful vibe and $20/night price tag.
Whether you got your toes wet in the big city of Pana or if you wish to experience Atitlan in a smaller town have no fear. There is a perfect village for everyone!
If you're searching for enlightenment and a yogi vibe head to San Marcos la Laguna and rock your hippie spirit. Although San Marcos is a tiny village compared to Pana or even San Pedro, it is an extremely popular spot for centering your chakras, trying a wild mushroom treatment, or enjoying a yoga retreat.
The one road through town crosses the bustling main square has a tiny, yet surprisingly well-stocked market along with several restaurants and coffee houses. Follow the paved path toward the lake and surprise your tastebuds at the delicious Il Giardino, one of our favorite hang-out spots. Set in a garden setting, Chef Mark produces fresh bread and pasta daily, has a friendly yellow lab, and evenings often feature live music over dinner.
For such a small town, we discovered we never went hungry with the likes of Blind Lemons and Restaurant Fe and found ourselves returning often for lunch at Konojel Community Center's small spot just off the main square. Konojel is an inspiring grass roots NGO that focuses on easing food insecurity in the local community along with running computer classes for kids, women's resources, and a job training program. Several of the local women served up daily lunches at their restaurant. The food was delicious, we spent time with some of the children in their programs, and all proceeds went back into the community. A win-win.
Yoga is a must when visiting San Marcos and I suggest a trip to Yoga Forest, a steep hike up the hill and offering excellent programs and spectacular views.
Cacao ceremonies are commonplace in the village, and you might find it interesting to join an immersive 5-hour ceremony performed by Keith's Cacao. Shorter mediation and cacao options also exist for those interested in the journey but unwilling to start out with such an intensive experience.
I admit to not being much of a coffee drinker. To be totally transparent I'm a coffee snob. Having said that, I found myself regularly indulging during our time at the lake.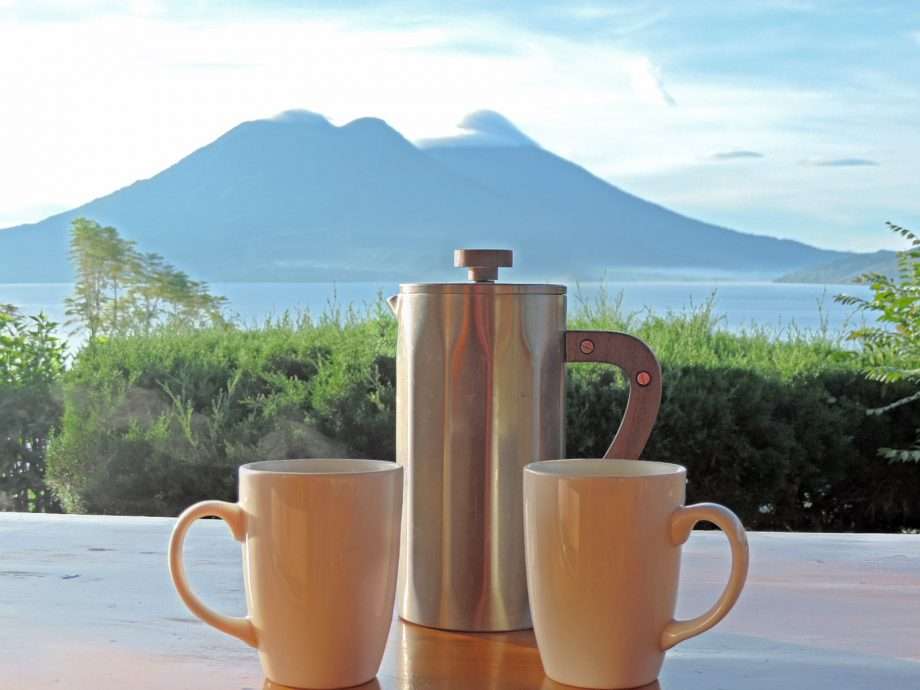 Lake Atitlan features a nearly perfect climate and the hillsides around the lake are literally dripping with mango and lime trees, avocados grow naturally and drop at your feet as you hike the endless foot paths around the lake, and wild coffee bean plants are everywhere! Shortly upon arrival we made the acquaintance of Tim, an ex-pat who founded Shangri-La Atitlan and was a neighbor during our time in town.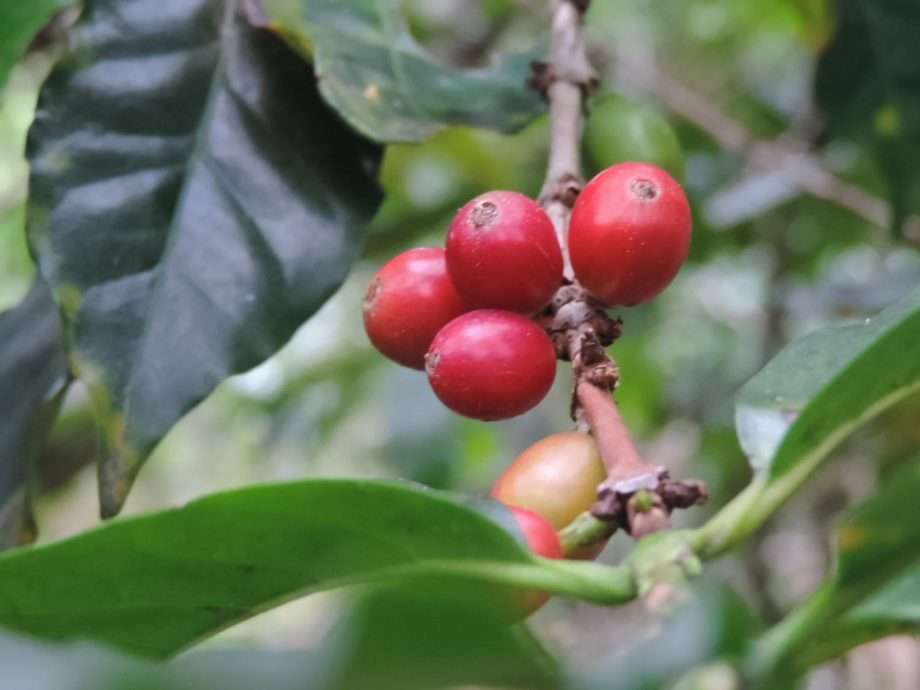 Tim quickly became one of our favorite people because he encouraged a morning text to advise if you were ready for a new pound of coffee, his house tahini, and his daily homemade bread to be delivered to our Air BnB. Sheer heaven! Be sure to check out one of the offered tours to learn about the coffee roasting process. An added incentive to check them out, he pays above market prices for his beans to the locals to assist the economy.
Multiple options for lodging abound in San Marcos but I have to very highly recommend the two spots we called home during our time at the lake.
Carlos, an American ex-pat, owns Blind Lemon Restaurant with his Guatemalan wife as the head chef, but also operates a couple of wonderful rental properties.  7 Volcanoes was a gorgeous two-story rental offering two separate studio apartments. The lower level was all ours and offered beautiful tiles, comfortable accommodations, and views of Volcano Fuego puffing smoke from the bedroom window. An additional plus, it was a short stroll down a footpath to the main square.
The balance of time was spent at the extremely well-known Pasajcap. The brainchild of ex-pat Pierre, Pasajcap is a familiar stop on the overlander trail through Guatemala. The property sits scenically overlooking the lake and accommodations range from individual cottages, to camping, and apartment options.
A great day trip from San Marcos begins with a 1-hour stroll to the very traditional village of Tzununa. Why make the trip to such a small village? Two words; Atitlan Organics. Shad & Colleen, ex-pats from the Northeast United States, moved to Guatemala in 2008 to live sustainably. They began Atitlan Organics as an example of the complex world of permaculture and spending a couple of hours on one of their farm tours is fascinating. While many styles of permaculture exist, they have found the perfect match for them and their salad greens, produce, and eggs are perhaps the best I've eaten anywhere.
In addition, they raise a small number of chicken and pigs for meat and their goats produce amazingly delicious yogurt. They offer multiple volunteer opportunities and run Bambu Guest House a short distance from the farm in Tzununa with comfortable rooms, a delicious farm-to-table restaurant, and spectacular lake views. As I found so often around the lake, they are an excellent example of non-native residents truly committed to joining the local economy in a collaborative manner.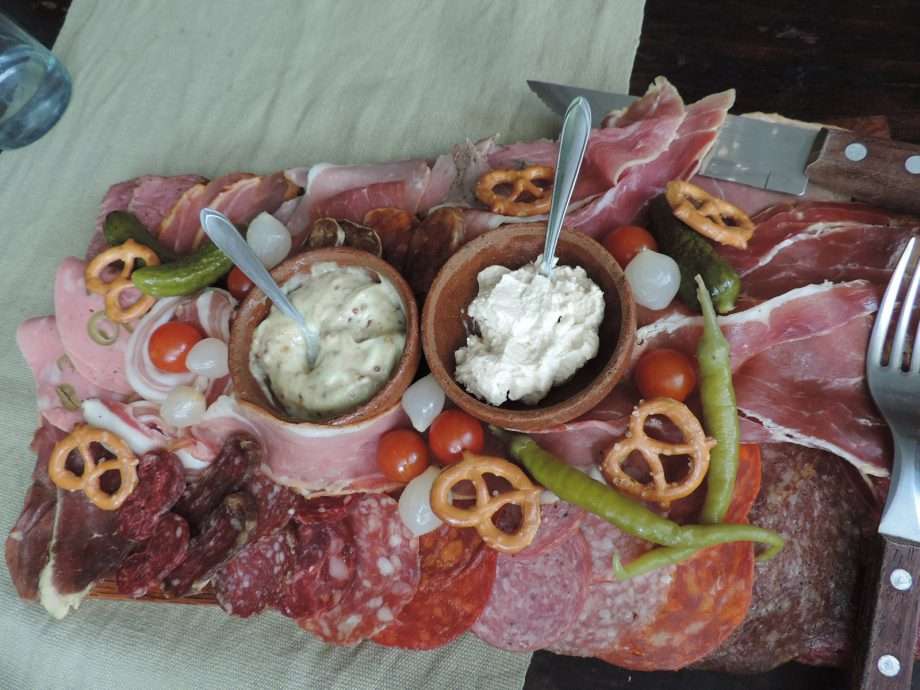 Volunteering
Volunteer opportunities abound around the lake and my choice was to build houses with the Guatemala Housing Alliance. It was extremely gratifying to assist in the build of two separate houses in neighboring San Pablo. Each day our group would grab a tuk-tuk, one of the easiest ways to travel between villages that are in close proximity, and head to the build site.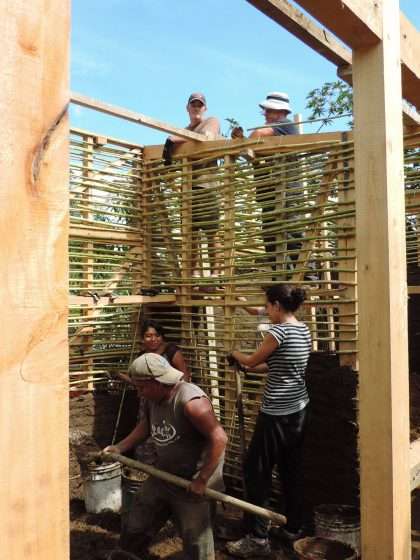 Local families apply to receive a house from the housing alliance. Careful consideration is given to the family's situation and once chosen, the mother's name also appears on the title to ensure that in case of later domestic dispute she and her children can continue to occupy the home.
The recipients are required to assist with some of the work alongside the crew and often provide lunch for the local crews. The alliance also replaces floors in homes that are secure but made of dirt and replace leaky metal roofs as part of their services.
These small, two-room builds feature a unique manner of build which features a combination of thick reeds tied together in between which a mix of mud-straw-leaves that is smacked by hand between the reeds to form a plaster before crews add a cement floor and sturdy roof to form a safe haven for the family. These home builds were a truly satisfying way to volunteer and assist community members.
San Pedro and San Juan both also have much to offer to travelers and are well worth a visit.
San Pedro la Laguna is one of the most popular villages for the backpacking crowd around the lake. With a population of around 9000, San Pedro is large enough to provide the shopping, restaurants, and accommodations to make for a pleasant stay and offers an easy-breezy vibe. This town also offers the least expensive prices around the lake and a vibrant nightlife not seen in any other village adding to the popularity of the young backpacking crowd.
Most popular for Spanish Immersion classes, San Pedro possibly sees more visitors than any other village other than Pana. Acquiring Quetzales can be a challenge around Atitlan and the fact that San Pedro offers not one but TWO ATM's also lends to its popularity.
One of the most popular Spanish schools is Corazon Maya Spanish School which offers immersive classes and inexpensive home stays with local families to focus learning along with learning the culture. Pricing for classes is based on the number of hours of weekly instruction and immensely helpful for further exploration of the country.
I found myself in San Pedro regularly to take advantage of the great shopping and wonderful weekly market but also for the Sunday foodfest, better known as Smokin' Joe's BBQ. As much as I adore travel and the ability to experience different cultures and food, during periods of a long trip occasionally I just really want a taste of home and Joe's fit the bill. Many a Sunday we'd board the lanchas and head for an afternoon of spicy $1 bloody Mary's and good food. For one price you get your choice of meat and unlimited sides and salad with plenty of leftovers.
Although there are a lot of options for lodging in San Pedro, the most popular choice remains Mikaso Hotel. The hotel features dorm and private rooms at great prices, a deck with lake views, a game room and even a community kitchen. Plenty of guest houses, hostals, and private rentals are also available.
San Juan la Laguna proved to be our most visited village away from our home base of San Marcos. Although a bit larger than San Pedro, the vibe of San Juan is completely different. Best known as the artisan village, San Juan is packed full of culture and color and we simply couldn't get enough of the textiles and markets. And the food. Oh, the food!
First, the textiles. There are over 35 women's weaving co-ops in San Juan featuring anywhere from 3 to 75 participants. Store after store along the winding streets displayed brilliantly colored, homemade textiles in traditional patterns of the Mayan Tzutujil people. Many of the Mayan ladies are tiny in stature but as strong as they are talented.
With the organization of the co-ops, these ladies, many of them single mothers, are able to cut out the middleman dramatically increasing the percentage of sales of their crafts that they bring home to their families.
The color and quality of the textiles is superb, and you'll have no problem finding a treat for yourself and others to bring home for gifts. It was easy to spend hours wandering from one cooperative to the next admiring the handiwork and meeting the weavers.
Hours spent wandering and shopping works up an appetite and San Juan is not lacking in excellent choices. Restaurant Fe, a sister restaurant to Fe in San Marcos is a delicious choice for their curry and Asian inspired offerings. To feel like you're making a difference in the community an excellent option is Alma de Colores. Alma is a social inclusion workshop for people with disabilities. The members work in a variety of areas ranging from crafts to gardening to working in the restaurant.
Each day they offer a few delicious vegetarian options in their colorful restaurant along with offering crafts for sale to add income to scholarships and other services available to them through the organization.
On two different occasions, the promise of platters loaded with dozens of varieties of locally sourced cheeses and meats partnered with a seemingly endless number of sides with typically found options such as olives and pickled vegetables but also smoked mascarpone cheese and designer mustard found us heading to San Juan to eat at Café el Artesano found at the Casa Zapote B&B.
The cheese platter came with 27, yes 27, varieties of cheese and ranged from blue to goat to gouda and was liberally sprinkled with grapes, pistachios and almonds accompanied with honey and guava chutney.
The meat platter consisted of 17 meats including prosciutto, ham, mortadella, and salami and featured sides of pretzels, marinated peppers, and pearl onions along with the aforementioned smoked mascarpone and the most amazing bourbon mustard ever imagined.
Endless baskets of fresh bread and assorted crackers continued to appear as did one liter of wine after another making for some very, very content travelers.
San Juan doesn't offer up a great number of lodging options but we did meet travelers experiencing home stays with local families and there are a couple of bed & breakfast options (including Casa Zapote B&B, home of my favorite meal at the lake)
The remaining villages encircling Lake Atitlan are authentic, local towns. Santa Cruz, known as the nearly vertical town is worthy of a couple of hours stroll (let's be honest, a couple of hours of panting up and down the super steep streets) and Jaibalito, a charming local town with a couple of relaxing places to stay for true peace and quiet came up the most in conversation with other travelers.
Getting to Lake Atitlan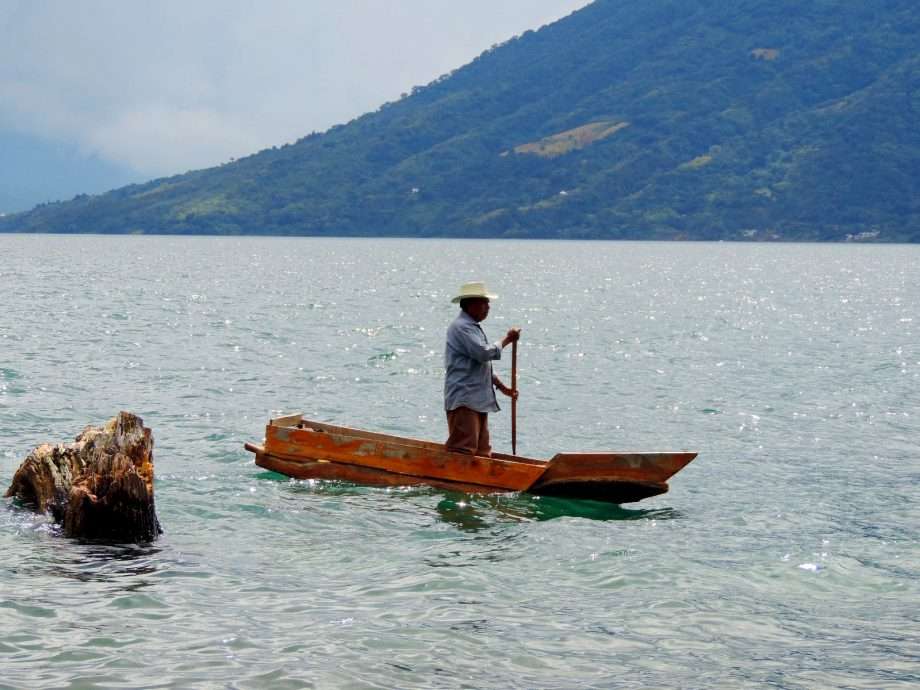 Getting to the Lake is almost as interesting as being there. The reality for most travelers is that there are two main entry points. The easiest, and most frequently used, is a local bus connection into Pana. Easy bus connections several times per day travel between Guatemala City and Antigua to this hub.
To get to the San Marcos side of the lake there are frequent chicken buses or shuttle vans from Antigua. If you get motion sickness, make sure to stock up on the Dramamine because the steep drop down into the lake features a multitude of 180 hairpin turns, bad roads and potholes in abundance.
Getting Around the Lake
The tale of two women, one an already experienced traveler, the other a farming mother from New England, and how they organized, planned and raised the funds to take their combined eleven children on a two month roadtrip around the United States.
For short jaunts between villages, tuk-tuks abound and for less than $1.00USD. Walking is doable between some villages, although be careful to walk with others and never at night. Most trips around the lake involve boarding one of the many lanchas which generally operate remarkably on schedule between the villages. The north side of the lake is mostly devoid of roads and potholes in other areas make travel by boat the most popular option for most. Fares range anywhere from $2-5 USD for most routes. Pro Tip: the smoothest rides will be in the morning before the afternoon wind picks up turning the lake into whitecaps. Sit in the back for the best ride and be sure to pay attention to where the life jackets are located as several lanchas have capsized in recent years sometimes resulting in death.
Visas
Many countries do not require a visa in advance and residents of them automatically receive 90-days upon arrival in the country. Keep in mind that Guatemala is part of the Central America 4-border control agreement which means the 90-days in total applies to travel in Nicaragua, Honduras, and El Salvador as well. Many travelers we know took advantage of the one-time renewal in Guatemala City and repeated border runs to renew their visas to stay in the country for longer.
Money
Guatemala uses the quetzal as currency. The exchange rate as of January 2022 was $1.00 = 7.70q. San Marcos last had one ATM in town which was often out of money. There are two ATMs in San Pedro, one near the pier and another at the bank up the main street although occasionally these were short on funds as well. Pana is the most consistent option for retrieving quetzals. Most small vendors and stores do not have adequate change for larger bills so keep this in mind if heading out shopping.
Weather & When to Go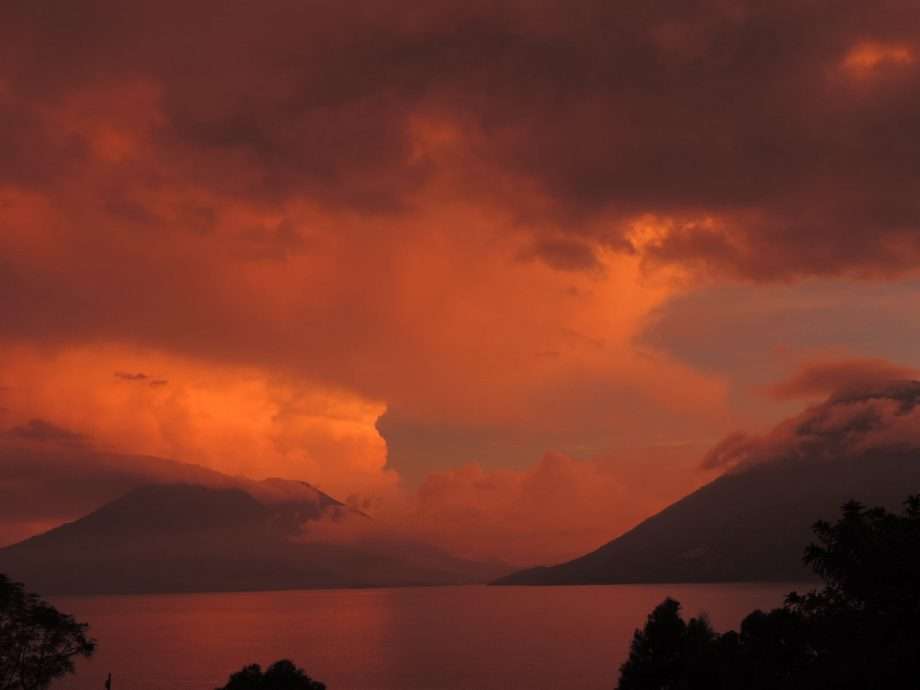 Quite frankly, the spectacular weather is one of the reasons we were drawn to the Lake. Although officially the wet season runs form May to October and the dry season runs from November to April, because of the mile-high setting and sub-tropical climate, the temperature is nearly perfect year-round with no need for air conditioning or heat. Temperatures between the hottest and coldest months generally only have a difference of 5-10 degrees. September tends to be the wettest and January the windiest but overall, the climate is spectacular.
Internet
While many hotels and restaurants offer up some WiFi, it's a simple matter to get a Tigo or Claro SIM card which can be re-filled at a variety of mini-marts and phone stores in Pana or San Pedro la Laguna or San Marcos la Laguna. The initial purchase of the SIM is easy in Pana (or Antigua/ Guatemala City). You can easily recognize these by the blue and white Tigo logo. Keep in mind that while many mini tiendas (mini marts) with the Tigo logo don't sell the cards but instead are used to recharge your existing SIM. Choose your plan, insert your new SIM card, and you're up and running.
Food & Water
Delicious food exists all around the lake. Pana, being the largest village, as several stores more like what we consider a "grocery store", although San Marcos and San Pedro both have several small markets that are surprisingly well stocked. Each of the three also has an excellent health food store offering up a bounty of organic produce, familiarly branded canned foods, and bulk spices. While San Marcos is tiny, there are no fewer than two small tienda's, the health food store (which also offers our friend Tim's delicious fresh bread), and a larger tienda housing imported peanut butter, good butter, wine, and a variety of pastas along with fantastic locally sourced kombucha, goat cheese, coffee and jams.
The fantastic climate means vegetables and fruits are king and even the smallest village offers at least a couple of stands. The quantity and quality of produce can vary by day of the week, but each are stocked twice per week.
Fresh corn tortillas are also readily available from several local vendors with stalls between the main square and the docks. These vendors also tend to offer up a few vegetables and often some crafts for sale.
Language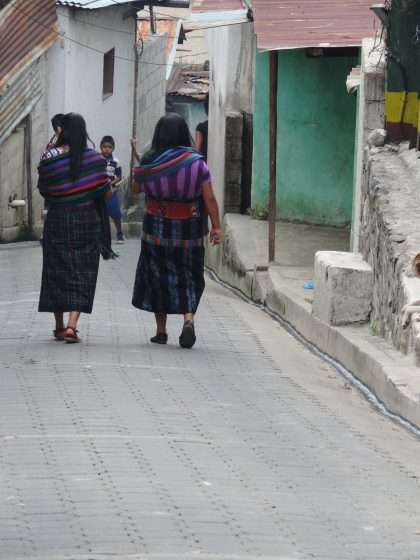 Spanish is spoken widely, however, the indigenous language of Kaqchikel, one of three spoken here, is the most common for the local Mayan community. Because of the large number of travelers to the area you'll find most locals dealing with the tourist trade speak some English and restaurants and hotels all have English speaking staff.
Safety
In general, we found Lake Atitlan comfortably safe. Having said that, we did heed advice and never wandered solo, didn't walk along the roads between villages at night, and were conscientious of Sundays when it seemed many of the local men were hung over from over-imbibing the night before. Although we never experienced anything concerning during our time at the lake there were a couple of muggings and one assault on a lone female traveler. Common sense is always the best advice.
Pro Tip: In this extremely steep, heavily forested region it is common to see individuals or groups carrying large machetes. This can be off-putting at first glance but once you begin traveling through the dense vegetation around the lake this necessity becomes clear.
Beyond the Lake
Obviously, Guatemala is much more than just Lake Atitlan. If you're heading to Lake Atitlan by land you will discover villages, jungles and ruins spread from one side of the country to another. Here are a few places well worth making time for.
Tikal
The iconic pyramids of Tikal rise impressively from the jungle mist. This ancient Mayan city's origin remains somewhat of a mystery but is thought to be from the 1st century A.D. and flourished at its peak from 200-800 A.D. before it was later abandoned. As with the majority of Mayan civilizations, many questions remain but over the centuries much as been learned about the advanced culture. Now listed as a UNESCO World Heritage Site, Tikal is made up of stunning temples and palaces along with a dizzying array of wildlife.
Antigua
Antigua is a stunning city sitting at just over 5000 feet elevation in central Guatemala. Founded in 1542 it's renowned for the gorgeous colonial architecture including the La Merced church. The city was widely considered the highlight of Guatemala's colonial region before much of the city was devastated by the 1773 earthquake. Luckily, much of the city has been rebuilt and visitors delight in the color and life around every corner. Antigua is also on the UNESCO World Heritage List.
National Monument Semuc Champey
For pure scenery, it's hard to beat Semuc Champey with the 300m natural stone bridge and dozens of turquoise pools set deep in the jungle. While not the easiest spot to get to, Semuc is becoming more popular with travelers looking to enjoy nature at its loveliest.
Chichicastenango Market
Guatemala is well-known for the stunning and colorful weavings and arts & crafts and every region and town has their own market offering local wares. The mac daddy of markets is surely Chichicastenango. Located in the Western Highlands about 90 miles from Guatemala City, Chichi is the biggest and most colorful market in the country. The town's population sits at a little over 42,000 but twice a week the population swells with travelers from around the world flood the town. A main trading center for hundreds of years, vendors and buyers have been meeting at this location since before the conquistadors arrived. Find your own piece of Guatemala to bring home.
Volcanoes
Guatemala is the land of fire and offers up no shortage of volcanoes. Sadly, in recent years there have been some devastating eruptions, but hiking the volcanoes is still a popular tourist activity. Pacaya is one of the most popular but also check out Acatenango, San Pedro and Fuego.
Guatemala City
Most travelers will cross through Guatemala City at some point in the country. As the transportation hub all roads lead here and while some hurry through, Guatemala City is worth a few days. Explore the stunning cathedral, wander the side streets, shop for colorful weavings, and eat your heart out while plotting your time throughout the rest of the country.
Regardless of how much time you spend in this delightful country you'll wish you had more. With the country highlights ranging from the urban to the jungle and from modern day society to ancient ruins. Guatemala should be on your bucket list.