Living in a

Truck


Camper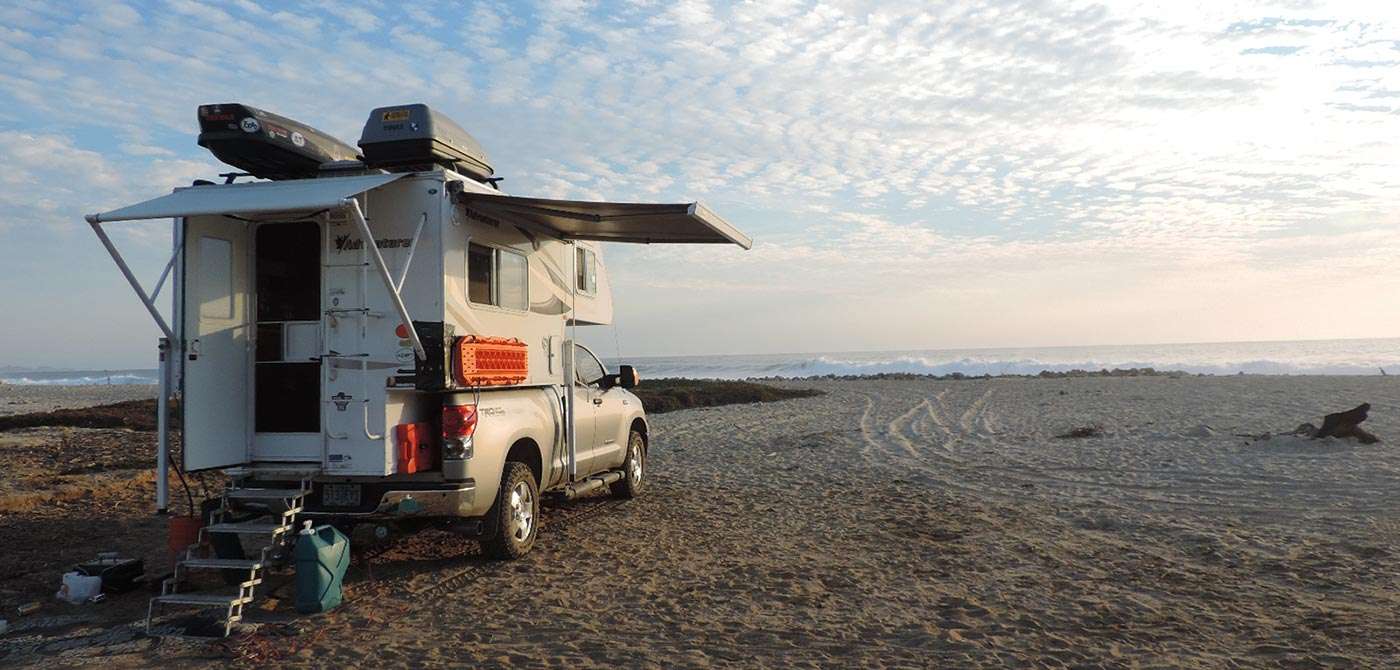 For many Americans the idea of a life lived on the road generally brings with it an impression of enormous RV's, extra vehicle in tow, firmly entrenched in the deluxe RV park scenario.
The reverse of the RV pack brings us to the once-again-hip world of camper vans. Millennial's, aging hipsters, and #vanlifers flock to this iconic vehicle and they are back in high demand.
What is also becoming evident these days is that while, yes, a great many people do live in a variety of sizes of RV, and many more embrace van life, the world of the truck camper owner is gaining momentum. For many, RVs are too large and simply unwieldy off the nicely paved highways and byways of the United States. Camper vans, although widely acknowledged as being adorable and a touch of Americana, have their own challenges in terms of indoor living space and reliability.
Enter the world of the truck camper. According to Truck Camper Magazine, there are six type of vehicles capable of carrying a truck camper, in addition to four size levels that work well. Absolutely, you will see people driving all sorts of trucks with varying sizes of camper on the back. We are not saying it's not possible but if you are looking to reduce potential issues down the road sticking to these six–the Chevy Silverado, Dodge Ram, Ford F-Series, GMC Sierra, Nissan Titan, and Toyota Tundra–will make your life easier later.
There are a couple of ways to go about finding your ideal truck and truck camper option. For people who already own a truck that they're happy with the first step is done for you. If not there are several things to think about long before you purchase a truck or camper. Considering the options available to you in regards to both truck and camper is essential before jumping in with both feet.
First off we think it's important to ask yourself one question; "What makes me happy?" Some might think it would be more along the lines of "What do I want to do with my truck camper?", but after having lived in my truck camper for the last 17 months, we believe the first question is where you need to start.
When we came back from backpacking around-the-world in 2008 we knew that our next big adventure would be driving the Pan American highway from Portland to Patagonia. We were absolutely certain we wanted a camper van. We loved the look of them, the colorful designs, the very idea of living in a van.
And then we started really looking into them. After spending a mere 30 minutes in one camper van, on a typically rainy Portland day, I knew that without absolute certainty I would not be happy living in one. Why you ask? After backpacking the globe Jim and I knew three things were required to make us happy.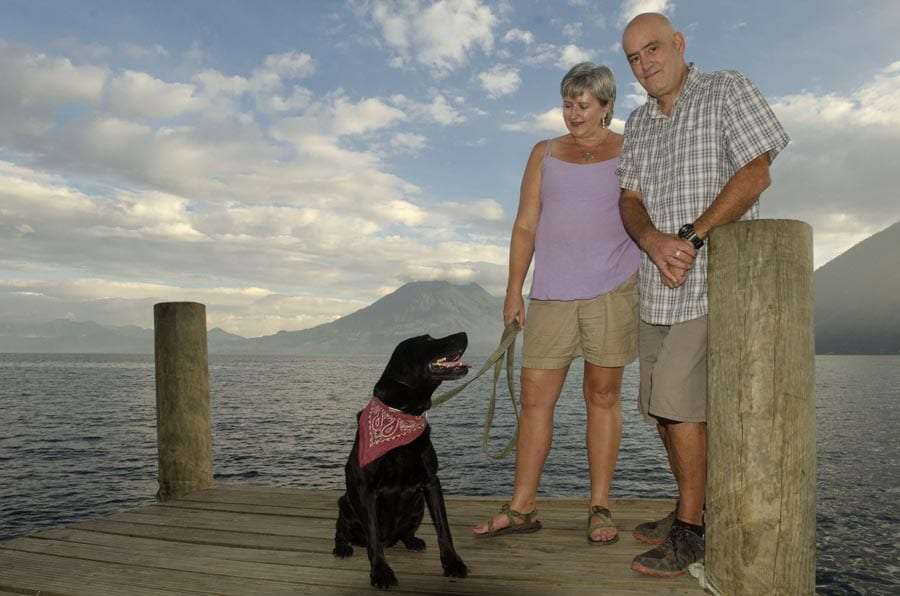 1. We required the bed always be in position.
Why? In New Zealand we had rented a great Sprinter style van and loved it's height and maneuverability. We hated that we had to either have the table up or the bed made and even after one short month it drove us nuts. A pop-top van eliminated this problem… sort of.
2. We required a comfortable interior living space where we could stand up at all times.
I really thought I would find it alright to have a pop-top because in that space I could stand up. I found very quickly that the minute I moved beyond the popped opening I felt irritated and hunched over.
3. We required a well designed kitchen area with ample counter space. I love to cook. A lot. I knew full well I could do without a shower or toilet but I needed a good cook top with lots of counter area. I have found this to be a real shortfall in many campers of all sizes and it proved to be one of our biggest hurdles.
This is not meant to be a negative bent on camper vans. They're cute as a bug and easy to navigate. We know a great many of our overlanding friends who camp in them and adore them. Their "what makes me happy?" questions are simply different than ours. My point only being the question of your own happiness answers are what is important.
After you feel as though you know what you want on a broad scale, it is time to start thinking about your various truck and camper options. Although these two purchases are separate they are also fully entwined. For ease of comparison I will review these on their own merit, all while stating that your camper choice will be dependent upon your truck choice, and vice versa.
Truck options
Perhaps the single most important consideration in choosing a truck is the weight payload. Truck campers are heavy enough even for the weekend warrior. For those of us who choose to live in them full time, something they are not necessarily designed to have happen, it is all about the weight. Unless you are interested in a very lightweight camper you need to rule out the half-ton Nissan Titan and Toyota Tundra. If one of these trucks is your truck of choice, it's no problem at all, we have been extremely happy with our Tundra, but keep in mind that does limit the campers at your disposal.
The 3/4 ton or 1 ton trucks are more the norm among truck camper owners for the simple fact that a higher payload makes sense on most levels. One negative: heavier truck equals bigger truck. For those planning on only traveling North America, and even the main roads, in Mexico this may not be an issue, however, even in our Tundra we often had challenges navigating small towns. In the end, there are pros and cons to both choices.
From our experience, the majority of trucks with campers on the back are the Ford F250's. The offer quality and have the added benefit of being popular enough in Latin America that finding a mechanic familiar with the in and outs is relatively easy.
But First, Back to the Happy Question
The idea of a minimalist lifestyle is a hot topic these days and I can't tell you the number of people I know who are sure that they want to live like us, imaging a free and easy life lived jaunting from one scenic beach to the next gorgeous mountaintop. And then they actually take the 30-second tour of our home on wheels and declare that they would "need" a shower or a larger floor plan or a bigger fridge. The reality can be very far from the expectations and this is exactly that sort of thinking that makes the happy question so important to consider before making any purchases.
Choosing an occasional weekend truck camper is one thing. For anyone embarking on the nomadic life, or even those just looking to get out into nature more often, these choices comes with all of the pros and cons of any other major life decision.
The balance of your truck buying decisions truly come down to the requirements you have of your new home.
Gas or Diesel
Gas or diesel is a frequently debated question among truck camper owners. Although some parts of the world find one or the other fuel more readily available, from what we have researched it really comes down to preferences. Miles per gallon is a more important consideration. For overlanders, fuel will prove to be one of your largest expenses. In our Tundra we average around 12.5mpg on the road and readily admit to frequent jealousy when faced with traveling friends who brag about getting upwards of 20mpg.
Long Bed or Short?
Unless you already own a short-bed truck, or are absolutely positive you want a camper that fits a short-bed, our advice is to go long. Not only will you have many more options for a camper now, but in the future if you decide to "trade up" you will already have the truck.
A couple from Tennessee sets off on an adventure south in their Four Wheel Truck Camper + Ford E-250.
Type of Truck Cab
Another decision based almost totally on preference. There are arguments to be made for a regular cab in regards to weight and price, however for anyone truly wanting to live in their truck camper, or take extended trips, we heartily recommend the extended cab. In our own experience we removed the back seat to make for additional storage as well as having a platform for the dogs bed. The basic truth is, no matter how much we embrace a minimalist style of life, a little extra space is rarely a bad thing!
2-Wheel or 4-Wheel Drive?
On this subject we just don't see there is even a question. Certainly, for the occasional weekend camper a 2-wheel drive truck would be an option with a light camper. But for all intensive purposes the majority of those looking at a truck camper are looking to escape the typical campground. They are those of us driving the Pan American highway. They are those wanting to choose a dirt path and see where it leads. A 4-wheel drive seems like a no-brainer.
Price Point
Trucks are not inexpensive. Luckily, with some luck and good maintenance they can last for years. Whichever type of truck you choose you can plan on spending between $28,000 to $32,000 for basic models. If you want all the bells and whistles. Well, the numbers just keep going up.
Buying used is often the best alternative. As with all vehicle purchases you miss the pain of immediate depreciation and can get an engine already broken in. It is quite possible to get a low-mileage used truck at half the cost of the new version.
What traveling North America has been like for this lesbian couple living out of a roof top tent on their 97 Landcruiser.
Camper Options
By this point you may have narrowed down your truck choices and it's time to look at the camper options.
Basically, there are four types of campers that are considered "truck campers".
The camper shell topper is a truck camper at it's very most basic design. Essentially just one step up from tent camping, a camper shell is a fiberglass shell that does give one enclosed shelter but does not give room to stand up. As a budget alternative it can be a good introduction into a new way of camping, and by adding in a sleeping platform and storage it can be more livable. These can be had for under $1000.
One step, albeit a big step, up from a camper shell is the pop-top camper. These campers are called slide-in, meaning they slide into the truck bed with the bed over the cab, hence that important question on truck bed length. Pop-top campers are generally of a lighter weight than solid frame and extremely popular with travelers looking for a smaller profile.
The pop-top camper is by far the most popular type of truck camper. The combination of the lighter weight and lower profile improves maneuverability and less wind resistance and draws a huge following.
As for us, we originally began our truck camper journey with a Palomino Bronco pop-top. To this day we sometimes miss the open-air feel of the nearly 360 degree netting. Summer camping was extraordinary and yet, we found ourselves spending winter camping days bundled up and huddled around the heater. The pop-top was easy enough to raise and lower and yet we began to dread it. Winter rains would run down our arms into our jackets and, although I am tall, I would need to stand on a stool to tuck in the fabric siding. The happiness question raised it's head: Would we be happy with this camper for years?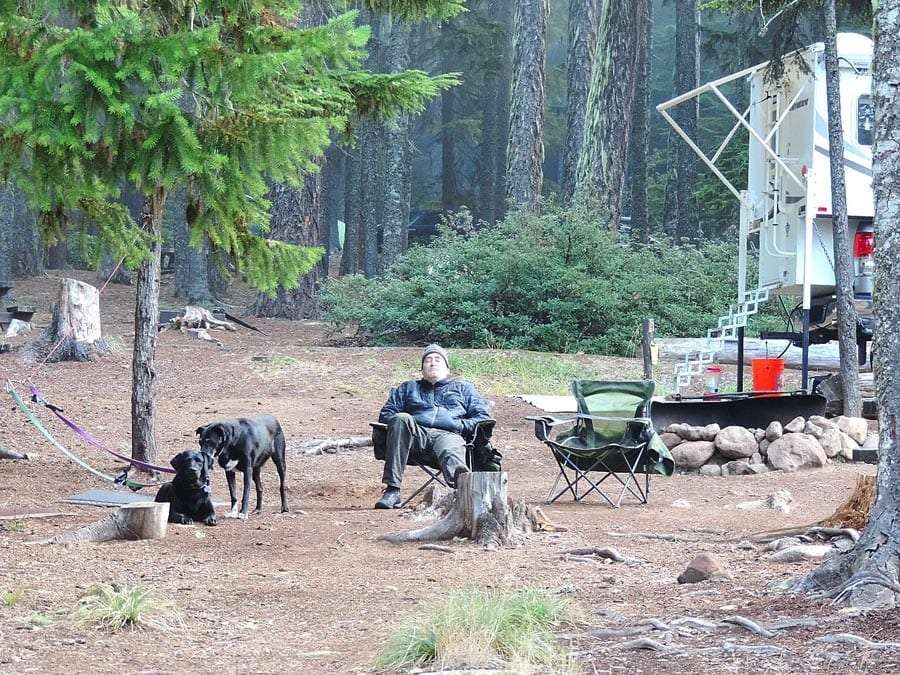 There are, of course, different models of pop-top camper offering much easier systems. Newer models have continued to increase their versatility and are able to be lowered from the interior. Those from Four Wheel campers draw a huge following. In fact, many of our PanAm friends relish the lower height and accessibility of such campers.
Phoenix campers is another excellent choice to Palomino and Four Wheel, and yet in the end, we decided it was not for us. Tales of those that had gone before us freezing their arses off in the Andes, or unable to raise their camper in the winds of Patagonia merely cemented our decision to go hard. Pop-top campers have a huge range in price. Our used Palomino was a mere $4500 but a brand new Four Wheel could easily set you back $20,000. Our choice turned out to be the hard-sided option. Be warned, you may find pop-top owners may scoff at you for being geared towards the RV crowd, but we found ourselves on just as many remote beaches as our pop-top counterparts. It really is about each individuals preferences. We knew that, while we love going remote as much as the next person, we also enjoy the comfort of traditional campgrounds. For us, having an added level of convenience and comfort meant more.
Hard-sided campers have their own laundry list of advantages. They offer an upgraded comfort level with substantially more storage than the pop-top versions. They also offer convenience.
You pull into camp and you're done. Hard-sided campers feature a bit more upscale feel than the majority of pop-tops. This is a generalization, of course, but having spent my time in many of each model, it is evident that pop-top owners are focusing more on weight and maneuverability while those edging for hard-sided options combine a love of form and function.
The cons of a hard-sided option include height and weight restrictions. In our case there were more than one incidence when I drove through a small town in Mexico as Jim lay on the roof holding electrical phone lines up with a broom. It makes for a good story, but is not exactly ideal.
The weight issue is a more complicated issue. The size of the truck is the prime consideration to take into account and as long as you choose wisely you'll have no issues.
The weight of these campers varies dramatically. Our Adventurer 80SK comes in at a relatively light 1450lbs dry weight. Since we live in her full-time we have added another 600lbs or so, certainly at the top edge of our Tundra's payload limit. What we gained in counter space and weight, we gave up in bathroom facilities. The 80SK originally came stock with a marine style cassette toilet which, in interest of all-season storage, was left by us in Oaxaca, Mexico eight months into our trip.
A curious decision? Perhaps, but our personal experience determined what we considered the most important to us. We do frequently joke that you can check back with us somewhere down the road as we may have a very different belief!
Our camper comes with a queen size bed made significantly comfier with the addition of a three-inch memory foam topper, a 4cubic foot fridge/ freezer combo, a two-burner stove top, and sink with hot and cold water. The "coat" closet seemed ridiculous to us with no other clothing storage so we added shelving for cupboard storage instead..
With no camper oven the addition of a Dutch Oven was essential. I love to cook and the ability to make homemade bread or bake a lasagna was essential. Combined with a small Weber BBQ and I can literally make anything in the camper that I could at our old house.
Lance campers makes one of the most popular of the hard-sided campers. In general they run on the larger size, some so large they require dual axle trucks. Their largest model, the massive two-slide 1172, comes in at a hefty 4074lbs dry weight. Such a large camper comes with a dinette, queen-size bed, and sofa, something we would never consider important but for the weekend warrior the addition of a sofa seems a popular choice.
As with most campers we have found on the market, even such a huge camper still offers up nearly obsolete counter space. We weren't interested in such a large choice for a number of reasons, but did find it absolutely essential in our choice to determine what is important to you, and then actually tour campers. Lots of campers.
The difference in brands and designs can even vary dramatically by year built. Only by sitting on the settee, lying on the bed, and touring each model can you really get a feel for the layout and how it applies to your life. Along with Adventurer and Lance, you are sure to see the popular Northern Lite, Arctic Fox, and North Star.
Hard-sided camper prices also vary dramatically by brand, age, and size. While our new Adventurer came with a price tag of $14,000 a Northern Lite, the crème de la crème of the group, or a large Lance can cost over $40,000.
Dropping the Camper
One big question of both pop-tops and hard-sided campers is the "take it off or leave it on?" at camp. Unfortunately, it's never easy. I dread putting our camper on and off the truck. Quite frankly, it's a pain in the ass and I avoid it at all costs.
Of course, there are jack options. Our Adventurer came standard with crank supports. We could have added electric ones for $800.
We chose not to. Whenever it is time to load or unload it off the truck I desperately wish we had forked out the money when we hadit.
However, even with electric jacks, there is still the matter of removing the tie-downs, backing your truck up into one very tight space with only an inch or less of clearance per side, and put it all together again. Fun?
Not exactly. Luckily for us, our new life only had us taking the camper off the truck three times in the last 17 months, a welcome relief. Most people don't remove their campers unless they're settling in for more than a few days.
The final type of truck camper is actually a chassis conversion such as a Tiger or XP Camper. This was our dream. If we had the money a Tiger would be our home of choice.
Chassis conversion truck campers are actually part of the truck, generally a Ford, Chevy or Ram one ton truck. The truck bed is removed and a custom built camper added. This is not your average truck camper but includes a pass-through between the cab and the camper, a sturdy 4X4 construction, and high-end details. Fully self-contained, they offer larger than average water and gray/black water tanks making for a great expedition vehicle.
The Tiger brand comes in three different designs, all featuring an open-galley type of layout with the bed over the cab, similar to pop-top and hard-sided campers, but with a significantly roomier cabin due to the design.
Whereas a typical slide-in camper must accommodate the trucks bed with wheel wells. By custom building a camper on the bed of a truck you gain that additional footage.
High ground clearance and skid plates along with the 4X4 base and solar panels creates a near perfect vehicle for extended periods of dry camping.
The XP Campers have a huge following and possess the same basic capabilities as the Tigers with a couple of important differences. The XP's are also custom built onto the truck bed, however they can be removed leaving a utility bed when the camper is taken off. Because of this, there is no pass-through from the cab to the cabin and they appear, in layout, to be a more traditional truck camper, but with a few very important differences. XP's are actually a delightful combination between a pop-top and hard-sided camper. The roof does lower down, creating a low-profile when traveling and upon arrival at camp the hydraulic lift quickly and easily raises the roof and "voila!" camp is set up.
If grilled, most we know would admit to loving a Tiger or XP as their preference. So why doesn't everyone have one? Well, to be frank, they are expensive. Very expensive in some cases. New Tigers range, based on model, run from $120,000 to $150,000 based on specifications. We looked at a used one for $100,000 at one point, drooling the entire time over the easy living it offered while knowing full well it would never be ours.
XP Campers are a bit less but you can easily expect to spend $80,000 and up close to $100,000 by the time it is said and done.
Certainly, deals can be had and used vehicles go for less, but be prepared to put out the cash for these high-end truck camper options.
Continuing along the decision making process, you now have a general idea of the options available to you. But wait, you're not done.
Along with simply determining which way you're heading there may be other things you still need to consider.
Camper Materials
An often overlooked factor when choosing a pickup camper is how it's constructed. Aluminum is the most commonly used material in newer cabins, although there are several that are still made with wood. There are, surprise, surprise, pros and cons to both.
Aluminum is lighter in weight and doesn't rot or break as easily, however it also "sweats" in hot weather, is more expensive and can become weak or brittle over time.
Wood is stronger, cheaper, and retains heat better, however it is heavier and can rot and mold over time. Here in the Pacific Northwest we know a thing or two about rain and have learned that your location is also relevant on this topic.
The Slide-out Debate
Slide-outs bring up frequent debate. In 1995 Bob Mehrer shocked the truck camper world by designing the first production slide-out camper. Since then nearly every camper company offers a slide-out version of their models. They absolutely add roominess to your living space that isn't possible without one. In colder or wetter climates this can be even more important as you may be stuck inside more often.
For traveling families this additional floor space may well be worth any potentials for problems that come along.
The cons are more than some want to face including the additional weight a slide-out brings with it, along with the typical type issues such as leaks, drafts, and just having one more thing that can break down. Although slide-out campers will never be as trouble free as non-slide campers, the technology continues to improve.
The Bathroom Conundrum
Wet bath, dry bath, toilet-only bath, or no bath at all? Who knew there were so many choices for a subject that affects 100% of truck camper owners?
A wet bath is at its most basic a shower stall that also contains a sink and toilet. Small but efficient, these bathrooms are made for someone who occasionally thinks they'll shower but know it won't be a daily routine. As the name suggests. Everything does get wet.
The pro of the wet bath is that there is a often a larger shower stall and more "knee room" because the walls required to make a dry bath are eliminated.
A dry bath option is more like your bathroom at home with a contained shower stall and a separate toilet and sink area. Dry baths are dry, of course, but also tend to have more storage and counter space. For newer or hesitant campers, they also offer more of a "feel of home".
The toilet only room is unusual. It features no sink or shower but does offer a private toilet stall. Not much of a stretch from the toilet room is the simple cassette toilet that fits snugly in a cabinet under one of the seats of the dinette. For the majority of overland travelers we have met, this is the most common option.
The final option is, of course, no toilet. We fall into this category and it is surprising how many other on the road long-term do as well. For campground sites there is always a toilet. For remote camping there is a bush or rock to hide behind. For the odd time when neither is an option there is always a bucket, gas station or simply the side of the road. After all, when you have to go, you have to go.
As with everything else, there is no right or wrong answer, but referring back to your happiness question may be especially relevant in this category. Keep in mind that going for the camper
with a shower requires more weight in form of larger water tanks, and the need to find dump stations or manually dump and clean cassette toilets. Rubber gloves are handy.
Whichever choice ends up being the correct one for you, know that owning a truck camper is a life choice. Having the option to pack up and hit the open road to nowhere makes for one of life's greatest hits and creates memories for a lifetime.
In our case, the nomadic life feeds our sense of adventure and curiosity and soothes our soul. Even if your truck camper buy will simply be fore family weekends in nature or multi-day holiday the freedom having your house on wheels provides is priceless.
Truck camping is also an excellent financial decision. Even figuring in the price of the original purchase, the numbers will be in your favor to take camping vacations rather than staying in hotels.
Upscale campgrounds may cost $60 but state parks across the nation can be had for under $30 a night and there are nearly endless free camping options all across the world.
After all is said and done, check out Truck Camper Magazines "camper chooser" quiz and see if your answers correspond with your research and prepare to go shopping!