Mali Mish Airstream
"Everywhere we go, we keep it in the back of our minds and imagine us living there."
These are the words of Dan, father of three, husband, and Airstream owner. Along with his wife Marlene and their beautiful children, they've lived full-time in their silver home on the road–which they've dubbed Mali Mish–crossing the United States multiple times and taking various shorter trips, such as a two month escapade through Europe.
Update! The above article was originally written on March 8th, 2013. Three years later, Dan, Marlene and their beautiful children are still very much on the road full-time. See the end of the article for a few updates and how you can follow along with their travels.
"When we decided to take an extended trip in 2010," the web developer gone nomad tells us, "we were not sure if a life on the road was something we'd like. We kept our home in Ventura, California during that trip as a home base in case things didn't work out."
As with so many families who take a chance on turning their lives into an adventure, though, it did "work out."
"After we got back from that trip, we knew that we would be back on the road soon. We took a 2 month trip to Europe, had a third child and sold our house in Ventura before leaving again for our current outing."
The family's 2007 Airstream International Ocean Breeze was christened in honor of Marlene's roots: her parents were Croatian immigrants to the United States, and Mali Mish means "little mouse" in Croatian.
"We found her in southern California when her dealership went out of business," they recant on their blog, "We were able to purchase her for a great price while keeping all of the benefits of buying a new trailer from an authorized Airstream dealership." Since then, they've outfitted the rig with a pair of 50-watt solar panels and tow their aluminum ox wagon around with a custom 2007 GMC Savana.
"Marlene was always fond of the name Mali Mish," says Dan about his wife, a native of Southern California. "It was originally intended to be used as a blog to document the raising of our children so our families around the world can keep track."
Dan grew up in Taiwan and emigrated to California with his mother when he was twelve. They have family all around the world, which they've been visiting on a regular basis for years.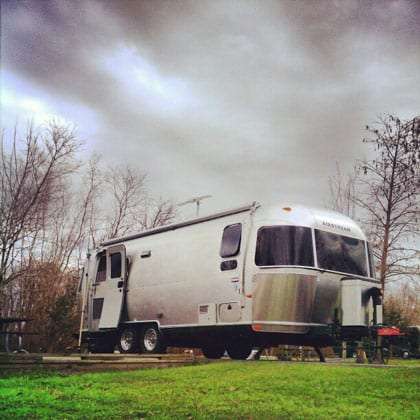 "When we needed a name for our shiny new Airstream, it just made sense to bestow Mali Mish to her. The blog has now come full circle as our lives on the road have become a document of our children's lives. It just happens to be inside and around our Airstream."
The two didn't intend on hitting the road full-time. They originally got into RVing with a small T@b travel trailer.
"When we started," he continues, "we just wanted to take road trips like most people do." At the time the now-parents-of-three had a cat and only their first child, Ava.
"We visited an RV dealership that carries the, now defunct, T@B trailers. They also happen to be the authorized dealer for Airstreams. We were enamored by the looks of them and thought that one day we would like to get one if this traveling thing stuck."
It did, and the family has logged thousands of miles, dozens of states, and a continent or two since. They've also become pretty popular in the cross section where social networking and the Airstream community cut through one another.
"We don't officially belong to any Airstream clubs but we have attended a couple of Airstream-specific events. Our blog, Facebook, Twitter and Instagram pages are giving us the opportunities to meet like-minded people that a club might have otherwise provided. The Airstream community is a very unique and dedicated group of people and we have been blessed to meet many of them in person while on the road. Rather than aligning ourselves with just other Airstream owners, we prefer to just meet like-minded people who enjoy the open road, regardless of what they are doing it in. The Airstream just happens to provide a nice ice breaker for the start of many great conversations and friendships."
Big Sister Ava, their oldest child, spent kindergarten on the road.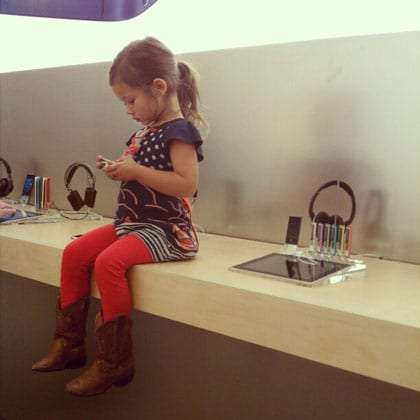 "We are very new at this homeschooling thing. We don't know about the different methods well enough to be able to say what our style is. What we have found that is the road provides the best classroom environment that isn't replicated anywhere else. At the start of our current trip, we were faced with the necessity of homeschooling our oldest. Initially, we thought that we would just travel this year and homeschool her through kindergarten while on the road. As time has passed, we now are feeling much more inclined to continue to homeschool her for as long as we feel that we can be competent teachers."
They've even found a publicly funded home school program where Ava meets with a teacher via Skype about every three weeks to see how the young lady is getting on with her studies.
"As new homeschoolers," he admits, "having someone who we can talk to about our methods and progress has been very helpful."
I ran across Dan and his family via Instagram. When a user by the name of MaliMish liked a post, the name got me curious so I began following them as well. I quickly noticed that they had a pretty impressive following themselves. As a web developer, I was naturally interested in whether this was all intentional, part of a PR blitz, or just the social web working as it was intended.
"Our blog started as most blogs do. It was a way to keep families and friends abreast of our adventures. As other people started to follow us, we embraced them rather than shutting them out. We post photos and updates on social media of things that we do and see for anyone who wishes to follow." Everyday it seems they're posting photos of their Airstream lounging beautifully in serene state parks or the kids posing for their own posterity in front of some new national landmark. Dan assures me though that it's all just happenstance.
"We are not trying to preach the nomadic lifestyle and convert anyone else to it. If it looks like something people might like, we just hope to provide an inspiration. Even though we are not professional photographers by trade, there are parts of both of us that enjoy capturing the beauty of the settings we often find ourselves in. I think the honesty in our posts is what attracts people to follow. There is no commercial aspect to any of it and we have often turned them down if it takes away from our intent. It also provides us with a story telling method in our blog posts as we prefer to narrate along with the daily photographs rather than making big, long-winded posts."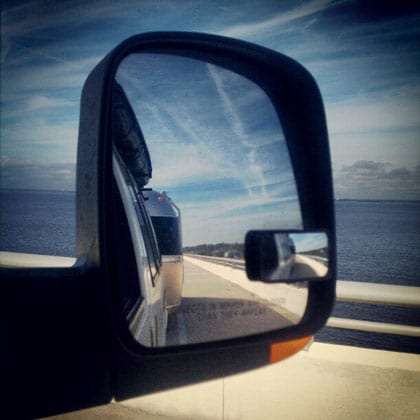 Dan puts it humbly, and I wasn't sure what exactly it was until I heard him say it out loud himself. Their blog, their photos, their life even, is incredibly genuine. A photo of Dan and Marlene dressed as Sesame Street's Bert and Ernie on Valentine's Day, of their not-so-newborn anymore son Luka pulling himself up on a toilet paper roll in the Airstream, paper strewn across the floor, or of the latest scene in their rear view mirror, a tradition they seem to have set for themselves on traveling days, these little glimpses into a life lived so seemingly happily make you just want to give them a big ol' Internet hug. Clicking the Like button on their lives, I suppose.
How do they make it all happen, though? Three babies, a cat, a luxury travel trailer and what seems to be a nearly constant travel schedule surely takes a toll on one's wallet.
"Before 2004, both of us worked at 9-5 office jobs." Dan is a web developer, Marlene a data analyst for the medical industry. "I left my job to pursue independent work in 2004 which I have done until now." While preparing for the birth of their second daughter, Mila, Marlene's company dissolved from a lack of financial backing. Staying home with the kids seemed a natural decision, given that positions in her line of work are a bit hard to come by.
"I have been fortunate to be able to find independent work which allows these extended adventures," Dan extolls. The couple also own a rental property in California which helps keep the dream chugging ever onward. "I try to work as much as I can during our trips so we can keep the adventures moving along. It is difficult at times to juggle work and travel so we find ourselves often wanting to stop and settle for awhile to keep us and clients happy."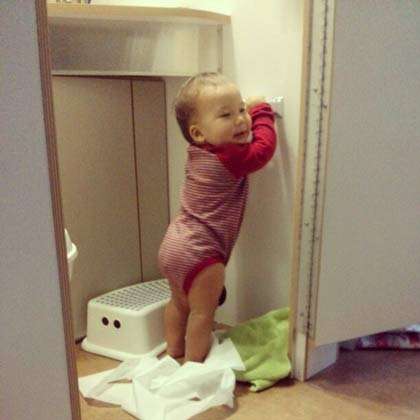 The couple also admits that while the end of these adventures can be a bit heart-wrenching, and from their blog it's clear they've been bitten hard by the travel bug, they also like the idea of their children getting to know their grandparents while they're young.
"We want them to have fond memories of traveling with us but also of grandparents and cousins in their childhood."
"I guess we have not completely 'cut the cord' from that life," he says, referring to living in a stick house. "Our tenant's lease is up and we are planning to move into that house as we stage for another trip. This time, we might be gone longer and may not take the Airstream with us. A lot has to be figured out still and a stick home is a good place for that kind of planning."
Even still, they admit that living in a house, for them, does not mean abandoning the road.
"We do like to be out on the road as much as we can even if we are not traveling cross country." He talks about a best-of-both-worlds-situation, about taking advantage of their flexible jobs, about the virtues of a modern day era where they are able to work from anywhere. He talks about traveling even while technically living in their home.
"Our shorter jaunts are much like smaller versions of our extended trips. We don't really plan for the details but we generally have an idea of the region we'd like to visit. We spend a lot of time in the California and Arizona desert during the winter months. We like the solitude and vastness those areas offer. It offers a sharp contrast from the hustle and bustle of southern California. We hope to see more of northern California and Oregon once we get back. Being so close to those areas, we have taken them for granted in the past. We will try to remedy that."
The Southwest, the South in general, he mentions as some of his favorite places they've been.
"I guess we would make pretty good snowbirds," he jokes. "One of my favorite areas in the country is the Appalachians, specifically around the Smoky Mountains. There is something magical about the area."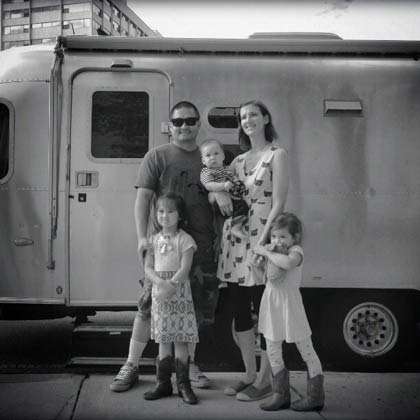 Savannah, Georgia, Key West, and the entire State of Michigan round out their list of highlights.
As he's already stated, as the children of immigrants and with family spread out across the globe, they were natural born travelers. Having children can put the brakes on such aspirations, though, for many people. The opposite seems to have held true for these nomads; having children simply meant rethinking their means of transport.
"Having children definitely contributed to our desires of getting on the road. Traveling by air got complicated with needing to carry more luggage, car seats and expensive airfares that made it less than desirable. When our first born was 9 months old, we lost our Siberian husky whom we had since she was just a few weeks old. We always imagined taking her on extended road trips with us to see the world. Losing her made it also apparent that if we wanted to do something, we need to do it now rather than later."
A sense of urgency, and a will to make something happen.
Now back in California–Los Angeles to be precise–the Mali Mish family is taking some time to travel locally in SoCal while, as Dan puts it, "the kids and grandparents get to enjoy each other for awhile before we leave again."
"Hopefully soon," he adds. As to long term goals for travel and life in general, the family hopes to find some land and do the homesteading thing.
"Everywhere we go, we keep it in the back of our minds and imagine us living there." Where exactly that will end up is still territory of the great unknown.
"Right now the top contenders are Tennessee, Georgia, Texas and the Southwest in general." It's hard to think of where you might one day call home when the road is still calling you to keep on keeping on.
Where are they now?
Let's get all VH1 and see what's happened with the Mish crew since this article originally ran.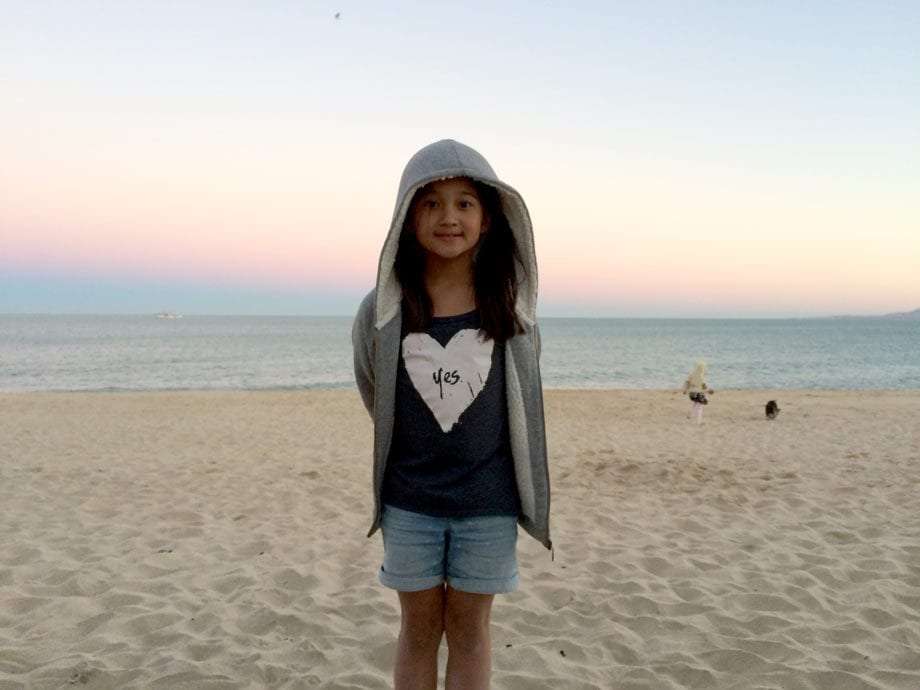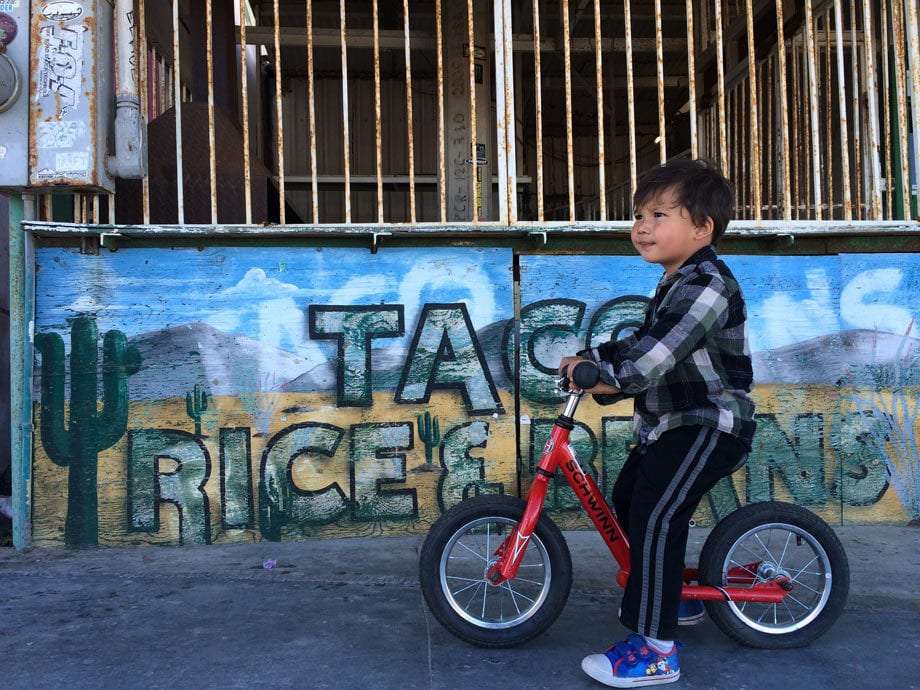 All 50 states. "Two nights and a bite," Dan says is their motto, and how they determine whether or not they can really say if they've experienced a state or not. They've criss-crossed the country a few times now, the kids earning over a hundred Junior Ranger Badges from the National Parks along the way. Last summer, 2015, they drove their Airstream all the way to Alaska and back, losing their van in the process and picking up a sweet new Ford diesel…which they then almost immediately ditched.
Why? To downsize.
That's right, a family of five in an Airstream may seem tight to some, but to the Mali Mish crew, they knew that North America was just the start. So they put their trailer in storage, bought a gas-powered Ford F-250 with a Four Wheel Camper on the back, and headed to Baja, then on to Mexico's mainland. The last we heard from them, they're scheming up how to ship the latest edition of their home to Europe for their next family adventure.
And since this article was originally written, our own family on the road has personally met up with them half a dozen times, and we've all traveled around Baja together for three months, and are still running into one another now and then here in the mainland. You will rarely meet a more lovely soul than Marlene, a more helpful hand than Dan, and three more beautiful kids than those they've chosen to raise all around this world.