Mt. Rainier National Park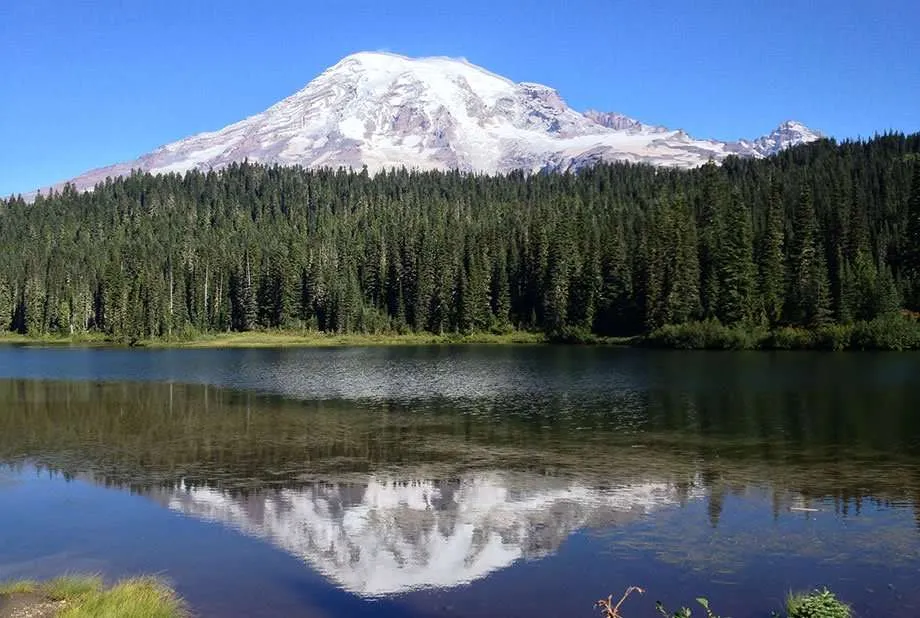 Gloomy, this rainforest. After spending most of a hot summer in the high desert and blue sky Rocky Mountains, it's almost strange to be here in a place so…wet.
We weren't strangers to the climate. One of our children was born in these temperate rainforests, and we spent the months before and after his harking into this world amongst the Douglas-firs and their redcedars, spruces and hemlock brethren. We learned the differences between their bark. Some of these granddaddies would have reached to heights of over 400 feet before the eldest growth rainforest was nearly obliterated by loggers in the 1800s. That tragedy doesn't seem to outweigh the majesty of those who've survived though, peaking through the valley fog as we descend through Mount Rainier National Park on a typically overcast day.
Finding our campground, we setup shop and night falls a few hours before we do the same. As the sunrise peers through our eyelids, waking us every one, there he stands. From our first-thing-in-the-morning perspective, foggy eyed and prior to a cup of coffee, he could be a cloud. Partially hidden by a Big Leaf Maple, I notice he's different than the other mountains. They're black, covered in bright green conifers and seem close enough to walk up.
But Rainier, he is a king crowned in glaciers. Year round nearly 1/3rd of his top is covered in snow and ice. He makes his own weather, he's so magnificent. 14,410 feet of volcano just sitting there, ever present and looming down on you as if to say, "What are you doing here? I'm a volcano."
Indeed, he's sent lahars–massive lava flows of rock and debris–as far as Puget Sound in the past. Some 150,000 people currently live atop land formed by Rainier's volcanic flow. And though he stands there, visible even from Seattle, the clear and present warning is neither enough to slow real estate sales or our own expedition as we make this our home for the next few weeks.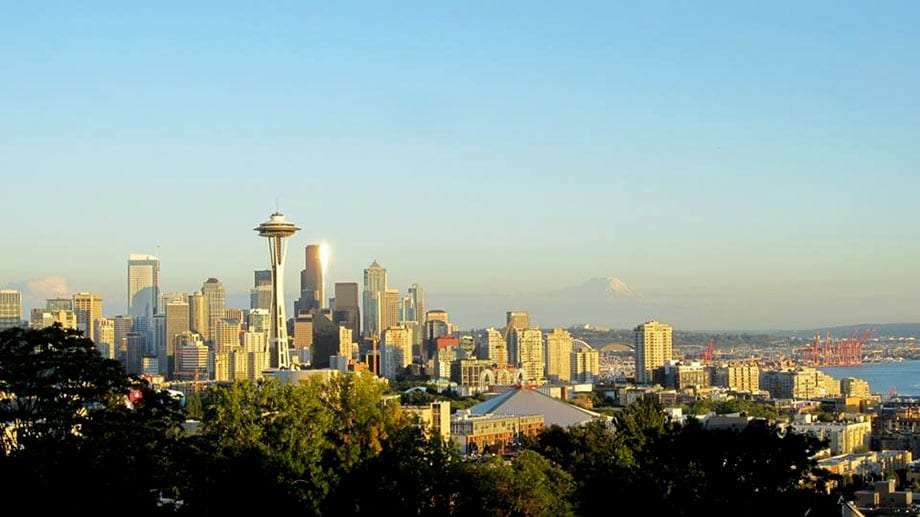 As we drive up the mountains, through the park, Mt. Rainier begins to cover himself in clouds. They say he makes his own weather, being such a presence that winds and storms coming from the West are stopped in his tracks. He parts them, leaving a shadow of sunshine all down his one slope. But as we approach a string of lakes, he clears away the excess and shows off in full regalia. Named for an admiral, he looks commanding. We never once forget that his beauty is one of those tricks of nature. "I wear this crown of ice to hide that I am full of fire."
We're all so busy looking up, it takes us a moment to notice the painting the lake creates everyday. Reflection Lake, aptly named, is rippling under the wind but we make out a massive smudge of white and gray color. Then the wind stops, the lake grows placid, and there he is again. An exact replica, upside down, this is where postcard designers come to learn to use Photoshop precisely, I suppose.
A short hike up into Rainier, still far below the glacial valleys aspiring to godliness above, we come to the smallest of the collection of high lakes in this part of the park. It's really a pond, but fed by glacial streams and basking in the glory of the big volcano, no one had the heart to reduces its rank of "lake". At the shore of the water, making his own mirror reflection against the surface, stands a hooligan of a black bear. Perhaps born for the circus, he splashes around in the water as though taking a bath, dipping his face, clapping his paws against the liquid. He's surely aware of our presence, we are a loud crowd of hikers, but he pays little mind, steadfast determined to finish his show.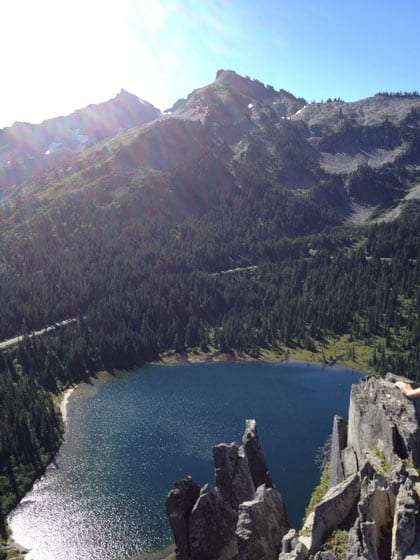 Our trail winds around the lake, putting us nearer to him. Wary, I'm eager to get even just a little closer. I am well acquainted with black bears and they don't strike the same fear in me as grizzlies, still I'm not looking to arm wrestle. As some trees obstruct our view of the big ursine, suddenly we hear him splashing hard in full tilt run. Not sure if he's coming in our direction or some other, I make my way to a clearing and he's gone, his hind legs disappearing into the forest beyond just as I catch the glimpse.
Later that night we'll stay in Packwood, Washington, a few miles south of the park. Drunken locals crowd the porch of the Blue Spruce Saloon pronouncing the word creek as though it were in their neck. We'll become near locals ourselves as we visit the one and only grocery store in town a few times a day, interacting both directly and via eavesdropping with what's happening around town on any given day. Early each morning the coffee shop in town will fill with a different crowd than the bar does, old men chattering over their used-to-bes and grandmothers discussing the great deals they got on baby clothes and toys at some local auction. Tourists walk by the visitor center next door, looking for coffee, and ask for the same information from the baristas.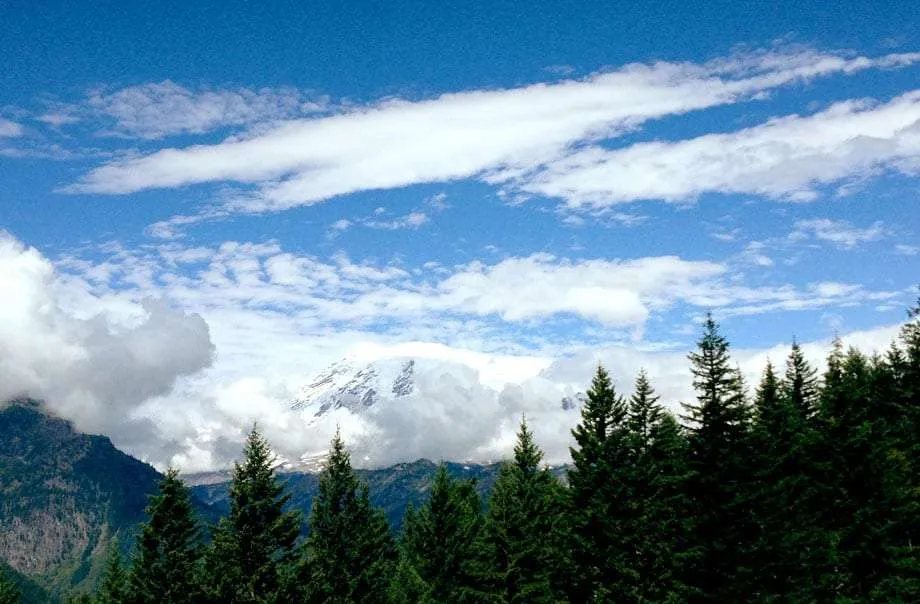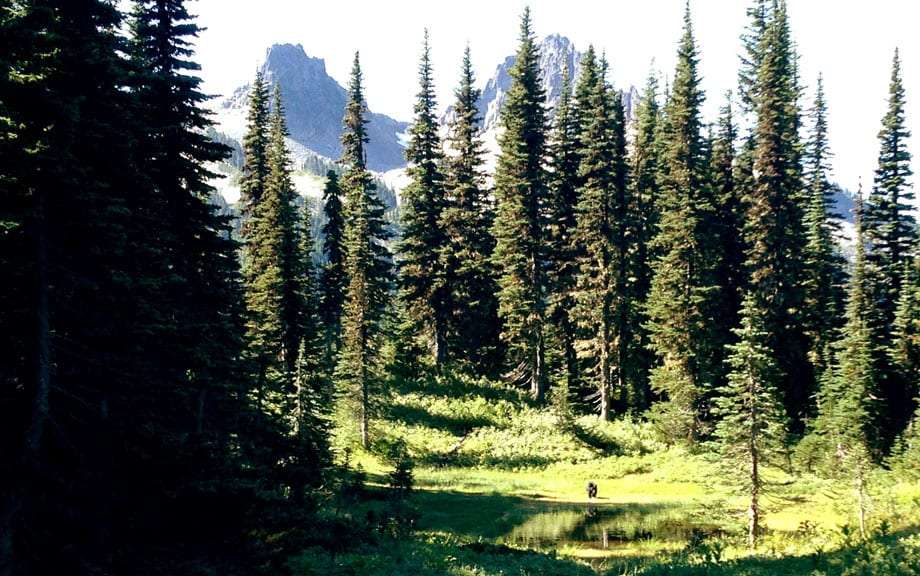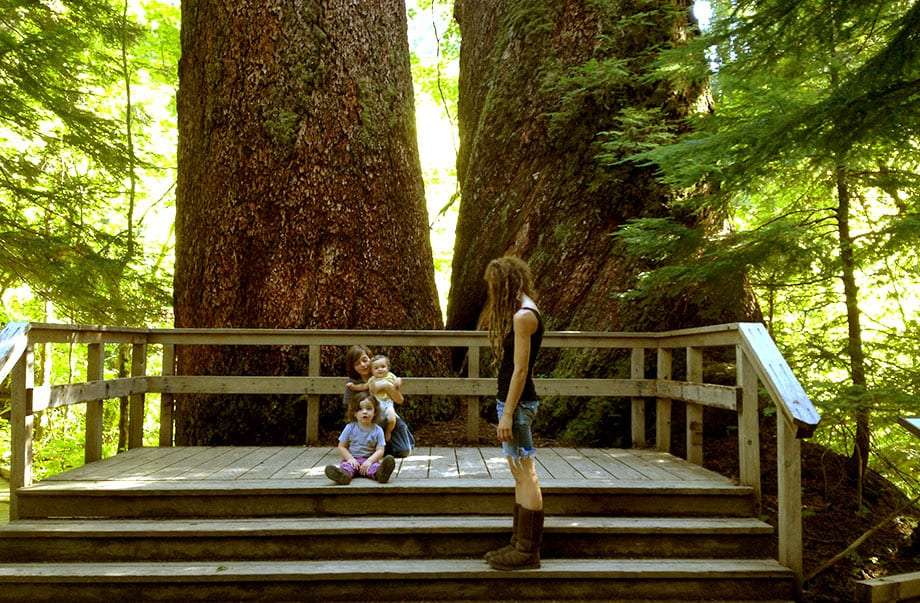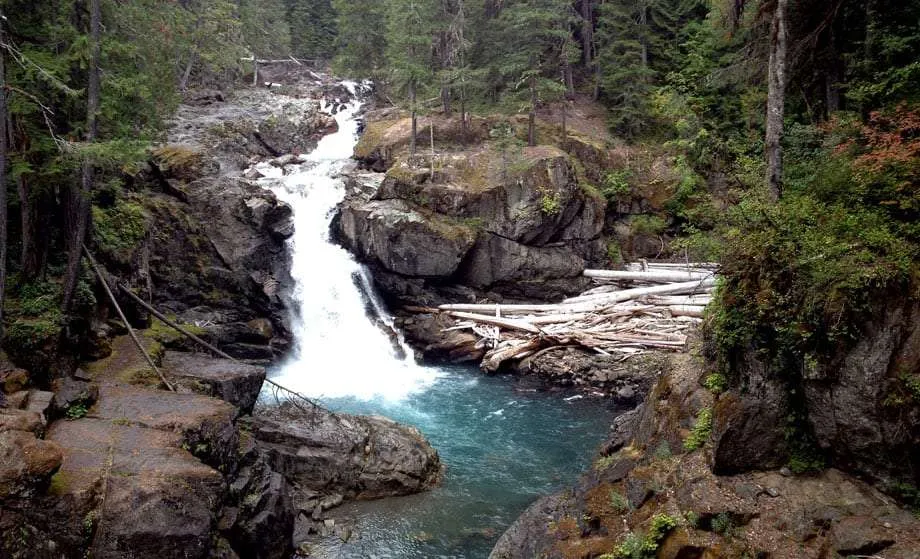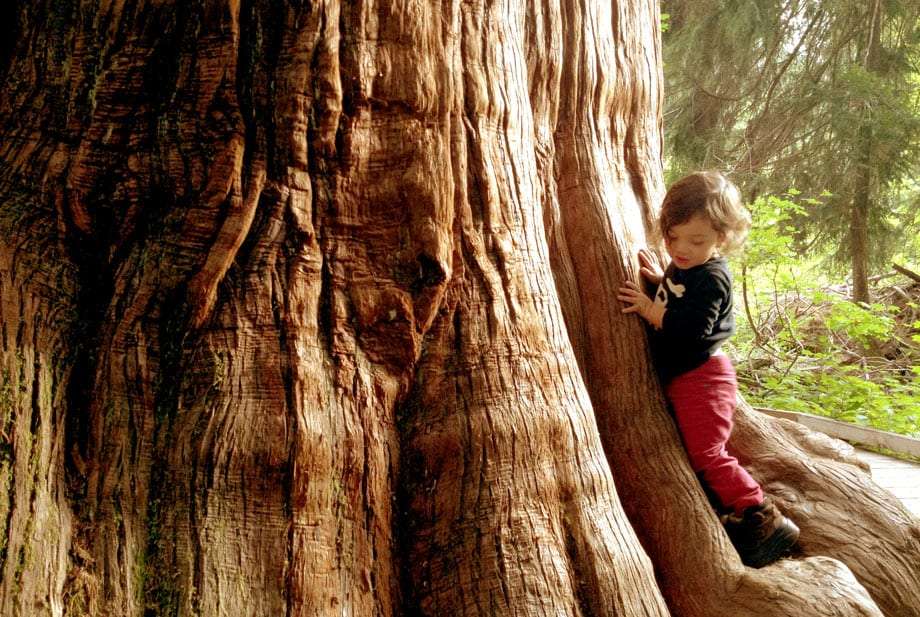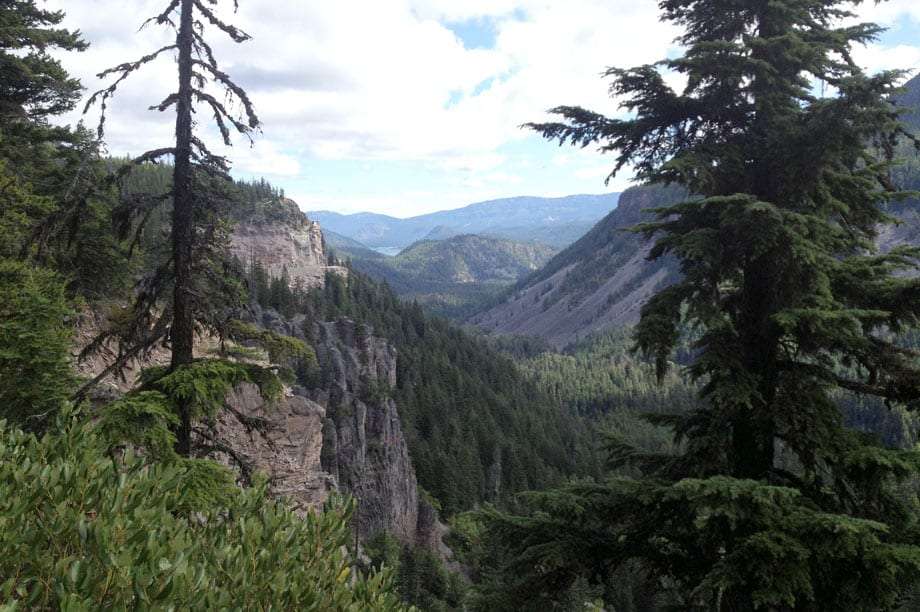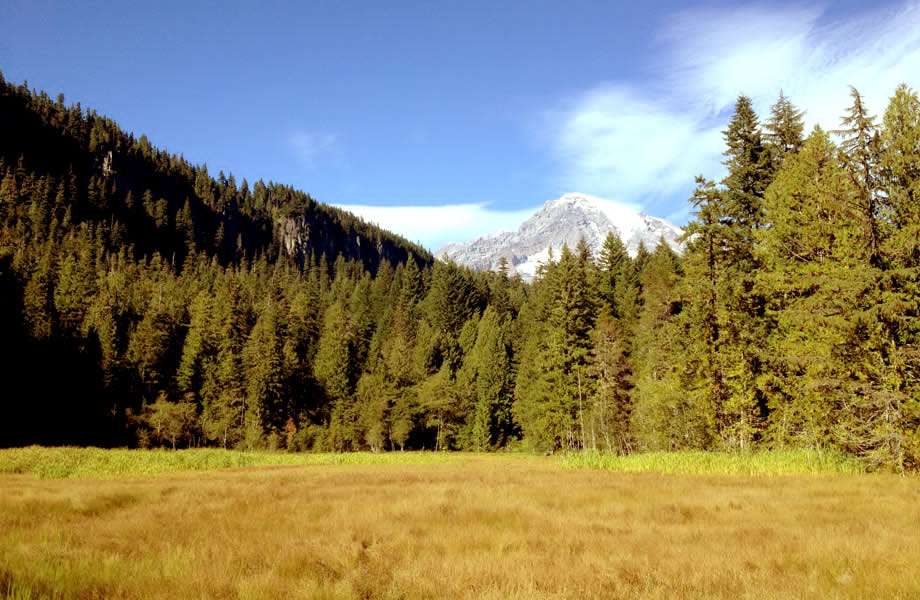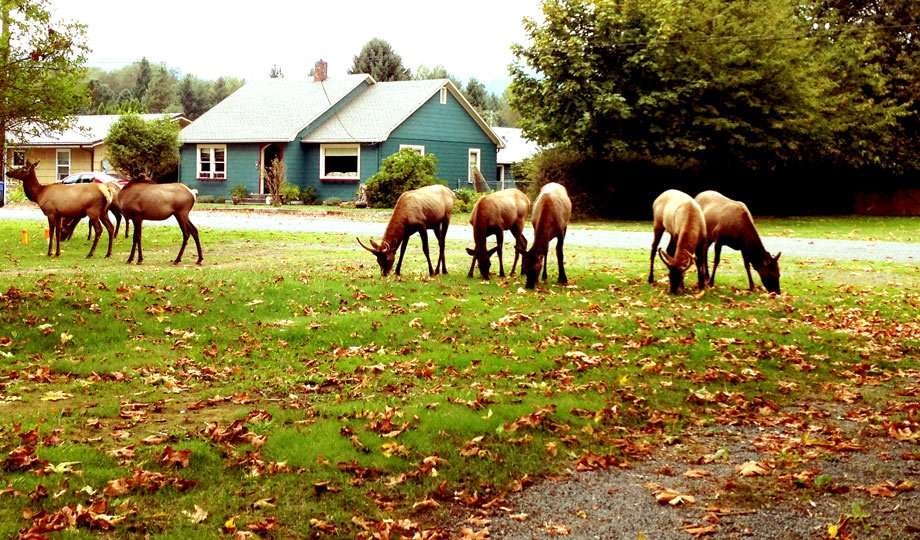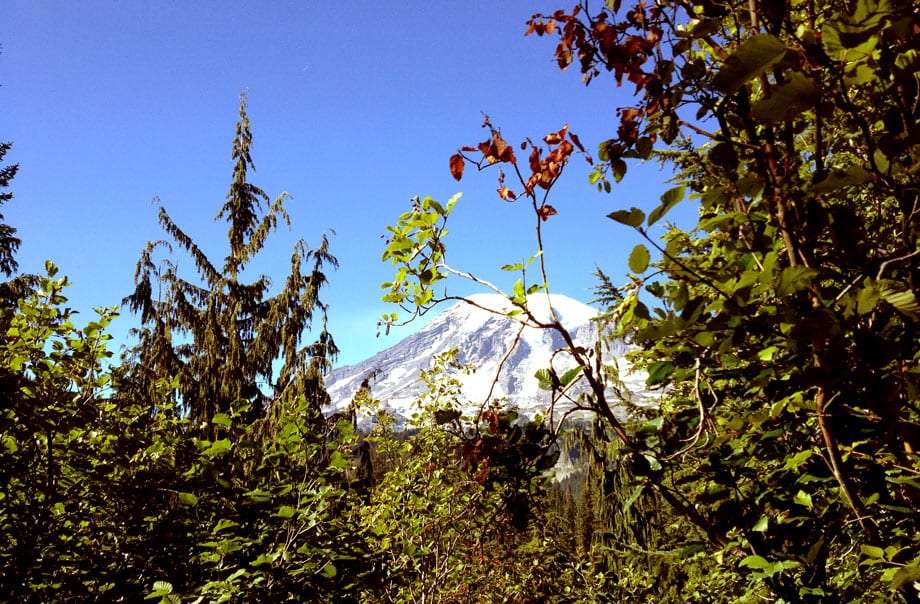 Back in the National Park, whether day is breaking or night setting in, live an even older, wiser group of folk. They stand tall, two hundred feet some of them, and have been here long before the term United States of America, let alone Washington State, ever applied to these mountains. They are massive redcedars, Douglas-firs and Western Hemlocks, and together they make up the Grove of the Patriarchs. On a scale similar to the redwoods in Northern California, they tower mightily above, calm and collected, aware as we're walking through that we're the same creatures who massacred their brethren from here to San Francisco only a few hundred years ago. Still they look proud, standing tall, diligent in their pursuit to reach the sun. Today they're dripping last night's rain from their bows. Without human intervention, they'll be standing here still a thousand years from now, perhaps longer.
Along with Rainier himself, they are a living and breathing part of history, an example of how truly awe strikingly large the scale of Earth's power can be. Trees that dwarf skyscrapers and mountains full of fire ready to, warning or no, wipe clean the slate and allow Mother Earth her chance at starting fresh, a blank canvas, just one more attempt at creating a utopia.
I'm simply happy to be in their shadow.