All the National Monuments with Camping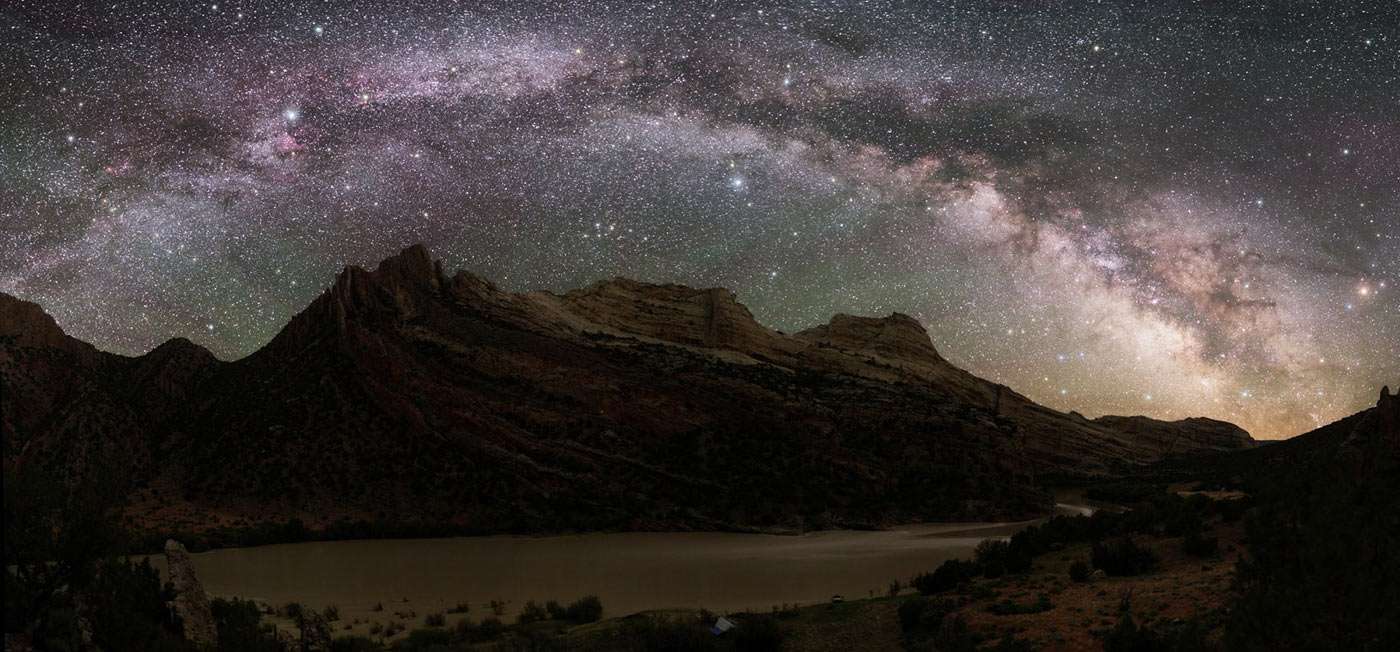 National monuments can be anything. A famous statue given to our nation by France, a church once used by Civil Rights leaders to inspire equality, or a giant arch in St. Louis that doesn't even sell fries. Oh wait, that's somehow a national park.
Point being, national monuments seem to have less clearly defined realities when it comes to what exactly they are. Of the 128 current national monuments scattered across the nation like kids kicking shale out of an old man's driveway, a handful feel close to national parks.
Forty of those have camping directly within their boundaries, which is what we're focusing on here. And some of those are comparable to many a national park. They're often surrounded by parks themselves, or national forests, state parks and otherwise spectacular scenery. History, from dinosaurs to Native Americans to more modern issues, are often on the table as well.
Let's explore them all, in just the right amount of detail. Expect maps, beatiful photos, basic facts and personal tidbits about each one to follow.
Arizona
Probably best known for the Grand Canyon, Arizona–outside of the mess that is Tucson to Phoenix–is a veritable wonderland of natural beauty. When it comes to national monuments, Arizona holds some of the most unique plants in the nation and dramatic landscapes carved directly into the earth by Paul Bunyan himself. The state is also home to arguably the most wild of monuments, not to mention the most beautiful.
Chiricahua National Monument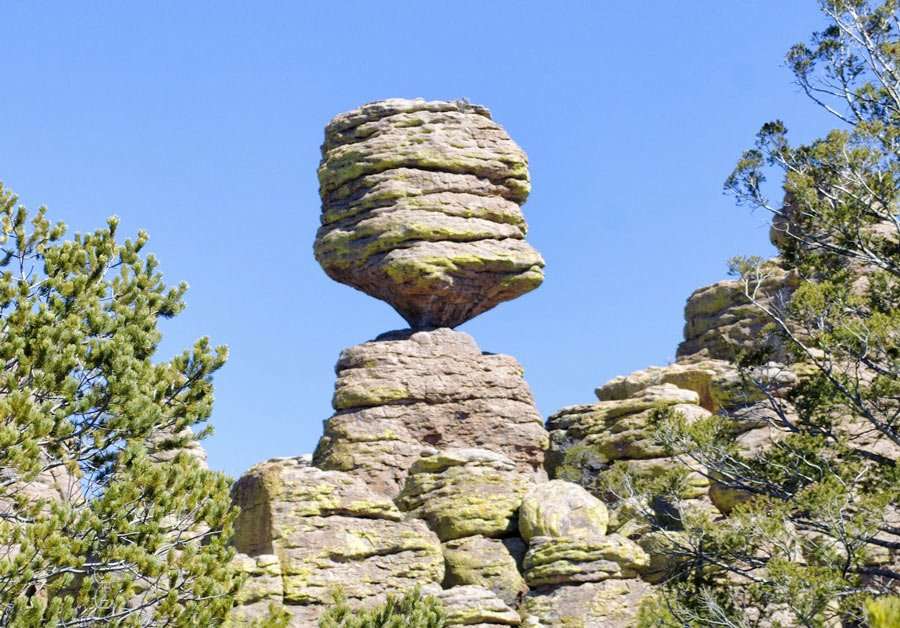 Preserving nearly 12,000 acres of hoodoos and balancing rocks, this Wile E. Coyote landscape in Arizona's Chiricahua Mountains also provides a self-reflective retrospect on the establishment of the park and its role in conflicts at the time with the Apache people, via the Faraway Ranch.
A visitors center provides more information on the natural and historic aspects of the monument, and surrounding Coronado National Forest, and hiking ranges from simple walks under a mile to strenuous 9 or more mile jaunts. Water and snacks are a must in this climate, where summer temperatures have been recorded as high as 109° Fahrenheit.
Guided tours, ranger programs and horseback riding are also available. Unusual wildlife, like the ringtail, can be seen and the birding is exceptional.
Camping in Chiricahua can be found at the Bonita Canyon Campground, which holds 25 sites, restrooms and the typical picnic tables & fire rings type national park campground setup.
Organ Pipe Cactus National Monument
Easily our personal favorite national monument, Organ Pipe is home to cacti both abundant and seemingly alien, from the saguaros reaching to the heavens with their uplifted arms to the organ pipes for which the park gets its name.
While hiking and camping are abundant and beautiful within the national monument, the current border wall being constructed between the United States and Mexico is of paramount concern. Cutting down a saguaro cactus is illegal, with a penalty of up to 25 years in prison, yet construction crews are decimating them daily in an effort to build this wall. Wildlife sanctuaries and archaeological sites are being destroyed, cutting habitat in half for desert life that cannot tolerate more strain on their already difficult existence and wiping out thousands of years of human history at the same time. A sacred burial ground for native peoples was completely blown up. We urge you to visit Organ Pipe for its beauty, the remoteness of it all, and the local history, but would be remiss to not mention the travesty that the creation of a wall through a national monument like this is. How would you feel if the cemetery where your grandparents were buried was excavated with explosives? What would the outcry by if Arlington National Cemetery, final home to our nation's heroes, was one day destroyed in the name of "keeping us safe"?
We should all be alarmed, because we're not simply infringing on the basic rights of our neighbors to the south who are simply seeking refuge and asylum from a violent and dangerous world they were born into, but we're destroying something that we all agreed was worth protecting in the first place. We're wiping out our own American history and beauty in the name of preventing the poor, the desperate, and yes also drug smugglers, from making an arduous desert trek into our great nation which was founded on the concept that anyone can come here and make a better life for themselves.
Camping in Organ Pipe Cactus National Monument can be had at two official campgrounds, as well as for free at various BLM sites just outside of the park. Twin Peaks is the more popular campground in the park, with over 200 sites positioned immediately within the cacti, including shaded picnic tables, flushing toilets and showers, and access to water. It is a pristine camping experience, no doubt, far removed from the bustling nature of many a national park's campground. The other option, immediately within the park, is Alamo Canyon. With only a few sites that are restricted to vehicles like vans and truck campers (or tenters), it's a bit more difficult to get into, but every bit as serene, shrouded in a forest of saguaros.
Ironwood Forest National Monument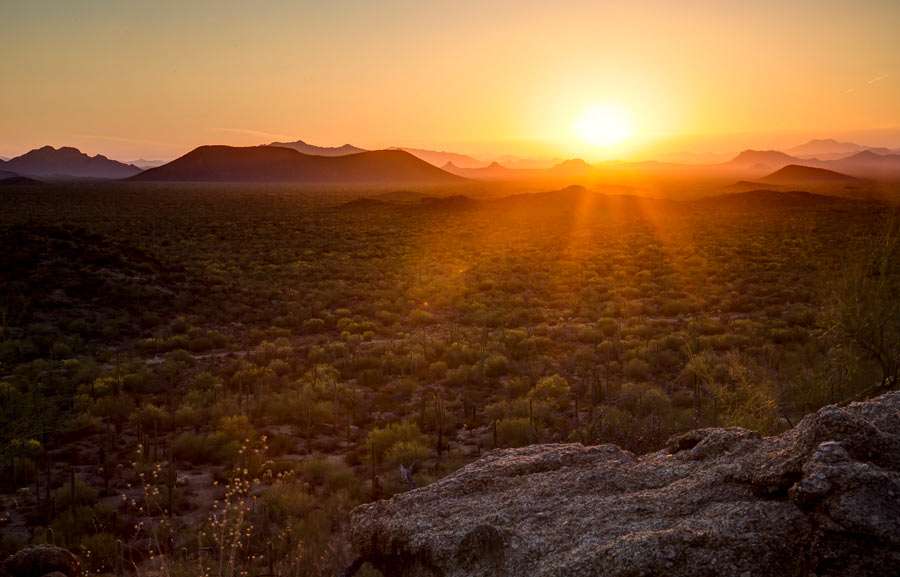 Home to desert ironwood, a beautiful flowering tree, and all of the other exotic flora living in Sonoran desert, Ironwood Forest is a perfect example of the natural state of this rugged landscape west of Tucson, Arizona. Several impressive mountain ranges, 5000 years of history and more of the crowd-favorite saguaros we've all come to know from old Hollywood westerns fill out this 129,000 acre national monument.
Free camping, with no amenities, can be had along various roads leading into the park's eastern edge, along roads with names like Pipeline, Pump Station and West Manville with the dispersed camping on Pipeline Road putting you the closest to sites like the Silverbell Mine and Waterman Trailhead, all of which rest on West Avra Valley Road, the parks' "Main Street." Bring everything you need as you won't find much in the way of amenities at Ironwood Forest. If you're looking for a place to camp with running water, showers and electric, look into somewhat nearby Picacho Peak State Park.
Sonoran Desert National Monument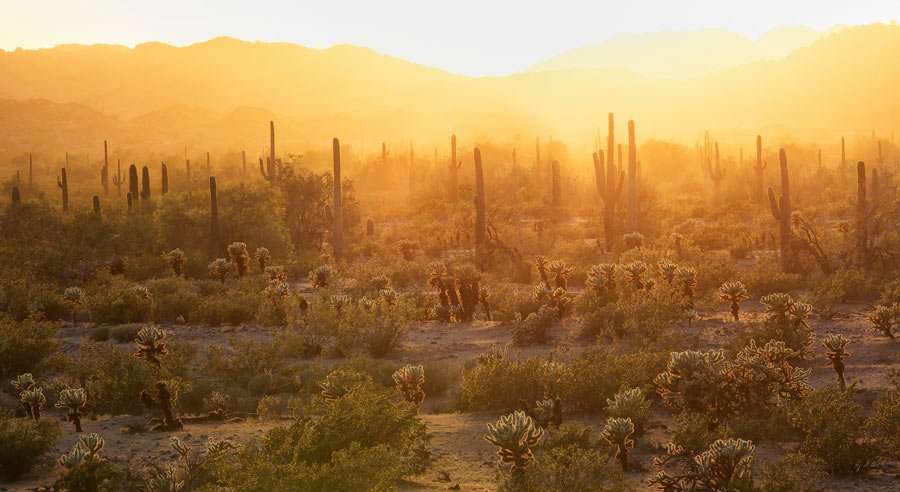 Some of the most exemplary groves of saguaro cactus, full forests of the creatures, are on display in the Sonoran Desert, along with what likely equates to the least touched of this–North America's most biologically diverse–desert. While cattle were allowed to graze the area until the early 2000s, it has had almost 20 years to recuperate and, at least that portion south of Interstate 8, is no longer hosting domesticated cows.
Cougars and bighorn sheep, mule deer and javelina dominate the landscape when it comes to large animals, but its the plethora of birds, butterflies and scattering reptiles you'll see more often. Owls hoot away the dusk and rattlesnakes shake their tambourine warnings, while the Sonoran desert tortoise does its slow, awkward dance between the prickly foliage. Hiking, and horseback riding, opportunities are nearly ubiquitous, and the monument is home to many archaeological and historical sites as well.
Camping is strictly boondocking via dispersed camping throughout the park, so bring all that you'll need–including water and the means to pack out your garbage and human waste–as there are no facilities or developed campgrounds. If you don't mind a shortage of amenities, but at least would like a toilet, Painted Rock Campground provides vault toilets (ie, an outhouse) and is also the home to various petroglyphs, about a 40 minute drive from the monument itself.
Agua Fria National Monument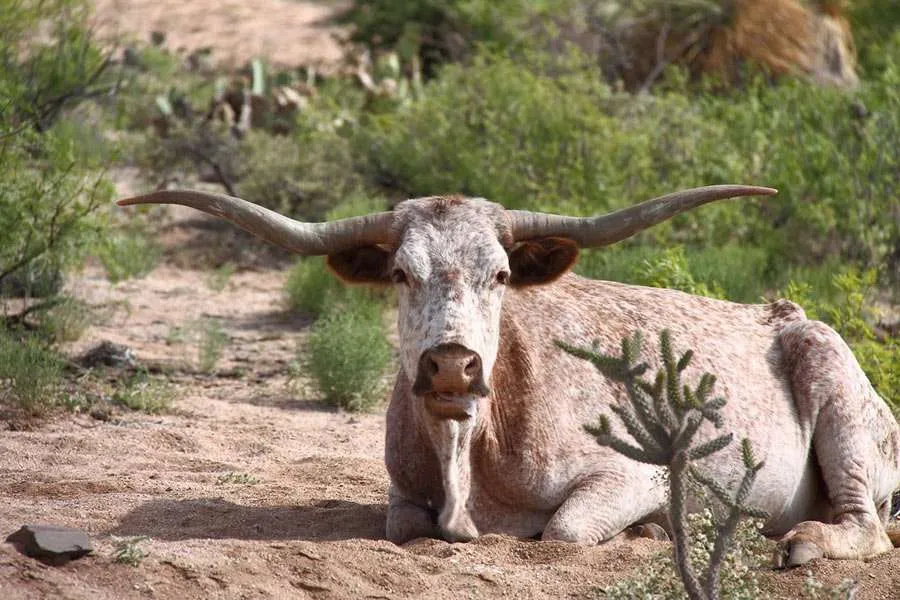 Forty miles north of the ever-expanding sea of concrete and arthritis cream that is Phoenix, Arizona, Agua Fria preserves nearly 71,000 acres of desert grasslands. Named for the Agua Fria River which cuts a riparian canyon through the monument, the relatively untouched area is an oasis for the multitude of creatures thriving here after being forced away from neighboring and ever-ongoing development.
A dormant, flatted-topped volcano provides a focal point for visitors interested in exploring and experiencing, but not disturbing, the communities of bobcat and coyote, javelina and antelope, living here. Birdwatching is as easy as an afternoon in your camp chair, including eagle sightings. This natural beauty is accompanied by significant amounts of prehistoric sites as well.
Camping is offered at Badger Springs, which is essentially dispersed camping with access to a vault toilet. Camping can also be had in the form of dispersed camping offered throughout the national monument, if amenities are not important to you. That more or less means you'll be pitching your tent, van or RV wherever you can find an already established campsite, on firm ground and where you can fit your setup without moving or destroying any of the area's natural features. Bring everything you need and leave absolutely nothing behind, not your trash, cigarette butts, orange peels or even human waste. Pack it in, pack it out, every time. Agua Fria is already being squeezed by the surrounding civilization around it, and is here specifically for those of us who wish to enjoy it for what it is, not what further damage we can do to it.
Canyon de Chelly National Monument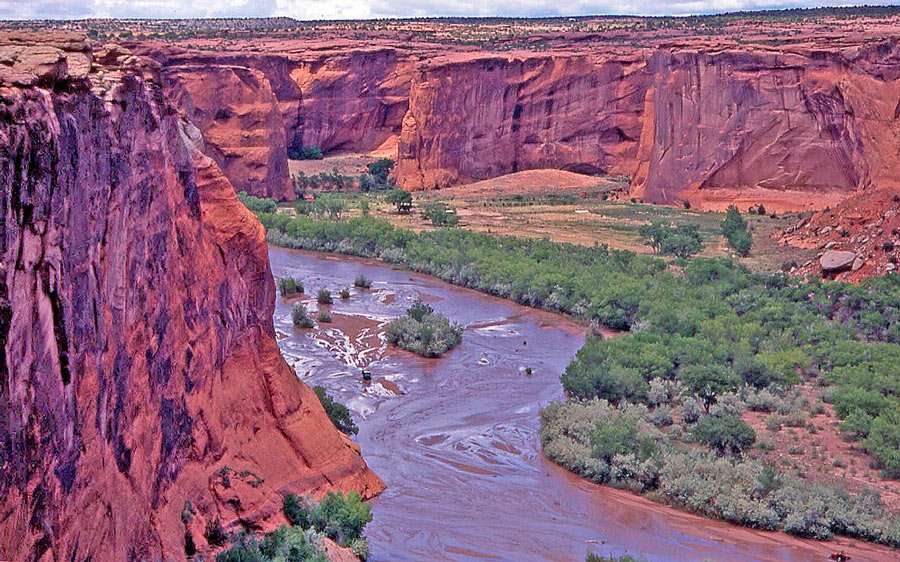 Set amidst the stunning natural cliffs, mesas and rock sculptures that characterize the Four Corners region, Canyon de Chelly was established to preserve not only these features, but 5000 years worth of human existence in the area. From Ancestral Puebloans to the Navajo nation–from there original roots here to those still living here today–the monument seeks to preserve the ruins, traditions and legacy of all of these native people.
Free hiking tours with park rangers and Jeep or horseback tours via Navajo guides are available, as well as a visitors center and drives to multiple overlooks.
While camping isn't technically offered via the National Park Service, Canyon de Chelly is actually a joint conservation effort by the NPS and Navajo Nation, the latter of which offers over 90 sites at Cottonwood Campground, which is within the monument's borders.
Grand Canyon-Parashant National Monument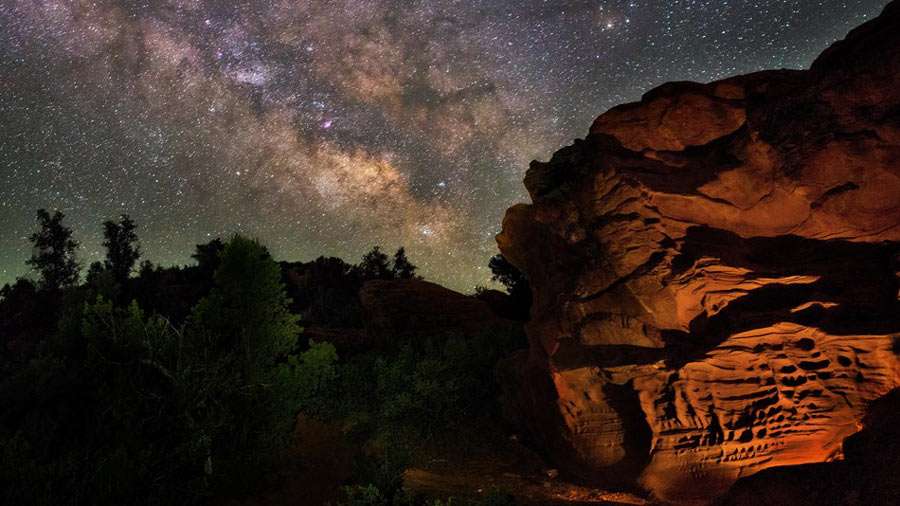 Parashant is at the edge of the Grand Canyon, a truly remote and difficult to reach place highlighting the pristine and rugged reality that was the Grand Canyon and surrounding areas before the national park itself became the tourist attraction that it is today. While there are historic sites and opportunities to stay the night in the monument, it is not a typical "national park" experience. There are no visitors centers, gas stations or other amenities. You will need to rely on your vehicle, your wits and some good fortune to make the trip a memorable one (for the right reasons.)
These 1,000,000+ acres of wilderness are managed together by the State of Arizona, the National Park Service and the Bureau of Land Management, spanning 7000′ of elevation change. It is so wild and unexplored that new species of animals are still being discovered.
Camping is also not what you may be used to, whether you float around in an RV or are more inclined to car camping. While you can drive a 4×4 vehicle to places where you can then park said vehicle and camp, it is at times treacherous terrain. Even the dirt is alive here, literally, so it's important to take extra precautions when visiting this place. If you enjoy an easy night in the woods, where you're used to shuffling your feet and getting back into civilization when the weekend ends, this place is likely not for you. If you are brave enough to traverse the roads leading into Parashant, though, please leave it exactly as it was when you arrived. Don't bury your human waste, pack it out along with every sliver of trash you may produce. Don't remain in any given spot more than two or three days, and after you've packed up your tent or truck camper, do all that you can to make the area seem as though you were never there. Respect this place, it is one of the few truly wild areas where vehicle travel is still permitted in these United States.
Navajo National Monument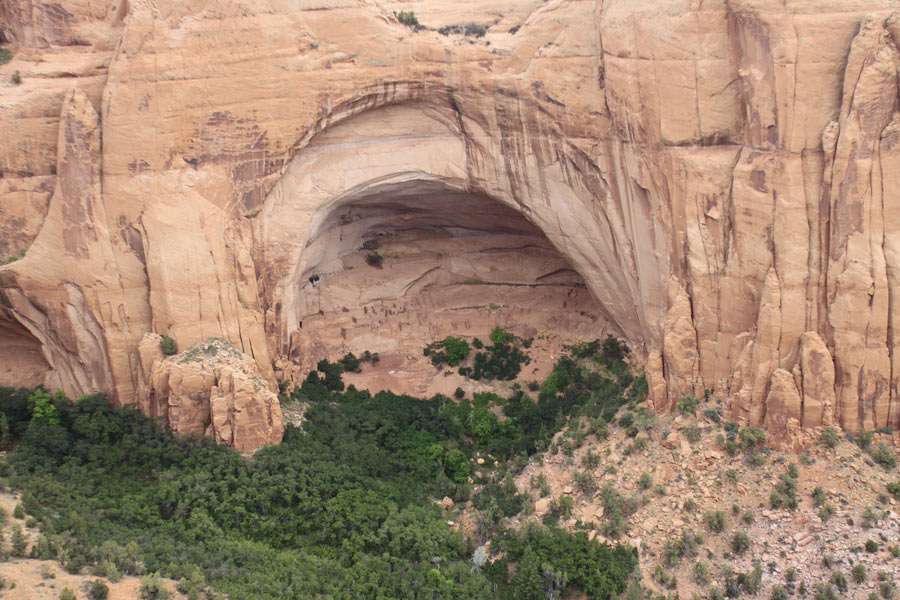 Named for the Native American tribe still living in this area today (the national monument is wholly within the Navajo Nation), this park looks to specifically protect three cliff dwelling sites positioned along the stunning Tsegi Canyon. Guided ranger tours and easy hikes alike provide visitors the opportunity to see the stunning natural features of the canyon and learn more about the Ancestral Puebloan people who built the cliff dwellings.
Camping is provided at two small campgrounds. Sunset View Campground is comprised of 30 or so sites, accessible to RVs, and located immediately next to the visitors center. If you have a smaller rig, or are tent camping, the smaller 17-site Canyon View Campground is about a mile down a dirt road and promises more peace and quiet. RVs 28′ or longer are not permitted at this campground. There are no hookups at either campground, though water is available at Sunset View. Both campgrounds have vault toilets.
Vermilion Cliffs National Monument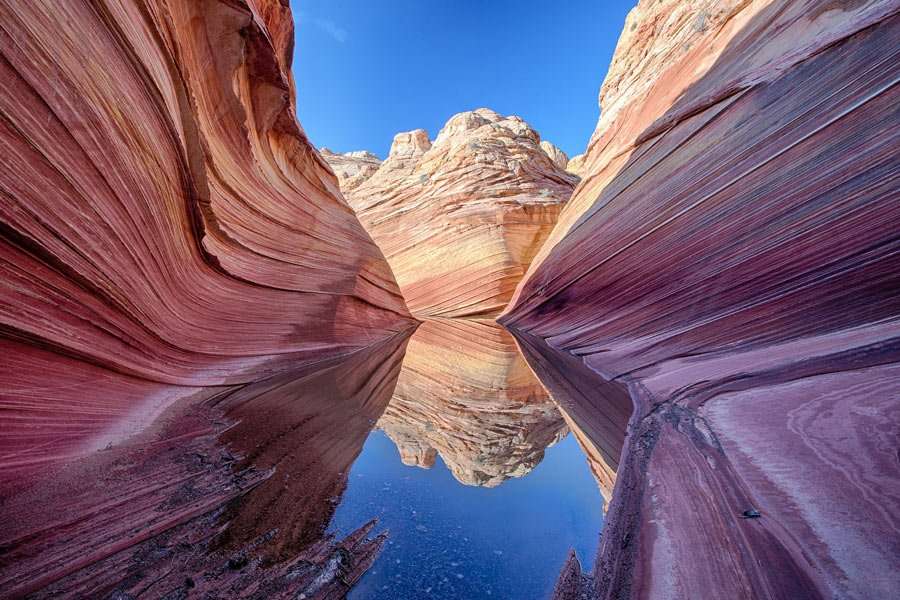 The once nearly extinct (no wild animals were left, only captive ones) California condor soars above, a mirror opposite of the turkey vulture when seen from below, but significantly larger, the largest bird in North America in fact. This dazzling site, one we by all rights should no longer even be able to experience, is just the beginning of what Vermilion Cliffs has to offer.
Imagine a soft serve ice cream, orange and swirled as though the gods themselves took a lick out of the cliffs here. This area is home to such fragile, almost untouched beauty that permits are required to even hike through its wilderness. Poisonous snakes and insects lie in wait. Sand traps even some 4-wheel drive vehicles attempting to traverse the park's roads. Nearby Page, Arizona and Glen Canyon are testaments to what can happen to Earth's most beautiful sites if the desires of man are left unchecked. While Page is an innocent enough town which serves as a hub for the greater area, Glen Canyon was once, as early explorers of this section of the Colorado River put it, "even more beautiful than the Grand Canyon." Tales of rafters and hikers so smitten by the vistas in this canyon that they could do nothing but stop, stare and cry at its beauty. And then we put up a dam, creating Lake Powell, and submerged the entire affair.
Vermilion Cliffs, fortunately for us and the condors, didn't suffer such a fate, but it is all the more important that we treat it with the utmost respect. If the government can be given a pat on the back for their efforts, surely we can all do our part as well.
Camping is limited to dispersed camping on existing campsites only. Don't be a trailblazer. There is also more formal camping, with a dump station, trash services, available water and vault toilets at Lees Ferry Campground, just outside of the park.
California
There's rarely a doubt that, in the "Lower 48" at least, California holds all the records for the most and most beautiful lands in these United States. Sunny hillsides, desert absurdity and snow covered mountains set the stage for superblooms and the largest creatures on this planet alike.
Santa Rosa and San Jacinto Mountains National Monument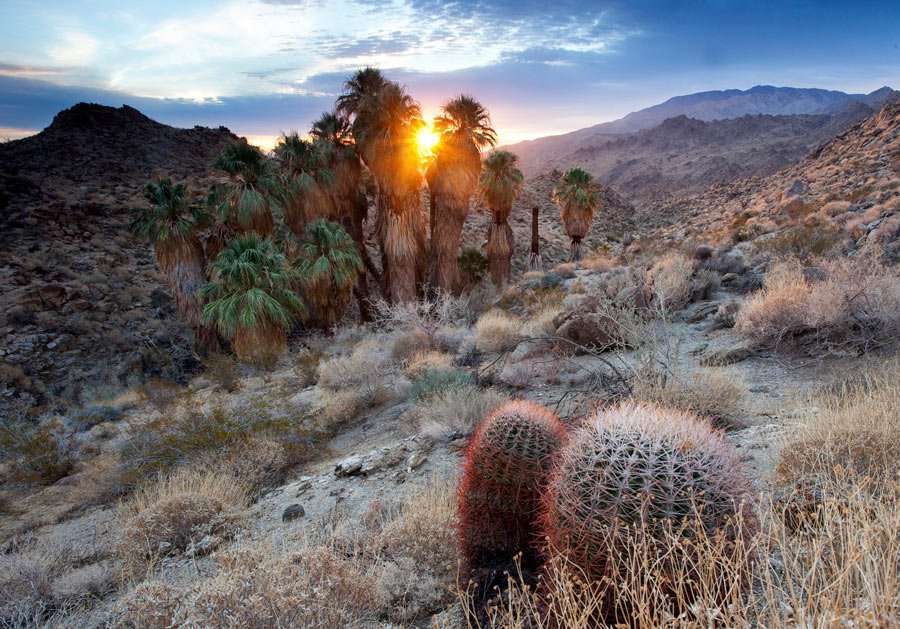 Just outside of Palm Springs, California, 10,834′ of mountains rise sky high in this 280,000 acre national monument. Sand dunes mirror the largely bare mountains towering above them, desert palm oases manage their way of life and pinyon pine dot a landscape where bighorn sheep roam freely. While the monument is jointly managed by the BLM and US Forest Service, parts of it are also owned by the original inhabitants, the Cahuilla, who've lived in the area for thousands of years. Rubber boas and fringe-toed lizard are among eight endangered species living in the park.
A visitors center–not to mention the many amenities located in towns surrounding the mountains–is available as well.
Camping is available at Pinyon Flat Campground, where 18 dry camping only sites and vault toilets provide a jumping off point from the southern end of the national monument, but less than a mile from the community of Pinyon Pines.
Sand to Snow National Monument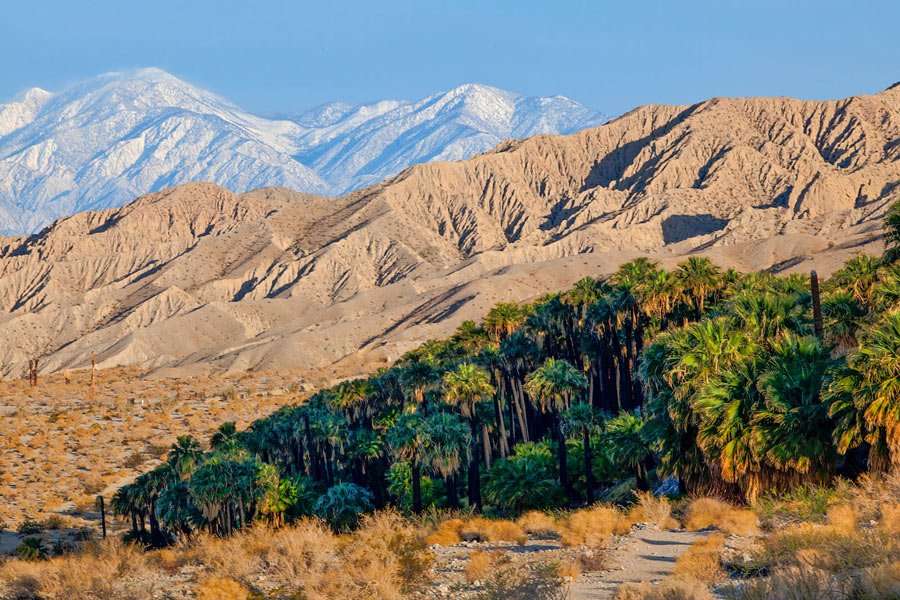 Another joint effort between the BLM and US Forest Service, Sand to Snow National Monument is 154,000 acres of conifer forests towering over oak scrublands, stretching from both the Mojave and Sonoran deserts to over 11,000 feet. While the park itself is home to dozens of places to camp, 94,000 acres of true wilderness, trails and waterfalls, it's also the heart of a larger region including resort towns around Big Bear Lake, Joshua Tree National Park and the San Bernardino National Forest.
Camping is absolutely abundant, in both formal campgrounds and via dispersed camping as well, mostly along the northern end of the monument.
San Gabriel Mountains National Monument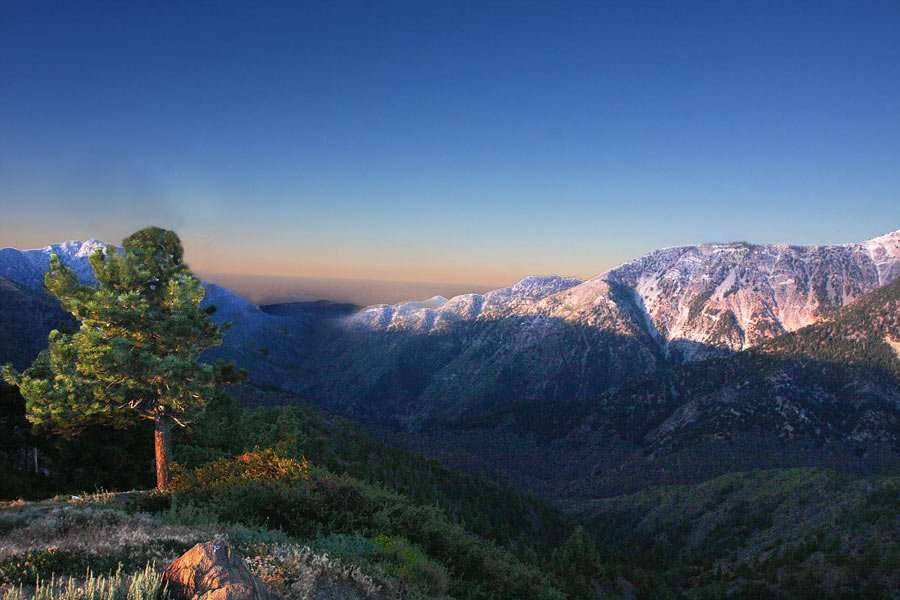 An experimental forest, an observatory, and thousands of years of human history can all be found, appreciated and studied in the San Gabriel Mountains National Monument. An old railroad, cabins and reproductions of a gold-mining camp and Native American village are additional features of the park. The San Gabriel Mountains are only a short drive from many of the communities between San Bernardino and Los Angeles, making them an incredibly popular backyard into which city dwellers might escape.
Camping is available at several campgrounds along Route 2 and 39, which "T" into the middle of the park.
Mojave Trails National Monument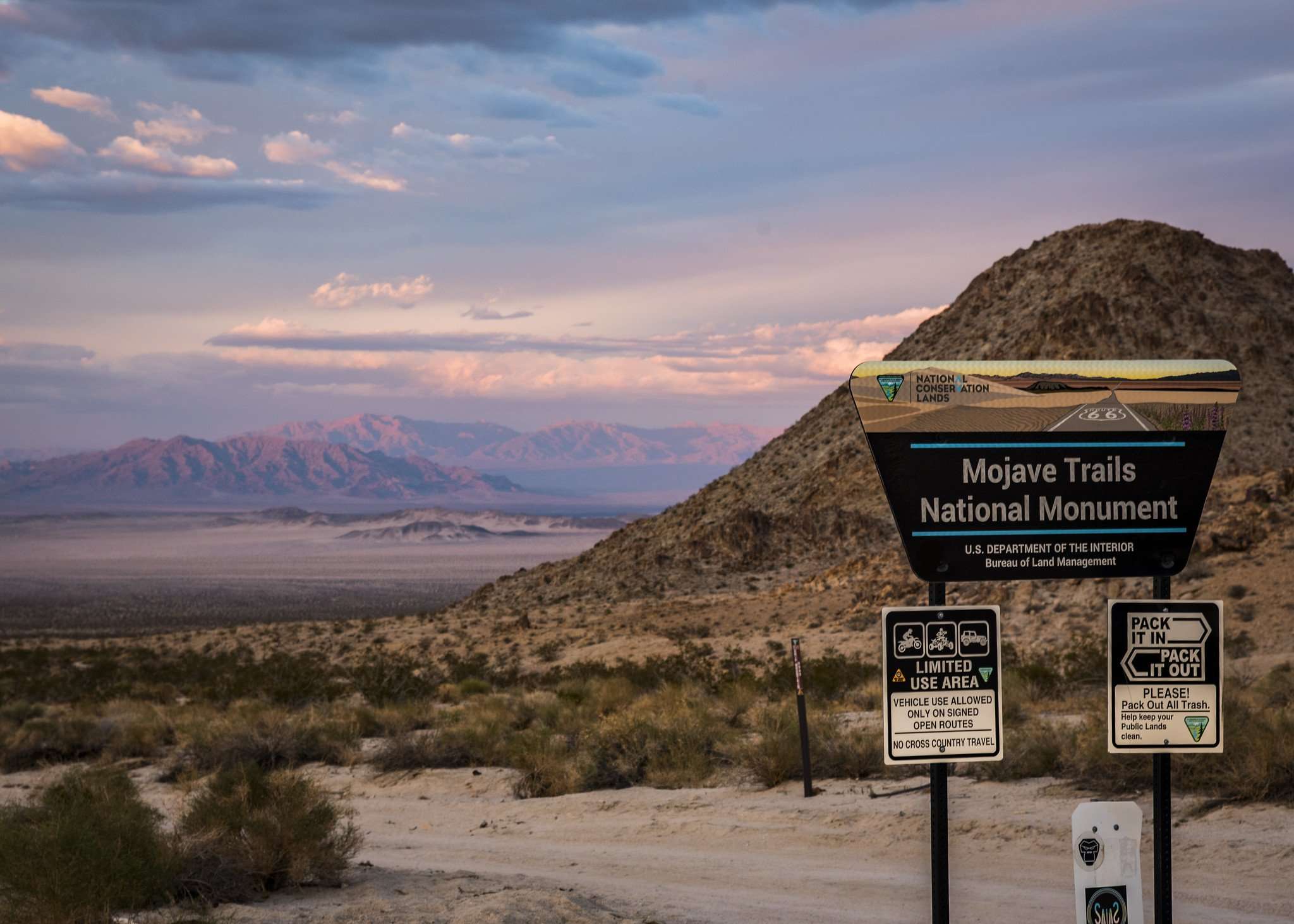 Replete with wilderness and largely encompassing nearby Mojave National Preserve, Mojave Trails National Monument is the largest in the Lower 48 and remains almost completely undeveloped. The Mojave River, which flows almost completely underground, makes a rare appearance within the park, and an extinct volcano has served as a centerpiece for the region since before US Route 66 was but a memory on a gift shop mug.
Unlike most national parks, rock and fossil collecting are popular, and legal, activities within Mojave Trails.
Camping is possible in both the monument's sole developed campground, and throughout much of the rest of Mojave Trails via dispersed boondocking.
Carrizo Plain National Monument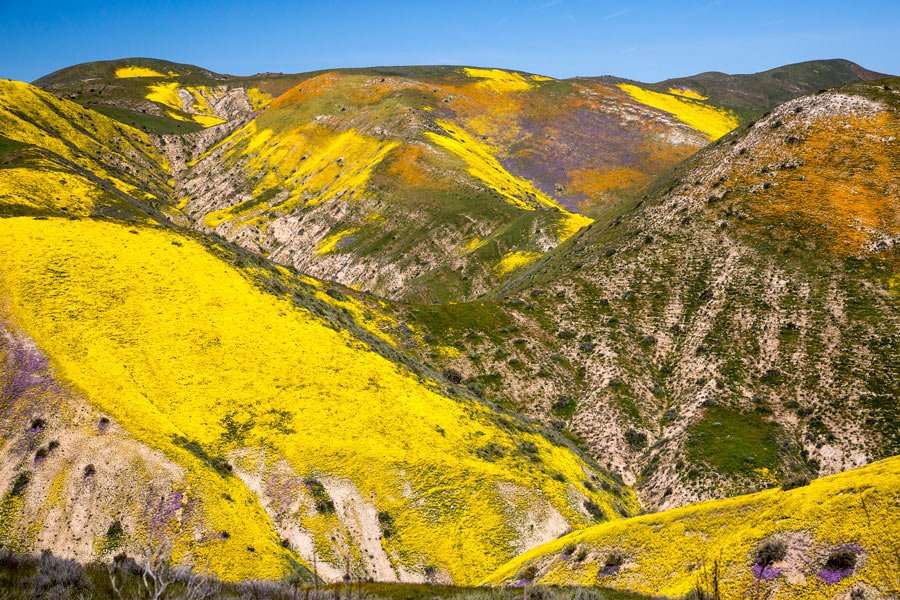 Superblooms fill this grassland of a national monument on lucky years, while pronghorn sightings, as well as less frequent views of fox, kangaroos, sandhill cranes and California condor, delight year 'round. Painted Rock, a beautiful and curious semi-circle of a mountain, offers views of 4000 year old pictographs. When wildflowers put on their best show on particularly wet springs, however, they steal the show like Winona Ryder in a paint store.
There are no services within the park, so come prepared, but dispersed camping is allowed on some roads and the monument has two official campgrounds with
Giant Sequoia National Monument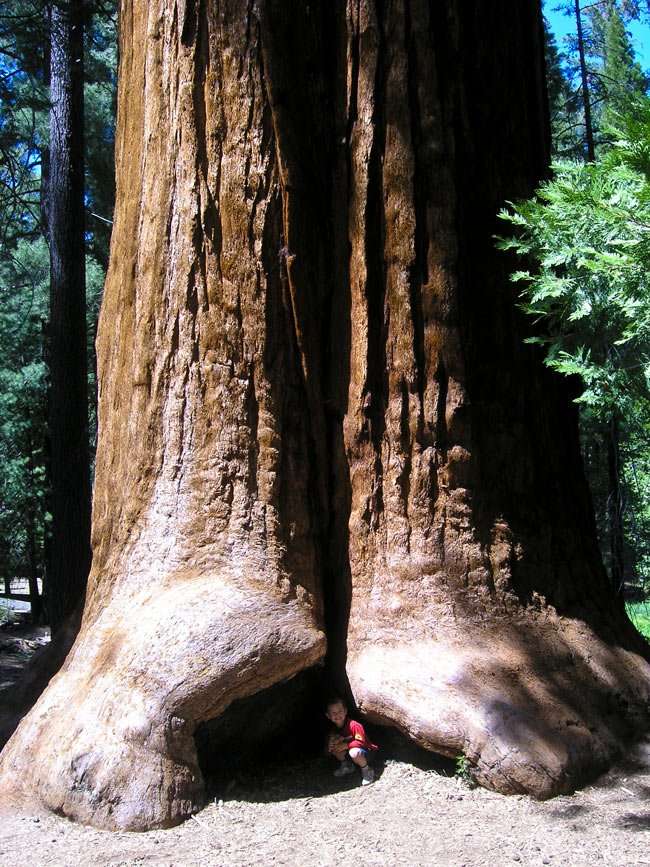 Giant sequoias dominate the western slope of the Sierra Nevada Mountain Range, and while the three national parks lining them get much of the attention, Giant Sequoia National Monument offers every bit of the fiery orange giants' grandeur with significantly less traffic. Over 30 groves are open to hiking with your dog, and the limitations that keep national parks as pristine as they are don't always apply here, though as always practice leave no trace principals and respect what it took for these elders to become the impressive towers of nature they are today. The monument is split into two sections, with the northern part bordering Kings Canyon and Sequoia National Forest, and the larger southern portion sharing an eastern border with Sequoia National Forest. The entire area sort of has a theme going, if you're following along. With 38 groves, the monument is home to around half of all giant sequoia groves in existence today.
Camping is available directly within the Indian Basin Grove, at Princess Campground, where 90 campsites are organized into three loops with names like Shining Cloud, Yellow Moon, and Morning Star.
Devils Postpile National Monument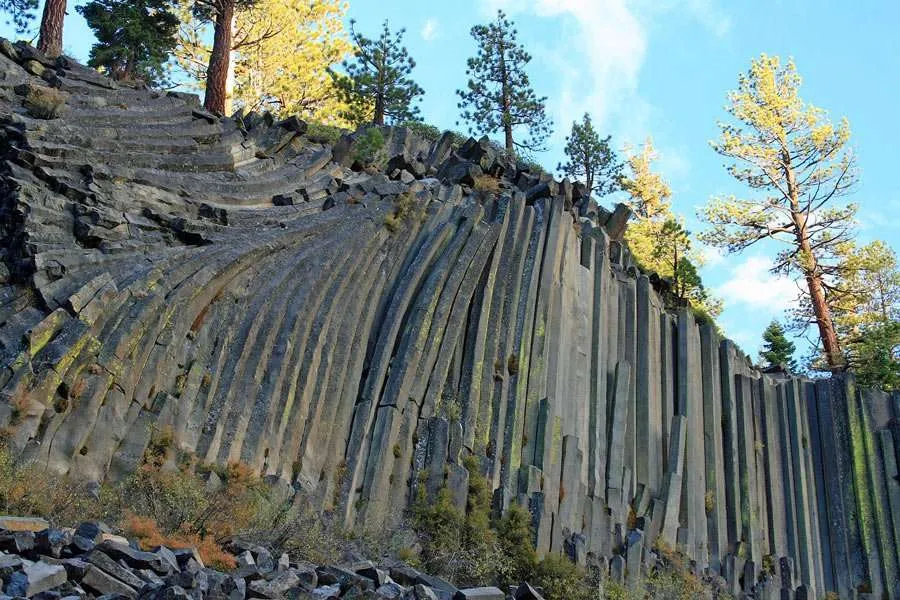 A winding road, accessible only to campers and otherwise via a shuttle system, switchbacks through conifer forests of massive red fir and Jeffrey pine to eventually arrive at the bottom, where an easy hike leads amateur geologists to the Devils Postpile, a wall of natural rock that has formed into hexagonal pillars, many geometrically perfect. The only national monument on US 395, this road paralleling the Eastern Sierras is nearly one endless stretch of park all on its own.
Camping is available near the trailhead, where 20 sites await vans, RVs and tenters with vehicles under 25′ long.
Berryessa Snow Mountain National Monument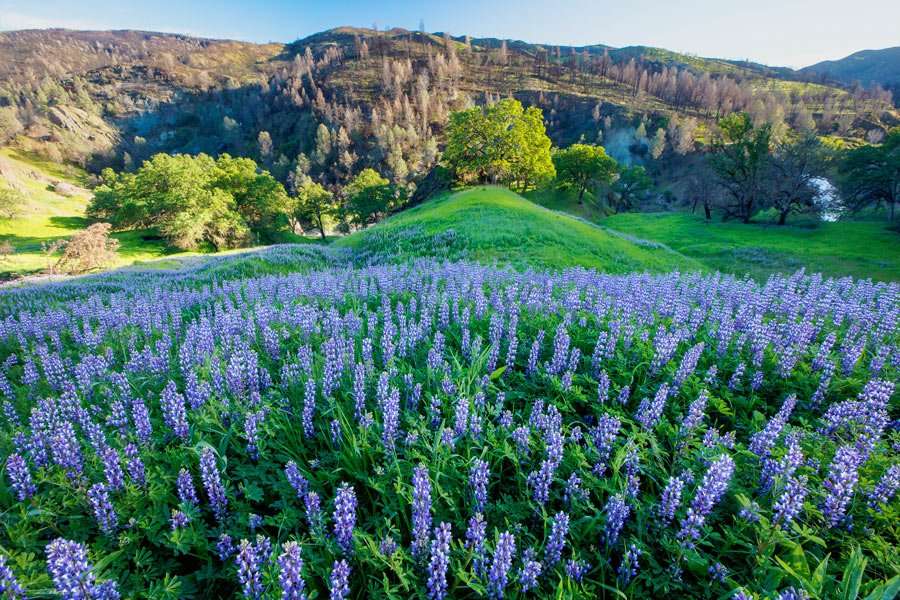 Poppies glow brilliant against rolling green hills which then give way to dramatic canyon vistas at Berryessa Snow Mountain National Monument, one of the most stunning places on the planet no doubt. Eagles and black bear own the land and skies, while wildlife as varied as a marten to the black-tailed deer, tule elk and the rare northern spotted owl mingle with the forest they've called home for centuries. Native people inhabited the area for 10,000 years before Spanish explorers first arrived in these mountains. Kayaking, horseback riding and 4×4 trails are popular pursuits in the park, but much of it is also wilderness. The surrounding community features Lake Berryessa itself, as well as restaurants and markets to stock up before exploring the monument.
Camping in the park is largely accessed by hiking significant distances, but the BLM operates Cowboy Camp, just outside of the park's eastern entrance.
Lava Beds National Monument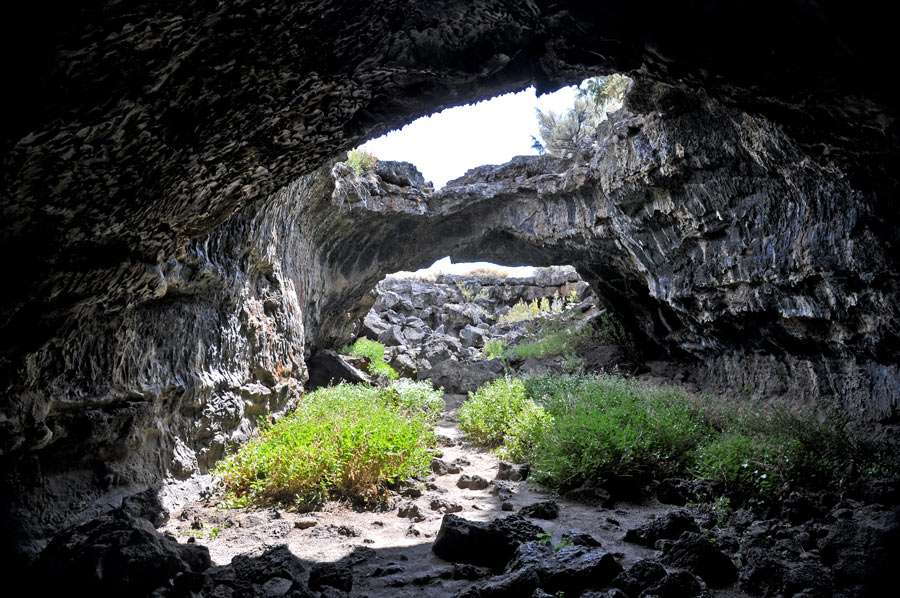 Should hiking through lava tubes, caves that have formed in the belly of the remnants of lava flows from long ago, be of interest to you, Lava Beds National Monument is one of the few places where you can not just explore them, but do so via the many trails which traverse the over 700 tubes. There are few places in the United States to learn more about various types of volcanos, and the area is rich in Native American and prehistoric history as well.
The monument is surrounded by the Modoc National Forest and a handful of national wildlife refuges.
Camping exists near the visitors center on the south end of the monument, at Indian Well Campground, which is also close to the Cave Loop road, home to a dozen or so accessible caves.
Colorado
The gateway to the West. A landscape dominated by elevation and prominence, not to mention green in all senses of the term. It's hard to go wrong anywhere in Colorado…unless you count that whole "are we still in Kansas?" eastern half…
Hovenweep National Monument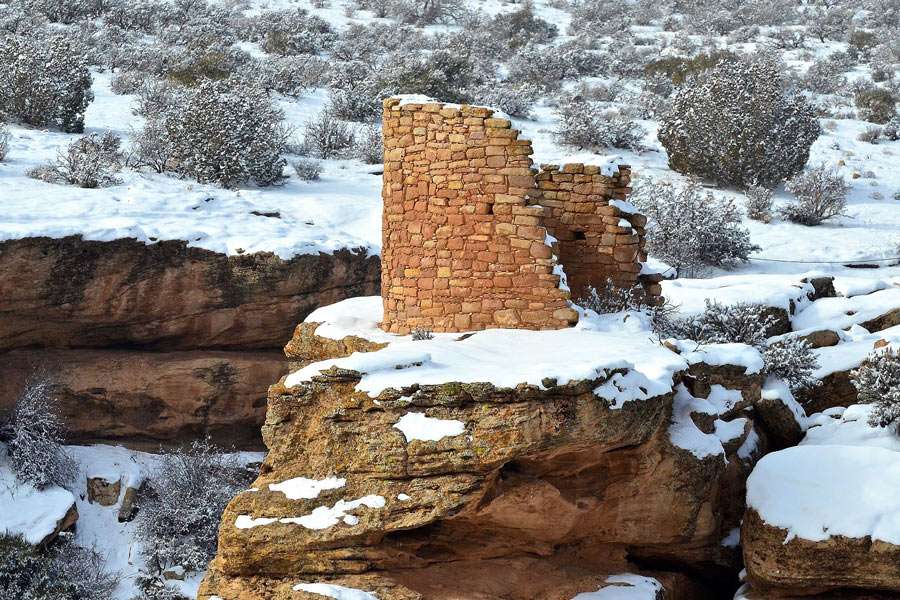 A quiet, out of the way place, the farmland and rural roads leading into Hovenweep might make you wonder if you're lost, or if your GPS has finally decided to drive you out into the sticks and murder you. What awaits is a simple little slice of Four Corners desert, a few hikes and information on the native people for which the park is named, as well as a chance to see the ruins of Ancestral Puebloan people who once lived here. It's somewhat of a miniature Mesa Verde National Park (nearby). A trail leads from the campground, through a massive crack in a boulder, allowing further exploration into what Hovenweep has to offer.
Camping comes alongside a small loop of decently spaced sites not far from the visitors center.
Dinosaur National Monument
By far Colorado's largest national monument, it dwarfs the rest combined by a hundred thousand acres. An official dark sky park, it's named for the number of fossils to be found here. Part of the park is also in Utah, where the Dinosaur Quarry rests. A remote place, there's not much in the way of amenities and even the nearest city of Vernal, Utah isn't much to write home about. The park itself, however, is rich in history, from the creatures for which Dinosaur gets its name to the ancient Fremont peoples who once populated much of this portion of Colorado and Utah. A visitors center, a dinosaur exhibit and ranger station round out the "national park" experience, while trails, scenic drives and the Green River provide access to natural aspects galore.
Camping is available at half a dozen sites throughout Dinosaur, some of which are tents only and another that's only really suited to vans or truck camper type vehicles. All have picnic tables and at least outhouses, with those closest to the visitor center even offering the rare delight of a flushing toilet.
Browns Canyon National Monument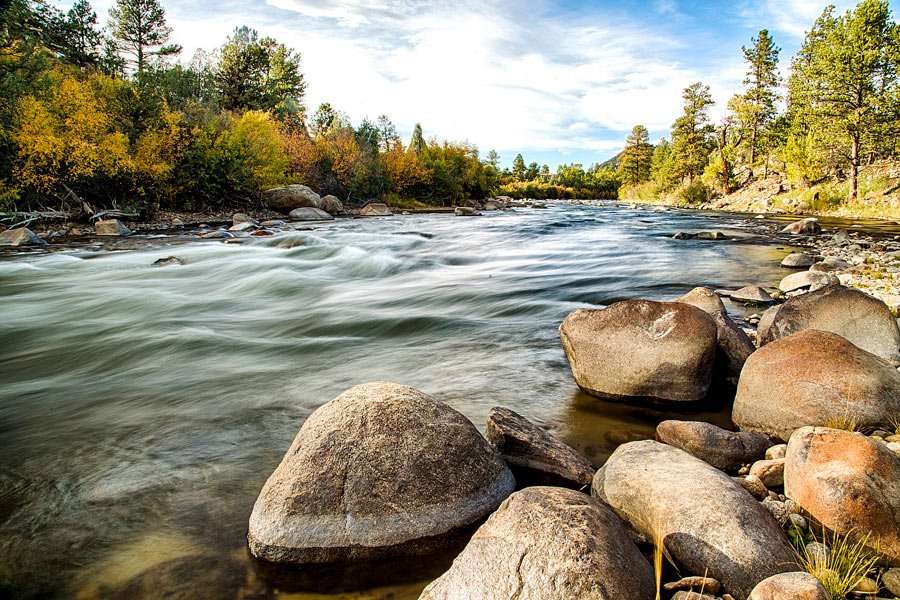 Though still in its infancy as a national monument, Browns Canyon has been attracting anglers and rafters for decades. Sandwiched between the immaculate stretch that is US 285 between Buena Vista and Salida, Colorado (neither town is pronounced the original Spanish way, of topic), the Arkansas River (also not pronounced how you'd think) flows through rounded beige boulders popping up like giant gnome heads to see above the forested peaks and valleys. The entire region is a mecca for all things outdoors, and a healthy blend of the ATV and fishing rod types as well as the hippy and spandex crowd. In fact, this part of Colorado may just be the perfect sampling of the what the state does best: providing outdoor recreation of all varieties and a host of places to kick back with a local beer and burger when you're finished.
When it comes to camping, there is an established campground at both the north and south ends of the park. With around 40 sites between the two, and the popularity of the area, sites here go fast but otherwise they're well kept, almost manicured, national park type campgrounds with picnic tables, fire rings and vault toilets.
Colorado National Monument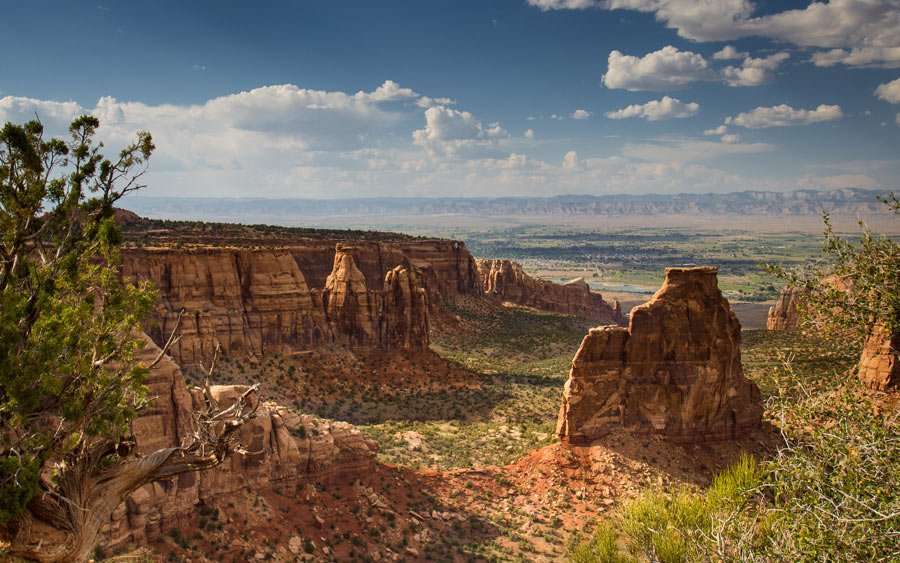 While perhaps a different landscape than what one might typically think of as Colorado, with the red and tan layers of features like Monument Canyon as opposed to silver mountain triangles ever-covered in distant snow, the Monument, as locals call it, is a testament to preserving but a portion of a state that could easily have been one massive national park itself. Indeed, even Colorado National Monument has been an actual contender for full on national park status. A visitors center helps usher in the feeling, official or not, though compared to many other monuments it would be on the small side.
Camping comes after a gorgeous drive up the mountain, where 80 sites snuggle between juniper and pinyon pines, high on the ridge, with all the comforts of flushing toilets and trash service.
Idaho
One of the last bastions of wilderness left in the Contiguous United States, Idaho is home to a single monument.
Craters of the Moon National Monument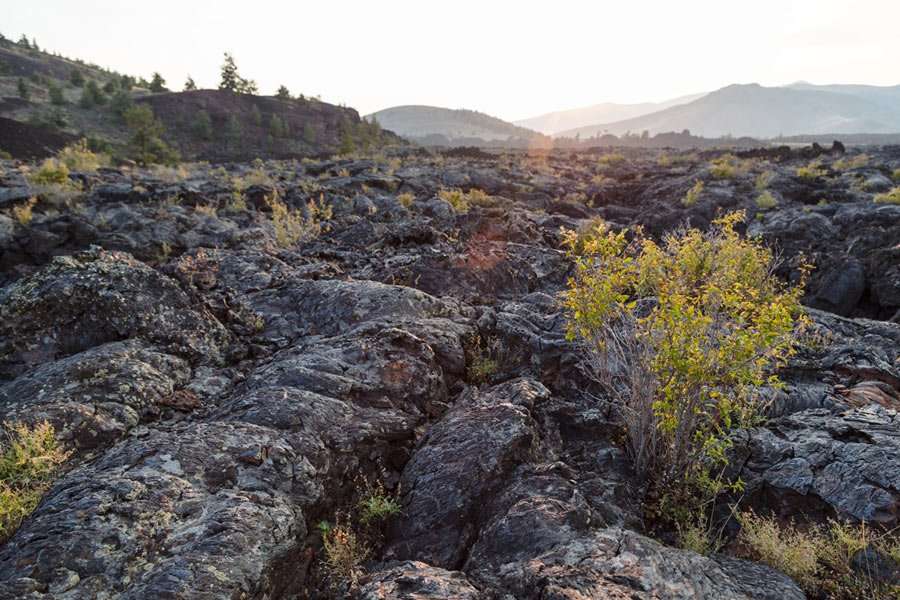 "What is the difference between a national park," a ranger asks my young boys, "and a national monument?" Her answer? "Nothing, it's all in a name."
I personally suspect she was simply feeling defensive about her own beloved monument, but perhaps she's correct. I mean, there's beauty, but that's in the eye of the beholder. And the ladies insist that size is not everything. But, we all know that it is, at least in the case of a national park. Still, Craters of the Moon National Monument is a sight to behold. Easily driven loops and hiking trails throughout the park provide "out of this world," though not literally, views of the long and elegant efforts of millions of years of volcanic artwork exploded all across the landscape. A visitors center and campground, the remoteness of it all, and the proximity to Yellowstone don't hurt either.
The nearby town of Arco, Idaho was the first town ever to be lit completely by nuclear power, offers tours of the now defunct nuclear reactor (quite the journey back in time to a land where knobs were much more interesting) and is also the site of the only deaths due to a nuclear reactor malfunction. Fun facts.
The camping in Craters of the Moon comes in a rather large and not terribly difficult to get into campground, with flushing toilets and, along with picnic tables and fire rings at each site, the remains of long slowed lava flows surrounding it all. It's the perfect type of campground for an evening bike ride and even better when the lights go out.
Maine
The only state east of the Mississippi to make this list, Maine is essentially the last wild left on the East Coast.
Katahdin Woods and Waters National Monument
This national monument is essentially a $100 million dollar pet project of the founders of Burts Bees. The owners once hoped it would become a national park, but when opposition rose they donated the land as a monument and President Obama did the rest.
At such a young age and born into a world of such political disparity, the monument has struggled to find local community support but by all means lives up to its name, with the classic hardwood deciduous forests that mark New England and plenty of access to lakes, rivers and waterfalls.
Much of the camping in the park is for those brave enough to hike or at least take a four wheel drive vehicle down a dirt road, but RV camping is absolutely possible as well.
Montana
Big Sky Country has but one monument ready and willing to soak up your historic and natural whimsies.
Upper Missouri River Breaks National Monument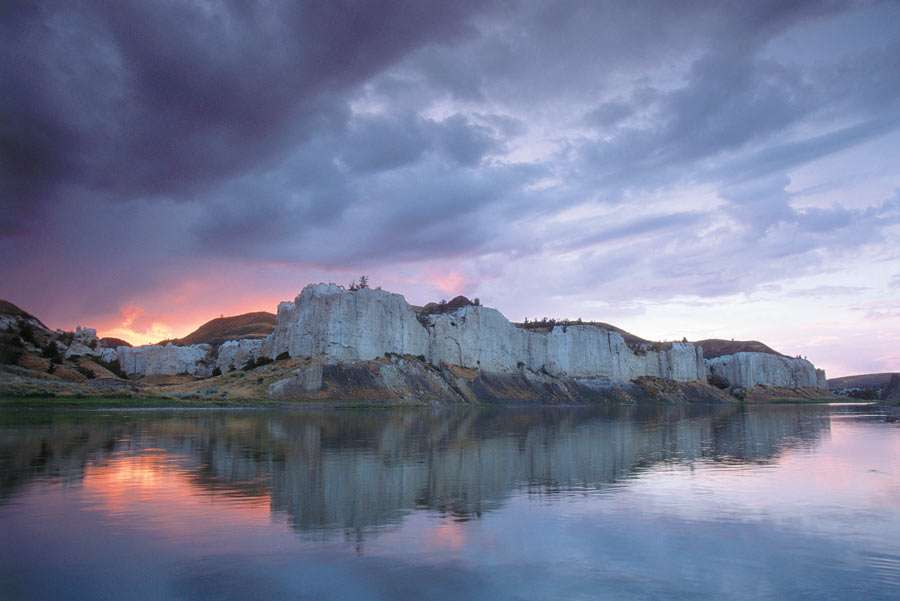 Bordered to the south by a section of the Missouri designated a Wild and Scenic River, and to the east by a wildlife refuge, the Missouri Breaks is large swaths of wilderness, an historical novel and of course the flowing stretch of beauty that is the river itself. From French fur trappers "discovering" the area rich with some of the most notable Native American peoples of the land to Lewis & Clark passing through on their journey westward, there is nearly as much to learn here about the history of the humans who traversed these waters as there is to learn from sitting quietly at the waters edge. Fishing, hiking, hunting and floating the river are all popular activities.
Camping is available at three campgrounds within the monument, as well as a county-run canoe launch nearby. Amenities are basic and sites are priced accordingly.
Nevada
The Silver State's two national monuments total over 1 million acres of the best Nevada has to offer.
Gold Butte National Monument
A land of burnt arches and this continents history–geological and more recent–lives three hours east of Las Vegas.
Mountain lions and bighorn sheep, the curious Gamble quail with its lantern-like crown, and untold creations sculpted by the slow hands of time await those who make the journey. Much like the more forested and equally rugged Parashant National Monument to the east and across the Arizona border, but significantly more beautiful that is the blight of its southerly neighbor, Lake Mead, Gold Butte National Monument is home to some of the most peculiarly stunning slices of nature a geologist might ever hope to see.
There is a ton of dispersed camping in Gold Butte National Monument.
Basin and Range National Monument
One of the larger national monuments, at over 700,000 acres, Basin and Range is named for the feature which describes nearly all of Nevada, north/south stretches of mountains towering above long stretches of flat desert between. The mountains gather snow and rain, sending it all into basins which catch and use as much as they can to provide a diverse if seemingly barren ecosystem. If you've ever driven the Loneliest Highway, US 50, through Nevada, you're familiar with the concept. You point your car forward at mountains seemingly impossibly distant and, an hour or so later, you wind through them for a few minutes before leaving those rare turns behind in pursuit of another long haul across the flatlands. Salt flats, mirages of massive lakes which are actually more or less dry, deceive the mind and radio stations tend to blur into static.
Camping in Basin and Range is strictly dispersed camping, with the usual 14-day limit.
New Mexico
Shrouded in Ancestral Puebloan history, New Mexico's national monuments range from rugged landscapes to ancient history.
Organ Mountains–Desert Peaks National Monument
Perhaps the jewel of all of New Mexico's natural lands, the Organ Mountains rise from the deserts surrounding Las Cruces with a tilted prominence that is as impressive during Golden Hour as it is all the day long. With almost constant blue skies above, the stark and seemingly barren mountains glow purples and hues yet untold my human poets, ever vigilant in their efforts to just sit there and be absolutely gorgeous.
The monument is broken up into several chunks, with those east of Las Cruces the most easily accessible but not nearly the bulk of the park by any means. Hiking, climbing, mountaineering and horseback riding are all popular pursuits, with the The Doña Ana Mountains being the most replete with trails and the southwest side of the monument covered in impressive volcanic formations.
Camping is mostly located in the eastern portion of Organ Mountains-Desert Peaks National Monument.
El Morro National Monument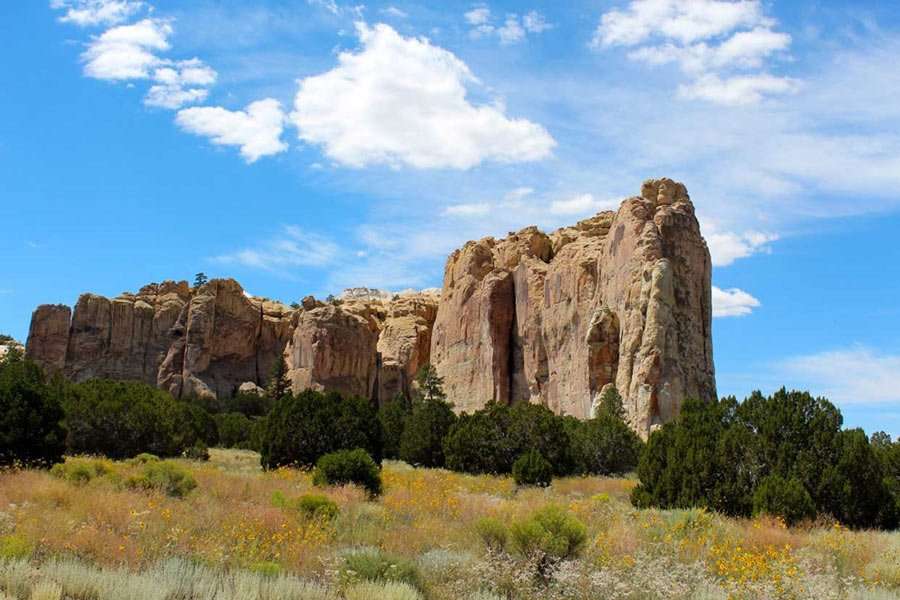 Home to an 800+ person prehistoric hotel of sorts, with inscriptions from as far back as 1000 BCE to more recent, more wild west explorers leaving their names in the guest book that has become the rock here. Most of this artwork, and the ruins of the people who first inhabited the land, can be accessed via hiking.
As with most of the Four Corners area, the scenery is difficult to complain about, even if it's likely the smallest national monument which also has camping.
While camping is limited, 9 sites are available with water available, vault toilets, trash and recycling services.
Bandelier National Monument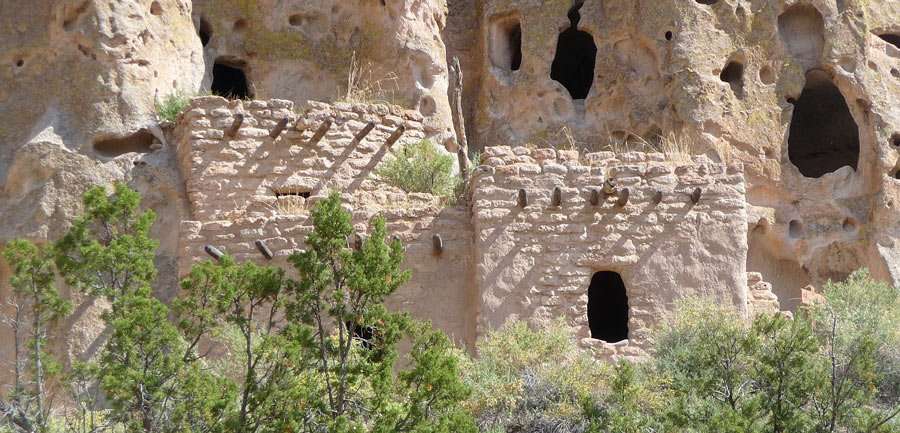 Featuring significantly preserved ruins from both the Ancestral Puebloans and the Civilian Conservation Corps, Bandelier is a small national monument located in the north central part of New Mexico. The majority is wilderness, and home to black bears, cougars and the elfish Abert's squirrel alike. The site was also used, during World War II, to house scientists developing the atomic bomb.
The main camping available in the park for those with a van or RV is found at Juniper Campground,
Río Grande del Norte National Monument
Scenic drive simply doesn't do US 64 justice as one leaves artsy and quintessentially New Mexican Taos headed into Rio Grande del Norte National Monument. With the Rio Grande Gorge as its focal point, a river which will run to the United States' southern border, and then become the border itself, forested cliffs and long span bridges dominate the drive, while hiking and camping galore take over once your car has found its way into "Park".
This is National Wild and Scenic River country, where volcanos climb to over 10,000′ and petroglyphs betray prehistoric civilizations. More than just a beautiful drive for humans, it's a major thoroughfare for migrating wildlife. A visitors center is provided to give you all of the details.
Camping is easy to find in both designated campgrounds and dispersed areas alike.
Oregon
The Beaver State easily tops many a "favorites" list, and its monuments highlight the high mountain peaks and desert volcanos alike. They'll even lead you underground.
Cascade–Siskiyou National Monument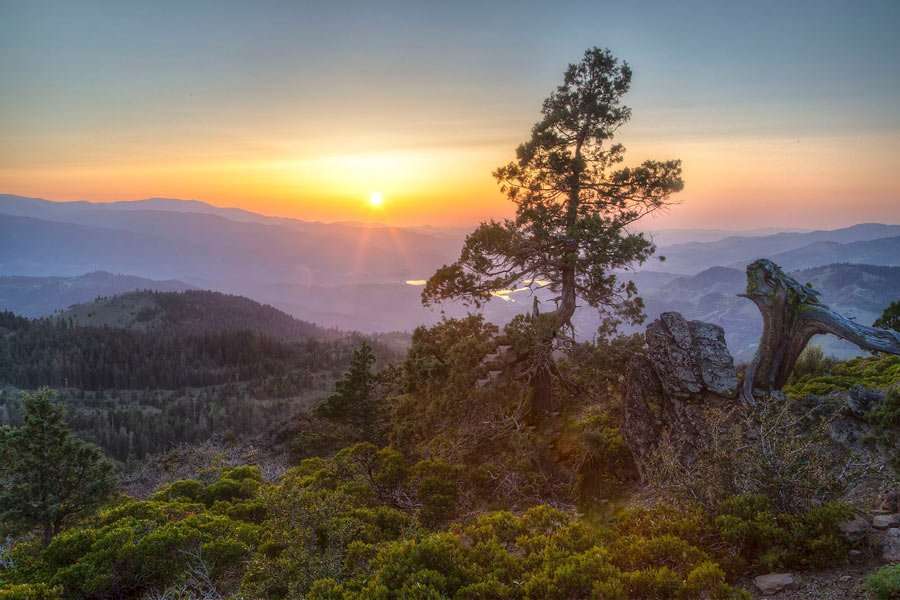 Spanning the southernmost reaches of Oregon and ever so slightly slivering into the oncoming glorious far, far Northern California, the Cascade Range and Siskiyou Mountains manage to combine the two states as perfectly as campfires and cold beers. Hikers plant bootstep after bootstep along the Pacific Crest Trail here. The edges of the mountains seem to be carved into the sky, yet diametrically opposed to the way the trees rise. Cascade-Siskiyou National Monument is, simply put, an impressive example of pretty cool nature.
And then there's Ashland, which is nothing to scoff at.
Camping is available at Hyatt Lake (really a reservoir though…) at the self-titled campground and just down the road at Wildcat.
Oregon Caves National Monument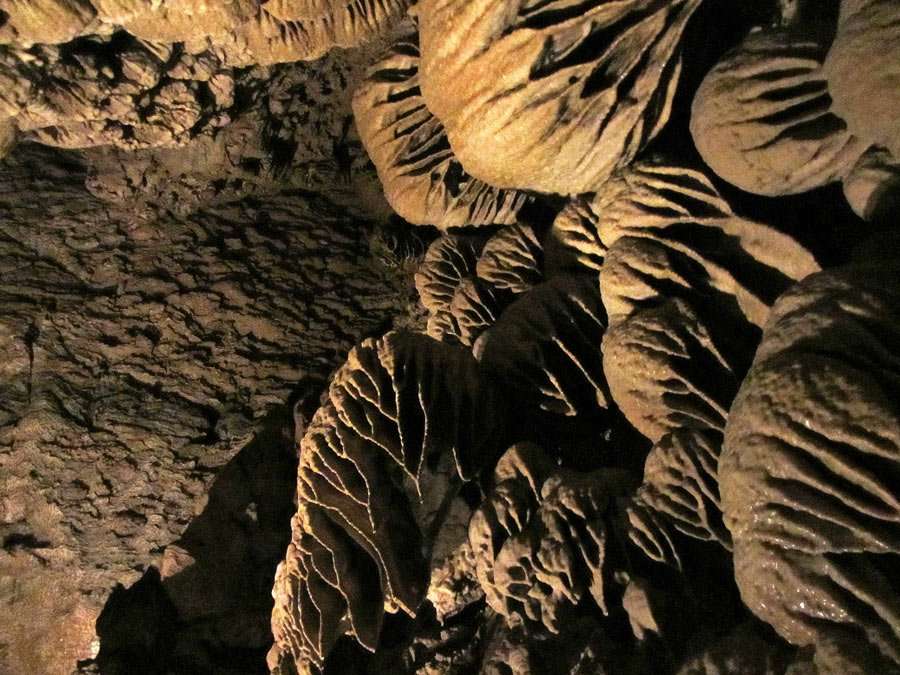 Home to the thickest Douglas-fir, in Oregon at least, and also a big ol' cave, this national monument at the northern end of the Redwood Highway is a world of transition, where the Beaver State blends into California, and so it would seem that nature decided to put a cave here, just in case you may have any reservations about the impending border crossing and need a safe place to hide and think on it awhile.
Camping is limited to rigs 20′ and smaller, but it's a cozy messy fuzzy forest of a place that, in some people's opinion, rivals the caves themselves.
Newberry Volcanic National Monument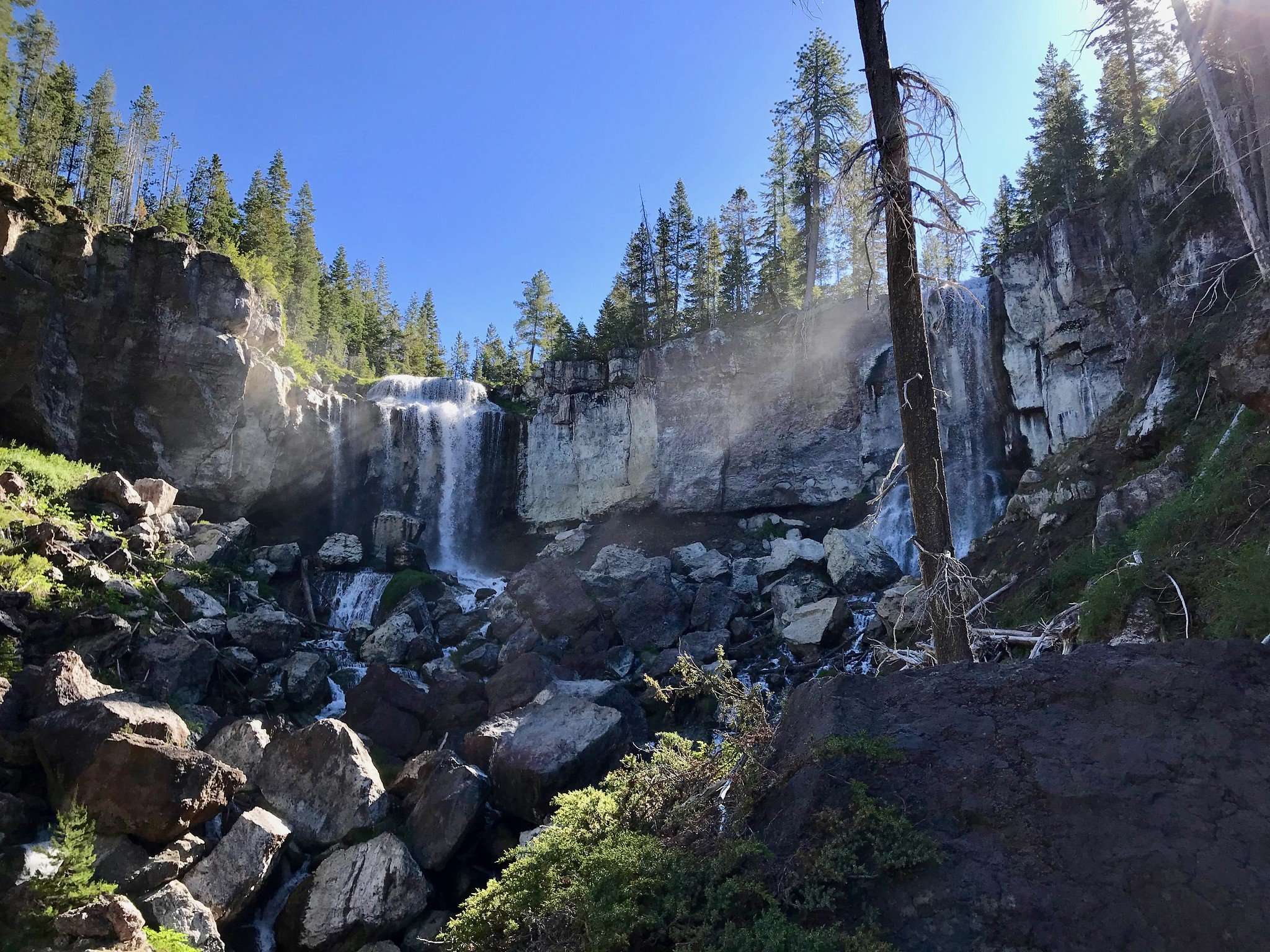 A friend once told me that it was once between Newberry Volcanic or Crater Lake as to what would become Oregon's first true national park. I was never able to personally confirm this, but it's a nice story. Instead, Newberry remains a national monument, just outside of the fair and sunny city of Bend, preserving the volcano for which it gets its name. Not to mention the two lakes that have formed in its top.
Whether exploring trail-lined rivers where cottonwoods and conifers mingle under a blue sky, or gazing far off at the Cascade Range and its alligator's jaw worth of prominent, snow covered and silvery peaks, the concept that one might escape so into nature so close to the merry go 'round that is Bend is astounding. The entire region, Newberry ever-so included, is absolutely stunning and the edge of where the desert meets the mountains.
The monument itself is divided into regions with names like Lava River Cave and Lava Cast Forest, and camping is available at over 100 sites situated on the two lakes, Paulina and East.
Utah
Another state essentially painted top to bottom with beauty has plenty of room for national monuments.
Grand Staircase-Escalante National Monument
Controversy is a funny thing. One person's land is another man's concept of preservation. Where one man makes a way of life, another sees destruction and where he sees something that could be preserved for all time, the other understands the importance of feeding his family today.
Or so the stories go. Grand Staircase is, no matter which side of the coin you land, a work of art. Spiral swirls go pouring themselves all up the mountainsides and just as all of Utah seems to do, dance with your imagination the day away.
Camping is permitted in established campgrounds within the monument only.
Natural Bridges National Monument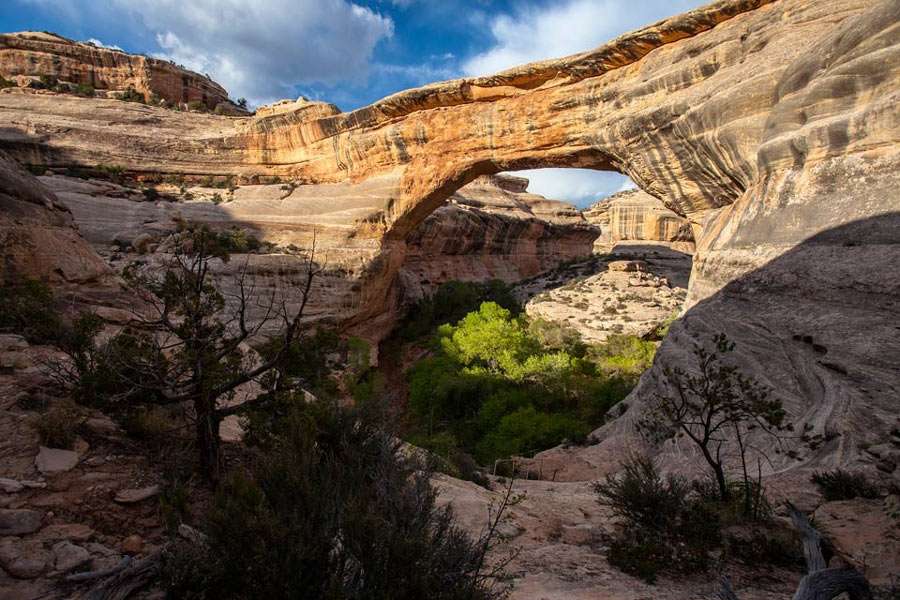 A small monument rests along a big stretch of Utah's Route 95, where every mile feels like you're witnessing a national park. Natural Bridges National Monument itself is comprised of a small visitors center, an easily drivable loop stocked with scenic vistas, and relatively easy hikes down to view the stony spans for which the monument was established.
Camping is absolutely available immediately within the park, walking distance to the visitors center. But that old Route 95 does await…
Bears Ears National Monument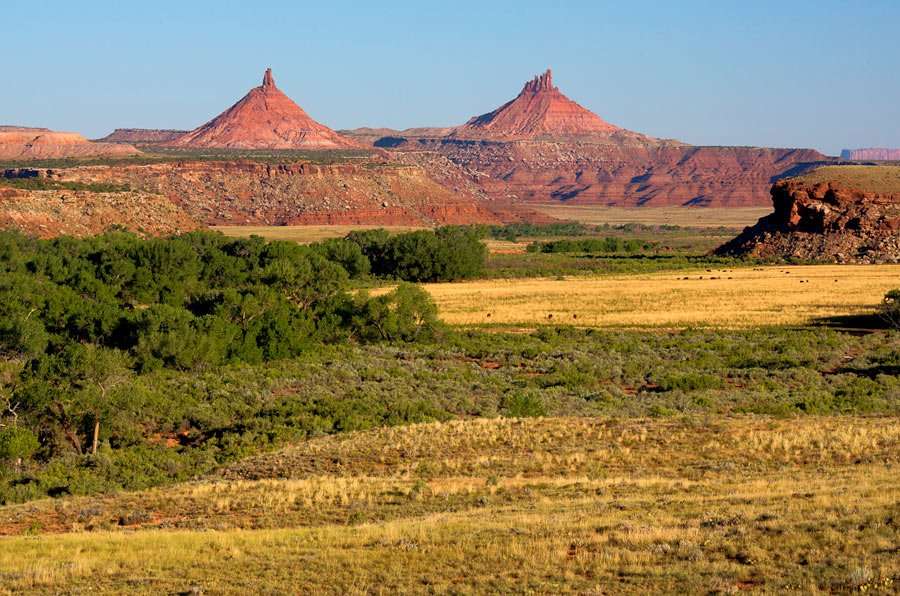 The highly contested and possibly soon to be dramatically reduced Bears Ears National Monument is still in its fledgling moments. Another monument created by President Barack Obama and then reduced by President Trump, Bears Ears stands to lose the vast majority of its current acreage.
Time will tell its slow enough story and we'll wait in anticipation to see what happens to Bears Ears. If it remains its current size, dwarfing and nearly encompassing nearby Natural Bridges National Monument, it will be yet another exemplary slice of what creation has managed to achieve in this one little corner of Utah. Personally, I can't get enough of all the public lands in the Mighty Five region. And places like the two peaks for which the name Bears Ears comes from (apparently the majority of native people in the area referred to it as this) and other features included in the park, such as Monument Valley–not to mention the wealth of sacred and archaeological sites alone–seem to warrant preserving even more of this region. That it's important to the people who've been living here long before the concept of national monuments is important is another reason that should stand on its own. President Trump's argument is that most of the original 1.35 million acres was already protected by some other form of government policy. If that's the case, then hopefully either way we'll all be able to responsibly enjoy it just as it is, for eons to come.
Camping is abundant throughout the area, but exactly what will remain in the monument's boundaries is up for grabs. You can't really go wrong with just about anywhere on Utah's Route 95 though.
Cedar Breaks National Monument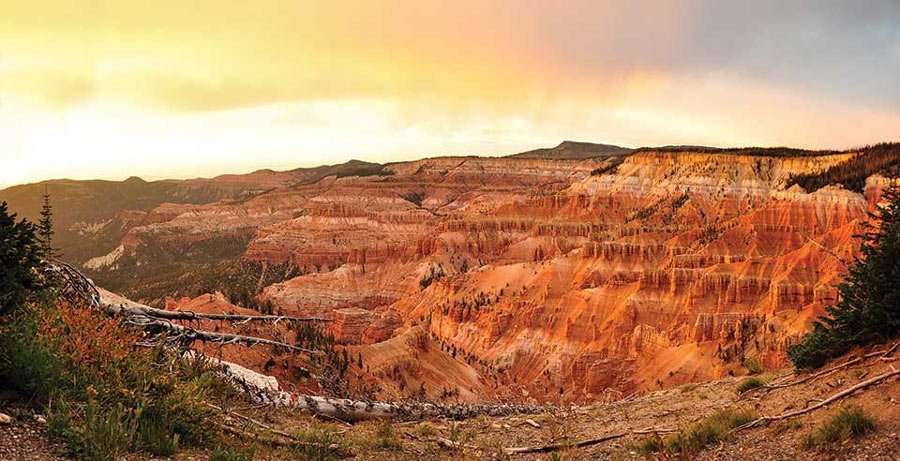 A monument at the edge of Utah's Mighty Five, where hundreds of miles of God's most impressive work was etched into the earth and painted to match anyone whose ever owned a Patagonia product's dream. Like its national park neighbors, Cedar Breaks National Monument has hoodoos, crafted cliffs and stirring colors, but it's also what's known as a natural amphitheater, basically like a place for the angels to get together and sing about how great the creator is again.
As with its more critically acclaimed fellows in Southern Utah, Cedar Breaks pulls out all the stops with its camping, including those most coveted of "showers" and even campfire wood for sale.
Wyoming
The Cowboy State held the first national monument.
Devils Tower National Monument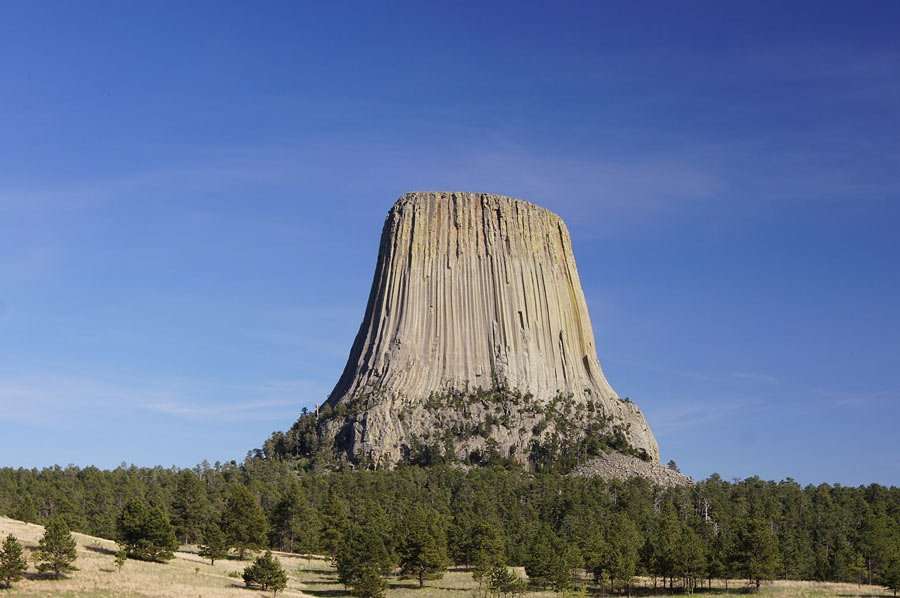 America's first ever national monument somehow finds itself at the bottom of the list, cursed by the alphabet's affect on its home state. Essentially a massive barrel of a mesa sticking out the ground, as though one day this part of the Earth simply forgot about gravity for awhile, it's an impressive sculpture no matter your deities. Most of the original people who lived near the monolith referred to it with their word for bear, apparently, and I for one would prefer to know bears might still be roaming nearby before I invite a demon 'round my family's weekend campfire.
And of course, they also have camping.