Northern Woods: Hardwoods from
Minnesota to Michigan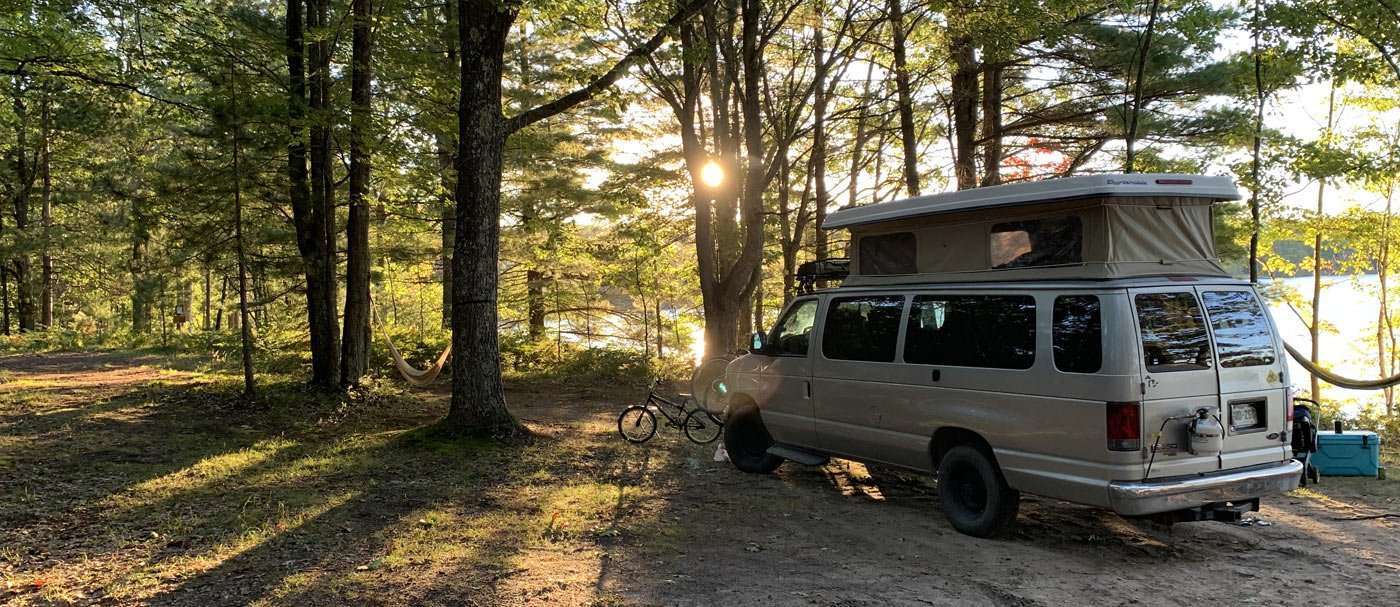 Endless hardwood forests, filled with beautifully secluded and silently serene campgrounds, nearly all of which bump elbows with island-filled lakes await in the northernmost reaches of the Midwest.
Not to be confused with the Great North Woods—you'll find that in Maine—the Northern Woods stretch from where the Canadian border abuts Minnesota to Michigan's Upper Peninsula.
We had the pleasure of exploring these woods for much of the summer of 2020, and the isolation mixed with sunny afternoons and a light breeze made for the perfect retreat from the wildfires, heat and general gloom the rest of the nation was enduring.
Here are some of the best ways to explore these forests.
Canoe Voyagers
Coming from the West, Minnesota and its friendly, long-O accents will serve as your first stop in the Northern Woods. The state is home to the far and away Voyageurs National Park, an aquatic playground where kids splash in small sandy beaches, kayakers brave occasionally rough waters and pontoons play portable porch to boaters from across the world.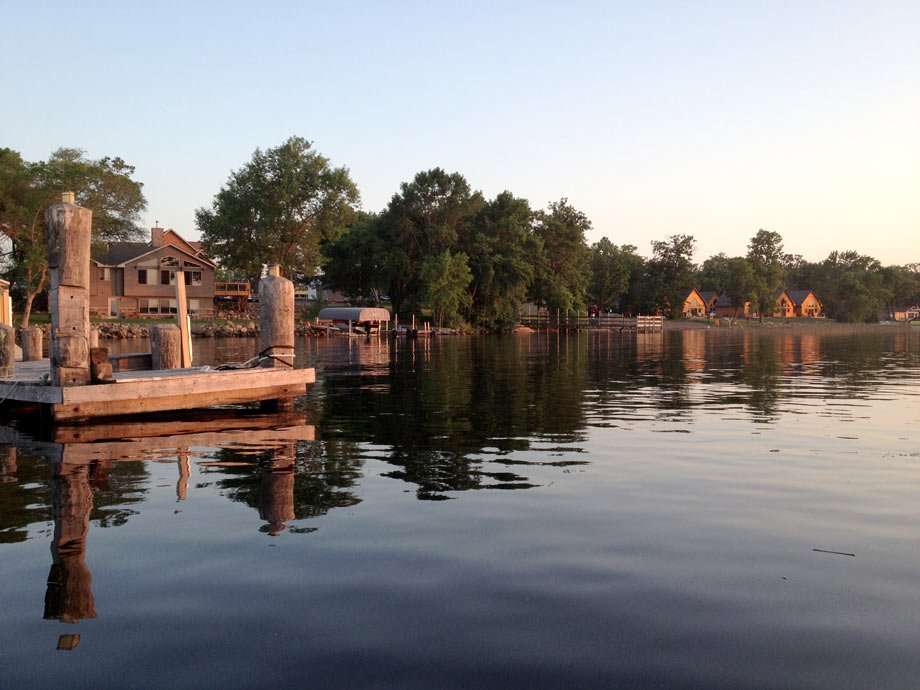 Unlike many national parks, where getting out on the water is but one way to explore, Voyageurs mandates some type of watercraft; it's the entire point of this park, named for French trappers who were the first Europeans to explore the area.
We cover the place in full detail here in our latest issue, but for the TLDR; you'll want to snag a site at Woodenfrog Campground and rent a canoe from one of the many outfitters in the area (Arrowhead Lodge rents canoes and is within easy walking distance of the campground.)
Explore Old Growth Across the UP
They say the state of Michigan's lumber boom made more money than all the gold in California ever produced. Today, while the forests have rebounded to a degree, very little of the place looks quite like it did before the white man came and slashed it to the ground.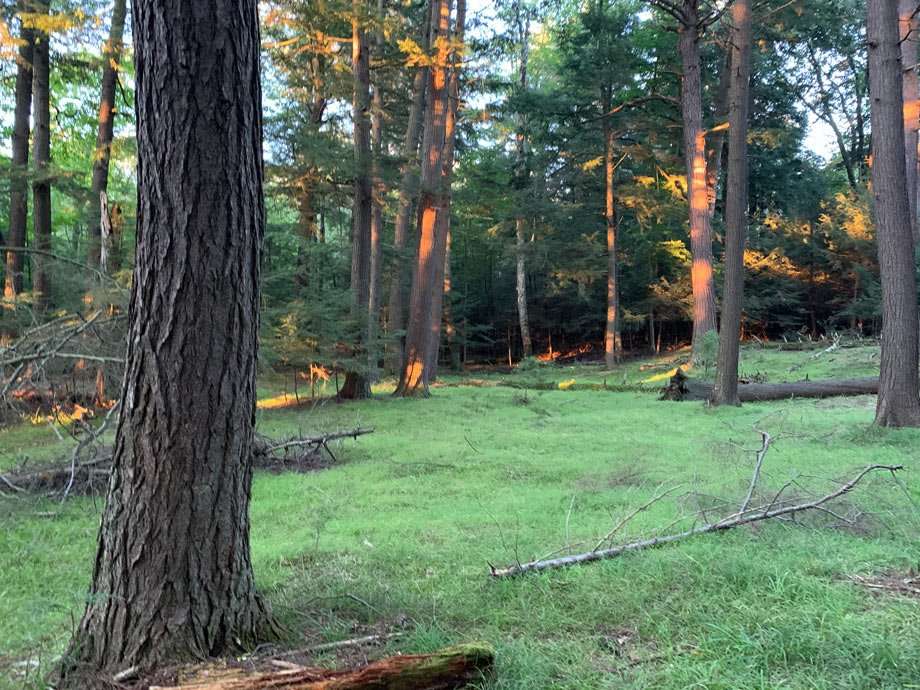 Fortunately for us, a few spots still endure. If you've only got time for one, the old-growth near Rapid River, Michigan is an easy stroll through the fern and moss-laden forest, with even more to explore just down the road.
Grab a site at Little Bay De Noc and you can walk to the Maywood, a grove of ancient hemlock, birch, oak and maple spared thanks to its use as a local resort of sorts by people living in the area during the timber days.
We also cover oodles more of the old-growth to be had across Michigan's Upper Peninsula in this issue.
Bike Bruno's Run
If you've ever thought about getting into mountain biking, but weren't sure where to start, there's an 11.3 mike stretch of trail—mostly flat—by the name of Bruno's Run, fifteen minutes south of Munising and the famous Pictured Rocks.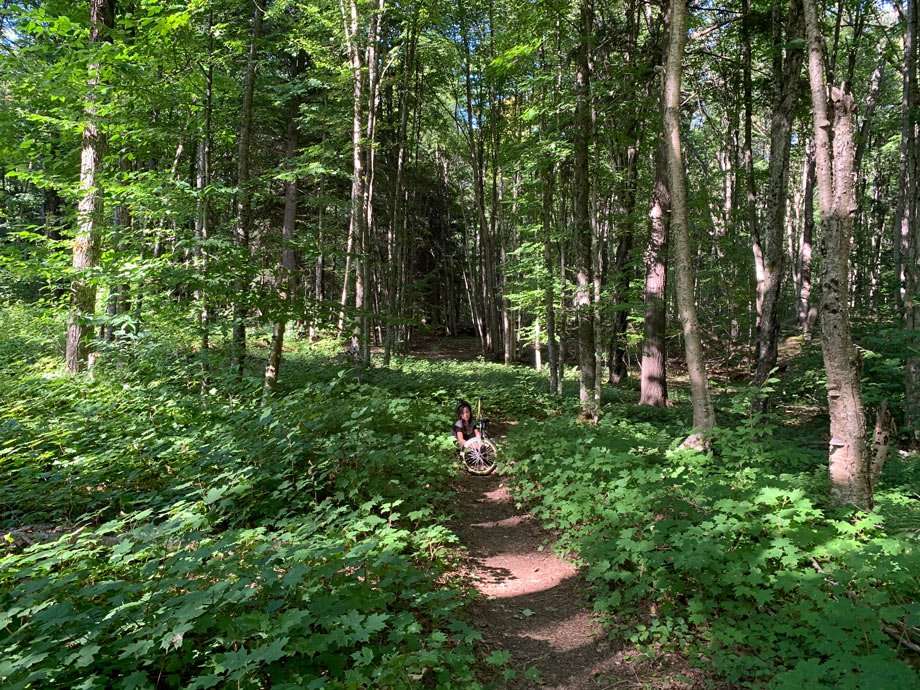 If you score a campsite at Pete's Lake, you can hit the trail from there. Expect an easy ride, for anyone even in a modicum if shape, but know that the trail is not a simple, flat one. Bumps, switchbacks and gullies await, but rest assured the adventure is more fun than fight.
From Pete's Lake, you can even knock it down to a 1.5 mile stretch or so, if dipping your toes in the water is preferable to a full on foot wetting.
If you're already an accomplished mountain biker, the trail might serve as a good warmup before you have your morning coffee.
Explore Shipwrecks at Munising
This time around, we'll let the onboard motor do the work and explore the beauty that's quite literally hanging from the cliffs holding Lake Superior at bay, the Pictured Rocks National Lakeshore.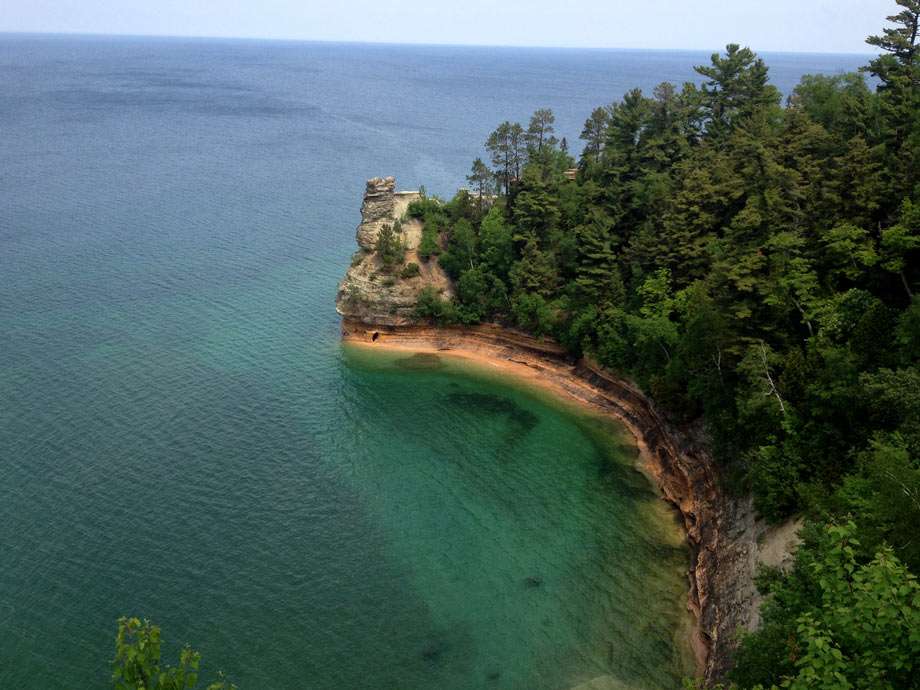 Essentially a variation of a National Park, this stretch of where the lake meets the land along the northern shores of the UP, with small town Munising serving as base camp, is home to several places to camp, with Bay Furnace our choice.
You can rent a pontoon boat from a variety of places in town, and head out onto the open water with map in hand, looking for sunken ships! If you can hold a lung full, you can even dive overboard and explore them a bit more closely.
We've covered Pictured Rocks in a prior issue, here.
Rent a Cabin at Isle Royale
The last stop on our tour of the Northern Woods, Isle Royale is one of a handful of national parks that are inaccessible by land. You'll need to catch a ferry to explore the place, but it's well worth the effort. You can tent camp should that be up your backpack, but reserving a cabin at the Rock Harper Lodge makes for a cozy national park experience. There are only two cabins (they're technically called the Windigo Camper Cabins) so make sure to book early.
These are but a handful of things to do in this part of the country, one pinholed with so many lakes they must seem like stars in a black night sky when looking down from above. As far as "Back East" is concerned, few places outside of New England, the Outer Banks and Western North Carolina rival the Northern Woods for sheer camping beauty and an ability to stay away from big cities and keep yourself deep in the woods. Enjoy!