Interview with Roadtrippers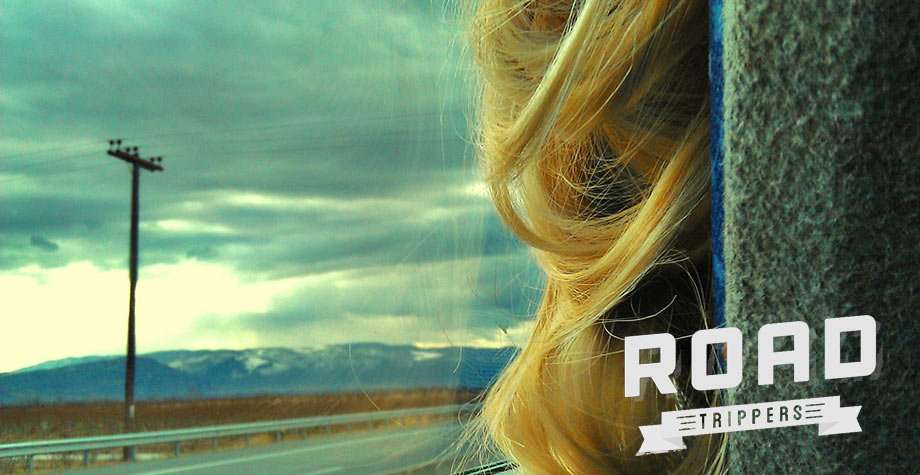 An atlas tucked deep into the seat cushions of your ride—weathered to the point of some states having been so well-traveled that the page couldn't have possibly survived—and out on the open road, learning to read it like the novel that is a young man's adventure across his continent.
Perhaps you can recall the days of paper maps and counting out mile posts to see how far you could make it on your last gallon of gas fondly. It was only a decade ago but now seems a lifetime away, a different era altogether. The atlas is still and always will be a beautiful thing, but times have moved on in so many ways, and the 21st Century, the "Year 2000" as they promised it, is beginning to truly feel here.
You see, somewhere in the grand scheme of progress things were bound to change. It was once a guarantee that with little more than a couple of friends, a car, and a little gumption one could find adventure, espionage, and a great greasy diner where the waitress takes your order and her cigarette break at the same time. A few of those diners had great burgers, or even if they didn't, figured out how to make them incredibly fast. Hence fortunes were made and the invention of the Interstate Exit McWalBP Inn was wrought upon this earth.
So we began searching for alternative means of resource to navigate this always vast yet eternally shrinking nation. Rand McNally had a pretty decent website back in the day which allowed you to set multiple destinations, a rarity for online maps in the early '00s. MapQuest came along and put people onto dirt back farming road driveways and people complained and so Google Maps swooped in and fixed everything. The world, the route, it was all at your fingertips, planned out, etched in and ready to be scouted through. Hell, with Street View you didn't even need to take the trip, you could just slow motion drive it online.
But of course, we all know that Street View feels a bit like cheating.
So the technology was created, but never honed. The funny thing about traveling is that the more you do it, the less concerned you seem to become with the particular route you're following and more about what it is that's around you right now that would be worth doing.
Which leads to the question of, "Well, why hasn't anyone created that yet?"
Flashback if you will, circa 1984, a three year old boy is hauling ass in the back of a truck through Africa, surrounded by a pack of sweat-logged Aussies, his parents driving the whole lot and having engineered the entire thing. The boy in question, born in the English county of Suffolk—think proper British farmland—James Fisher seems to almost come straight out of a Tim Burton tale.
His dad was a hitchhiker who found himself a Land Rover and a few folks willing to pay for a ride. He then turned that into a business adventuring around the entirety of Africa. James' Dad met his Mum on one of his earlier trips, we can only assume a whirlwind of love and adventure pursued, and what choice did they have then but to just keep at it? Six to nine month trips from Morocco to Cape Town. Tents, jungle wilderness, two story potholes. They brought everything they needed, right down to a spare engine, and weren't afraid to get well off the beaten path. James was born into this life.
But that was only a portion. When not on their overland adventures, the Fisher family lived back in that English countryside. Market towns like stars on a farmland black night sky, a slow life in rural England is perhaps the exact opposite of a full on long-haul expedition through desert and jungle alike. Imagine any country boy working on the farm, playing in the trees and well, in James' case, helping to build luxury barn conversions with his old man.
Over the phone, James comes off as a very cool and relaxed man. English accent and that rare unmistakable tone of actually being present in the conversation ring through, and it becomes clear that all of this life he's lived has left him wise for his age. His laid back enthusiasm seems to echo into your own want to see him succeed.
But that might be getting too far ahead of the point. Yes, James is one of the founders of Roadtrippers.com. Whether you've heard of it or if you haven't, you can imagine what sort of shenanigans go on there. In all actuality, you could jump over there right now and just do some sort of triple half gainer salchow into it all. But before diving immediately into what Roadtrippers is, I think it's good to know how the story comes along.
All the while everything thus far has been happening—America's roads have been multiplying, the English have been taking Australians on crazy African adventures—a young girl named Tatiana Parent is growing up in Ipswich, Massachusetts. Ipswich is a quintessentially perfect New England coastal town for any child to grow up in, the charms of an America still boutique, still local, butted up against the Atlantic Ocean. Tatiana finds a love for academia. Through books and movies she discovers history and from there a string of degrees: a Bachelors in Classics, her Masters in Diplomacy and Military Studies, and then a PhD in History.
During all of this, Tatiana saw San Francisco and New York, Greece and the UK. She began her studies in Hawaii and finished her doctorate in Germany.
"After so many years in Hawaii," Tatiana recalls, "I decided to take advantage of a fellowship to study abroad while finishing up my dissertation. That's how I got to Berlin and met James."
She goes on about her love of the past, "It's not just the people and events that interest me, it's also the places where they happen that excite me."
And that is where I think the true beauty of Roadtrippers comes in. James and Tatiana are the real deal. They have literally been around the world, and they can appreciate the difference between an experience and another lost opportunity.
The couple got engaged in Morocco and subsequently made the decision to move to the States where they planned to live out of an Airstream, traveling, working, loving it up, the whole thing. As with what I can only estimate is all full-time travelers in this beautiful nation, they became frustrated with the difficulties of finding the really good stuff. How to dodge that Ocean of K-mart Strip Mall Burger Hut Supercuts and dig right into the Badlands and downtown Charlestons of the world? These were the big questions.
The couple found themselves in a motel in Savannah one night, no doubt taking a break from the rigors of living a travelers life all the while doing it, when the idea came to them.
"If you want to find a Starbucks or a McDonalds on the road, that's not hard," James says; and everyone else knows it. "What's hard is finding a mom-and-pop owned cafe or independent diner. We've tried to maintain the core purpose behind Roadtrippers, which is to promote the America that's not burdened down by big, massive chains. We also believe stronger small business means a stronger economy and stronger society."
This is the single most brilliant thing about what Roadtrippers is: a guide to your surroundings as much as a path of discovery.
Yes, you can use it to plot out a massive trip across the nation—as long as, for now at least, that nation is the United States or Canada—but it's most useful when you're exploring a particular region and want to know what general route to take. I-70 through Nevada means big truck traffic and a basket of fries for lunch. US 50, on the other hand, promises leather boot casino adventure.
For the always-on-the-road types, it's quite frankly a promise of salvation. It's the hope of an eventual grid of crowdsourced traveling wisdom, an almanac of the worthy for those on the road. The difference between Kentucky Fried Chicken and a neon Memphis barbecue. It's the Land of Cheap Motels Along a Beautiful Lakeside vs. another freeway Days Inn.
Essentially, Roadtrippers is an amalgamation of all the things that draw us to Yelp!, Foursquare and Google Maps, combined in an always-moving-closer-towards perfect collection of how to find cool stuff on the road.
It is born from two travelers, it's one of those "made for, made by" situations. And it's working.
But back to the story. James—who now bears the title of Business and Creative, an unlikely combination particularly considering the all encompassing weight each holds—and Tatiana have found a way to make their own brand of traveling dream come true. They've secured some multi-hundreds of thousands of dollars in creating Roadtrippers, largely thanks to Brandery, a tech startup out of Cincinnati. Tatiana has also taken her career as a professor online for the past few years. Models of modern day nomadery indeed.
Roadtrippers has recently released an iPhone App, which admittedly seemed frustratingly lacking for the site to be anything other than a fun toy to dream with while sitting at home or in hotel rooms, but with that and a multitude of other plans having transpired and riding on the horizon, it promises to be the next kind of really big thing for those of us on the road.
Aside from venture capitalism, they have the backing of Jamie Jensen, renowned author of the quintessential guide to America's highways via roadtrip. They plan to create a sort of wiki atlas, an ever changing guide to what's cool and where it's at in North America. Right now they're partnering with publishers like Atlas Obscura and, yes, Wand'rly Magazine, to create guides that show off recommended trips that range from haunted houses in the Northeast to the rawest small towns in the southwest deserts.
Speaking of their travels since being back in the US, James says, "We had a wonderful time bumming around the north shore of Hawaii for a few weeks when Tatiana graduated her phd. We did the obligatory big southwest road trip: Vegas, LA, the parks and culminating in San Diego, for Comic Con—" Tatiana interrupts.
"Which was a heck of a nerdy culture shock for James! We have explored the East particularly extensively and we love West Virginia and Deep South regions well off the highway. We love to hunt down abandoned or interesting buildings, follow railroads and rivers and seek out little flea markets and antique stores on the deepest back roads!"
"America," James notes, "is incredibly diverse and has something for everyone. It's so incredibly eclectic. If you love design, architecture, kitsch, whatever, you can find it anywhere. There's such a diversity of towns and cities, neighborhoods, regions, cultures, and of course the National Parks are incredible."
"Detroit, and deepest West Virginia."
That's James' answer as to where he loves the most in this country. Tatiana?
"Personally, I love Southern California, Savannah, San Francisco, New York City, Boston and New England in general."
A pause.
"And the Florida Keys," as if it were not necessarily last on the list but perhaps the best are typically saved for just that.
Toward the city they call home now, which many of us may have perhaps too easily delegated into the back of our minds as "just another place in Ohio",
"Cincinnati is great. The thing that stands out the most is the architecture. Cincy has an amazing stock of Victorian era buildings in downtown areas like Over-the-Rhine. Downtown has been pretty economically depressed for the last few decades, but that has had the side effect of preserving many of the buildings – they weren't pulled down to build something 'better'. Prices are super low, which allows anyone to set up a space for any idea they have, which allows arts and culture to flourish."
While the couple plans to keep Roadtrippers headquartered in Cincinnati, they don't necessarily plan to limit themselves to North America. Australia and Europe are slated for 2013, and after that, anywhere as far as the moon, perhaps.
More Excursions from Roadtrippers