RV Wanderlust Raising Teens, Toddlers
& Driving Around the World
"We're really itching for international travel," says Brittany Highland of RV Wanderlust from somewhere outside of Pascagoula, Mississippi, "so we throw around ideas on how to do it almost daily. We'll see what opportunities open up. We just don't want to waste any time."
We is currently Brittany, her husband Eric, and their three year old Caspian. The couple has been traveling full-time in an RV since early 2014, and their family has grown even as their modes of transportation have downsized.
Following in his father's footsteps, their oldest son Darius is now 22 and stationed in Buffalo, New York on active duty for the Coast Guard. They have three other children as well, now largely grown, who are all living with their mom in the Bay Area as they finish up college and high school.
"When they were all under 18," Brittany recalls, "they'd be with us when they weren't in school. When we started RVing, they were 16, 14, 12, and 10. It is kind of complicated, but trying to facilitate our time with them was part of the push into full-time RVing." Back then, the couple lived in Austin, Texas.
"We were spending a good $9,000 a year on plane tickets, and we were living in an apartment that didn't really have room for an extra four people when they were with us. So RVing seemed to be a good way to get to them–instead of flying them to us–sleep all of them in actual beds, make memories, and really make the most of our limited time together."
"Having four big kids in an RV has been awesome," all four of them being teenagers for much of it, "and I'd do it all again. There are no doors to hide behind. You're living life together in the purest sense. We've had the best conversations over the years–deep life stuff."
Traveling together in their RV didn't just bring the kids closer to the adults, but the kids closer to one another, she says.
"I think it's been to their benefit to see another way of living, a style that results in fulfillment and close relationship. They've made comments to that extent over the years."
Back then, they traveled in a 40 foot class A RV, a 2004 Tiffin Phaeton to be exact. Moving out of their Austin apartment and into that RV would just be the beginning of a life of constant change and exploration, a willingness to mix things up every now and then to see what might work better–or best–for their family.
"We're different people," Brittany professes to the change that living out of an RV has had on their lives, "and that isn't an exaggeration.
"When I met Eric in 2002, he was a self-professed 'steel and concrete guy.' He had a sort of prideful disdain for spending time outdoors, camping, and the like. Fast forward almost two decades, and we're living out of a rooftop tent on our Jeep, 1,000 miles into the interior of Mexico. Or we're living another type of self-reliance out in the states, with solar power and no prospect of a shower for days. Or he's getting muddy laying on his back under his Jeep on some obscure trail in the middle of an Oregon forest. This has been a huge transformation in Eric that's been really fun to watch, and has opened up a lot of possibilities for our life of travel."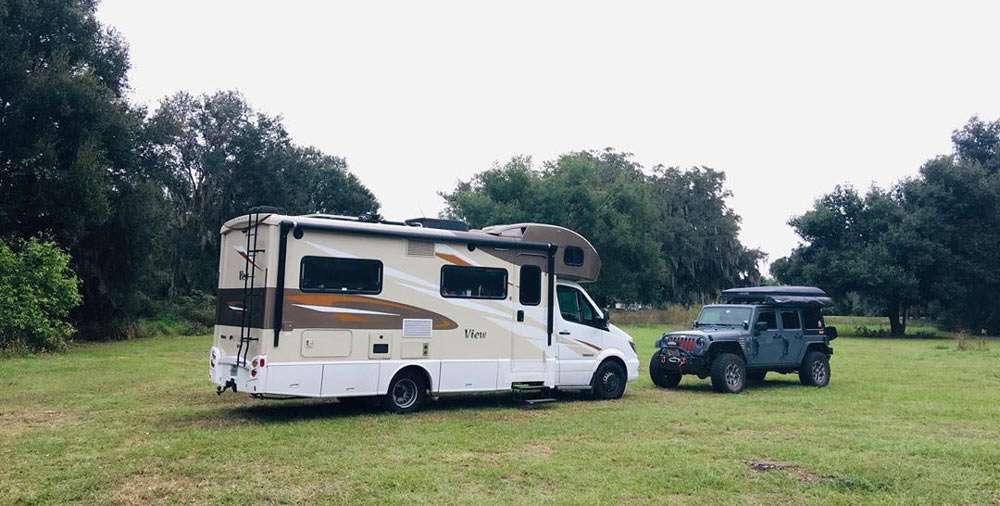 Two years into their travels, they discovered that a new baby would be coming into their lives. A couple of years later, with baby Caspian along for the ride, they spent three months living out of their Jeep Wrangler, touring around Mexico. When they returned, the downsizing had set in, and they traded their 40-footer for a 25′ Winnebago View. Despite nearly halving the size of their home on the road, the decision was made because it actually afforded Caspian his own room, in the form of the loft that a Class C RV such as "Basecamp," the name they gave their new rig, typically has above the cab.
These are just the "big changes," and don't include a different view every as often as they'd like.
"For my part," Brittany remembers, "probably one of the most significant changes is the way I view work. Like so many people, I used to let my work define me. I was on a trajectory, my professional successes and failures were everything, and there was the constant game of comparison to others who were on the same track. Not going to lie–professional failings still hit me hard, but that's my game with myself," which she admits applies to every aspect of her life.
"As far as the rat race cliche that society tries to dictate, I'm over it. Work doesn't define me anymore. It's simply a means to an end. I want to earn a living to support my family alongside Eric. Other than that, I want to keep every second of my time and devote it to my husband and kids, and experiencing as much of the world as I can."
As to how they afford the traveling life, Eric is retired military with the United States Coast Guard, complete with the pension that comes along with such service.
"When we first made the move to self-employment," Brittany explains, "we wanted to diversify our income to protect our quality of life. Fast-forward eight years, and that philosophy has gotten a little out of control."
They now run an online marketing company by the name of Knektion, LLC, where they provide social media and reputation management services. Think managing a business' Google reviews. They also do online content creation and marketing consultancy.
They also run The Austinot, "one of the largest blogs about Austin," Brittany states. "It was founded in late 2011 as a showpiece for our services at Knektion. But it surprisingly gained a following–and a life of its own. We now have over 2,000 published articles, as well as a team of volunteer writers and photographers."
They also earn a small amount through their blog, Hourless Life, via affiliate links.
"…we treat it," Brittany speaks to Jeepsies, "as more of a business. It receives affiliate income, Paypal donations from readers, and recently became part of an ad network.
"Coast Guard Jeep Club is our first membership model, and first time dealing with product inventory of any kind.
"
That's quite the assortment of side hustles, and a great way to take the old "diversify" advice from the world of investing and apply it to real world living, all over this real world.
Diversification is nothing that scares the Highlands though.
Where some folks would find themselves concerned about downsizing from a traditional home to an RV in general, transitioning from a Class A to a Jeep to a Class C had the perk of putting size into perspective. "Maybe the RV downsize would've felt drastic, except we were living out of our Jeep in between. When we got the View, it felt like a palace. We didn't even know what to put in our bays, and most of them are still empty."
Their Basecamp is also more prepared for boondocking–i.e., living off grid, typically at free BLM and national forest sites; something the couple finally decided to incorporate into their travel style last year–with plenty of solar and other fun gadgets that Brittany describes as a "living in a spaceship."
Despite all of this willingness to change, there's one thing she says didn't have a massive impact on what they do or how they do it: Caspian coming into the picture.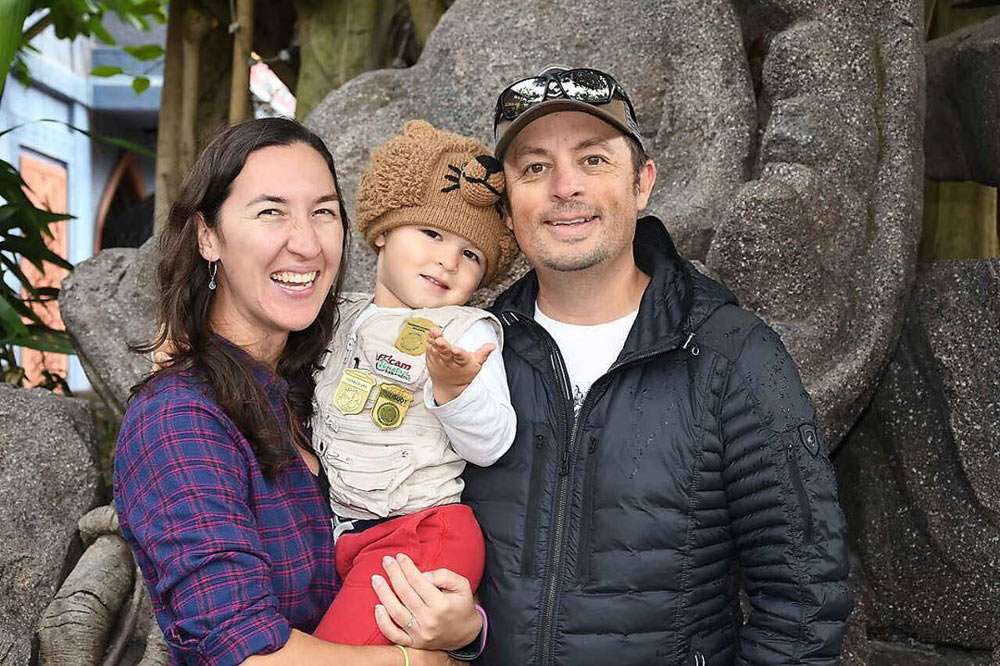 "Kids don't have to change your travel dreams. Or keep you from starting them. I think, more often than not, people use kids as an excuse for not pursuing their dreams.
"In the day-to-day, sure we've had to budget a little more time for getting out the door. And we definitely don't have the nightlife we used to. But we're pretty much past the first part, and the second part is also a short season. As far as big picture, I-want-to-visit-every-country-in-the-world kind of thing…we're just going for it."
More on that later, but Brittany takes the time to explain what life with a baby on board was like.
"2018 was our first big year of dry camping," another term for boondocking, "so Caspian was one year old." The couple continued to stay at RV parks or state parks, places with hookups like water and electric, often sewer as well.
"[This] enabled me to use cloth diapers," she recounts, "That was a great experience and something I'm really glad I had the privilege of doing. While other RV moms make it work, I personally couldn't have hacked it without a washer/dryer on board, or if we were boondocking and had to go to laundromats."
Something was stirring in Brittany, three plus years of road experience behind them.
"There was a moment near the end of 2017 when I turned to Eric and said, 'I think we're doing it wrong.'
"I was tired of seeing friends on Instagram in these wild and seemingly exotic places. Meanwhile, we were spending the night comfortable in our concrete jungle. I wanted to change. So we did, and how. Our 2018 record was 22 days without any hookups in Moab, and we only dumped/filled once after 16 days."
For those who've never done it, this is impressive in its own right. What she's saying is essentially they were able to fill up their fresh water tanks and conserve their water usage so that 40 gallons or so of water can last them over two weeks. Some estimates state that the average American uses 100 gallons per day, a family of three then would run through the Highlands' water supply before lunch the first day. There are myriad ways to conserve water, from traditional advice like "don't let the water run while you brush your teeth" to not showering every single day, a ritual many RVers know is completely unnecessary.
Their efforts to find "wild and exotic places" therefore don't just give the family a better view, a closer connection to nature, but actually help to preserve those views, that nature they're calling home for a few weeks at a clip.
"Challenges with having a baby while boondocking," Brittany begins, struggling to make a list of the topic, "the only one that comes to mind has to do with weather. Extreme temperatures affect Caspian and cause me concern from time to time. At almost three, Caspian is just now learning the concept of staying under the covers when it's cold, and he still wakes me up in the middle of night asking me to pull his covers back over him.
"We had some really cold nights last year in the Grand Tetons and Yellowstone areas, in the middle of summer. But the real result was Caspian developing a tolerance for cold temperatures!
"Obvious there's a solution to this, which most RVers do anyway: move."
As they transitioned from RV park life to boondocking, they came across a realization many families who are hesitant to make the switch discover.
"Turns out, it's more about your determination that any gear you have or don't have."
In addition to saving a little piece of the environment on the way, boondocking has the added perk of typically being absolutely free.
So within the course of two years, they had changed their home on the road twice, had a baby, and set their sites on finding the best sights one can see. For many a traveler, making one of these changes would be enough to shake things up. For the Highlands, it was just another bend in the many roads they've roamed.
"When Caspian was born," she tells, "Eric and I were about to hit three years of full-time RVing. When it came to envisioning the baby stuff and baby routines, we had confidence about how it would all look–because our own routine was well established."
What they hadn't fully anticipated was how their work life would change. At first things seemed to be going along as planned, and then Caspian "grew out of the sleepy newborn phase."
"Whereas our [teenagers] could fend for themselves and give us space to do our work, Caspian has required constant attention for the past three years. So I've really had to adjust my work schedule." Brittany now wakes up at 4am and works until Caspian stirs, closer to 7.
"I'm hanging on to his morning nap for dear life–even though I know there's no other kid in the world his age who takes a morning nap," this allows her a few more hours of work before noon. "And then I'm back to work after his bedtime at 7pm if I still have leftover tasks. It's honestly very exhausting, but I know it's a phase–our big kids are proof!"
While Caspian is awake, Eric works until noon and mom and baby run errands, important stuff like ice cream dates and checking up on the local playground. "Sometimes we may work on his school book," she speaks to Caspian having finished a preschool workbook already, starting on another, "Sometimes we might take a hike near our campground." All equally worthwhile pursuits at the ripe old age of three.
Even when Caspian doesn't take his morning siesta, Brittany says he's learned that this is quiet time, mom's time. He plays with stuffed animals or otherwise amuses himself.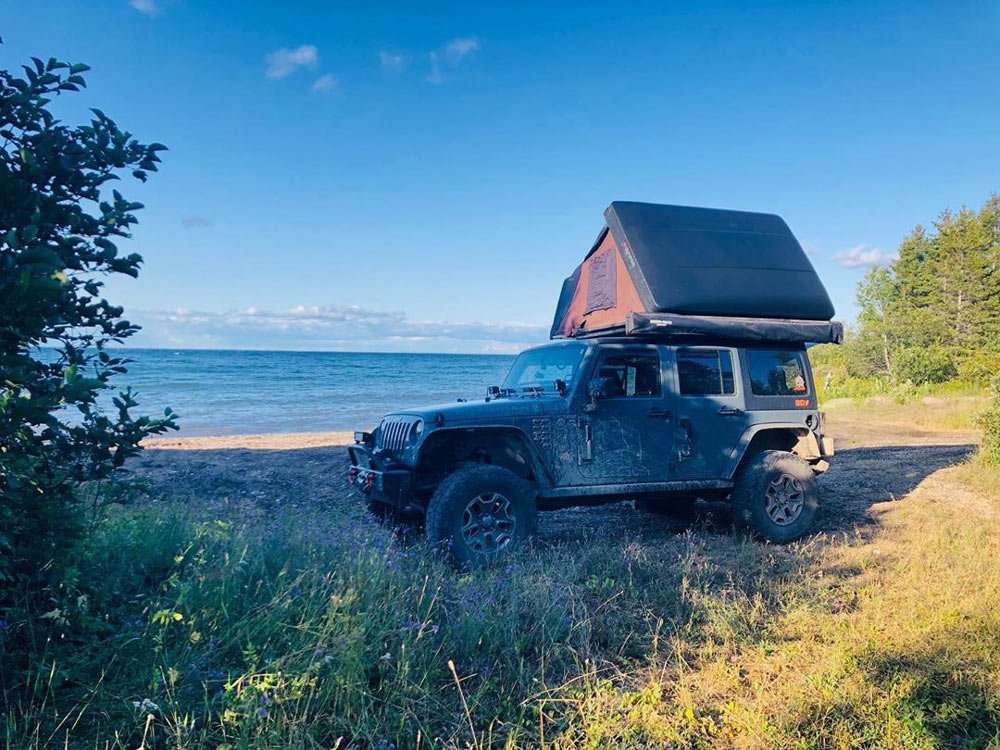 As noon winds 'round the clock, the family has lunch together and much of the rest of the day is left open to exploring the places they travel to.
"I love our times together outside of the RV, especially hiking or studying history at National Park Service units. Caspian has an intense attention span for his age, so he'll listen and ask questions when we're talking about cannon fire at Fort Pickens at Gulf Islands National Seashore. It makes life so exciting when he's engaged like that."
Brittany tries to sneak in as many opportunities to eat out at a local restaurant as possible. "No question," she admits, "I'd eat out just about every day if we could afford it."
"There are few things I don't love to do with Caspian. He is such a great adventure buddy. All he knows is adventure. He's up for pretty much anything, asking good questions and engaging in the world around him. I also love to participate as he meets new people. Just this morning, we were at Delicious Donuts in little Pascagoula, Mississippi. The couple who owns it is from Cambodia," common for donut shops, she says, "and Caspian asked the wife what her name was, a normal conversation opener for him. Turns out, she loved him, but she really only knows the English names of the donuts and things relevant to helping customers. They've only been in the states for two years. So the husband comes over to talk, and he was so kind and generous. They both were. Caspian walked out with his weight in free donuts, and now we're Facebook friends.
"Caspian is an extrovert, and I'm an introvert. He's pushed me out of my comfort zone so much, and I appreciate it 100%."
As the day winds down and Caspian is in bed for the evening, Brittany and Eric spend the rest of their day together, either finishing up work tasks or just watching a show.
Basic logistics in mind, Brittany shares a bit about what life was like with newborn Caspian.
"Caspian was one-day-old when he came home from the hospital to his home on wheels," she smiles, "He doesn't know any other life than the RV…other than living out of a Jeep."
They'd bathe him in the RV's sink, hike with him in a carrier. Normal stuff that plenty of people, living in an RV or otherwise, do. Hiking really took to the family.
"Our most epic was an accidental seven-mile hike at Caprock Canyons State Park in Texas, which involved scrambling uphill with hands."
"But we also set a goal for him before he was born, that he would hike an additional mile each year. So when he was one, he hiked a mile with us," on his own, holding hands. "When he was a young two, he hiked two miles. Actually, in the space of five days at Yosemite, he hiked a total of six miles. In his upcoming year as a three-year-old, we'll be working to hit the three-mile mark. He loves to hike, and often asks to go hiking.
"Since this RVing is the only life he knows, he's a great traveler. He does just fine in his car seat. He's just a huge talker, so he wants to engage with you and be part of the conversation."
A little hiker, spending much of his time outside, Caspian has nonetheless turned into, in Brittany's words, "a bit of a clean freak."
"One of my current lines is, 'It's okay to get dirty.'"
There is more to raising a young child on the road though than exploring the forest and tasting as much ice cream and donuts as one can manage to find. Most new moms, whether they're the mother of one or ten, are concerned about their baby's earliest days, when they seem most fragile but also when regular checkups are a real thing.
"Before we tried to get pregnant, we already had a pediatrician back in Austin. We met with her before leaving town, and asked what my appointment schedule would be like while pregnant. She was really cool about our travels, even when I didn't make it to all of the appointments I was supposed to. I ended up flying in only one time, until the middle of my second trimester when we were back in Central Texas through the rest of my pregnancy.
"After Caspian's birth in Austin, we found a pediatrician for him. We stayed in/around Austin until he was six-months-old, since a lot of vaccinations happen in that period. Since then, we've been back for an appointment a year. It works out great that our holiday time in Austin corresponds with his birthday on December 3."
Eric's military insurance helps. Their older children have insurance through college. More regular checkups can be a pain for those, insured or otherwise, on the road, as many insurance companies will only pay for you to go to a practitioner in your state, "But as far as emergency rooms and urgent care," she tells, "we can go anywhere in the country with no problems from insurance."
Brittany writes more about life with a newborn, on to his toddler years, on their RV Wanderlust blog.
With all of this moving around, all of this change, under their belts, they are now focusing on the international travel she'd mentioned.
"Sometime in early 2018," she relives, "I stumbled on the concept of overlanding. Though Eric has explored the definition in detail, I originally defined it as self-reliant adventure travel, often in a 4×4 vehicle and across international borders."
She found herself down the Google rabbit hole, eventually stumbling upon a podcast that would change their travel style for good.
"It was about a family from the UK, the Snaiths, who drove around the world with two young girls in a big 4×4 box truck. Over four years, they shipped from Europe to Canada, drove south to the tip of South America, shipped to Africa, shipped to Australia, shipped to Asia, and then took a joyride back to Europe. I couldn't believe it–I had no idea this was something people actually did–especially not families. I was completely inspired by them and decided I could do the same thing–and wanted to."
Only months later, Brittany and Eric were driving around Jackson Hole, Wyoming when she shouted, "Pull over! Pull over!"
"Eric thought there was some kind of emergency," she remembers, "But I jumped out in the parking lot he'd turned into, and ran to a huge box truck with a 'for sale' sign on it. And I said, 'this is what I want to do.'
"That was the day Eric learned what overlanding was," she laughs.
Since then there entire lives, all of these changes, have been intentional. Going to Mexico in their Jeep was a chance to dip their toes in the water.
"We crossed at the Columbia Bridge outside Laredo, TX," she explains their life in their Jeep, with a rooftop tent, exploring our neighbor to the south, "Went through Monterey, stayed in San Luis Potosí, explored the Sierra Gorda mountain range with a group of local overlanders we e-met on Overland Bound, skirted the top of Mexico City, and reached Puebla–where Eric has family and spent part of his childhood. All told, we went about 1,000 miles into the interior of Mexico…and made it back."
They may have had concerns going in. The US media, and citizens, have plenty to say about Mexico, whether they have any firsthand experience or not. Whatever those concerns may have been though, they were diluted by their actual experience.
"I absolutely love Mexico and the Mexican people. We met nothing but generosity and hospitality.
"We had to consciously reject what we heard on the news and from well-meaning friends before we went. Otherwise, we never would've gone. We were fed so much crap–truly, lies. There were days in the planning stage that I seriously questioned whether we were making the right choice–whether we were jeopardizing the safety of our son like people said.
"But none of those fears played out–not even close. Bad things happen in Mexico. Bad things happen in Detroit. Chicago. St. Louis. Baltimore. Before going, we developed rules for ourselves by listening to best-practice suggestions from others who had been. Our rules: arrive at campsite before 3pm. Don't drive at night. Listen to your gut. They kept us out of trouble. We do the same in the U.S., as far as following our gut. Right? I feel less safe in my parents' neighborhood in Corpus Christi than I did in Mexico."
They plan to return, this time to Baja, this coming winter.
"[We're working] towards our goal of driving around the world. Mexico was our first experiment: would we even like overlanding, and were we cut out for it? Well, we had an absolutely amazing trip that affirmed our dreams and has kept us on the track we're on."
"January 2022 is our go date," she speaks of their plans to drive around the world, "because our youngest 'big kid' will turn 18 and be half-way through his junior year in university if all goes as planned. Tentatively, we hope to start the first leg of our drive around the world, by taking our Jeep down the Pan-American Highway to the tip of South America."
Caspian will be a young five by then, and no doubt the perfect blend of curiosity, roadworthy and ridiculously adorable to find himself finagling donuts from Texas to Timbuktu.