Snowbirding Defined A Complete Guide to the Best Places for Winter RVing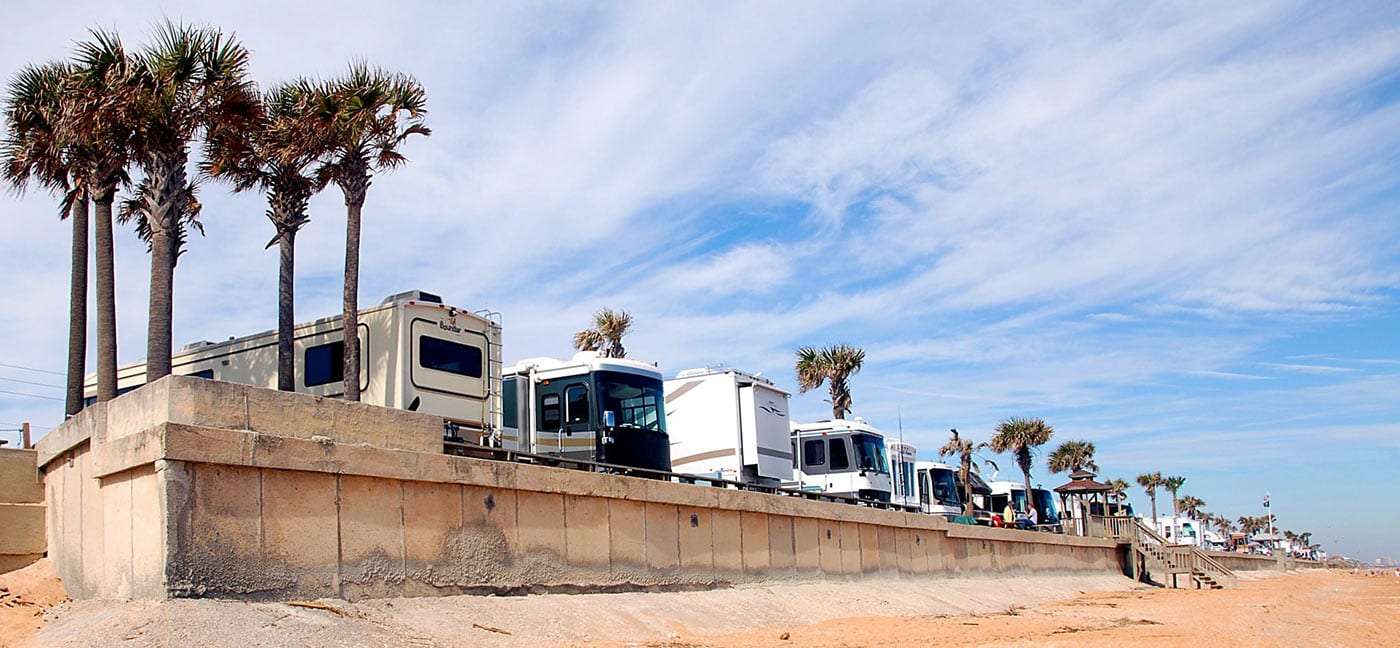 For many a traveler by RV or van, years will be spent exploring the United States alone.
While the world is a big place and well worth the cost of plane tickets, shipping your rig, or even just the headaches associated with passports and crossing borders in Central and South America, there's a lot to explore within our nation's own boundaries.
Still, winter comes heavy over most of the nation, and so many of us–young, retired or otherwise–want to migrate south when the weather turns frigid and snowy.
As time goes on, it tends to feel like there are less and less places to escape within the United States, though, as climate change makes previously strongholds like Texas no longer off limits when the snow begins to fall. We'll cover the southernmost states suitable for snowbirding, and touch on your other options as well.
California
While coastal Southern California–from LA to San Diego–boasts highs in the mid-60s all winter long, those places are not always an adventurers dream. Results will vary depending on your particular tastes.
If you don't mind RV parks, there are a plethora of options for camping along the coast. Expect to pay around $60 / night at private parks in Los Angeles, and at least that in San Diego. If you're not into big cities, but still willing to pay a price, private RV parks in the Big Sur region might be a more peaceful option.
Alternatively, state parks and national forestlands in Big Sur will run you closer to $30 / night, while public lands in San Diego have price tags from $30 – $65, and LA's city, county and state parks with camping come in between $55 – $70. If you're the stealth type, you could probably find free camping in parking lots, but making that last all winter long will likely become a drag, forcing you to spend a lot of time inside, in the dark–something you could do in the more northern climes anyway.
Alternatives, with plenty of free camping or low price camping right in the parks, including Anza Borrego Desert State Park and Joshua Tree National Parks, both with highs in the 60s and 70s all winter long, and rarely dropping down into freezing temperatures at night. Surrounded by up-and-coming towns where hipsters serve overpriced coffee and fancy dinners along with cheap cafes and Mexican dives alike, your adventures can be supplemented by a little in town time as well.
Arizona
If buying a decent winter jacket is just absolutely out of the realm of possibility given your aspirations to spend every day soaking up the desert sun, Southern Arizona is hands down your safest bet in the entire United States.
Glance over a map of the state, south of I-10, and you'll see massive swaths of green–national monuments, forests, BLM land and state parks–ripe for the camping. From popular places like Quartzsite and Yuma to less populated, more natural destinations such as Organ Pipe National Monument and the small towns of Patagonia and Bisbee, there's something for everyone, of any age, and the promise of hoodie weather just an elevation change away.
Average cost of a private RV park hovers around $35 (with $15 / night or less spots scattered around the region), while paid national forests campsites run closer to $10 – $25 (depending on services), state parks from $25 – $30 and ample BLM land for free camping fills the gaps in between.
As to the weather, expect mid-60s highs in places like Tucson, Quartzsite and Patagonia, 70s in Yuma, and a few degrees chillier in Bisbee. Most areas won't drop below 40 degrees at night, though elevation can certainly have a huge impact on exactly how cold your sleepovers will go.
Texas
Firstly, it should be noted that the Bible Belt Buckle can get downright frigid in the winter. We've spent rained out, chilly winters in Austin, snow-covered (albeit rarely for more than a morning after the fall) days in the Hill Country and heat-soaked panters where you wish a little cold front would come through in the Big Bend region.
From personal experience, those are the two go-to regions in the winter, as the coast tends to be much colder as the wind blows off the Gulf.
In the Hill Country, which includes Austin, state parks can be had for as little as $10 / night, though you need an $80 annual pass to avoid paying a daily entrance fee at Texas State Parks. Full or partial hookup sites are available from $20, too. Private RV parks run the gamut, from cheaper $20 / night parks to RV resorts getting away with charging, $40, $50 or more.
The Hill Country boasts an unusual number of cute small towns–something Texans clearly take pride in–from kitschy places like Kernville and German-themed Fredericksburg to hole-in-the-wall country music legends like Luckenbach and Gruene, and plenty of authentic, downtown Main Street experiences in between. Austin and the surrounding Hill Country tend to hang around the low 60s during the day in January, and can dip below freezing at night.
Way out in West Texas, Big Bend National Park and the similarly named Big Bend Ranch State Park offer a much more natural, but significantly more remote experience. Camping in the state park, without any services, can cost as little as $8 / night, whereas camping in the national park–with a varied array of dry camping to full hookups–from $12 / night to $33 / night depending on services. Private RV parks in the area tend to cost around $30 / night.
Temperatures in Big Bend proper go from just about freezing at night to a high in the low 60s in December and January, while towns like Marathon and Marfa–80 miles north of the parks–trend a few degrees cooler.
If attempts at basking in the sun on the Gulf Coast are definitely on your to do list come winter, places like Rockport and Corpus Christi, rarely dipping into freezing temps at night, average several degrees warmer than both the Hill Country and Big Bend–so long as the wind doesn't blow.
Regardless of which region you choose, we recommend looking into the state park system. You're typically afforded a rather large, often very secluded campsite with water, electric and sometimes even sewer available, for a reasonable fee once you get beyond the need to buy that $80 annual pass.
All in all, while there is definitely a draw to Texas in the wintertime, it's colder than the other regions popular with snowbirders.
Florida
The southern tip of Florida tends to stay warm all year long, with lows in the 60s and highs in the 70s everywhere from Naples to Miami, Fort Lauderdale to the Keys.
There are essentially two worlds when it comes to camping in the Sunshine State: pay a heft price ($50, $75 or even $120 or more per night) to stay at a sometimes ritzy, often rundown private RV park; or pay between $20 – $45 / night to stay at a much more serene state park–if you're lucky enough to make a reservation at these parks that are sometimes booked months and months ahead.
Still, warm weather, palm trees swaying against the Atlantic breeze, tiki huts serving up cocktails and all of the birdwatching, kayaking and mosquito smashing available in the Everglades and Big Cypress National Preserve keep snowbirds migrating to Florida in droves year after year.
Mexico, and Beyond
We'd be remiss if we didn't remind you that, in addition to these states with plenty to explore on their own, an entire, foreign world exists just south of our border.
We have personally spent a year and a half in Mexico, traveling everywhere from Baja California to Quintana Roo.
We found Mexico to be incredibly welcoming, and absolutely safe. We did not feel like the Mexican police were out to get us, and we traveled as a family of five with three kids.
We recommend doing it in a smaller rig–though there are plenty of folks down there with big Class As–and traveling around the country in our van made it easy to access anywhere we wanted to go, from rocky backroads to tiny village streets and any beach along the way. Learning Spanish certainly helps, but as the mama of our crew proved, not absolutely necessary.
Beyond Baja, which serves as the perfect introduction to the state, places like Quintana Roo–the Mexican state home to the famous Cancun–offer pristine underground cenotes, basically crystal clear swimming pools. There are cool towns worth visiting all over the country, and we met some really amazing fellow travelers along the way.
Once you're comfortable with Mexico, you may even want to journey further south. While we can understand that exploring Mexico isn't for everyone, we personally loved our time there and can't recommend it enough, particularly when winter sets over the US and you begin to grow tired of visiting the same places in the same states year after year!