Living out of a Sportsmobile
Aside from the VW Bus, vanlife doesn't get more iconic than the Sportsmobile.
Personally, I love everything about it. An American-made vehicle retrofitted by an American van build company with more than 60 years of experience. In the modern era of Sprinters and Promasters, the Ford E-series is now looking more like a vintage vehicle, and just oozes class where newer van designs tend to lack personality, and certainly classic looks.
Like the VW Bus, they can run forever. You'll find still-running Sportsmobiles from as far back a the 1990s for sale online, and 2000's models with around 100,000 miles asking $80,000. This number seems a bit ridiculous, but considering the last decade's worth of van-craze has positioned brand new Sportsmobiles at $200,000, it's a testament to the value they hold.
And unlike the Bus, these Fords can be worked on by just about any mechanic, while older models can still be managed by those of us savvy enough to work on engines ourselves.
So style, reliability and something more akin to an investment than most vehicles set the Sportsmobile — and Ford campervans in general — on a pedestal for me and my family. Which is what we'll discuss today, traveling in a Sportsmobile, with an emphasis on doing it full-time. Expect a plethora of information, personal anecdotes from our 2+ years of experience (out of a total of 12 years living full-time on the road) full-timing out of our 2006 Ford E-350, which was eventually kitted out with some Sportsmobile gear.
It's not all good, but it's far from bad. Enjoy.
A Brief History of Sportsmobile
In 1961, Curtis Borskey and his son Charles started a company that would be a major player in the transformation of camping from something few experienced, a rugged excursion into the forest on weekends, to what millions of people experience as a full on adventure.
While father Curtis would leave the company early on, Sportswagon, as it was originally called, would be run by Charles for the next 60 some years, until the year before his death at age 90. Described as devil-may-care and a world traveler, Curtis perhaps embodied the very spirit that lives within every well-used Sportsmobile on the road today.
The first SMB was actually a Volkwagen conversion, but soon after Ford contracted the company to install camper kits on their vans.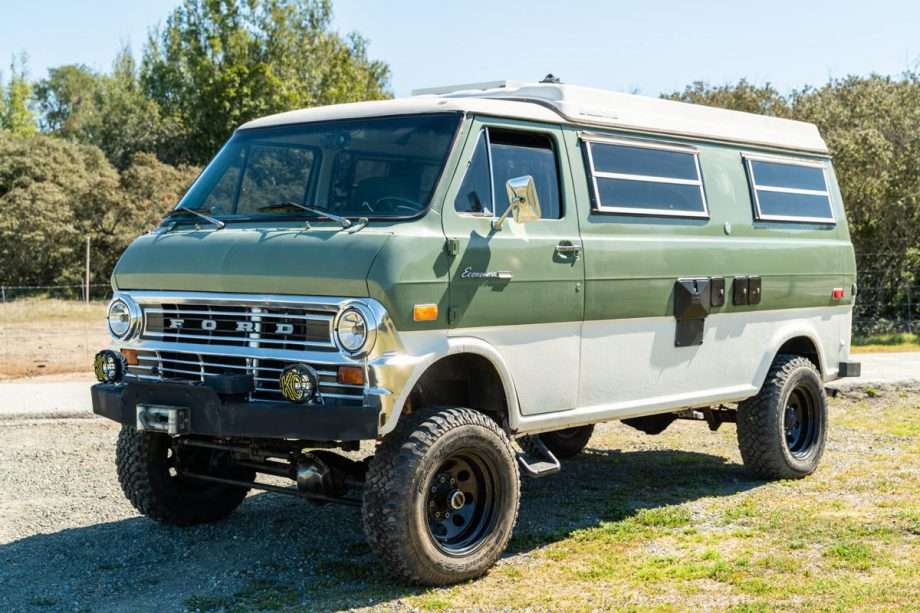 Overcoming issues, like leaky pop tops, one decade at a time, Sportsmobile would become one of the most recognized brands in the RV, off-road adventure and camping markets alike.
Our Experience with Sportsmobile
We do not own a Sportsmobile. What we have is a 2006 Ford #E-350, 15-passenger van that we ripped a bunch of seats out, built out the inside ourselves, and then had Sportsmobile Texas put a penthouse atop. This van works fairly well for us, holds mom and I plus our three kids, and we love it. This next section is more a reflection on what it's like to work with Sportsmobile.
I'm sharing this because, frankly, we've heard multiple complaints about product quality when it comes to SMBs. We've never heard this from someone who paid for a full van, already built, but primarily from those who had this or that — usually the penthouse or 4×4 — installed separately. These folks, like us, are hands on and like to do things themselves, and so are perhaps more critical of others work.
After all, if a DIYer makes a small mistake, he can chalk it up to, "Oh well, I can live with that or fix it later." If he pays $10,000 for a pop top though, and there is something he doesn't like about it, well, something starts stirring under his skin which is very difficult to just let go.
We'd personally wanted a pop top on our van for years, but when we first looked into it — sometime around 2014 — the $7000 price tag and week in the shop it was going to take for them to do it made it prohibitive. After all, we lived in our van and lived minimally, so $7k wasn't just lying around either.
Fast forward to 2019 and I had saved enough to have the operation performed, plus we had other means of living that didn't require us to rent a hotel or something for the duration of our van's transformation. By the, the cost had gone up to $10,000.
The waitlist put our build into 2020. Luckily we were able to do it even amidst the beginning days of the pandemic, but that's largely irrelevant here. I drove the van to Austin, Texas myself while the family stayed behind in our previously mentioned accommodations.
The process was going to take 3 – 5 days. Sportsmobile Texas got it in the day they said, and finished in the three days. They did hit me with an additional $300 fee, to "work around" my build – though I had asked them if it was okay to finish my build ahead of time. $300 is a drop in the bucket compared to the grand total, but it felt a bit like nickel and dimeing.
Staff was professional, kept me abreast of what was going on, and when the penthouse — what they call their pop tops — was finished one of the installers walked me through it. While doing so, he revealed he had never been camping and had hardly traveled outside of Austin in his entire life (he appeared to be in his 30s), which I found a bit sad and strange considering the company he worked for. I suppose, in some nostalgic corner of my mind, I had hoped and imagined that all of these employees had their own SMB and used them frequently.
In general, the experience of having the pop top installed was a positive one. They did require a wire transfer, which meant I had to sit around for hours waiting for my bank to send that kind of cash over the invisible lines of commerce, but I suppose it was worth it for the company to save their 2.9% credit card interest fees. A check provided the day I dropped the vehicle off — and cleared by pick up — could have done the same thing, though.
What has been less than stellar since then is any type of follow up work. I have tried to get roof racks installed (because if you install them yourself, you void your warranty.) I have tried to get an awning put on our van. It's now 2022 and I have neither, nor expect these things to ever happen. I settled for a clip on style roof rack over the cab and we just get wet if it rains.
Forget figuring out every last amp and detail, we'll show you the things most vanlifers need to live full-time in their rides, the equipment and costs you'll need to put into the system, and how to hook it up all by yourself.
The problem is a layered onion of an issue. Though there are now four Sportsmobile locations, they don't play very nicely together. For example, the original Indiana location didn't want to mess with our pop top at all. We got the manual version — ie when we lift the top, we do so with the sheer might of my own back — and Indiana will only deal with the electric version. I don't understand the difference that installing an awning would have on which model of pop top is installed, but essentially Indiana blew us off. Austin said they would schedule us in, but kept delaying it by months at a time until finally we were just in a completely different corner of the state and fed up.
The unofficial Sportsmobile forums were also a bit of a disappointment. We used to live out of our 1978 VW Bus, with me serving as driver and mechanic, so exploring forums is nothing new here. Some guys on forums are full of cock and troll, others are infinitely helpful. On the SMB forums though, it was almost all troll.
I posted a pic of our custom propane tank set up and was bombarded with laws about RV propane tank installation laws — all of which were state-specific and related to professional installers. A guy who seemed to be the guy when it comes to awnings told us he could get us an awning in Florida. We drove from PA to the Sunshine State and never heard from him again. The community that one will find with Airstreams or VW Buses is simply not there.
So, was essentially doubling our sleeping space while making it possible to stand in the van worth $10k? Absolutely.
Benefits and Downsides of Living out of a Sportsmobile
I suppose these are really more applicable to "living out of a van" in general, and we've covered vanlife in troves here over the years, so this section will be short but poignant.
The downsides? Well there is primarily one, and it's obvious: you're living in a small space. Whether you can manage that — whether it's just you or you and your entire family — is going to be completely up to you. The other major downside is that, should your van break down, then you're stuck. Like, literally possibly stuck in the middle of the woods, but more so when you do get her to the shop, you're stuck without a home for however long it will take the shop to fix it.
The benefits are innumerable. Freedom, simplicity and getting back to nature all come to mind. But these things can be achieved via any type of travel. The biggest advantage over an RV is that you can go way more places.
Yes, you can drive down roads where low hanging branches, mud patches or sharp turns would prevent an RV from going. But you can also find parking on a busy city street, or fit into any gas station parking spot. You may show up behind the guy in the Class A RV with one spot left at some Yellowstone campground (as if), and since he's 50′ long and the spot is 30′, you can pop the top while you watch him looping around to head out of the campground and find the next potential spot down the road.
Solo Vanlife with a Sportsmobile
Traveler Jillian Rebekah discussed some of her thoughts on a fully-pimped Sportsmobile. To be clear, like ours, a Sportsmobile can be relatively bare bones, though most are 4×4, have a kitchen and a place to sleep, and the penthouse. However, as the VW Bus is to minimalism, the SMB is to "all the ladders and shit you can hang off the mother fu…."
Jillian prefers to do her traveling in her Toyota Tacoma, citing its ease of getting into smaller corners of the forest and smoother ride. It is a truck, after all.
"The van really shines at camp," she emphasizes. "There is a lot of value to having a vehicle with indoor (livable) space. Especially when you'd like to escape the cold and/or the weather is bad.
"It is remarkably capable for a 10,000 pound van but it's still huge! Which will obviously limit where you can take it."
While Jillian's extensive travel experience should absolutely be considered here, when comparing the size of a Tacoma to a Ford van versus, say, comparing either of them to an RV, most of the SMB folks we've talked to — especially those with 4 wheel drive — can't think of a single time when they found themselves facing a dirt road and thought, "Well, let's turn around here. If only we had something smaller we could go further…"
Jillian goes on to discuss some of the other downsides she finds with her SMB.
"The interior build of the van is kinda like an RV which means…on rough roads you will hear your *house* rattling behind you and that can become stressful and makes it a lot less fun to drive." This is absolutely true, especially as you accumulate more items inside of your van.
"While I will conclude," she wraps up, "that the Tacoma is still my first choice for adventure travel, it must be said that the van is a great companion to the motorcycle adventure portion of my life. I feel fortunate to have been able to experience them both!"
<h2id="smb-family">Family Life in a Sportsmobile
Our version of the SMB — which again I should note is a custom interior build where the only actual Sportsmobile components are the penthouse and solar setup from the roof to the charge controller — consists of a small kitchen, a single remaining bench seat from original 15 passenger set up (for our three kids to sit in while we travel), and a bed in the back.
For those new to this magazine, our family has gone through many iterations over our dozen years of full-time traveling around in vehicles. We've been a family of three in a Class C RV, then in a Volkswagen Bus. We have four boys total, ranging in age from 2 – 21. Our oldest has not lived with us for a few years, and didn't do so during the time we're discussing here. We've also drug around an Airstream trailer. Our travels have taken us from British Columbia to Belize, Maine to Baja. We're not afraid to poop in a box if we have to and consider the space immediately outside of whatever we're living out of to be our main living area, while the vehicle is more for cooking, sleeping and depressing rainy days.
Let's look at each aspect of the what our Sportsmobile is like for five people roaming the United States.
Sleeping
Aside from the part that drives us around this planet. our van is — for all intents and purposes — a glorified tent. We don't want to set up an actual tent on the regular, but we do need shelter.
We're a family of five — mom, dad, two tweens and a toddler. The penthouse that Sportsmobile installed for us comes with a fairly massive bed, which is where the tweens sleep. I put another bed – with a Tochta mattress, excellent choice I will say — in the back which is where, currently, mom and toddler sleep. I then call the bench seat (where the kids sit during the driving day) my own personal little cot. Especially the latter may be less than desirable for some, but for us it works fairly well.
The largest complaint my wife has is that due to various space restrictions, she cannot sit up in her bed as long as the tween's bed is immediately above her (the Sportsmobile penthouse bed can be pushed to the front 3/4s of the van, back 3/4s or anywhere amount of that in between.)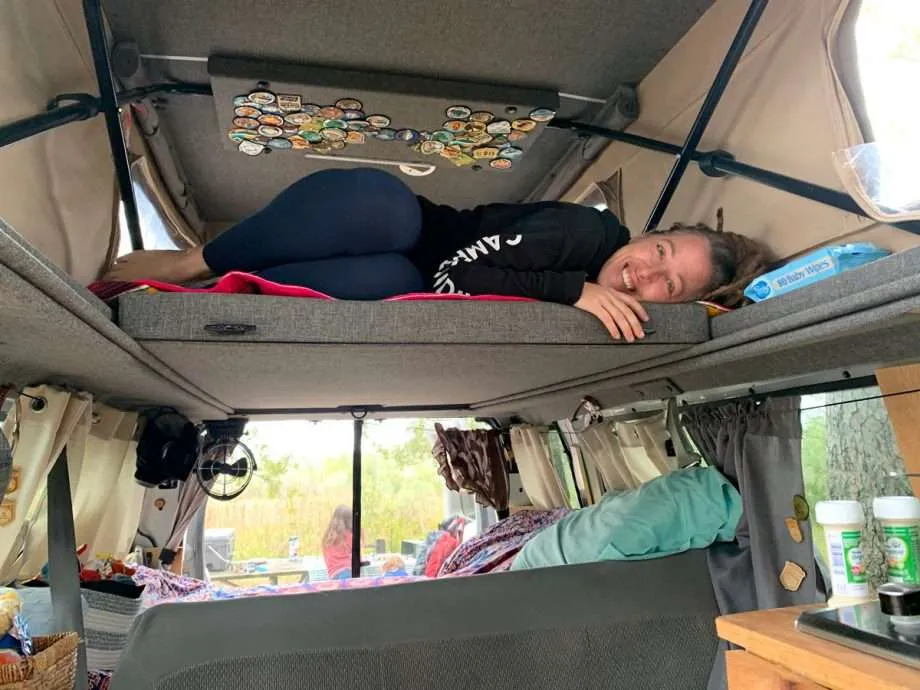 Cooking & the Kitchen
Our kitchen is comprised of a ~3 cubic liter fridge, three pantry drawers, some under sink storage and the sink itself. We have a 32 gallon water tank stashed behind the bench seat that feeds our sink (and is used for nothing else) which is sufficient for just under a week if we conserve. Two or three days if we're a bit more liberal when washing dishes. Oh and we've got a small propane stovetop, with the propane line routed beneath, under and to the back of the van for cooking. It's more than sufficient for us, but it is not luxurious. We need a cooler to accompany us on our travels, as there is no room in the fridge for beer or a big jug of juice or anything like that. We can usually last three days max on real food — that is, chicken and cheeses and yogurt and milk and stuff that requires refrigeration — before we have to go stock up again, because that's all the more room we have. Day four's breakfast will be slim pickings. If we were more suited to dry food like boxes of mac n' cheese or cans of soup, that could probably extend our stays a bit more.
But honestly, between my need to find cell service to work and the basic premise that we are looking to travel, we don't typically find ourselves way out in the woods for more than 3 days anyway. We just stock up on our way to wherever we're going and when the food and beer runs out, we head to the next spot, or restock and return if we really like the area.
Rainy Days
We also installed a swivel so the shotgun seat can rotate around and face the back of the van. This means we have a living room (which is also the kitchen, and part of the bedrooms) that can technically seat six, and comfortably seat four. The technical way is with two kids up top, legs dangling over the bunk, space for three adults to squish onto the bench and then the swivel seat. Comfortably, one kid can lounge about up top, two adults can hang on the bench seat and then, again, the swivel. Since our fifth passenger has been about 2′ tall or less so far, and rarely just wants to sit still anyway, he barely counts as needing a seat.
There's also a nice chunk of room on the floor should the tweens want to play Legos there, especially if one takes the penthouse, mom's in the back with baby, and I keep out of the way.
Storage
Who doesn't always need more of this, especially when there are five of us?
The bed in the back of our van is elevated about 20″ off of the ground, which provides approximately a queen bed's worth of space in area to store things. That's where we keep our backup solar gear, some shovels and a few toys, but mostly our duffel bags full of clothes.
Underneath the bench seat, we have storage the boys' Legos, and some of their schoolbooks. Another small pantry houses random larger food items like bags of chips or prerequisite bottles of Bloody Mary mix.
Hanging from the doors (see the slideshow gallery in the previous section), we added saddlebags to hold the majority of the kids schoolbooks. I have another one of these installed on the driver's door for my own books, and then there's a hidden compartment near the back, main bed where mama stashes her own collection.
When parked, we use the driver's seat to get things like carseats out of the way. It's not as easy as walking into your house, tossing your boots and jacket and plopping down on the couch, but it's not particularly challenging either. We can pack up or down in about 20 minutes, 12 if we're really in a rush.
I also added a roof rack above the cab of our van, and we have a bike rack hanging off the front which can hold four bikes. This adds several feet to our overall length, but we love bikes. We also stash skateboards here and there, and then store them beneath the van while we're camped so they don't get wet should there be a freak snowstorm.
I'd note that this is one area where true Sportsmobiles outshine our minimalism. They have way more storage, including roof racks and bumper boxes and in-floor storage — relatively — galore.
Bathroom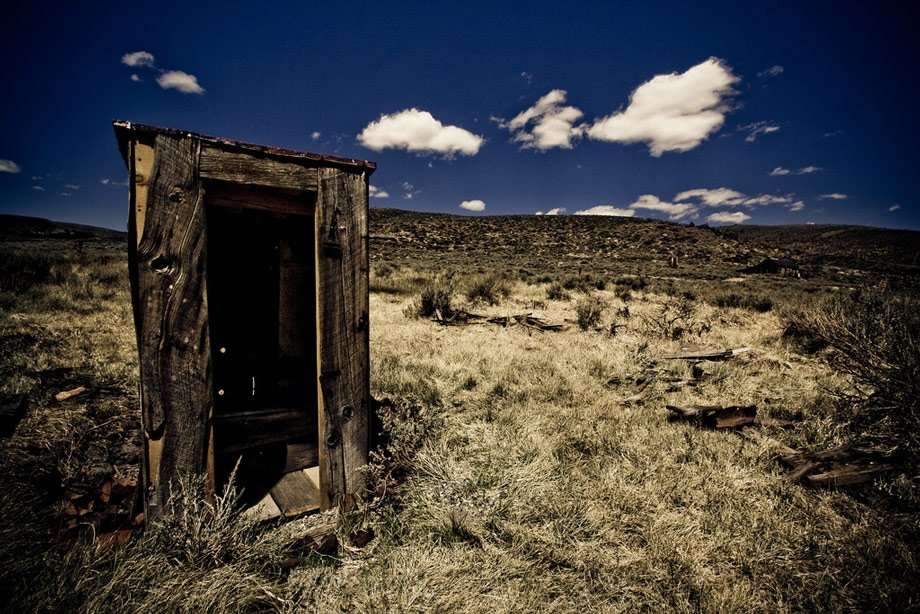 Where to find hot, clean showers and how to relieve yourself for those travelers who have no built-in shower and bathroom.
This, we have not. We camp in all sorts of scenarios. Largely, we're out in the woods or wilderness at large, where we can poop in grocery bags and then pack them back out. Catholes are an option, but we've dug up so many former campers piles of poo in the past that I don't think any of us should be doing this anymore unless we're on foot and way back a trail somewhere.
Otherwise, state and national parks typically supply restrooms. RV parks, which we rarely visit, obviously have toilets. But there are unlimited places to shit in this world, from grocery stores to Starbucks, Target to city parks. We don't shower every day, or even every other day, or even…you get the picture. But state park stays or a single night at an RV park are options for making showers happen, among other typically more expensive or time consuming affairs.
Bathrooms are, for sure, the most difficult aspect of vanlife. Still, everything in this world is a trade off and it's an easy trade in my book.
And those are the basics of our family's life in a Sportsmobile.
If it were easier to keep our VW Bus running, I'd probably keep us living in that, but as to a combination of comfort, reliability and style, I am particularly pleased with our SMB life.