Live Music at the Orange Peel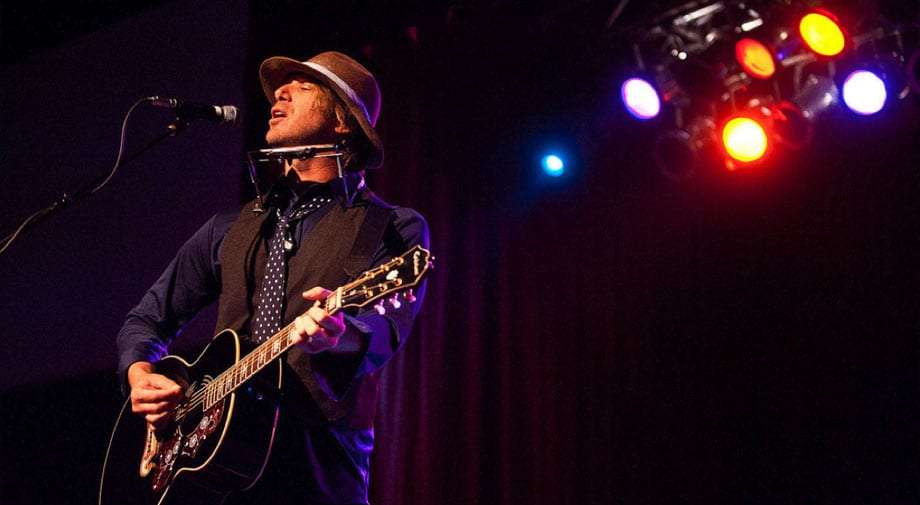 Willcall poses art deco, a glass wall with a hole and a speaker to talk to a dark haired man sporting a mustache and several days of scruff across the landscape of his face.
He's dressed in a red and white vertically striped shirt which somehow makes him seem like a top hat and suspenders are a given, even if he's not actually wearing them. I half suspect him to walk onto the stage later with a cane and start singing ragtime. Our tickets in hand and through the doors, though, it's clear we're hear to see Todd Snider, storytelling country folk rock Americaner, his booth the first thing you see through the doors, giant Peace Love and Anarchy flag emblazoned thereon. The space is massive, with solid wooden floors, a vaulted ceiling, a proper stage. The back corner, stage right if you will, wears signs proclaiming upcoming events framed with round white lights, a banister and some stairs separate the few packed tables in this VIP seating area from the main floor and the adjacent bar. Asheville's finest, the eclectic bunch that they are, fill the venue. Sepia toned hipster twenty somethings, families with younger children, the middle aged wearing their blue and khaki work clothes or favorite North Carolinian college team's logo. A mother sits at one of only a handful of hightop tables that line the back of the hall, her sleeping infant in her lap never wakes up once through the entire night's performance.
It's a proper stage, with the kind of classic purple and orange lighting that I thought went the way of the 80s Hair Band, but just adds the perfect amount of mood to this large, mural-laiden hall. Beers are flowing from taps donning the names of local breweries like Green Man IPA and Highland Gaelic Ale. Filling cup after plastic cup, the line for beers never dwindles even as everyone attempts to find their folding metal seat—yes, tonight's show is seated—but it's chaotically intimate and you're never more than a few steps away from getting your next refill without missing a moment of the performance. I go for a Pisgah Pale and another for my lady as we disappear into the crowd. Getting a seat up front at this point isn't even on the menu, but a few empty spots to the far end of the last row, still only fifty feet or so from the stage, promise a great spot to see Mr. Snider himself while still being able to stand when we want without feeling like we're blocking some seated fans behind us. As we're sipping our beverages and waiting for the show to begin the rare few seats left unoccupied by men, women and place-holding jackets are causing a small battle a few rows ahead of us.
"Anyone sitting here?" I can see a mid-fortyish man's lips mouthing the words, his arm waving to his wife still on the outskirts of the row. I can't hear his words over the crowd, piling in deep behind us, but another man sitting by the empty chairs nods, indicating he's saving them for someone. The man standing shakes his head in contempt and his wife motions for him to come back to the edge of the row. He puts his knee, one first then the other, onto the seat and holds onto the back of it with his hands, tilting his head just so to make it clear to the wife and man seated next to him that these chairs will be filled by their particular backsides. Todd Snider comes onto the stage and everyone around us looking on snickering at the situation forgets about crowd shenanigans to focus on the musician.
Otherwise, it's a snug, buddy-buddy affair, as seated shows often are, and Todd tells us his trademark stories, fingerpicks background tunes and, almost spoken word, sings his songs. The crowd doesn't stay seated for long, and soon enough we're all on our feet clapping, cheering and occasionally singing along. He plays two sets, with a break in the middle that bellies the bar up to capacity all the while the outdoor smoking deck fills itself with smiling audience members, some first timers to the experience touting how much they love the venue, the stories, the atmosphere in general as the mountain air holds crisply as ever to the longtime locals and old Todd Snider fans who are just enjoying it all again. We all choke down our cigarettes as quickly as possible and herd back in before the second set.
Occasionally, someone calls out a request from the front which can't quite be heard by those of us in the back rows, and the man on stage complies. Here and there puffs of smoke rise into the officially non-smoking establishment, and a particular smell of something green fills the air. Two encores after that, half of the crowd is hanging around to see if Mr. Snider will make an after-show appearance or simply to continue the party and reminisce on the still hot night's steamy aftermath. We leave, heading up Biltmore Avenue wading through the street's plenteous late night crowds, drunken locals reveling in a Saturday Night harmoniously amongst tourists in town for the show doing some late night boutique window shopping.
We were just so fortunate enough to see one of our favorite musicians at the Orange Peel this night, but as much as Asheville and it's surrounding Western North Carolinian mountains are prone to such singer/songwriter or fiddle and mandolin bands, everyone from the Smashing Pumpkins to Yonder Mountain String Band, Cannibal Corpse to Mute Math, Henry Rollins to Ziggy Marley have played the hall. Tribute bands like BadFish, Leds Dead and Darkstar Orchestra are as likely as Ice Cube or the Goodie MOB. Such an eclectic array of performers likely finds itself seeded in the diverse background of the venue. In the 1950s, it echoed with the sounds of the rollerskating adolescents of the day, in a time when rolling around in circles with your sweetheart was as much fun as one might ever need. Later it became a collection of nightclubs mostly playing R&B or soul, one of which went by the name the Orange Peel. Times changed and the building found itself a warehouse for auto parts for sometime, before being rescued by a local developer and transformed into the venue it is today, named after the Original Orange Peel, as the owner's wife recalled the regal of the venue growing up 1970's Asheville.
I spoke with Liz Whalen, The Orange Peel's Marketing Manager, about what exactly it is about the location that puts it so prominently on a map of America's music landscape, even when it's a relatively small space in a little mountain town many people have never heard much about.
Upcoming Shows at the Orange Peel
"I think it has a lot to do with Asheville, more than anything, and then secondary to that is the club's reputation and AC Entertainment's relationship with major bands and their agents." AC Entertainment is a booking company based in Knoxville, Tennessee, who aside from working with The Orange Peel and several other southeastern clubs, is responsible for the lineup at Bonnaroo. Indeed, there's likely little doubt that a great booking agent, coupled with the club's music experts on staff, have a good deal to do with it, but Asheville itself is exhaling lungfuls of this certain spirit that just seems to make anything that happens here a good thing. The venue marks the southern end of what should be considered "downtown Asheville", and immediately upon heading north you're thrust into the charm the city provides: a "real city" feel from what is arguably a big town. Skyscrapers just barely earning that monicker, crowded, but not too, streets, music pouring out of every bar as freely as the local beers, and the footsteps left behind as likely to come from a pair of Dockers as Doc Martins.
It's not just big name acts choosing to play The Orange Peel which makes this a music lover's town. The local scene, while often dominated by bluegrass and Americana, tends to keep it's fingers stewing in a cornucopia of pots. Southern fried rock and roll is still alive here, as rare as that may be these days, while the digital sound is bubbling up as the new local emergence even while the faithful hold tight to their jam bands.
Jamie Dose of Velvet Truckstop, a band unafraid to play raw Southern Rock in a world still touting it's alternativeness, knows what makes the town so special. "Asheville is home…it retains a small town southern charm. It is a music city. One of the biggest concerts of the year nationally is held right here: The Warren Haynes Christmas Jam," referring to the festival coordinated by local Warren Haynes, of Gov't Mule and the Allman Brothers. "It's an annual Bonaroo. I think that Warren being an Asheville native has had a big impact on what is going on in AVL. The other reason would be the energy and talent of the local artist. We have an abundance of really talented musicians, some of which are designing new genres. This is a strength that you usually find in LA, Austin and New York. This alone validates the city of AVL as a music city. We also get a ton of national performers…I think they are curious and love the atmosphere. Artists love chaos."
The city was host to Moogfest, three days of synthesized, electronic-driven tunes honoring Bob Moog, an American inventor who is widely credited with developing the first successful electronic musical instrument. "Recently with the opening of the MOOG factory and what those folks are doing for music here has been really cool," says Joe Chang of local band Kovacs and the Polar Bear, "and could lead to bigger things, more exposure, what have you…but then again, Asheville is just Asheville. And I guess it's all really just hype, and when it comes down to it, it shouldn't matter. Who knows, I don't know. It's a beautiful place to be."
His nonchalance might be typical of an artist living and working in a scene dominated by beards and loose jam sessions, or it could just be Asheville's modesty shining through. It may be a liberal, progressive city, but this is still the South, and so the prerequisite manners and charm can never be completely wiped away.
On the other end of the digital revolution that Moogfest embodies, Asheville is home to several record stores, including two within the same downtown block of Lexington Avenue: Static Age and Voltage Records. In an MP3 world, where teenagers have never even owned a CD player, let alone many of them ever having played an actual record, that's something to brag about.
"Yup its changed," Jamie of Velvet Truckstop laughs, only slightly showing his age. "The rise of karaoke and video games have taken the soul out of Rock and Roll…which is probably why you don't find it anymore." Jamie began following the dead in the 90s at age 14, "We travel backroads, write original material and play instruments. Its a dying art form. In these times, someone who has never played a gig can get a million hits on YouTube…and its probably not their song! We have entered the 'Cliff Notes' for self expression…and its a little scary."
Joe Chang, guitar player and keyboardist from Kovacs and the Polar Bear, shares a similar disconnect from the digital download era. "I'm not sure," he says about how the Internet in general has affected music, "I don't really live in an mp3 world. I think if an album is good, it'll find a way to the listener, and if it touches them, then they'll listen to and take in the entire record at once. I'd like to think that will never be lost. All my favorite records, I tend to think of them as a whole, like a little world they've created that I'm invited into and get lost in or find something in. Though the same could be said for a single song I suppose…and I'm always a wisher for the good old days."
Not that he's looking to wish away our www.moderndayreality, though. "I think the Internet is a great tool for bands to reach out and directly connect to an audience. It's crazy how many people I've met who've come through town or have emailed us, and they know such and such from such and such band from such and such place, it makes it seem a small world after all! And we have the Internet to thank for that!"
Speaking of the good old days, at the top of Lexington Avenue, across the street from Pack Square Park—a town square boasting plenty of green space, statues of pigs and a giant obelisk commemorating a Civil War era North Carolina Governer—four guys in sepia toned outfits seam to have stepped right out of a turn of the last century photograph. One plucks a gutbucket, a bass instrument consisting of a string attached to a flexible stick, all protruding from a washtub basin which produces the resonating sound accompanying the rest of the band on steel guitar, the fiddle, and a singing saw. While the Orange Peel is a fabulous place to see big national acts, these four gentleman, with an open guitar case reading "Blind Boy Chocolate and the Milk Sheiks" are the epitome of local Asheville music: old tyme, twangy and grass roots.
"The name Blind Boy Chocolate & The Milk Sheiks, which started as a joke, just stuck." Nick, the bands mandolin-banjo player, tells me. "It's really a triple-entendre that nods to race, food and old blues monikers like Blind Boy Fuller and bands like the Mississippi, Alabama or Beale Street Sheiks."
However they came to be, whatever era they time machined out of and into a modern day Asheville, they're playing to a crowd of anyone walking through the city's streets. Busking, another term for street performing, is alive and well in Asheville, North Carolina.
"Dwight", the band's singing saw player, "had done a bit in his travels around the country," Nick tells me. "I started busking in Dublin, Ireland in 1999 and have done it here and there since then. I like playing with a group on the street because of the energy that it generates."
If you want to see local acts in a more traditional setting, one where you might be legally allowed to imbibe a little alcohol and have a bathroom at hand, the Grey Eagle is the choice of every band I spoke with.
"The Grey Eagle is a particularly nice place to play," he says. "It's an honor to play on the stage that has hosted so many country, blues and roots music greats. They do a great job with the sound, which is something, as street performers, that we hate to worry about at a gig. We've played the dive bars and we've played at the Orange Peel and we like them all."
"The Grey Eagle is our baby," says another Nick, namesake of alt rockers Kovacs and the Polar Bear. "It is kind of like our home base. We've come to know the people who work there really well, and they are amazing. The sound there is great, and the people who come out are always so supportive." For a band who's played everything from birthday parties to warehouses in the city, that's a testament. Bandmate Joe Chang also mentions The Get Down, Bobo Gallery, Broadway's, and the Emerald Lounge as other great spots to see live music in Asheville. Though when asked if his favorite band were to come to town, where he'd most like to see them play, he simply replies "In my basement."
If Mr. Snider would have been up for it, I suppose having him do a personal set in the crawl space beneath our house in nearby Black Mountain wouldn't be all that bad.
Back at the Orange Peel, a different day, sunshine beaming down on the sidewalks packed nearly a block deep with college kids dressed in their skimpiest summer clothing as springtime comes early to the city, another act is getting ready to put on a show. The fans with tickets are waiting to get into the show itself, and others less fortunate or less interested, perhaps, are making their way into PULP, the Orange Peel's private lounge on the club's lower level where occasionally smaller acts can get a chance to play and the bigger shows upstairs are shown via a video stream. The Orange Peel isn't that large, holding around 1,000 fans, but it's a huge deal. It was named one of the top five venues in the country by Rolling Stone, and the success shows. Jack White is coming through on his solo tour and though he could've booked a bigger location, given that his show sold out in hours, he chose the Orange Peel. Even if you can't get into the Orange Peel, though, a dozen other acts could be seen in any of countless other venues around the city or in the small town satellites within a few minutes drive. Buskers keep every block's worth of open air full of sound, and the record shops are open for business if you want to take a little music back to wherever you're calling home. Though Asheville currently holds the title of "Beer City", it's no doubt that it's a music town through and through.