A Tour of Baja California A First Timer's Guide
to Overlanding Baja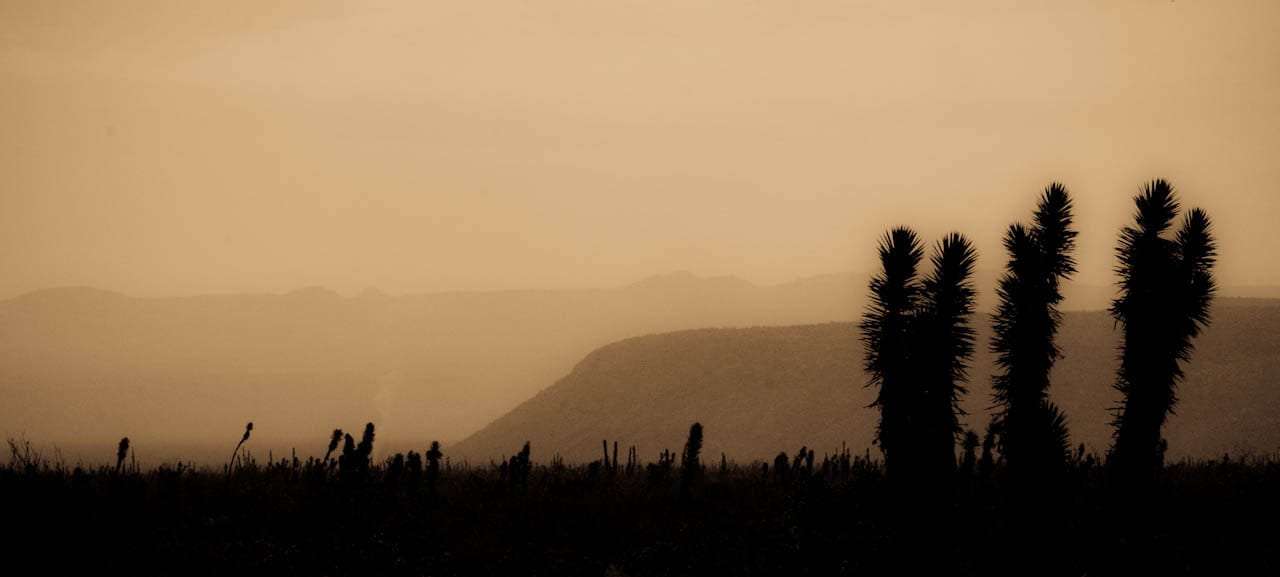 Intrepid as we were about packing our family into our Volkswagen Bus and spending a few months galavanting around the Mexican peninsula of Baja California, we've personally come out unscathed.
Life can be a dream, and for much of Baja, it was exactly that. A float-along-of-a-life where whether on narrow paved highways or dusty old desert roads, bustling colorful cities or empty vast stretches of beach, happiness was as easy to find as your own peace of mind.
For those who are wondering where to go, what you might expect, and how to do it, we've put together a little "Hey, here are some cool places, give 'em a try, get your feet wet, and then explore for yourself!" type guide.
Entering Baja
Firstly, we are not experts. We don't claim to have roamed every inch of the two states (Baja California and Baja California Sur) which comprise the peninsula, however we have our own three months' worth of experience, the firsthand knowledge passed over to us by our companions who'd been here before, and plenty of word of mouth from other travelers, veterans and rookies alike.
That said, there are many ways to enter Baja, from what's reported to be a carefree, almost unmanned station south of Organ Pipe Cactus National Monument in Arizona (but which leaves you with a three hour drive east along the Mexico / US border to actually get to Baja proper) to Yuma to Tijuana. From everything we've been told (compared to our own experience), crossing at Mexicali is the easiest.
Our experience was one where we approached a very official looking station, several lanes with speed bumps (called topes) and no border crossing agents (or any one else for that matter) stood in our way…and that was it. Nothing indicating we should stop, be searched, or anything else.
Once through, though, there are a few things to know.
FMM Tourist Permits
After you enter Mexico, almost directly after actually, there's a white building labeled Instituto Nacional de Migracion on your left with limited parking (certainly not large enough for an RV) that you need to enter to obtain this permit. Apparently in days past if you were staying within a certain amount of miles of the border, and not for more than a few days, you didn't need this, but as far as we've been told, everyone now requires this permit. And no one will be there to tell you if you don't know beforehand.
Once you've figured out where to park, head into that building with your passport (or passport card) and the fee. Some people and places report the fee to be $30, and some sources state that you need to go to a bank to pay. We paid $25 per person, and were able to pay an English-speaking, Mexican government worker right there on the spot. As there was no line, the process only took us about twenty minutes for our family of five, thirty minutes total for us and our traveling companions who had an equally sizable family.
You'll tell the man where your final destination is (just saying "Los Cabos" is fine if you're just moseying around or aren't sure where you'll end up, as long as it's in Baja) and what the purpose of your travel is, and that's about it.
Once you have that, and if you only plan to be in Baja, you can be on your way!
Other Documents You May Want
We didn't think we'd explore any more of Mexico than Baja. We were certain we'd spend a few months on the peninsula and then head back to the US. So by the time we got to La Paz (at the southern end of Baja California Sur) and decided we wanted to go to the mainland, we were a few documents short. Here's everything you'll need to make sure you're all set, no matter what.
Insurance Your US insurance may not, and probably won't, cover you adequately in Mexico. We bought insurance from Baja Bound and it was incredibly affordable, particularly considering it came with $1000 worth of towing coverage, which we ended up needing at least once.
Your Vehicle's Title If you want to take a ferry to the mainland, you'll need your title. It's quite difficult to get things mailed to anywhere in Mexico with any reliability, and luckily we had some family come to visit us who could bring this piece of paper we otherwise would never carry in our vehicle.
Registration We didn't have our registration (and still don't), but we drive a 1978 Volkswagen Bus (called a Combi in Mexico, even if technically ours isn't a Kombi), and had a very easy time getting the necessary paperwork to cross the Gulf of California. If you have an RV or a truck camper or even a van, you'll want to have this paper. Also, it can be difficult for larger vehicles with a larger GVWR (ie, F-250s and the like) to get onto the ferry at all, so keep that in mind and do your due diligence beforehand. We know of at least four people who've had serious problems with border crossings (aka, the ferry to the mainland and getting back into Mexico once crossing into Guatemala) with these larger vehicles.
Driver's License Apparently your US license will work just fine in Mexico. We've been pulled over twice so far and had no problems when handing him my Pennsylvania driver's license. Some places report that a photocopy of this is okay, we've been specifically told by an officer in La Paz that it is absolutely not okay.
Passport As mentioned above, you need a passport to enter Mexico, and you'll certainly need it to get back into the US.
Copies of Everything Just in case.
Note that we are all American citizens, so people with passports from elsewhere may need additional documentation.
Mexicali
We didn't stop in Mexicali, but it was the perfect introduction to driving in Mexico.
Stop signs are absolutely optional…for locals. Some treat them as yield signs, some don't slow down at all. Some intersections have no stop signs and apparently fatalities are not so high that they feel the need to install them. You will certainly piss off the locals when you obey the stop signs. But you are not a local, and if a cop sees you, well dear Mr. Gringo, he's going to pull you over.
Traffic is fast, and people don't hesitate to switch lanes. It seems that no one cares if they destroy their car, whether it's an old beater of a Pinto or a brand new Escalade, everyone is whipping in and out of lanes like their next dentist appointment is a life or death situation. Luckily, Mexicali doesn't last long and once you leave it, headed south on Mexico 5, you won't see traffic like this again until you either head west to Ensenada (which we didn't) or make it the entire way to Guerrero Negro.
San Felipe
This little fishing village gone tourist town is a nice, easy slide into what much of your experience can be like in Baja. Most locals don't speak English, but many menus are in both Spanish and English. There's a decent grocery store by the name of Calimax which will help break you off of the Whole Foods and Walmarts you're likely used to and show you a little more of what you'll be able to expect when traveling in Mexico in general (though after San Felipe, and until you get to the bottom of Baja California Sur, you won't find anything both as "nice" and large as the Calimax).
Several RV parks will offer you a plug and lukewarm showers, and a greater sense of security than you may have expected from the rumors north of the border.
You'll marvel over how affordable the food is, wonder how to best handle the barrage of street peddlers, and maybe realize that picking up a few of the most basic sentences in Spanish is going to be more necessary than you may have expected.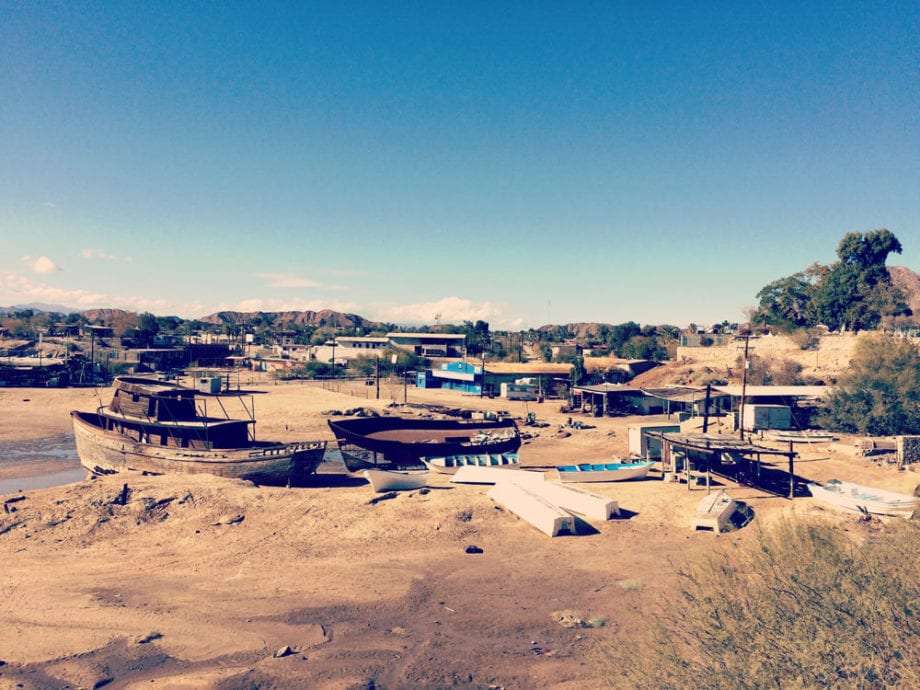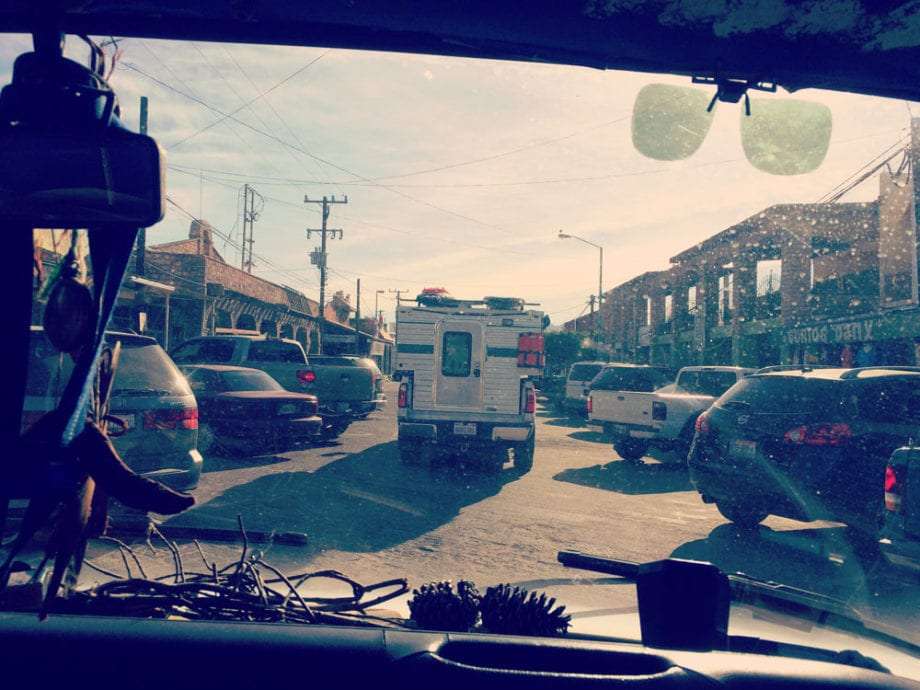 Puertecitos
About fifty miles south along a paved Mexico 5 you'll run into a little town by the name of Puertecitos. There isn't much to this town, a nice RV park on a small bay, an unmanned U.S. "post office" that could easily be mistaken for an outhouse, and a few renovated houses / trailers inhabited by Canadians and Americans who don't mind the lack of cell service and modern conveniences in the area.
The gem here though are the hot springs, where the incoming tide from the Sea of Cortez plays a crucial role: at low tide the hot springs will cook you like a lobster, and at high tide they completely cool them to the same frigid temps as the salt water invading.
Caught at just the right moment, though, and you've got a perfect blend of sauna along a beach lined with volcanic rock.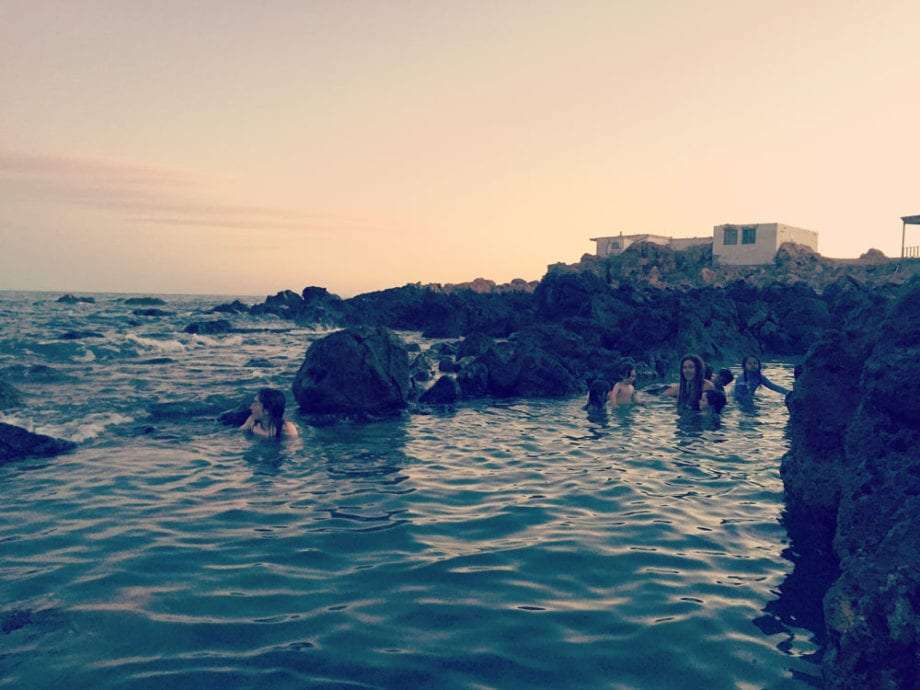 Gonzaga Bay
If you're like us, this will be the first introduction into what you thought Baja would be: lonely camping on empty beaches.
A string of palapas (when we were there, all were abandoned…we had the entire place to ourselves) line a beautiful bay. You'll begin to notice that even Mexico's most beautiful areas come with at least some trash strewn about, and this will plunge you into the depths of a reality that toilets in Baja can sometimes barely pass the definition. Here, in particular, they're nothing more than wooden outhouses that can easily be tipped over to reveal whatever amount of waste was left behind since someone came to empty them.
And it's unlikely that anyone comes, as no one ever showed up to ask us for money for camping here.
Walk about a mile north though and you'll find civilization once again, in the form of modified palapas where ex-pats have add-ons like old trailers or even entire walls. It's a beautiful place, really, and at the far end is a small hotel with a bar and restaurant that will likely be a welcome break after the sandy walk along the beach.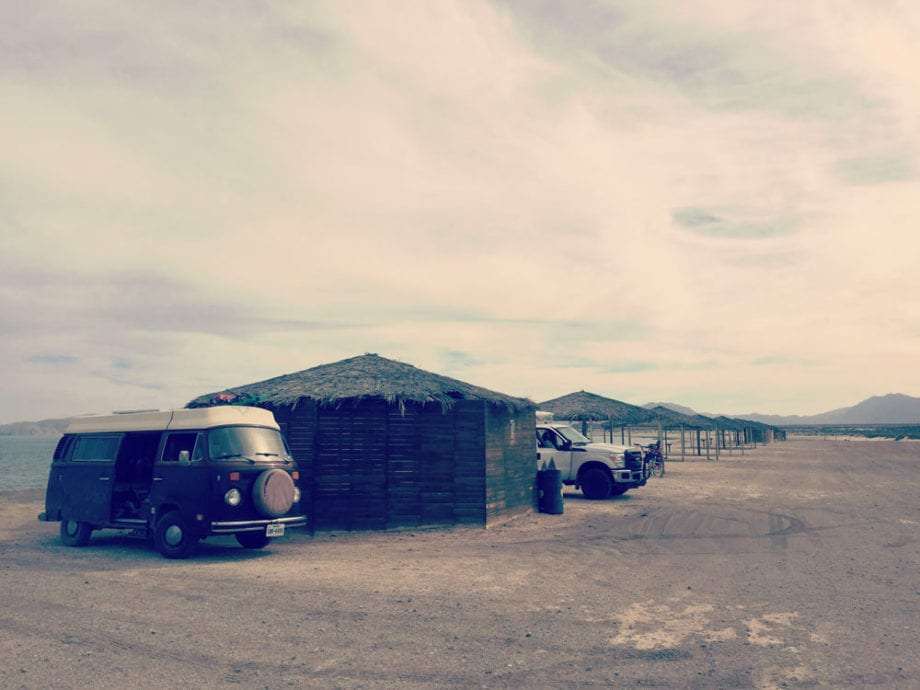 Ojo de Liebre
Significantly further south, where the two states meet, is the city of Guerrero Negro, and while it is nothing particularly worth writing home about, nearby Ojo de Liebre was the first place we felt like we'd really made it.
For $5 USD you are granted access to camp for as many nights as you'd like (perhaps there's a limit, but you'll need to leave for supplies at some point I suppose), very near the beach (within spitting distance, though you may find yourself separated from the water by a cliff). There are no services save a few trash cans spread throughout the campground, so you'll learn to dig a hole (six inches deep!) when nature calls at your backdoor.
Particularly in the spring, set your eyes on the water and wait. Grey whales and their babies are abundant, and you can head toward the visitor's center to schedule a tour (and even a really cheap bite to eat and a beer!) where your captain, Luis (or his father, also Luis), will do everything he can to help you touch one of these amazingly (big!) creatures. You might even score a smooch if the whales find you particularly amiable.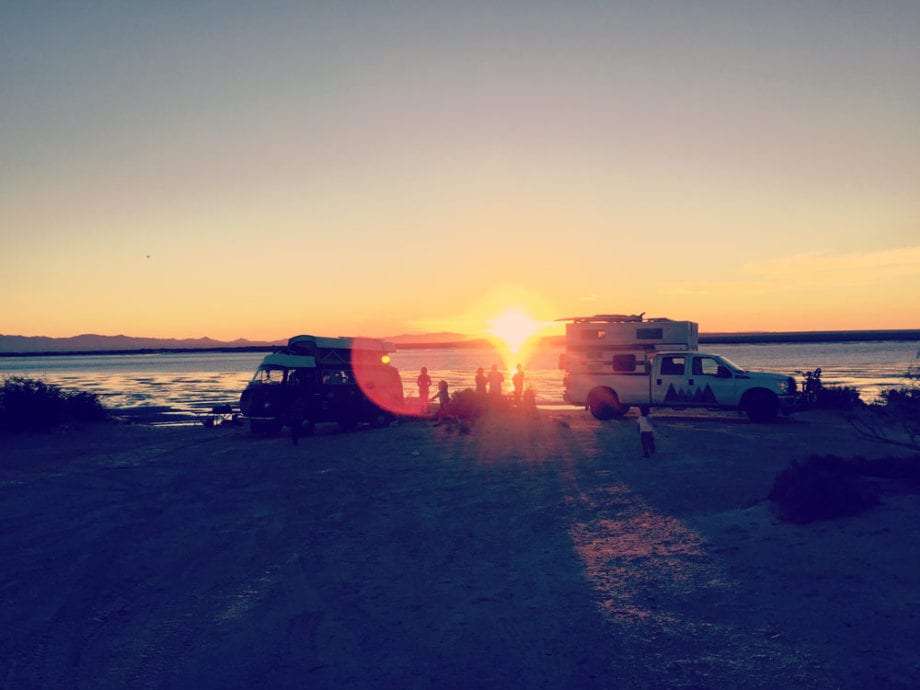 Vizcaino Peninsula
If off the beaten path is your thing, and this tour aims to try and provide as much of that as possible without doing hundreds of miles of dirt road to nowhere, then the Vizcaino Peninsula won't disappoint.
The town of Bahia Asuncion in particular felt like one of those "up and coming" places in Baja which both already provides enough services to feel comfortable, but hasn't been completely overrun by rich Americans and Canadians yet to ruin the whole reason we all come down here…to experience a different culture. (That is why you're down here right? Don't ruin it for the rest of us!)
Punta Abreojos is a bit more substantial of a town, and no doubt worth exploring too. If you're feeling adventurous, you can get from one of these towns to the next via a long stretch of two track and solidified beach (it will rattle you to the core!). Sixty miles of off road that takes you through some very Mexican villages and more or less along the coast the entire way.
There's also an endemic variety of pronghorn that lives on the peninsula, along with mule deer and bighorn sheep. And for all of you avid birders, the estuaries near Campo Rene outside of Punta Abreojos rival Florida in the pure abundance of winged creatures to be spotted (you may even catch a dolphin or two while you're at it!)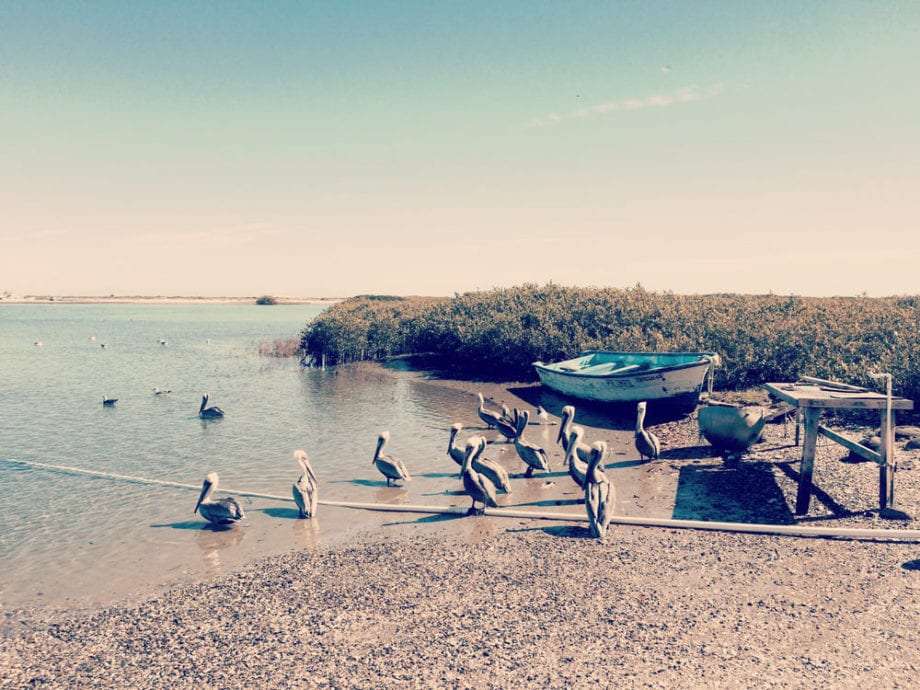 San Ignacio
Headed east, this oasis is hard to miss. Palm trees spring from a small river like back hairs on a grizzly bear. This is a less traveled spot for English-speaking tourists, so you'll have more than a chance to practice your Spanish, and the small square in the middle of town, surrounded by winding streets and small mercados, is a real gem of a peak into what the plazas of much of the rest of Mexico offer.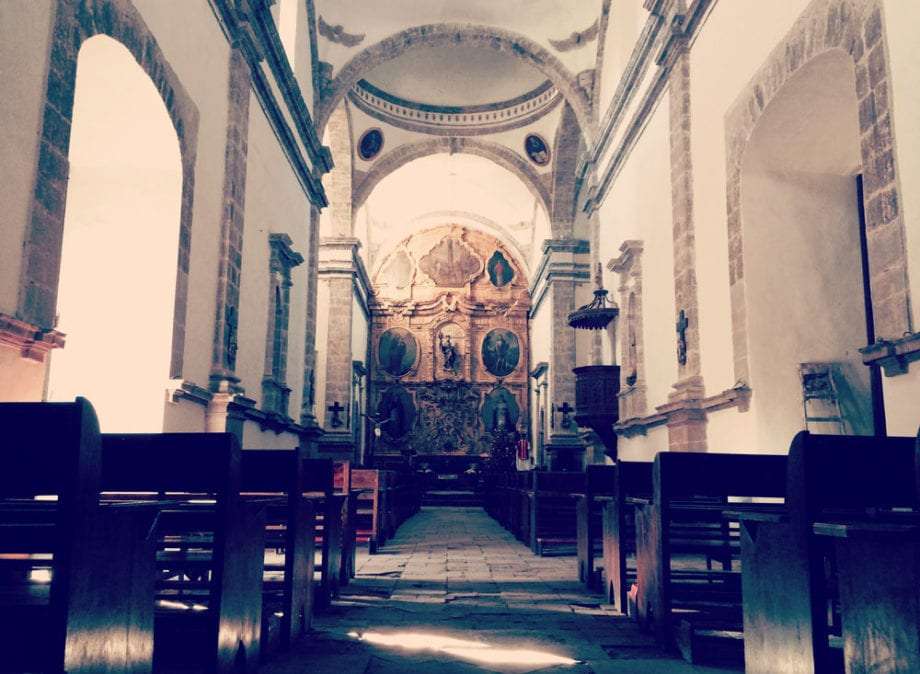 Santa Rosalia
Not particularly a tourist destination at all, Rosalia is best suited to those looking more for an authentic Mexican experience rather than the conveniences of a beach town laden with resorts. A mining town, it is a very real and working city that boasts colorful buildings and plenty of restaurants serving what–by this point in your journey–you'll have come to know intimately as Baja-style food.
Several miles south of town is a little population of gringos that will afford you some easy speak and cheap camping, too, but the city itself is the real prize.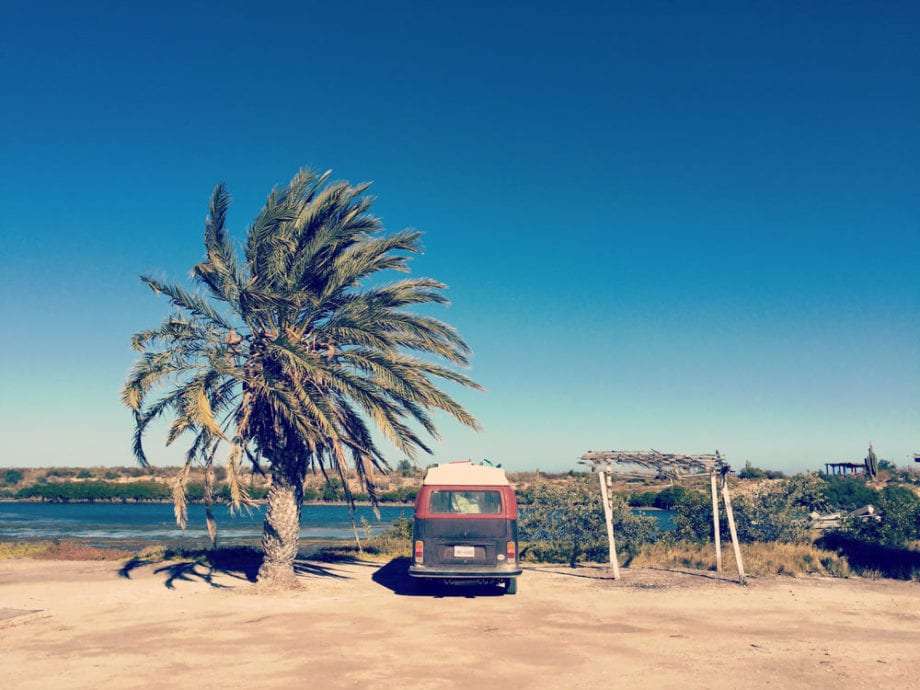 Mulegé
When we first drove through this village, it seemed massive and winding and impossible to navigate. So we parked and walked nearly every street, realizing that it wasn't all that large, but simply a maze. Again, the colorful stacked buildings that are a trademark of not only the most authentic towns in Baja, but all of Mexico, dominate and while the busted streets and trash continue to imply a level of poverty or abandon we North Americanos aren't typically comfortable with, the people are as beautiful and welcoming as anywhere, and the prices are not inflated.
Something you may want to note, because this will be just about the last time you'll see authentic Mexican food at authentic Mexican prices. Any further south and you're in the land of invaders, where white folk with money have used it to clean up the streets and hike up the prices.
There are a few places to camp close to Mulegé, one in particular that stands out is an orange grove called Rays a little north of town where you can pick your own oranges and squeeze yourself a mimosa (assuming you brought your own champagne, it's nearly impossible to find anywhere in town or north all the way back to California).
Bahia de Concepcion
An immaculate body of water that's had its beaches transformed into a massive parking lot for snowbirds, Bahia de Concepcion is everything everyone will tell you as you talk with fellow campers on your way south into Baja.
There are too many places to touch on, but after exploring many we can safely recommend two.
If you'd like the conveniences of a somewhat decent toilet and a bar within walking distance, check out El Burro.
If solitude is your thing, La Perla is a safe bet.
Stock up on supplies in Mulegé before heading this way though, as there is little in the way of groceries, gas or otherwise once you're in this area.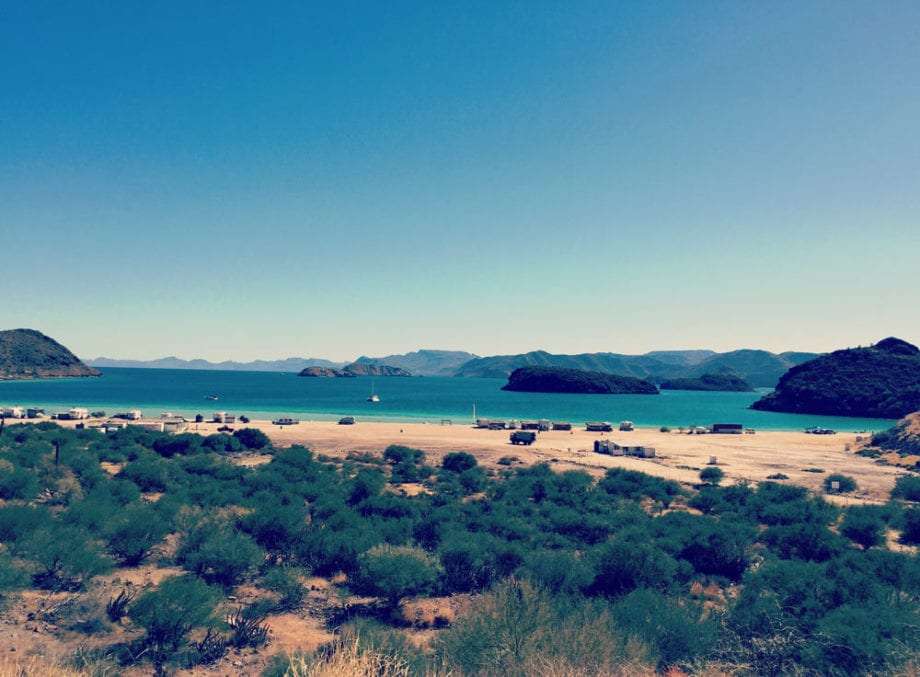 Loreto
While there was nothing particularly astonishing about this large, tourist trap of a city along the Gulf of California, it does seem to be a congregating point for travelers of all types. From retired couples in Class As to Europeans in Unimogs, vandwelling families to truck camping back-country adventurers, all roads apparently lead to Loreto.
This is the first place in weeks we saw some things we particularly enjoy in the US, though, namely IPAs and other craft beers (though the Calimax in San Felipe did have a small selection). The restaurant fare opens up a bit here and you won't find yourself forced to choose between ceviche and fish tacos at every establishment, and as the former Capital of Las Californias, which not only included Baja but depending on the time period, a surprising chunk of what is now the Western United States.
So, you know, if you're into culture and stuff, Loreto's got it.
Agua Verde
Perhaps we should run some sort of disclaimer, because the road to Agua Verde is a death trap.
Barely wide enough for a modern truck, steeper than a liberal tax hike, and less solid than the contents of a newborn's diaper, it's many, many, many miles of mountain climbing that–and I know this because we don't–while not necessarily requiring four wheel drive, is certainly a heart stopper on the way back up (and a brake burner on the ride down).
Once you're there though, you'll likely have the beach to yourself, and though there is nothing in the fishing camp of Agua Verde itself (save a small corner store selling snacks and sodas and a few cervezas), there is some nice hiking, tide pools and bird watching to be done.
Just make sure you follow the road the entire way to the end, as that's where the real paradise begins.
El Conejo
A surfer's paradise, that may be the primary reason to visit El Conejo. There are three places to camp, the southern-most one which gives you the best chance of shade among some small trees and also comes with a pit toilet and very primitive shower, the "main" area where most of the surfers hang out which has no amenities, and the open land a little further north which puts you off of the beach itself but just behind some dunes and cliffs, giving you a break from any possible wind but more or less immediate access to the water should you choose to venture in.
Expect to find a bunch of hippy surfer types here, basking in the sun and sipping cervezas and talking about freewheeling treehugger stuff like traveling around Baja or whatever…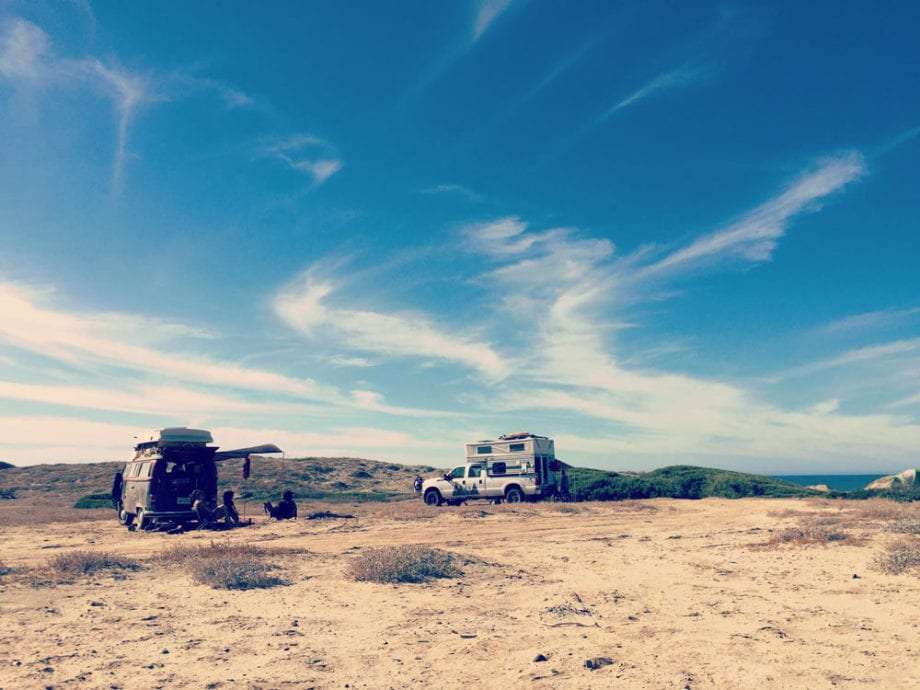 La Paz
While the U.S. State Department currently declares La Paz particularly dangerous, we couldn't have felt safer there. That's not a guarantee, just an observation. It's a city rich in food and not overly touristy, though most restaurants along the Malecón (aka the boardwalk, except it's made of cement, so I guess the cementwalk) will come equipped with waiters happy (if not be) to speak English, you can find plenty of "more Mexican" things to explore in the rest of this rather sprawling city.
It is notorious for cops looking for a "mordida", aka a bribe, and we fell victim to this…though we also broke the law so take it with a grain of salt and toss it over your shoulder if you find yourself luckier than us.
This is also the first place you'll find a Walmart in Baja California Sur, a Home Depot, Auto Zone…La Paz has a lot of familiar faces and if you find yourself sneaking into a Little Caesars or Burger King, just do the deed and get out as quickly as possible. No one will judge you for a little homesickness. That is, if you can read the menu…
While camping options are limited in La Paz, north of town are a few places I would consider gems, one which travelers tend to call the "Cafe on the Beach" and another by the name of Playa Tecolote. Both come ready to serve with restaurants but few other conveniences, so be prepared to boondock.
La Paz will also be your first chance to take money out of an ATM (aka, "cajero" in Spanish) that isn't owned by Bancomer, and if you're looking to ditch the high withdrawal fees that bank charges, look for a Banimex, typically about 1/3rd of the price to get the same amount of money out.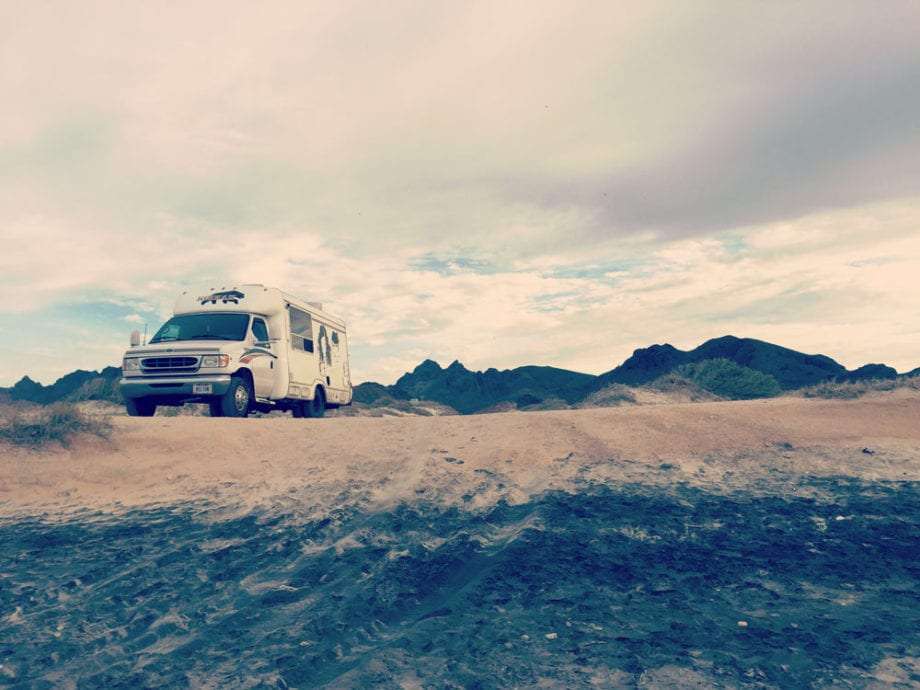 Los Barriles
At this point in your journey south, you have largely left Mexico behind. The gringo to native ratio seems to even out, and nearly everyone in Los Barriles will speak some amount of English. Hell, even the ex-pats speak a good amount of Spanish.
Coffee shops serving the real deal when you ask for a latte, craft beers, sushi…if you've grown tired of what most of Baja north of here has to offer, you've come to the right place. Just north of town (not to be confused with Playa Norte RV Park) is a beach where you can camp / boondock for free and still walk to town easily, or there are a couple of RV parks around if you'd rather soak up the electricity and hot showers they may or may not be offering given the day of the week and time of day you show up.
Santiago
To call Santiago itself a town is pushing it…there is no bank, not even an ATM, and from what we could discern only a small corner store to provide groceries, but the gem here isn't Santiago proper.
It's the waterfall, Rancho Ecologico Sol de Mayo to be exact, a sort of national park preserve area where you can camp away an evening (and even see snow if the timing is right) with a few fellow travelers or hike down to the waterfall itself for a casual swim or a jump off the top into the frigid water below. You'll likely share the water with locals come for a weekend vacation or water snakes during the week. Wait, what? Snakes?
Yes, we saw one but they're reported to be aplenty in these waters, albeit they appeared harmless so we just kept on thrashing our legs around.
There is a restaurant attached to the place which is pricey but well worth it. The best steak we've had in Mexico, a real thick cut of less-fat-than-meat (a rarity down here), or for that matter anywhere in some time.
Let your cell phone gather a little dust and escape the typical beach and town scene of Baja in favor of some mountain living a few dirt road miles northwest of Santiago itself.
Cabo Pulmo
One of Mexico's officially labeled National Parks, Cabo Pulmo is, as one local told me before we went, "not anything special…unless you go underwater."
We didn't. And though the camping spots were very trashed (it was just after Semana Santa, a week or two long festival related to Easter where nearly every Mexican heads to the beach to party all night long and most of them seem to forget to clean up after themselves), it was a beautiful area and the town is worth checking out. Somewhat overrun by gringos, it is a sight to see and there is still plenty of authentic culture to be had should you be the type to look for it.
Just bring all of the supplies you need, there is no grocery store, no hardware or mechanics, not even a corner store to snag snacks and beer.
Todos Santos
We'll end our tour here as we're getting dangerously close to Los Cabos, aka Cabo San Lucas (think spring break woohoo! and overpriced everything, even more expensive than you might pay in the US) and San José del Cabo (a bit more relaxed of a city but with no camping options in town). You may have heard of Todos Santos, but either way it's an artsy little town that's about a perfect swirl ice cream of a mix between Americanadians and native Mexicans. There are several free camping options on the beaches outside of town, and an assortment of shops and restaurants ranging from authentic and cheap to $40 USD pizzas.
Still, it's laid back and as for now, still has enough of an edge to not feel completely like you're just somewhere on the California or Florida coast. We were even told a story about a crew of men with heavy artillery who were forcing some longterm residents out of their property near La Pastura (a popular beach north of town), who eventually moved over to the beach area to "suss things out". I believe the story went something like…
"A guy with money and guns came in and forced these people who'd lived on the land for decades out. They rightfully own the land but it's been held up in court for a few years now, and this guy has enough power that it doesn't seem like anything is going to go back to anything resembling justice any time soon.
"So he's now moving on to the beach…maybe he wants to build a development or something there. But even without him, the locals don't want the surfers there hogging up their beach, and the surfers don't want the campers there hogging up their beach.
"We stayed for over two weeks."
So there you have it, even the artsiest, gringo-ized towns can still come packed with a little Mexican cartel action.
And of course, this is by no means meant to be a strict and steady guide to everywhere you can or should go in Baja. It's just a sampling of the places we enjoyed the most, and why we enjoyed them. We're more or less certain that once you get a week or two into your travels down here, you'll lose the idea that it's a dangerous place and quickly warm up to the possibilities that even a little exploration (and a dose of Espanol) will provide!
Taking the Ferry to the Mainland
As easy as it may have been to cross into Baja via Mexicali, when we decided we'd continue our travels through Mexico via the ferry that runs from La Paz to Mazatlan, things became a bit more difficult.
We have our own account, as well as those of two other groups firsthand, and none of us crossed without any issues.
Personally, we showed up at the port north of La Paz around 1pm on a Wednesday. We weren't necessarily looking to cross that day, but wanted to get whatever information we might need to make the trip as smooth as possible when we did.
You pull into the port, and there are two options: left or right.
To your right is a large underpass (customs) where some government agents–policemen of sorts–will ask you some questions, possibly search your vehicle, and then wave you through if all is good. When we were there, both agents we encountered spoke English.
"You must go to the building over there," the first agent told us, pointing to the structure that would have been to our left should we have made the other choice. This building is called the Banjercito Office. "They will give you your TIP," your Temporary Import Permit.
So, we did. There's some small fee to pay for parking at this building, but we pulled in and I asked our oldest son to come with me and help with any Espanol I might need (not that he speaks it better than me…of course, I mean I am the dad and all…but two gringos with a little knowledge of a foreign language must be better than one, I thought).
The process was relatively painful, though, and I won't bore you with the details, but suffice to say you'll need:
Your vehicle's title.
Your passport.
Your Mexican tourist card.
The fee. When we were there it was around $50 for processing, and then another fee depending on how old your vehicle is. We drive a 1978 Volkswagen Bus, so our fee was $200. If your vehicle is a 2007 or later, it's $400. $300 if the model year is 2001 through 2006. Note that you don't get the $50 back, but if you tell Mexico you're leaving, they'll give you the $200 – $400 back when you do so.
That took maybe half an hour to forty minutes, including making copies of everything and the attendant laughing at how slow his computer was being. Apparently, Windows sucks in all languages.
From there we headed back through customs where a different, still English-speaking, agent asked us a few questions. I don't remember doing so, but apparently I pushed a button and it's a lottery thing…if it flashes green you go, if it flashes red, you get searched. We got searched, briefly. I made some jokes about camping, she laughed, saw our kids and sent us on our way.
By this time it was around 3pm and, again, while I was only looking for information, it became clear to me that we might be on our way to the mainland that day.
There were two buildings, Baja Ferries and TMC. TMC is more for truckers, Baja Ferries, I guess, is more of a luxury passenger affair. TMC is supposed to be cheaper, but we still ended up paying over $7000 pesos to get on. And they waited until 4:50 to process us (Baja Ferries wasn't running to Mazatlan that day, and we'd been told that other destination–Topolobampo–was a hot spot for cartel action. No clue if that's true or not, but we were going to Mazatlan.) I think they waited until 4:50 because they wanted to see if any other truckers came in, as those guys got processed really quickly.
Before you go into the TMC building, though, you have to drive onto something that looks like a scale, a white building nearby, though I believe they're just measuring your length. The longer, the more you pay.
We got a ticket from an English-speaking gentleman at that spot, and he sent us back to TMC (where nobody speaks English at all).
By 5:15 we were on the ferry and headed to the mainland. You can sleep in your vehicle, walk around, they serve food and have snacks and smokes (no beer) for sale. We even arrived a couple of hours early. Lucky us!
Now to our friends' experiences.
I'll let them all tell their own particular tales on their own particular websites, but suffice to say another family we have been traveling with throughout Baja were in an F-250 with a truck camper on the bed. They went to TMC the very same day, and were told there were no open spots until Monday. "Monday is family day," they were told again and again.
Like us, they didn't have their TIP yet, because though you can get it when crossing the border into Mexico from the US, Baja is a sort of free zone and you don't have to pay the import fee and deposit if you stick to the peninsula. It's probably advisable to get the TIP when first entering Mexico if you can, because both in La Paz and many reports coming out of people trying to get back into Mexico from Guatemala, it can be tough to obtain if you're in a larger vehicle which isn't an RV but also is bigger than an F-150 or VW Bus.
Anyway, it's all about the GVWR, technically, but it also very much appears to come down to the whim of the person working that day and whether or not they want to be nice guys and let you go with no problem, or hold you hostage for ever.
Another couple who were traveling in a Ford Van had some similar issues, but they were able to obtain a 10 year waiver, declaring them an RV and–though from all accounts the process was not exactly easy–allowing them to hop on the ferry the very same day.
We were in an old VW Bus, a common vehicle in Mexico actually, and so the gentleman who issued our TIP didn't even bother to ask about weight or anything else.
Be prepared that the process will take half a day or more, much more if you have to jump through hoops, and I suppose being as pleasant as possible could only help.
Bien viaje!