Travel the World with the Luxpats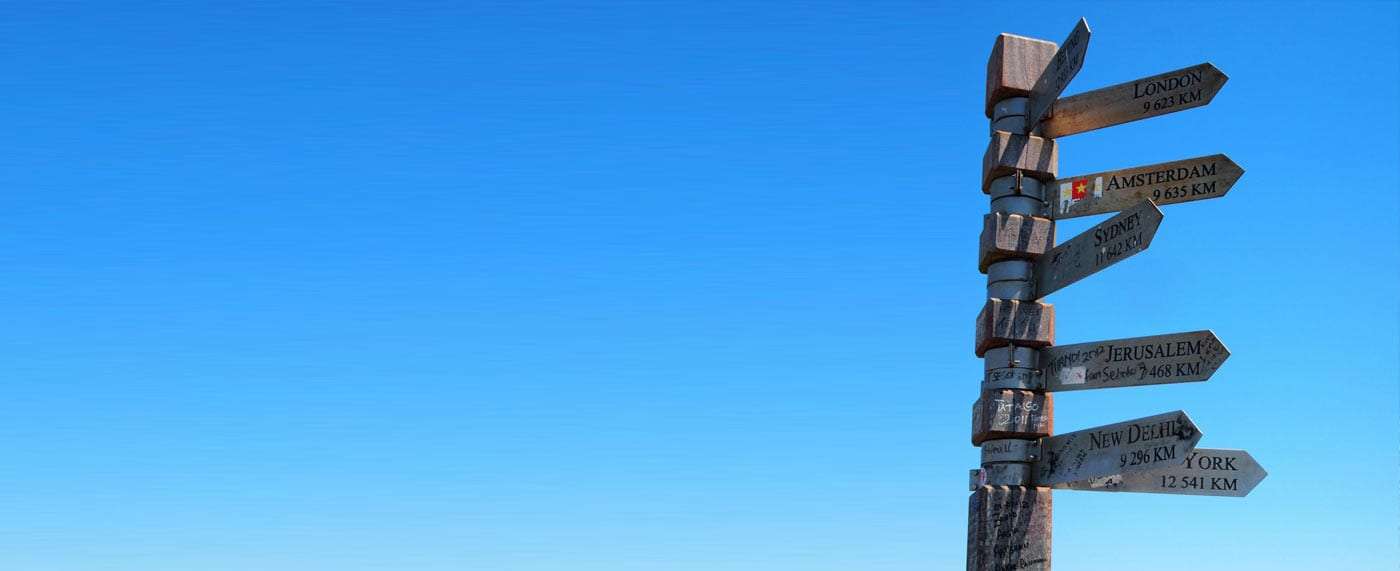 "Growing up as a third culture kid in a military family may have destined me for a life of travel and voluntary chaos," David says on the about page on his website.
Along with his wife, Sarah, they worked for a combined fourteen years for Amazon, the online megastore everyone's come to know and, usually, love. In 2011, the company moved them to Luxembourg. Two years later, now married, David, Sarah and their brand new baby boy were transferred to Cape Town, South Africa.
So while you could say travel has been running in the family long before it even existed, that's where this story begins. The story of the Luxpats.
"South Africa was the most beautiful country we've ever been to," tells Sarah from Playa del Carmen, a town a little south of Cancun, Mexico. "Just getting up in the morning and looking out the window was a treat. The ocean, the cliffs of Chapman's Peak, the violence of the landscape made you feel like you were living inside a painting. But, David's office was a thirty minute drive away from our house."
Her husband spent his days off at work while she stayed home and watched their new house slowly succumb to water damage.
"I would spend the mornings on the phone and email with contractors and lawyers while our nanny watched the baby. David would come home at seven, ten minutes before Spencer's bedtime, and everyone was stressed." The signs of a life of normalcy, one that not only the American dream has convinced so many of us to buy into, but apparently one which much of the Westernized World is beginning to fall for. Ideas began to form. An escape plan, you might say.
So, they decided to pack it up and leave.
"Rent for a few months at a time," she recalls their initial blueprint. "We didn't have a big plan. 'Start in Southeast Asia' was pretty much our plan."
Along the way, they founded Nomadica, an online store where they sell gear to their fellow travelers. Specifically, they curate lightweight, durable gear that they've found to be great for traveling the world, based on their own experiences of having done so, full-time now since 2015.
"Specifically from companies committed to making a positive social and environmental impact on the world," David writes on their company website.
"Travel Well, Do No Harm." That's the companies motto.
"We spent the first four months of 2016 building Nomadica," he continues the story of their brand, which is aimed at other families traveling the world themselves. "Building the site was a blast, but the store hasn't been an overnight success by any measure. We're slowly adding new products and getting exposure, but I don't spend a lot of my energy on the store nowadays." These days, David's focus is on trading commodities and equities which, he says, "brings in the majority of our income. In this lifestyle, you either need to be employed remotely or learn to drop a few leads and put your energy toward the ones that turn a profit. Right now, that is a few private label products on Amazon–and trading stocks."
The goal, after all, was to spend less time working, more travel, more time with the family for David.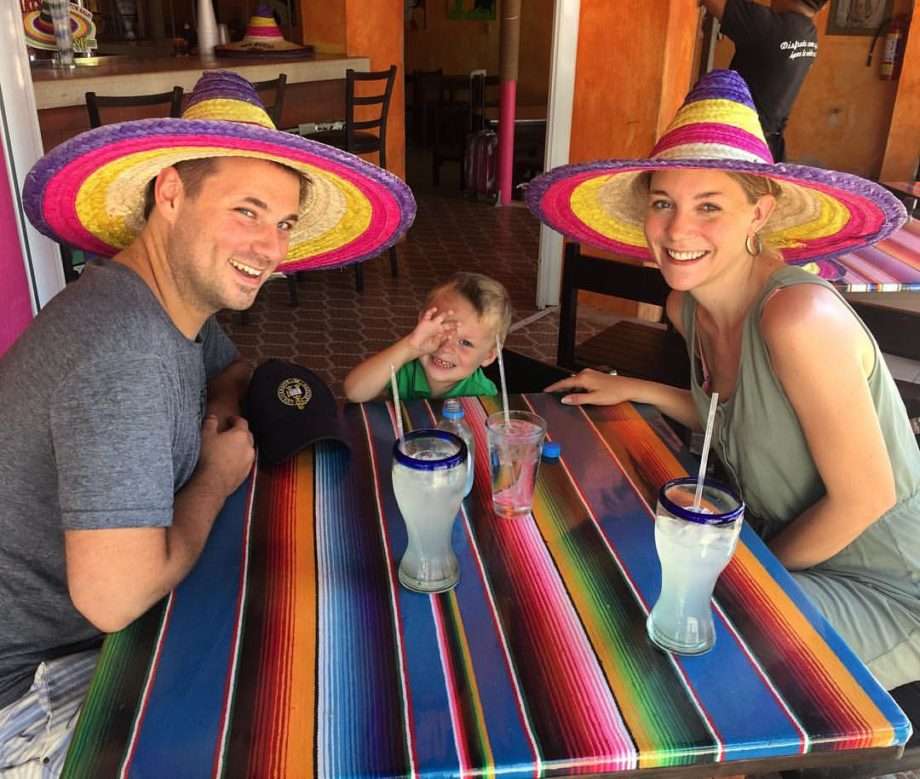 "Every morning we drop Spencer off at his guarderia," also known as daycare in English, "and either work at home or at a coffee shop until 3pm." The couple breaks for lunch, then picks up their son and, "we do whatever we want; go to the beach, check out a new restaurant, cuddle on the couch. On the weekends, we may seek out a local cenote or park for Spencer to play at. Pretty simple."
Everything in David's past seems to have been preparing him for this way of travel. Despite being shuffled around as a military child, he didn't lose his taste for adventure like many a child in that scenario does. Quite the opposite.
"I think it has something to do with one's disposition, but also first experiences with travel. I enjoyed every move and took interest in observing the differences between culture and geography. North Dakota was very isolated, while Michigan offered big city and beach life. California's Edwards Air Force base in the mohave desert was like a whole new world compared to others I lived at in the north. Life on and off of base is very different. A base is intentionally engineered to have its own ecosystem–education, fuel, food, entertainment, medical facilities, even comic shops. The density of their civic planning is impressive, but also very strange once you live as a civilian. Having this disrupted baseline of 'normal life' gave me appreciation for observing how others live life."
Even his time at Amazon contributed.
"I worked for Amazon in five locations, North Dakota, South Carolina, Washington, Luxembourg and South Africa. Amazon provided relocation assistance in each of these moves, but each move brought its own challenges. In Luxembourg, I needed to learn a bit of French and Luxembourgish. In South Africa, I had to navigate the banking system to purchase our house. Our time in Luxembourg also demanded a lot of travel." They flew over eighty times in 2012 alone.
"Working for Amazon is an education in itself. The company prides itself in hiring the industry's top talent, so you're surrounded by incredibly gifted and intelligent people. This also means that every day can be intense and demanding. Living in that environment for ten years is a gift and a curse. I'm now very process oriented, but it's taken me six months to loosen up and enjoy a slower pace of life."
While David focuses on the trading, Sarah's work is in writing fiction.
"My work is easy," she smiles, "I don't have to look for work.
"Many writers are able to freelance from the road but I'm solely writing fiction," she's speaking towards the inclination most writers have to write non-fiction, a field more easily sustainable than the one she's chosen, "so I write, submit, repeat. This is the first year I've been a full-time writer, so I'm tracking my submission volume and accept/reject rates with a view toward setting goals for next year. Once I crack some of my goal markets I'll finally woman up and work on a novel." But, she adds, "Who knows how long that could take!"
Her new career has given her a newfound freedom to pursue "prosperity, success, and upward mobility," as she puts it.
"Now that my life is no longer sucked into house, car, and lawn maintenance, bill paying and child care, I can work for myself. I define success, and I work to make it happen. Things are a lot simpler now. Our lifestyle is low cost, which means we can actually have someone watch Spencer for part of the day while I write." She admits that they didn't have a high cost of living in South Africa, either, but that simply maintaining their home and that lifestyle took up nearly all of her time.
"In the states, I'd never be able to start a fiction career. Daycare is way too expensive for one parent to prance around with creative aspirations while the other partner brings in the money. So I would have stayed at Amazon working at least 60 hours a week, and we would have earned a ton of money that went straight to housing, car, daycare, et cetera, and we would have seen our son for a couple hours a day."
David continues the notion.
"There's something about how changing your routine, trying new things, and generally stepping outside of your comfort zone actually rewires your brain and beefs up your cognitive processing. I've read about it a couple of different places. So there's that. We feel present, inquisitive, and alive in a way we never felt when we had a constant routine."
"Also," Sarah explains, "expectations. In this lifestyle, we're stronger, more prepared for adversity, and appreciate little luxuries a lot more. On the rare occasion that we stay in a hotel with a nice bed and a TV in front of it, we're over the moon. When we get to see our families and take a little 'vacation' in the home country, we're ecstatic about the simple things like drive-through coffee, and a Pho restaurant down the street. Over the last few years in our sedentary life, I'd been noticing that I felt deadened–it was hard to get excited about a weekend away, or even a trip back home, or a nice meal. It was all par for the course. We used those treats as self-medication, rather than as treats–to make up for a stressful week, or to take our minds off our jobs. Now, we don't feel deprived by any means, because our days are free, and we spend so much time together. At the same time, we really appreciate the beauty of a flight that goes smoothly, or a visa that's easy to obtain, or a pizza when we've been eating nothing but tacos for a month. By stripping our lives down to the essentials and accepting inconvenience as an everyday human experience, we've learned to be joyous again."
While the life of a traveling writer is an aspiration many a wanderer hopes to achieve–only to be met with the failure to become famous overnight–and even as Sarah has put the effort into making her own dream a reality, dealing in trading, as David does, might seem completely out of reach for anyone who hasn't spent years doing it.
"Absolutely I would recommend it," he says, "but with extreme caution. If you're interested in trading stocks, I suggest getting a mentor who can be brutally honest with you; one that can tell you when you're being illogical, greedy, letting fear take over. The market is not a friendly place and it can wipe your account out without mercy."
He goes on to explain how he made $5000 over the course of two weeks in 2015, and then proceeded to lose $6000 in a single hour.
"It's fairly easy to learn technical trading–things like support/resistance trends, fibonacci retracements, and moving averages–but the key to success is understanding the psychology of trading, developing trading rules and sticking to them. If you believe you have a good check on your emotions, then trading can be extremely rewarding. It's the only career I know of that is portable enough for nomads while offering unlimited potential profits. Also, a good trader brings in 1% of principle per week, so that might tell you if you think you could make enough to support yourself."
He explains a bit further that, on a $10k investment at 1% per week, compounded, you'd make $6,777 per year. That puts things into a bit of perspective.
What's it like for a couple where both of them are working, and yet still have a young child in the picture?
"As a parent," Sarah tells me, "you can probably relate to the 'inconvenience' aspect of having children. Things that were a breeze before, like getting out the door in the morning, are now a battle. Our son hates being messed with, so just showering him, dressing him, getting his teeth brushed and hair combed is always an ordeal.
"It's interesting in the travel lifestyle in particular, though. Your struggle to be good and sane parents ends up melding with your routine and your outlook on life, I think."
She explains how living in their home in South Africa, it was more about getting through the day. Since they've been traveling, though, everything is somewhat of an inconvenience. It's simply the nature of the beast. You no longer have everything planned out, for every day. Every step of the way is discovering what you'll do next, how you'll do it, and where exactly that will all happen.
"The hard parts of parenting don't seem so bad. It's just life. In particular, you get used to 'setting up' way more often that other families do. Every few months you're going apartment hunting, signing rental contracts, figuring out transportation, looking for grocery stores. This probably sounds like hell to a sedentary family and at first, it is. But we got used to it, and now settling in is going through the motions.
"I think we apply the same kind of patience to parenting now. We know that eventually his pants will be on right side out, and eventually he will stop crying about not being able to take his hair off.
"We have a lot more patience. Part of that's probably just getting used to being a parent; but we definitely don't feel like traveling with a toddler makes life any harder. If anything, being parents makes travel easier mentally–if he's having a tantrum, there's nothing you can do but be there for him, and wait it out. Same idea if your flight is delayed. Nothing to do but take it easy, and wait for everything to work out. And it always does."
Spencer goes to a traditional school part of the year, and they worldschool him the rest.
"To be completely honest, traditional schooling appeals to us because neither of us have the time or the inclination to teach. We both have careers that we love, and we notice that in homeschooling or world schooling families, at least one of the partners is usually devoted full-time to education. That wouldn't work for us. And though we know world schooling families and see every day how this is working out well for them, there are parts of a traditional education that we still value. From a traditional school environment, we'd want Spencer to learn the value of discipline to a schedule, of being part of a greater community and the camaraderie of his peers, and we'd want him to learn the basics like multiplication tables, reading, and writing.
"From world schooling," and for those of you who don't know, there's really no definition of worldschooling, other than perhaps the focus is more on the child learning from his surroundings, different cultures, and the every day things in life rather than a strict, set curriculum, "we want him to learn history by experiencing it, to learn to be a global citizen, to learn to think for himself and problem solve in the moment instead of dealing with watered down, hypothetical situations you sometimes get in traditional school. Full-time traditional schooling probably wouldn't work for us because we are travelers. Full-time school requires a lot of time on the ground in one place. If we could traditional school for part of the year and world school for part of the year, that would be our dream combo. After seeing families work out their education in so many different situations, we're confident that eventually we'll work out a combination that works for us."
Having spent years in the traveling lifestyle–visiting over 20 countries, living in six of them–the couple also offers free consulting advice to anyone looking to take up a life of constant motion.
"We're not pitching a professional service that guarantees you financial freedom and a dream lifestyle. We simply ask families the tough questions to make sure they know what they're signing up for. Validate some of the benefits they believe may come from a life on the road, and provide a bunch of resources that help them hit the ground running. Ultimately, we're happy to make the connection and if they really find the chat helpful then they can leave us a tip."
They also write a bit about their travels on their blog, but not the typical, "Go here, stay there, eat this, do that" type of blogging.
"We knew when we started out that we weren't interested in the typical travel blog–pictures of food, destination recommendations, et cetera. For one, there are already a ton of great blogs out there doing this really well. They have loads of great advice. Writing these kinds of articles doesn't interest us as much. We write a post when we're really thinking about something, when it's caroming around in our brains and we can't get rid of it. That's when we want to share. Sometimes, that insistent idea is controversial, or political. Other times, it's about realizing how grief is a huge part of travel. We write when we feel we have new enlightenments gleaned from travel, and we reach out to see if they strike others the same way."
They certainly don't always skirt the subject, either.
"If we've made someone angry, we consider the article a success. Of course, we try not to make controversial posts too often and are not out to piss people off! But one of the biggest benefits of this lifestyle is the experience of having the veil lifted from your eyes–you really see how things are done in other parts of the world, and your worldview completely changes. It makes you want to shake your home country and say, 'Look! It doesn't have to be like this!'
"So generally, any disagreements are respectfully voiced, and we appreciate the opportunity for a thoughtful discussion. But as writers, we know we're doing something wrong if we don't occasionally make someone angry. If you're angry, you're feeling the feels and thinking about them. That's the point."