Traveling in Search of
the Real Mexico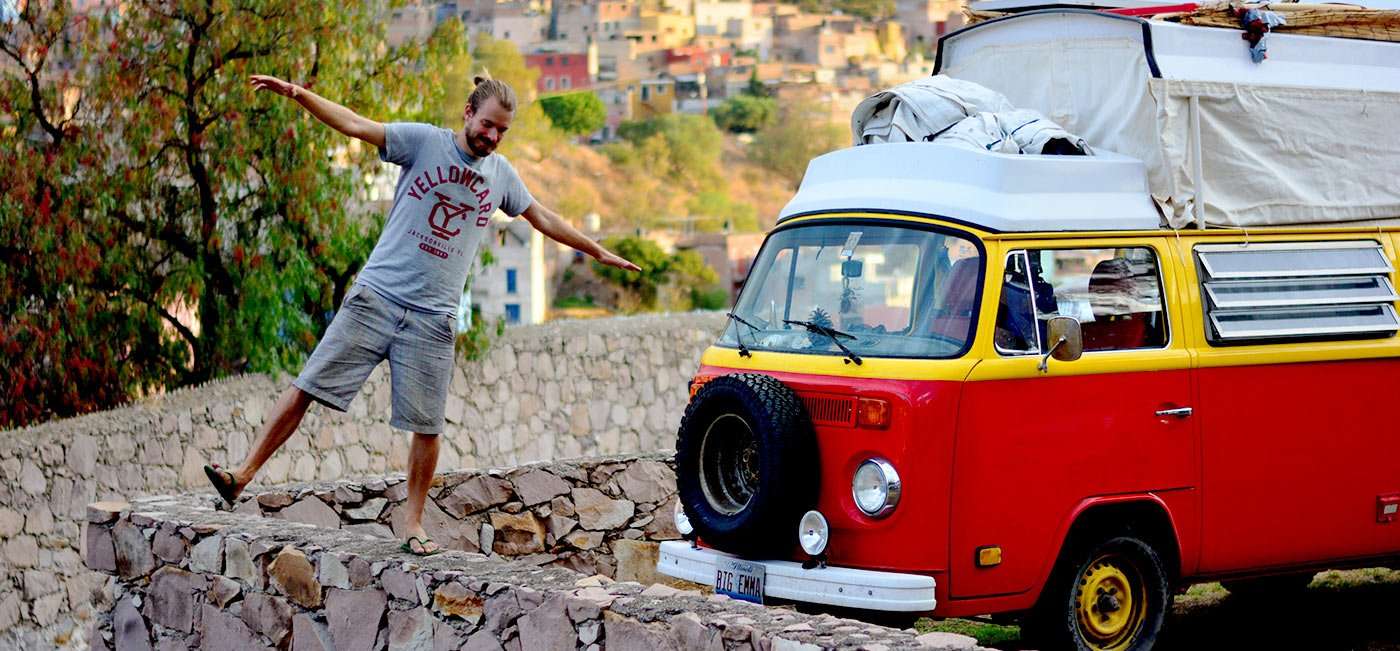 What will it be like? Will it be harder to travel there than in the States? Will it be more dangerous? These questions ran through my head when we were preparing to travel through Mexico.
At this point, we had been on the road in our VW bus for nine months already. We had spent the summer exploring the remote and icy wilderness of Alaska, had broken down many times along the way, and had traversed much of Western Canada and the continental United States.
But here we were, ready to take the leap into Latin America, and we felt like students on the first day of class. I tried to picture camping, driving, simply being in Mexico – but to no avail. For my imagination, the southern border of the US was an impenetrable wall, a right-wing Republican's wet dream. No matter how hard I tried, I just couldn't imagine what it would be like living in a car in Mexico.
That doesn't mean I didn't "know" anything about Mexico.
I had read things. Wikipedia. Mexico has almost 120 million inhabitants, its name comes from the native name for the heartland of the Aztec Empire, and the United Nations classify the country's development index as high. 
I had heard things. Rumors. Well-meant warnings. I should be careful. A lot of bad hombres are supposed to live there. It's a war zone down there, I should do my best to dodge the bullets that narcos, police, and military were sending at each other.
I was confronted, again and again, with sheer disbelief. "Wait, you're not really going to Mexico, right?"
Yes, I'm Really Going to Mexico
Now I'm sitting on a plastic stool on a dirty sidewalk somewhere in Guadalajara. The tastes of lime, grilled beef, parsley, and onions combine in my mouth as I bite into a taco that I bought at the street stall to my left. It's long after dark and Emma and I, along with our traveler friends Tim and Liz, have decided to get dinner. We walked about five blocks here, past closed stores with their gates battered down. Past open doors with loud music blaring out them, past old ladies watching quietly and teenagers riding noisy scooters along the streets.
"Be careful walking, especially at night. Better to always be in a car."
The street is dark except for the light of the food cart. The wind blows trash past us as we eat.
"Always conceal your valuables and never use your phone in public."
The guacamole has soaked the tortilla and it has ripped.
"Don't trust the police in Mexico, they are corrupt. Don't trust taxi drivers in Mexico, they will kidnap you for ransom. Don't stop for broken down vehicles on the roadside, they might be banditos waiting to rob and kill you."
I scoop up the taco's spilled contents with another tortilla on my plate. I roll up the tortilla as best as I can, sprinkle some more Valentina hot sauce on it, then bite into it.
Regular People Living Regular Lives
The Mexico that we have seen so far is anything but a war zone. It's lively and colorful. It's chaotic and incredibly friendly. The overwhelming majority of Mexicans (everybody, actually, for all we can tell from personal experience) are not drug gangsters or murderers, but very ordinary people. They live regular lives, loving their spouses and families, going to work; not really any different in habits and daily routines from a life in the United States or Canada. 
Writing this past sentence, I feel like I'm stating something ridiculously obvious. But then, apparently, it isn't obvious to all those who warned us about venturing into the wild lands south of the border. More importantly, it wasn't obvious to me, either.
Before starting our Mexican adventure, I couldn't imagine what Mexico would be like. How people would be and what our daily life would look like. Looking back, I almost feel bad to disappoint my former self by answering all these questions with "well, pretty normal".
Baja is Mexico Light
Our Mexican adventure began in Baja California. Being just the (almost literal) throw of a Stone IPA can away from LA and San Diego, the peninsula is a favorite getaway location for Americans. Knowledge of Spanish is only marginally required, US chain stores and products are widely available even in smaller towns. Outside of them, Baja is a camper's paradise. Miles and miles of empty coastline with no man-made structure in sight. Beautiful beaches with palapa-shaded camp spots bordering shallow turquoise waters.
Baja is popular with the gringos for good reason. But their overwhelming presence wherever we turned left a stale taste on my tongue. In a way, Baja feels like an adventure playground for Americans. A place that seems wild and foreign, but that is behind the scenes controlled and secured so that nothing bad can happen. Mexico light.
For us, Baja was an easy way to transition into Latin American culture. We were in Mexico, but the remnants of Gringolandia were always within reach. We met many other travelers – none of them Mexican – and spent wonderful days on the beach, going paddle boarding during the day and drinking beers at the bonfire in the evening. But soon this theme park feeling crawled up on us. Shouldn't we meet more Mexicans than just the tamale vendor on the beach or the guy at the gas station? Was this the Mexico we came to explore? In search for this "real" Mexico, we turned our eyes to the east, across the Sea of Cortez, to the mainland of Mexico. Here, we were told, the culture was supposed to be much more "Mexican", the gringos less common, and everything in general much more intense.
Setting sail in La Paz and transitioning over to the mainland bared surprising similarities to crossing the border from the US into Mexico. In the days leading up to the ferry ride, I felt a tension rising in me, a tension rooted in the fact that I didn't know – and couldn't imagine – what I could expect on the other side.
This must be what the explorers of past centuries felt like when they sailed into areas marked with dragons and krakens on the map. Except that, while the Magellans and Drakes of world history actually ventured into rarely known territory, I was going to a place I could look up on Google and TripAdvisor and 56 other places on the Internet. But no matter how far in I zoomed in on a place on Google Maps, and no matter how realistic their three-dimensional satellite model of Mexico might get, looking at these images on my laptop screen was still a little bit like looking at a 16th-century map with dragons on it.
To New Shores
I woke up on the ferry's metal floor, between two rows of visually appealing, but incredibly uncomfortable sofa chairs. My hoody, which I had used as a pillow, had a large wet spot of saliva where my mouth had been. Yum. Something in the monotonous vibration of the engine had changed and my mind had decided it was time to stop drooling and drift back into consciousness instead. I sat up and looked around.
My travel mates were still sleeping. Emma was curled up under the bench across from me, our Russian friends had stretched out in the corner behind the last sofa row. Rubbing the sleep out of my eyes, I walked out into the hallway and onto the deck. The morning air blew fresh and cold into my face, but there was a hint of humidity in the wind. Yes, this was a different place than the dry desert we left behind yesterday evening. In the distance, faded mountains had appeared out of the gray mist, separating sky from sea. My first glimpse of mainland Mexico. 
Again I felt this tension in me. What would it be like driving off the ferry in the city of Mazatlán, how would this new shore treat us? Was it more dangerous than Baja, as everybody had told us? Sinaloa, the state that Mazatlán is located in, is known for its cartel violence. There's even a cartel called the Sinaloa cartel. The more I tried to imagine life on the mainland, and the larger and closer the rocky shore of Sinaloa grew, the tighter the knot in my stomach seemed to get.
Deeper Down the Rabbit Hole
Two weeks later, I had learned that, again, my irrational fear of the unknown had been just that, irrational. Mazatlán had been – if anything – uneventful. We had spent the night at an Airbnb place and then moved on into the state of Nayarit that surprised us with lush green fields and mangrove-lined rivers. We had explored the coastal vacation city of Puerto Vallarta and had decided that its tourist-saturated waterfront walkways and overflowing shopping malls weren't for us.
By then, we had gotten used to being on the mainland. It's true, the culture here is much thicker, Mexico feels much more "real" than on Baja. We had left the sandbox and slide of the adventure playground behind and had stepped out into the real world. Here, the population was denser, and both the chilies and the colors seemed stronger.
The typical ant-hive chaos of Latino culture, where all actions seem random but still everything works out, was much more visible. Traffic intensified, and camp spots were often either paid or urban boondocking on a residential street. The variety of street food and fruits at local markets exploded, while their prices imploded. We started meeting and befriending many more Mexicans than before on Baja. Finally, we felt like we had reached Mexico.
Time for a Break (In)
Somewhere in Puerto Vallarta, I had managed to upset my stomach for the first time on the trip. Because of my frequent and sudden need for a bathroom, and because after almost a year on the road we had grown tired of constantly moving from place to place, we decided to take a break from traveling. We chose Guadalajara, Mexico's second-largest city, as our stopping point. Instead of renting or otherwise paying for a place, we applied to volunteer at hostels and soon scored jobs at a guest house in the city.
From then on, I divided my time between two main activities: In the mornings and evenings, I did my hours of cleaning work at the guest house. During the day, I studied the ceiling of my bunk bed, morally supporting my body in fighting off whatever bug had decided to settle in my stomach.

Since our travels through Mexico had been nothing but free of troubles up to this point, it seemed like now had come the time to throw a few rocks in our path. Only days after the stomach bug had finally given up harassing me, other bacteria rushed in to take its place to continue the sickness with a badass cold. While before my unpredictable toilet schedule had been keeping me from exploring the city, now the fever kept me confined to my bed. And then, one night, Emma shook me awake and said with a fatal graveness in her voice: "The bus is open. Somebody broke in."
Fuck.
Since the hostel didn't have a garage, we had parked the bus on the street in front of the house. A quiet neighborhood, we had been told many times. Nothing has happened here in years, our host had said. Well, it seemed a colorful VW bus with American plates was enough of a temptation to draw the thieves out of their yearslong hibernation. Going through our belongings, we found our propane tank missing, as well as most of my shoes (I live in flip-flops now), and most painfully: our toolbox.
Every screwdriver, adjustable wrench, Vice-Grip, and tube of anti-seize paste we had was gone. While I could treat my sickness with prescription antibiotics from the unofficial pharmacy around the corner, everything I needed to heal Big Emma's small and big aches was now missing.
Bad Hombres, or Just Regular Dudes?
It seems that with the "real" Mexico come its downsides as well. Being foreigners from a country that is the definition of wealth for many Mexicans, we are a primary target for robbery and break-ins. We knew that before we went, and we had accepted the risk. But having it actually happen still surprised and enraged us. It's like asking your buddy in primary school to punch you in the stomach to see how it feels. You know it's going to happen, but after the punch, you still gasp for air.
My sickness went away after a few more days of rest. New tools were purchased at the street market for a fraction of the price of what the old ones had cost. We don't have the variety of tools that we did, and the new tools live in a plastic bag instead of a fancy box, but it's a start. We ramped up our security in the bus and installed additional latches and locks.
But what did this episode teach us about Mexico, if anything? Were they right when they warned us about coming here, is this country full of bad hombres? Or could this have occurred anywhere? Maybe a little bit of both. Our car and license plate makes us a prime target for break-ins, that is for sure. And maybe the risk of getting our car broken into is higher here than it is back home. But the help and friendship we have received from so many people in this country easily outweigh the few bad moments.
It's easy to remember the sad stories, the horror tales of people killed in their vans and others held hostage for weeks. But these are isolated incidents, engraved into our conscience and eventually perceived as the norm. The bad stuff that might actually happen to you is much less spectacular. In my case, you end up with diarrhea and no shoes.
Mexico has turned out to be more than beautiful. Its people are friendly and welcoming, its tastes and colors are phenomenal, and its deep-rooted cultural diversity is hard to beat. Sure, there are ups and downs, but if the worst that happens to me here is an upset stomach and a few missing things, then I can hardly complain. Mexico is among the most fascinating countries I have ever visited. Life (and vanlife) here is different than back in the States, but it's no less livable.