Tucumcari, New Mexico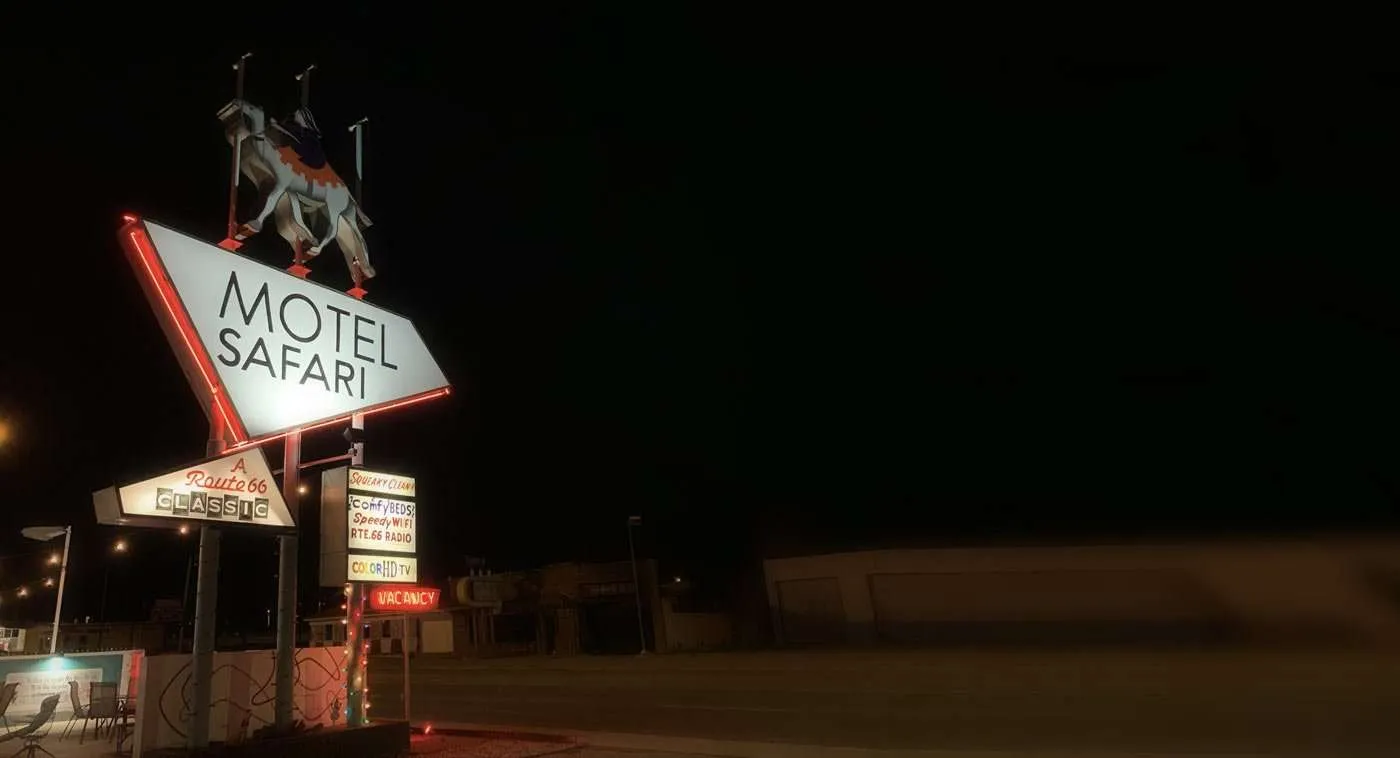 "Hello?" I answer, my phone ringing through the thin slices of cell service available here as I traverse New Mexico, headed west on US-54 toward Tucumcari, New Mexico.
"Yes," comes the man's voice over the air, a little squeaky and with just a hint of Southern drawl left in his prepositions. "This is the Motel Safari here in Tucumcari."
"How's it going?" I reply, the setting sun a few fingers above the horizon still burning away the majority of my vision as I try and keep it on the road.
"You left a message about staying for the night?" he inquires.
"I did," I confirm.
"I was just wondering what time you planned to arrive."
"Probably just before five thirty, based on the miles I'm seeing here."
"Oh, okay," he says, somewhat reluctantly. "Well I was going to step out for about an hour, but if you'll be here that soon…"
"Yeah, should be another hour or so at most. So see you then?"
"Well," he lingers between syllables, "I was going to step out. Are you coming from the east or west?"
"I'm headed west," I assure him.
"Then you know about the time change?" he reminds me. I had forgotten.
"I just have this Christmas thing to attend," he states. "I should be back by 7."
I wonder if it's my brother on the other line, it feels like I'm making plans to meet up with him to go out drinking when he doesn't really feel like it.
"I wasn't even going to open tonight," the man on the other end reveals, "but, I will since you're coming."
"I'm coming, I can be there in an hour or I can go get sinner and meet you whenever."
We decide that sooner is better and he hangs up the phone on a cheerful note.
I haven't been to Tucumcari in years, and don't firmly recall ever being here, but as I pull into town it all comes back to me. It must have been one of the primary influences on the Pixar movie Cars, a stretch of highway, now labeled Historic Route 66, the original Mother Road having been decommissioned years ago, a testament to the lack of nostalgia our governing bodies hold for Americana in general.
The town has seen better days. Neon signs fail to grow, gas stations dilapidate, long abandoned as Interstate 40 persuades traffic crossing this stretch of the Land of Enchantment to keep on moving, nothing to see here.
The Motel Safari, however, is still very much in tact, and looking as good as she must have when Chuck Berry drove through in the 50s. I leave my jalopy parked beneath the carport next to the office and am greeted inside by the man from the phone, a decade my senior as he approaches his fifth decade on this planet.
"Hope I'm not making you miss your party," I greet him.
"No, no," he assures me, "that's why I hesitate to make those calls. Don't want to scare you away. The customer always comes first."
"As the owner/operator," he reveals, "I have to be here if you are."
He hands me a key, a real piece of metal with a green plastic diamond stating my room number hanging from it, not a plastic card like most hotels use these days.
"I'll show you your room," he leads me out of the office and across the parking lot. I'm sure I could have found it on my own, but follow him as the wind picks up and he puts his hand to his head to hold his combover in place. "I left Tennessee to escape the humidity," he says, "only to move here and get the wind."
As we reach my motel room door, he explains to me how keys work, opens the door and proceeds to then explain the concept of television, lights and air conditioning. "Well," he hands me the key, "I'm off! I'll be back in an hour or two. Here's my cell if you need to reach me." I assure him that I'm not used to such service and rarely need much of anything.
I walk the Main Street of town. Only one restaurant is open on a Sunday night, the Pow Wow Restaurant and Lizard Lounge. I'm greeted by a man I assume is the owner. "What can i do for you?" he asks.
"Just looking for dinner," which I thought would be obvious.
He seats me in a booth with almost realistic paintings of people enjoying root beer and iced tea painted on the adjoining wall. "Do you want to hear the specials?" he rattles off a few items before finishing with, "and we've got chicken fried steak. But we bake ours, we don't fry it." I don't know all that much about chicken fried steak, but I laugh at the idea of leaving out the "fried" part.
A football game is on television, and though Arizona is closer and playing at the moment as well, this one features the Texans. A few other patrons come and go, they seem like locals by their work shirts and rich tans, and the fact that I haven't seen another out of state plate in town despite signs everywhere boasting Tucumcari's 2000 motel rooms, x number of restaurants and so on. They're vintage-looking signs, so maybe it's a vestige.
Heading home, evening's black sky now fully in bloom, a few other motel signs flicker, their neon replaced. They stand like soar thumbs on a street lined with leprosy-ridden fingers, but I can now clearly recall my last visit to Tucumcari, and the improvements the town has made since begin to shine brighter than all the neon combined. New Mexico in general is a bit downtrodden, never quite capturing the tourism dollars of its neighbors like Colorado and Arizona, a drab colored desert with sparsely populated towns, low incomes and the type of cheap rent that encourages one to replace a broken window with a piece of cardboard. Litter lines every rest stop, clogs up the rivers, colors the towns' streets. But Tucumcari has attracted some folks, it would seem, the type who want to restore a vintage motel and dream of a Main Street where people come from states around to see. Not a possible break from the Interstate, a destination unto itself. With a little more work, I think to myself, they'll have done it.
Back at the Motel Safari, smoking a cigarette in my car outside of the room, I watch the owner/operator walk around the place, just after 9pm. He enters various rooms and turns out the lights. I suppose he had them on to convince any passersby that other people are, in fact, staying there, and they may want to as well. I imagine his days, spent from sun up to well after sundown here at the motel, a one man manager, housecleaning unit and maintenance department. I wonder what the mortgage on a place like this would be, in a town like Tucumcari. If a guy from Tennessee was willing to move to the middle of nowhere New Mexico, toss a couple years' worth of savings into a downpayment, and largely live the rest of his life at the motel, he could be fairly successful. He could go from being a small fish in Nashville or Knoxville or wherever he hails from, to an entrepreneur, a business owner in the American Southwest.
I fall asleep to the sound of nothing, no late night arrivals, no rigs coming through looking for a break from the big chain gas stations a mile or two away on I-40. Just me and my air conditioner, drowning out Tucumcari, my thoughts and The Office reruns as I fall asleep.