Vanlife Roadtrip Through Arkansas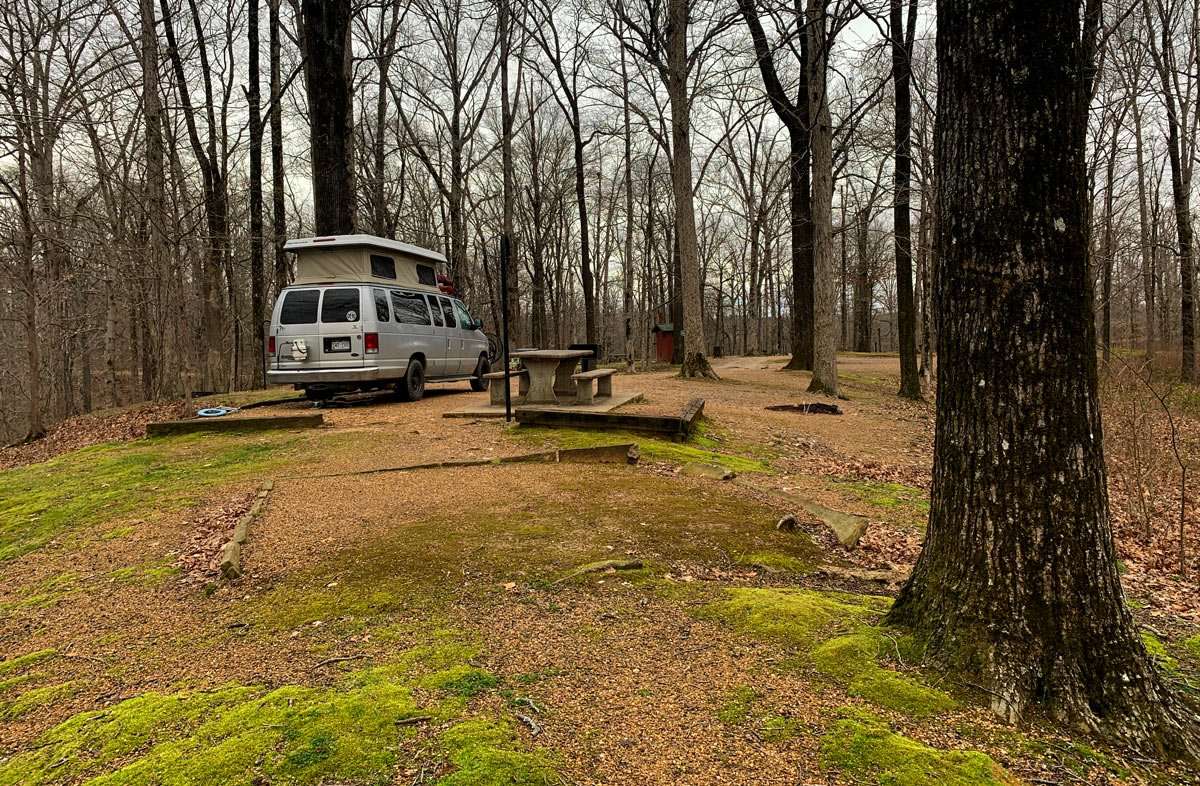 Running from tornados wasn't part of the original plan on how we'd enter Arkansas.
At some point in Mississippi, though, both aunts and uncles and more official tornado warnings alike were informing us, too constantly for my liking, that multiple twisters were spinning across the American South.
"Fierce storms coming out of the Delta area," a sports talk channel host said, "We hope you'll forgive us for changing the subject material here. But…" I don't know what he actually said, but I heard, "There is no other talk radio around. We're under attack by nature. We'll keep you updated, and talk about football contracts later."
He did, however, continually mention that the "Mississippi Delta Region" was where these tornados were originating. I imagined the Mississippi Delta Region to be right near the Gulf Coast. It wasn't. Still, we drove into and through the heart of the whole debacle, only to arrive in St. Francis National Forest, West Helena, right in the Delta of Arkansas.
The endeavor was, perhaps–with three kids in tow and an adventurously hasty choice in direction–not advisable but it did result in much family bonding and statements like, "Son, do you think I would ever purposely take you somewhere that was dangerous?"
Needless to type that, yes, we survived, and Arkansas greeted us well.
St. Francis National Forest
Our goal was to hit up Storm Creek Lake Campground. Now, I don't particularly go for places that have two bodies of water in their names, like, "Atlantic River" or "Bath Water" but I was willing to make an exception in this instance, given that we had only moments beforehand thought that multiple tornados were converging on our van. I can't imagine what a poptop would do in such a situation.
So, we rolled up and into the small town of West Helena, and had it not been this particular year, we may have stopped and admired the random dotted shops that went freckles on an otherwise peculiar little town. Instead, we found our way to the state park. A massive pavilion, even as it continued to drizzle, looked appealing. Maybe we could just camp there and say we were Mississippi tornado refugees?
A sign posted large and in full view at the beginning of the lotstates otherwise.
No Camping.
Still, we knew there was a campground up the road, thanks to the Internet.
A short while — but a baby's screaming worth of short while — later we pulled up to a forklift holding two long logs across the entrance to the campground. It was either under construction or the bad weather had finally brought about Armageddon. Either way, we couldn't camp there, either.
We had held it together through the tornado warnings, we were fine when we realized we'd accidentally driven through the heart of it, and even the additional couple of hours none of us had expected to be added to the day had been tolerated. But now, the campground closed, the Internet having lied to us–or at least not told the whole truth–we were more or less jumping beans on a griddle.
The only option was to head further north–despite the growing tension in our van full of kids, a now unhappy mother, her tired and hungry baby, and the guy behind the wheel who felt responsible–and so we did just that.
St. Francis Scenic Byway
They just don't pave roads like this anymore.
This is a blacktop smooth road so easy you could skateboard on it and never feel a vibration. It winds through the forest like young love strings fingers through a lover's hair. It is slow going, something born and bred for a motorcycle, or 150cc scooter. The forest abounds with reasons to go panoramic with your neck. Trails and places to pull off just to listen to the birds are abundant.
It may be the most beautiful road in Arkansas. It's certainly the best we came across.
And at the end of this rainbow?
Mississippi River State Park
Perhaps it was the lucky fact that we had the entire place to ourselves. Maybe it was that the park's campground had no host, no visitors center or check-in station, but this little campground perched cliffside above a beautiful lake felt as close to nature as we'd ever been in the Eastern United States.
Tall oaks dominated the landscape. Sites were few but not necessarily all that far between, but when you're the only one camping on a March evening, that doesn't much matter. I took a walk and poked in and around each campsite, some perfectly languishing on the edges of the cliffs, looking down over flirting geese or a lone great blue heron out for a low rise skim of a flight across the water's surface.
The campground goes by the name of Lone Pine, though I dare you to find that solitary conifer.
Otherwise, it was a picnic table and fire ring's worth of $13 / night. No hookups. All nature.
Should you not be as inclined toward dry camping, though, Mississippi River State Park's Beech Point Campground offers electric and water hookups. Both campgrounds are home to some decent-sized beech trees as well (hence the hookup campground's name.) Beech trees are currently undergoing a blight–which more or less means mass extinction–and so catching some that still have their girth and age is a rare and rarer experience, which can still be had here.
In the morning, the visitors center well on down the road provided a great exhibit room for homeschooling or just plain old adult learning about the area's history. Better than your average state park gift store, no doubt.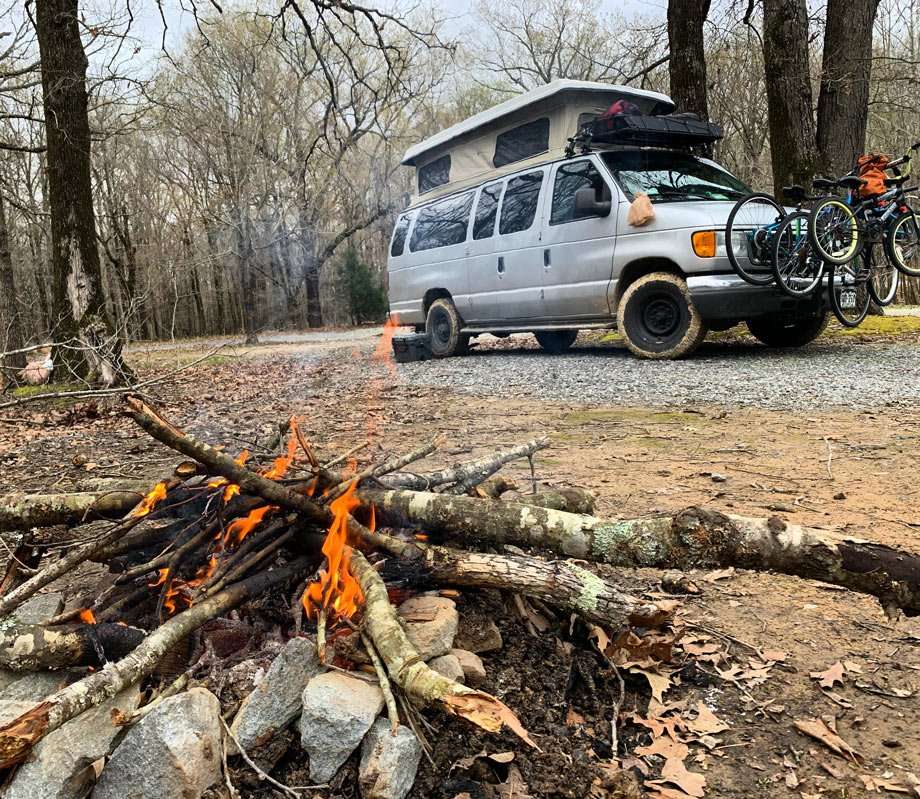 Skateboarding Little Rock, Arkansas
Knowing next to nothing about Little Rock, aside from its association with a former president and its having featured in a Hayes Carl song, where he swore he was going there whether anyone else decided to or not, we set our sites on this little town.
Turns out, it's a huge city.
The single largest highlight of the place, for us, in the years 2020 and 2021, was the skatepark. Turns out there are two of them.
We strode into Riverview Skatepark as soon as we arrived in town. Pointless roundabouts through new developments, a stadium of some sort and riverfront banks that would have served well as their own skatepark in decades past led the way. When we arrived, the skatepark was full of kids kicking wood all between their feet. Some were quite good, others were just getting started, but fervently trying.
"You must be the coolest dad in Arkansas," a 19 year old or so said to me, and I don't mind mentioning it boastingly. "Will you be my dad?"
I know, it sounds cheesy. But he could do tricks no other kids were doing at that moment, and he did in fact say it.
"Sorry," I tried to play it cool, "I've got too many as it is." I pushed away and soon the boys and I were conquering the park as best we could. The flow if it, the street section, the bowl gone miniature snake run. The whole place comes together, it's clean, and local 20 and 30-something skaters take care of patching up the park when it needs it.
On the second day, my crew and I feeling firm in how the flow of this park might best be thrashed, we were greeted by a slew of BMX kids. Mostly 20-somethings. The park signage clearly says "No Bikes." They were doing bar spins and 180s, dropping into the bowl, flying back out of it. They clapped when my kids would try and carve the bowl. I got a "Yeahhh…!" when I finally landed a pop shuvit I'd been after all morning.
An old dude, younger than my own 42 years but old in his insistence on everyone following the rules, came by with some cement and bitched at the bike kids. A young kid, maybe 10, showed up and wanted so desperately to hang with my boys, who were too shy to do so. He could drop in on big kickers that even I was sketched just standing over. Still, he befriended them through me, and soon we were all having fun–him pushing them a bit further, asking me how to ollie higher–the experience was surreal and maybe the closest thing I've had to being a kid on a skateboard since the 1900s.
He told us about another park, Kanis, and we met up with him the next day. Kanis Skatepark is all about big, fast flows around a park that dwarfs the Riverfront offering. I preferred Riverfront better, but there's a DIY aspect to Kanis and a ton of options there as well. That Little Rock has two skateparks is amazing, considering 20 years ago the sport was largely illegal.
As we left town, Hot Springs our next destination, another skatepark popped up in Benton, Arkansas. Tyndall Skatepark was all metal ramps, set up on a big parking lot that may have been destined for a tennis court or parking lot at one point. We showed up to no other skaters on a weekday morning.
Within a few minutes, a teenage kid showed up. He was doing outward pop shuvits. I was doing nollie varials. Neither of us could do the other guy's trick. We talked about how funny it is how one person could so something another one couldn't, no matter how similar the trick. He left and soon a kid, maybe 12 years old, was dropping into one quarter pipe after another. The low one, the medium one, and then the high. Then he dropped into the 9′ halfpipe.
He saw me do an ollie. He could drop in on all of these ramps, ramps I was afraid to drop in on, but he was interested in the ollie. I'm 42. He was 12. We skated for an hour like there was no age difference. He dared me, politely but affirmatively, to drop in on higher and higher ramps. I shit you not, soon I was riding that halfpipe with other 14, 15 year old kids — who'd brought razor scooters to the fold — cheering at my valiant efforts to move a piece of rolling wood up and down vertical surfaces.
I didn't catch that kids name, but he was one of the biggest inspirations I've had in the sport of skateboard in, like, forever. At least my adult life of trying this oddly dangerous and satisfying pursuit of the arts.
Hot Springs National Park
I'll be blunt: Hot Springs was, to me, a total bust. First of all, it was the pandemic, and though I never even bothered to ask if the hot springs themselves were open, I had no interest in sitting around half naked with a bunch of potential superspreaders in the Deep South. They have it hard enough down there as it is, without me sneezing them all into a ventilator.
Then again, I have no interest in hot springs in general. But the fact that they're stuffed into bath houses–historic or not–instead of with sweeping views of, oh I don't know, the Sierra Nevadas made them all the less desirable. Instead, we drove the scenic loop, walked a 2 mile trail around the top of the mountain where another attraction — a fire tower you can pay to ride an elevator to the top of — lured us in, and then left the park after some pickup truck waxing dudes kept crowding me out as I was trying to checkout from the gift shop.
Hot Springs National Park Photo Gallery
All in all, Hot Springs National Park is about equivalent to the big, forested hill behind my Grandma's house. Sure, it's pretty for the east, but I'd like to see them be a bit more reluctant to use the national park designation on what is essentially a mediocre town. Even from the fire lookout, which we did not pay to ascend, your view is just of the strip mall portions of the town of Hot Springs.
Which, itself, is basically a run down string of liquor stores, abandoned buildings, a few mediocre restaurants and a massive horse racing track absurdly too large for its setting. That you can't buy alcohol on a Sunday — at all, nowhere, no way, no how in all of the state — made it all a bit less bearable to suffer the let down. The term "national park" sets an expectation, and neither the town nor the park itself lived up to it.
We did camp out in a decent little KOA though, opting for one of their cabins, which was a nice experience. In times when it might not be as dangerous to walk the old town streets and sit in a restaurant, that may prove to increase our amicability toward the place, but I highly doubt we'll bother to return at all.
Fort Smith
This last town on the border of Oklahoma was everything we were looking for in small town, Arkansas. Murals covered brick buildings and, even with modern cars driving the streets and cell phone signal pouring all invisibly through the air, the place had an air of old time wild west, even here in Arkansas so far from what we consider the Western United States today.
One of the best skateparks we've ever been to, smooth and with quarter pipes, ramps and other features for all skill levels — not to mention a bike park with multiple pump tracks — sat on the river. The locals pronounce this river just as they do their state, but in Kansas and Colorado, we say "Our Kansas" when referring to the river. Fun fact.
Fort Smith, AR Photo Gallery
Camping in Forth Smith is best done at Army Corp of Engineer sites, in our opinion. There is free camping at River Ridge, 45 minutes outside of town, but Springhill Park is under 20 minutes for only $10 / night.
Ouachita National Forest
Originally, we'd hoped to explore both the Ouachita (Wash – eat – ah) and Ozark National Forests. When self-imposed time constraints made it clear that wasn't happening (and spring temperatures in Oklahoma, inevitably on our way out of Arkansas, were already discussing numbers in the 80°+ range) we decided to just do as thorough a job as we could in Ouachita and leave the Ozarks for some future date.
To say the Ouachita National Forest was a disappointment might be true, but it's also a fine place. As forests go, it's hardwood and heavily populated with small villages galore. Cell service is practically non-existent, and opportunities to get deep in the woods don't exactly come up short.
For those who enjoy waterborne pursuits, opportunities abound.
Camping in Ouachita National Forest Photo Gallery
You can camp in relative luxury here, private campgrounds are more prevalent than gas station, but for us it's all about trying to be within the national forest itself, whether that be boondocking for free, using various official national forest campgrounds or diving into a state park or Army Corp of Engineer campground.
As to the latter two options, it's a toss up.
Army Corp of Engineer sites are in some ways like an RV park and in others like a recreation area you might find just outside of a national park or forest. The sites are usually quite spacious, with some amount of hookups — mileage varies — and conveniences like bathrooms, showers and trash. You're always on a lake — or more accurately, a reservoir created by a dam that the Corp of Engineers built. They then seem to love to add a campground, and bam, there you have it.
However, though more spacious the sites may be than an RV park, and cheaper no doubt, privacy is not always included. And they pack up fast, from early spring weekends, all the week long during the summer months, and well into Autumn, these sites are not only typically fully booked, but you also have to reserve them.
State parks in Arkansas, in general, are the same way. Reserve ahead, and well ahead (a week or so may not even be enough time if you plan to camp on the weekends) if you want to guarantee a site.
This isn't, however, an Arkansas problem. For the last decade, reservations on public lands with even the most modest of amenities have more and more turned to the reservation system.
All that said, some shining examples of Army Corp of Engineering campgrounds in Ouachita are Tompkins Bend, Denby Point, and Twin Creek, all on Lake Ouachita herself (which is actually a reservoir widening Ouachita River's South Fork.) Occassionally, the COE offers free camping as well, such as at Cedar Fourche and Irons Fork.
Though state parks can be found all around the outside of the national forest, only Lake Ouachita State Park and Queen Wilhelmina State Park are actually "in" the national forest, and both have a less than ideal camping setup, more like an RV park where you're hookups-to-awning with your neighbor. Given that neither have full hookups, and with the other options in the forest, it's hard to fathom why one might pay the $30+ nightly fee to stay at either.
When it comes to the actual national forest campgrounds, results vary widely but a few gems certainly exist.
At Shady Lake Campground you might be able to score a riverfront spot, but the accompanying nature trail, hiking trails and even flushing toilets round it out as a great family camping experience.
Free, dispersed camping is allowed, as the National Forest website puts it, "almost anywhere in the Ouachita National Forest." This type of camping, while free, does require you to be a steward of the land and understand why it's important to leave no trace.
There's even a rare, full-hookups campground run by the national forest, Sylvia Lake, though of the 15 sites only two have sewer hookups as well, but all but one of the rest have at least water and electric. Decently spaced sites all around as well.
And the bonus spot, Blue Hole (think water, and sizable spaces.)
In general, even in the minuscule towns peppered throughout the forest, expect no cell service.
All in all, though, Arkansas is ranking high on our list of Southeastern states, especially when you're getting away from the coast. Enjoy!