Finding the Sun
"Facebook?" Says our driver suddenly.
We're in a truck on the south-west coast of Turkey, whizzing away from the edge of the war in Syria and towards the west. We're leaving ancient Armenia, leaving Kurdistan, and entering land that once belonged to Ancient Greece, Ancient Rome, and the Lycians – among many others.
The road wriggles round the edges of the land, following every crease and wrinkle. The sun has just popped out from the clouds, and for the first time, I feel like we're on holiday.
Our truck driver has already offered us food, tea, coffee, and cola, as well as giving us fruit and water. He seems very desperate to be a good host.
"Sorry," I tell him, "I don't use Facebook." He looks disappointed. "Whatsapp?" I ask, but he shakes his head and points to his phone. He doesn't have whatsapp.
"Facebook?" he asks again, seemingly unable to believe there is anyone left in the world without it.
"No, only Whatsapp," I say again.
He fiddles with his phone and I realise he's downloading Whatsapp to add me as a contact. In the past I've had issues with truck drivers continually harassing me. I begin to feel a little nervous. He hands me his phone, Whatsapp freshly installed. I try to find a way to add myself as a contact, but can't quite work it out. "Sorry," I say, handing it back.
"Call mum, call dad, call friends?" He says. I realise my mistake. He's offering me use of his phone, not asking for my contact details. We realise the misunderstanding and laugh together. "Nooo!" he says, "Call mum, call dad, call friends!"
It's then that I notice a very tiny Kurdish flag symbol on the far right of the windscreen. Of course, he's Kurdish.

 It's getting dark by the time we pass the mess of roads around the mingling cities of Osmaniye, Ceyhan, Adana, Tarsus and Mersin, arriving on the coastal road at last. We've decided to stop somewhere on the way to Antalya, to break an otherwise all night journey into two days.
We get a lift with a kind 40 year old man and his son. We're scanning the beaches and edges of the towns we pass, looking for a possible camping space.
He must have seen me looking, because he asks where we'll be staying tonight. I try to explain our situation, but communication is a mess. My brain is completely frazzled. He's asking a question, but I've no idea what it is.
We arrive in Erdemli, our driver's destination. Now he explains his proposal very clearly in simple Turkish: "Do you want a place very safe and good for a tent?"
"Yes!"
He drives us to a park at the edge of town that runs down to the beach. He flourishes towards it – "Here you go!"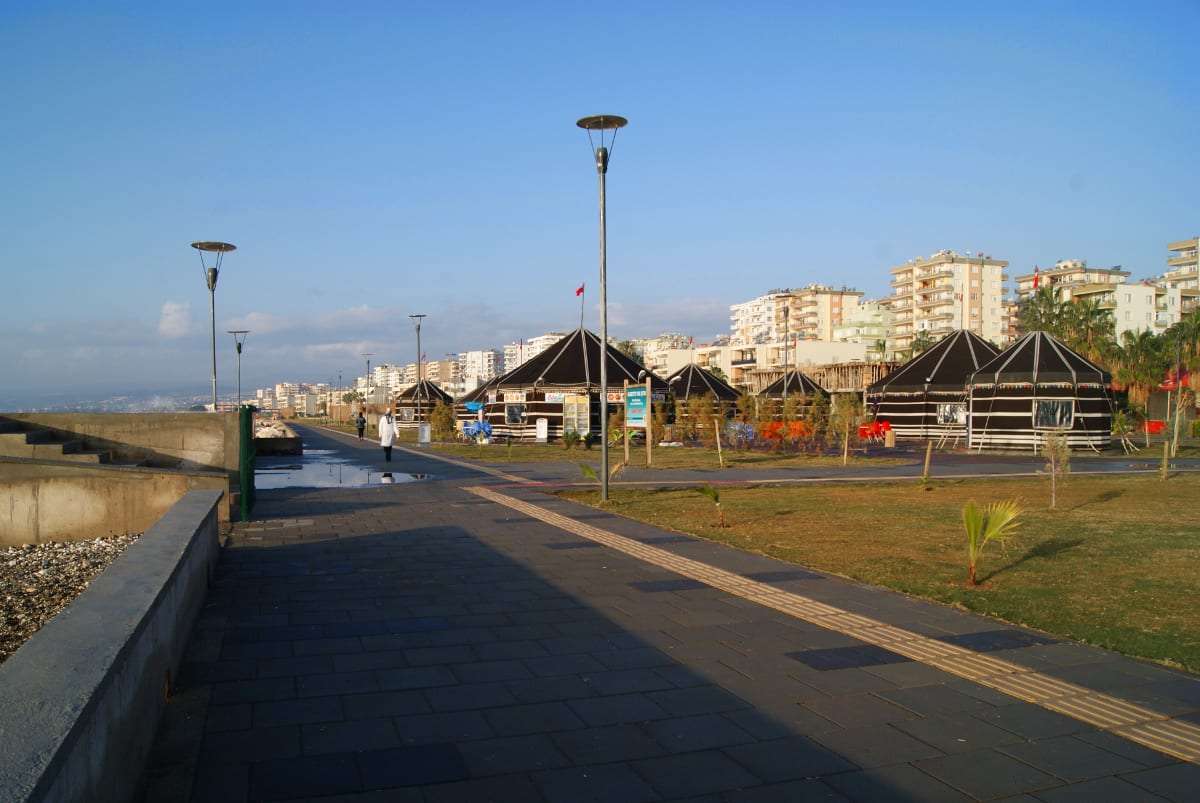 We drink cans of beer on a bench, watching the last traces of sun disappear into the waves. Some local youth are partying in a nearby cafe hangout, playing pool and dancing. I notice through the window that they're drinking cola and soft drinks, rather than alcohol.
We pitch the tent beside an artsy sculpture when most of the people have gone home.
In the morning, we hear the voices of two men outside. They seem to be debating the spectacle of our tent in front of them. One comes over and peeks through the ventilation flap at the back of the tent. "There are two people there!" He tells the other man. "Two people!"
"Turist mi? Turk mu?" He calls through the tent.
"We're sleeping!" I tell him in Turkish.
"Turist mi? Turk mu?" He asks again.
"We're tourists," I reply after a pause.
"How long are you planning to stay?" He asks delicately.
"Look, I tell him, "in one hour we will be gone, tamam?"
"Tamam!" he says, and they disappear.
I take a shower in one of the small cubicles meant for sea swimmers. The water is icy cold, but I enjoy the clean feeling. A man is lurking outside when I come out. He tries to speak to me, leerily asking where I'm from and looking me up and down. I realise he was outside the whole time I was showering. I ignore him and he disappears when he sees Hrach.
While packing the tent down, two funny short cops come by on a motorbike. They look like the Supermario Brothers with their little Police baseball caps. They pause by the tent and one of them speaks to the other. I realise it was them who peaked in our tent-flap earlier. They don't seem too busy, Erdemli obviously isn't a crime hotspot.
We wander out of the park with our packs. The park cafe isn't doing food in the winter, but they point us towards a small family cafe on the main road, where a friendly plump Turkish woman cooks up one of the best breakfasts this side of Anatolia – though nothing could beat that breakfast in Van.
A very pretty, quiet girl is working in the cafe. "Syria," she says, pointing at herself. I guess this is her way of asking where we're from. Hrach chats to her in Arabic and introduces us. She tells us she's from Aleppo and has been living here four months. It's then that we notice there are also several other women wearing headscarves in the town, and speaking in Arabic as they walk past us.
I reflect how much better life seems for Syrians in this small town than for many of those who have come to Istanbul. We thank the girl and the woman for the food, and pay a very cheap price indeed.
We walk the long straight road to the edge of town, bellies full, the sun high above us.