Gale Force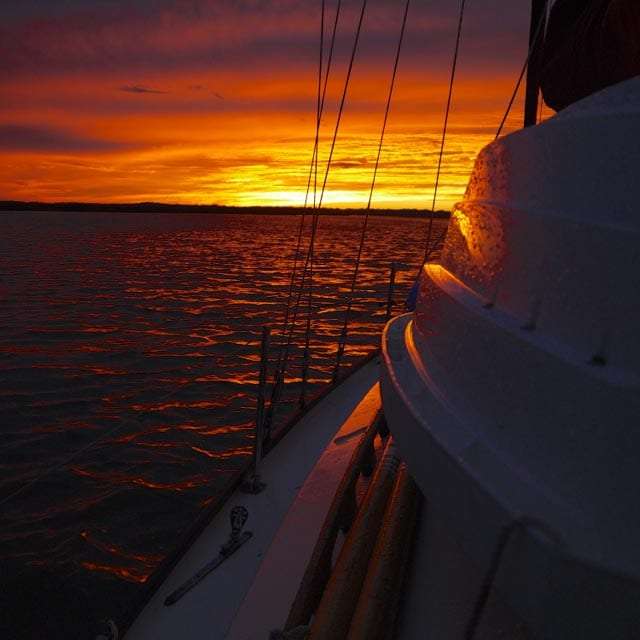 Yesterday I spent the afternoon touching up the paint job on SY Tranquility's topside, and it was a great walk down memory lane. There was the first scratch we got in Block Island, the nice long scrape pulling into Oriental, NC and the many, many chafes, nicks and dings we have accumulated over the course of the past two months. As I dressed these wounds and recalled the many ways we inflicted them on our poor little boat, it occurred to me: sailing can be super dangerous.
I don't mean to sound overdramatic, but when we began this extended trip, I had to get right with the fact that one outcome could be that the boat sinks and we drown. Boom.
As dangerous as it is to be a pedestrian, auto driver, bicyclist, or airplane passenger, I have never been so confronted with the realities of basic survival than while traveling by boat.
A few weeks ago, we had our first real weather scare while we were out at anchor. We were hunkered down in a beautiful marsh behind Sapelo Island, GA when the NOAA weatherbot on our radio starting ramping up about gale force winds, lightning, and the words that brought us to our feet – tornado watch.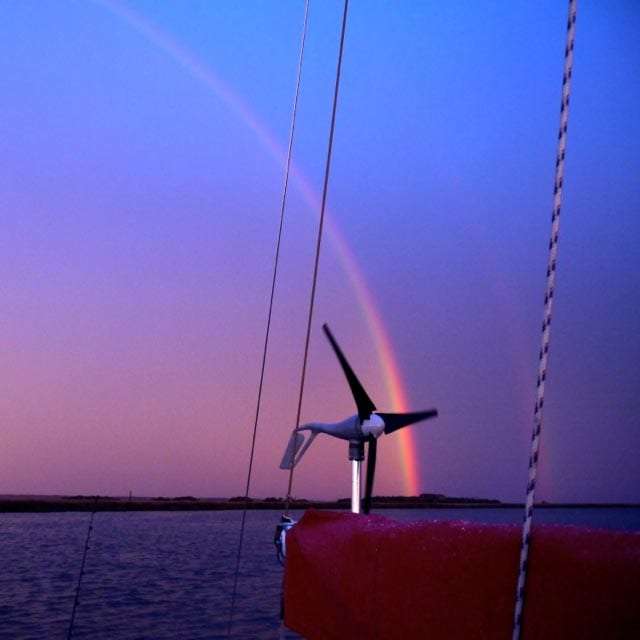 We jumped into our foul weather gear and pulled together our ditch bag. (Later, Fabio would laugh at all the sentimental and non-essential items I had snuck into the ditch bag…) I was glued to the VHF radio and feverishly scanned the horizon as lightning popped and flashed. I checked our GPS position to be assured our anchor was holding. I can't tell you how long it went on, because I was awash with endorphins.
Then it stopped. In reality it was probably ten minutes. A huge double rainbow came out, and the clouds broke so we could see a fiery red sunset. A dolphin came huffing by, exhausted from swimming through the storm.
We could claim that our incredible skill and preparedness is what got us this far with only sore muscles and scuffs on the paint job (ok, we are down a bit of deck hardware as well…), but that would be a bit of a misrepresentation. We have gotten a lot of help from family, friends and the strange, expansive boating community that holds us.
For every cautionary tale of pirates or perfect storms, I could tell you about a hundred magical things I have seen first hand in this short time. There is nothing that I could read, no movie that I could watch that would educate me about the fine-resolution history and composition of coastal communities we have visited and there is certainly no equivalent test for a partnership like navigating a foggy harbor in the middle of the night.
Ultimately, if you are seeking the rewards of traveling aboard a boat for any amount of time, you will absolutely need to recalibrate what it is that makes you feel safe.