Unusual Places to Stay: Tiny Houses to Tent Hostels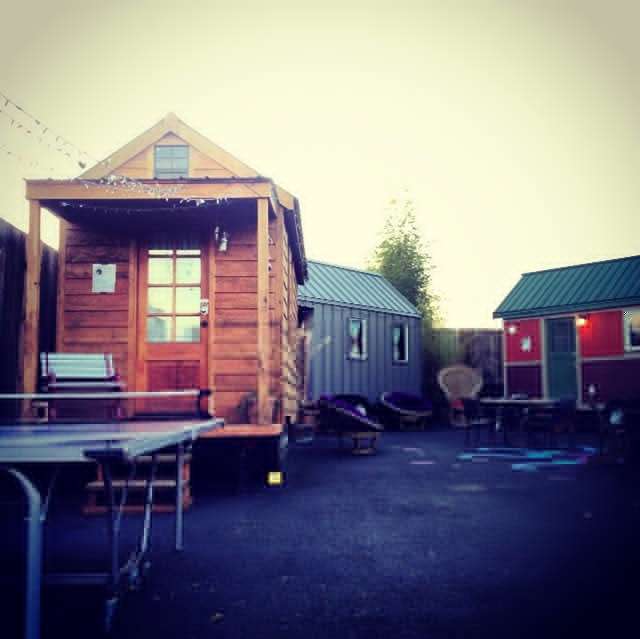 We had the good fortune of staying in a really interesting accommodation this past week. While taking a little lover's getaway for just the Lady and I, to watch our favorite folk singer and storyteller extraordinaire Todd Snider perform in Portland, Oregon, we found Caravan – the Tiny House Hotel.
The tiny house movement is exactly what it sounds like: moving away from the trend of bigger homes (even as our families grow smaller) over the past fifty years or so toward small, more sustainable spaces. How small exactly? Rosebud, the name of the particular tiny house we stayed in this past week, is only 100 square feet. Here's a look at her from the inside:
What's not pictured here is a small living room with ample space, including a small couch, for two people to hang out comfortably. You can see the ladder leads up to a very delicious bed (though not much headroom), and behind that a kitchen which two people would find it hard to pass one another on their way to and fro the bathroom with a full-sized toilet and standing room only shower stall.
Yes, it's very small. But we found it incredibly comfortable and are very positive the two of us, were we a young couple in love and not the parents of three boys and a dog, could live here comfortably. Plus, they come with wheels so theoretically you could hook it up and move somewhere new whenever the whim might strike!
Tent Hostel in Terlingua, Texas
This isn't our first time staying in great small spaces. We spent a month or so at Las Ruinas Hostel & Campground a few years ago. Sleeping arrangements consist of army style tents. There's a school bus which has been converted into a small lounge and a large, outdoor kitchen available for guests to stay. All surrounded by the beauty and eccentricities of the Big Bend area of West Texas.
Oh, and give Chinati Springs a chance, too, if you can manage to find it.
Old RVs in Bisbee
Another spot we love is Shady Dell just south of Bisbee, Arizona. We've written a little about this RV park made of vintage campers and boats before, and our only real complaint about the place is that it's just a bit too far to walk to town.