Tiny Wood Stove The Petersons: Airstream Life to a Self-made Tiny Home and Business
Nick and Shae Peterson had a goal. They wanted to travel, to see the world, see their extended family, but most of all, they wanted Shae–a soon to be mom–to be able to stay at home with their forthcoming baby.
Living in North Idaho in 2011, they began concocting the brew that would give them just that. The couple was approaching that 'round the bend which would lead them into their 30s, with a baby daughter on the way. They bought a 1966 Airstream travel trailer, and by 2012 had sold most of their stuff, moved out of their house, and were on the way down the path they saw for themselves.
"Deleting the house payment," Nick tells us, 9 years after it all began, from a tiny house in Idaho where they're once again living these days, "and tightening up the budget would make this a reality. We wanted to explore and travel but that was secondary to having more time as a family and mommy at home."
For the time being, home would be that Airstream, and the open road, but most importantly, one another.
The transition from what most consider a normal life to this new concept they had wouldn't be without some amount of struggle, of course.
"The hardest parts were probably dealing with all the crap we accumulated," he recalls, along with what they'd do with all of the belongings they'd accumulated over the years. "A lot of those things have emotional baggage and it's taxing wading through all of it. Do we sell? Give away? Store someplace?"
They also knew that if this idea, which they occasionally refer to as "livin' lightly," would work, they'd need to be largely debt free. "We worked our tails off the year before paying off debt," he refers to student loans, credit cards and their car payments, "saving and trying to build an income stream for when we made the leap."
They had a source of mobile income, a project Nick had been working on for years at that point. "I thought our meal ticket for income was an online vegetarian and vegan meal planning service I had been working on since 2008." They sent out meal plans, just a simple PDF file, including a menu, shopping list and recipe for their customers each week.
Ambitious and ready to keep moving forward with their goal, Nick tried to step up the game. "I struck a white label deal with an existing meal planning app that boasted dynamic meal plans and fancy features." But doing so came with costs, more than he'd even been making in monthly sales beforehand. "Fast forward to my wife quitting her teaching career with health insurance, retirement and stability and my elaborate plan of our online business taking off because of new features," he admits, long story short "and our sales went down. My assumptions were wrong and our customers didn't want fancy software.
"Now I was paying from our meager savings to be in business and we no longer had my wife's income."
Not easily defeated, they continued figuring out what steps would be necessary to climb into this new life they had in store.
They created a budget, and decided to stick with it fiercely. "We made roughly $24 to $30,000 a year with my outdoor school and our Teachers Pay Teachers income. This was enough to cover the basics and gas, travel between moochdocking spots in Nebraska, Kansas and Florida."
The outdoor school was basically a camp for 5th through 6th graders in the Northwest, which Nick contracted with a group of private schools. Running the affair would inform their travel plans, leading them from those destinations mentioned above–the "moochdocking," essentially camping for free on friends' or family's property–back to Idaho each summer. Teachers Pay Teachers is an online service where educators provide lesson plans–and inspiration–to one another. The Petersons were not new to the concept of self-sufficiency, it seems.
As their wheels began gaining mileage, their income–with the meal planning endeavor draining resources–was largely coming from selling educational materials to teachers.
With money coming in, a relatively tight budget, and a greatly reduced footprint, their dream was coming true. Paisley was by now out of mom's belly and into her arms, mom was at home, the family was together.
Raising a daughter–and supporting a family in general–on a strict budget made necessary some thrifty choices. For example, their monthly grocery bill was set to top out at $300, a number some would consider impossible.
"Agreed!" Nick states, emphatically, "We spend nearly three times that now. When we stuck to that budget we would buy $100 in bulk staples at Costco," he mentions things like rice, beans and nuts, "then $50 a week at the grocery store for produce and to fill in the gaps from the staples. Since we had a meal planning service we were pretty savvy with that, and using leftovers. We're also vegetarians so not buying meat, or dairy, cuts out a large expense. If we were on a similar barebones meal plan today we'd need $400 to $500 per month. It's not fun – but doable!"
Making sacrifices in your left hand to grow a dream in your right is an admirable quality, but the trade off makes absolute sense. Instead of Shae shuffling off each morning to bestow knowledge on strangers, while their daughter–most likely–would end up in daycare, having her young world shaped by different strangers, dad gone all day so the couple's combined income could pay for a life they didn't even want, now they could spend their days together, earn their living as a couple, and raise their daughter as her primary source of input.
No doubt this is how humanity did it for eons. The concept of letting the village raise your child while both parents play an 8-hour game of one-sided hide-and-seek is a relatively modern idea. And one that, as the Petersons discovered, doesn't need be the norm.
They decided on a vintage Airstream for equally admirable reasons, not only was it a good investment, but it's simply true that they don't make them like they used to. "Most travel trailers are rolling boxes of flimsy plywood and formaldehyde. Plus they deflate in value faster than a balloon. I liked the fact that 50 year old rigs are still beating down the road. Also figured it would be a good investment!"
He was right, as several years later they'd be able to ask $26,500 for their home-on-the-road, the same price a brand new, white box trailer would cost."
As a couple with not only their own bodies to care for but a brand new baby girl, they decided to renovate the Airstream, maybe get some of that old insulation and five decade's worth of accumulated "gunk" out of the way and make the RV their own.
"What I thought would be a summer project–" he recalls, "I was thinking paint, add a dinette and maybe update the flooring–turned into sinking neck deep in vintage trailer carnage. We had to repair rotted frame, the floor and had to re-buck rivet a sketchy repair that was done with pop rivets. To do all those repairs we had to completely gut the interior so it was like starting from scratch."
Living riveted, as Airstream calls it.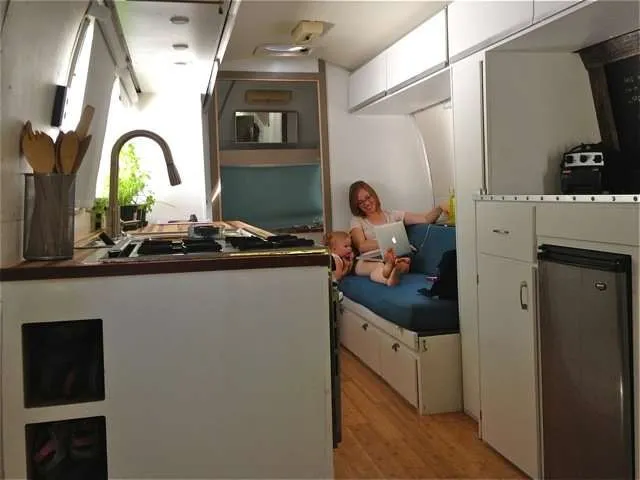 They proceeded to spend the next several years traveling. Florida became a favorite come winters, the Black Hills stuck out as a favorite destination. Then, their dream alive and well, they decided to roll over and make a new one come true.
"We sold the Airstream in 2018," Nick says, "We decided to put some roots down back in North Idaho and stopped our standard travel circuit between moochdocking spots with family and friends." While they enjoyed seeing these people, they often felt like they were dropping into an alternate universe, one where they were welcomed, but didn't necessarily fully belong. Traveling was also taxing not only their budget, but disrupting the routine they began to crave for themselves.
"We spent the next two winters in the Airstream," he recollects, "building our business and saving for property."
Nick doesn't particularly recommend living out of an Airstream through an Idaho winter, though. The harsh cold of it all led them to buy a more insulated vehicle, a fifth wheel–think those large trailers which hook into the bed of a pickup truck, if you're not familiar with the term–they'd live in while they built a tiny house on their newfound property.
"The fifth wheel was an intermediate step towards the tiny house. We bought a used rig at a wholesale auction. We thought we could do some minor renovations and we'd have a bit larger, more comfortable space while we built our house. The biggest pain point of the Airstream was not having a delegate bedtime space for the kids." At this point, they were the proud parents of both their daughter, Paisley, and her three-years-the-younger brother, Ryder.
To build a tiny home is, paradoxically, no small endeavor. But between renovating the Airstream, the fifth wheel, and a project prior to all of this–a teardrop trailer Nick built to save money on road trips–they had some experience. Not to mention sheer gumption.
When spring of 2018 came along, they broke ground on their tiny home. They first began building a shed run on solar power and excavating their new land, with the tiny house build beginning that October.
In no time, they had a livable space.
"Because winter was coming," he says, "I decided to hire a crew to get us dried in. In four days we had the structure framed, sheeted, wrapped, windows & doors installed and roofed." A little help goes a long way. "I took over after that. The fifth wheel did provide more space but it was drafty and cold! Plus we had to discontinue using the plumbing when the temperature dropped.
The tiny home would serve as their primary residence because, as he puts it, "RVs suck for winter living! We were so psyched to have a well insulated space with good windows and doors! Now it can be single digits out and even though our stove is our sole source of heat we can keep the interior 70° plus with the stove stoked." While all humans can appreciate warmth, it's only after toughing it out in a mountain winter, with only a few inches between you and the snow, that one can truly appreciate his next statement.
"So nice!"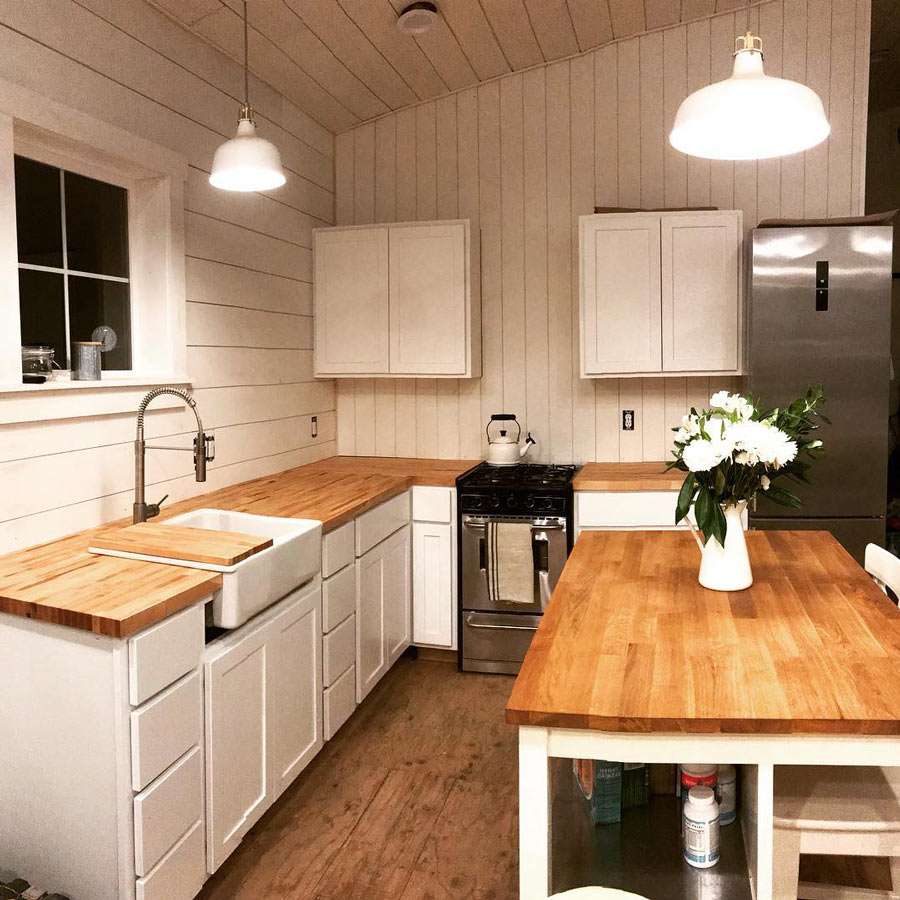 They're still ironing out the details. A plan to source water from a natural spring on their property was put on hold due to the family discovering that "a flock of baby turkeys ended life in the spring and animals were relieving themselves as they drank."
Nick plans to use a ram pump–some 1800's technology, as he describes it–to one day supply the tiny home with water, electricity-free. Their power comes from a 1650 kilowatt solar setup, which provides all of the power they need during the spring, summer and fall. If winter grows too gloomy, they rely on a backup generator.
They compost their waste, bathroom and all, and recycle their grey water–that which goes down the shower and kitchen sink–into a leach field that transforms itself into berry bushes outside of their home.
They now live twenty minutes from Coeur d'Alene, where this adventure all began, their tiny home one of a few residences scattered throughout the forest. Country living, in the wild, but still within minutes of friendships, groceries, and everything a touristy city on a lake has to offer.
Nick grins wide when he thinks back on designing their tiny home.
"Geeking out over small space design the past several years," he says, "I drove my wife crazy with all the 'perfect' designs. I had some as small as 200 square feet, and probably half a dozen I was certain we were going to build." They ended up with a 500 square foot home, on a trailer frame. "While the house is on a trailer frame and we have axels we can connect, it will likely never move," and though he is glad to have the option to roll away should they ever need to, the real perk is that "the axels make it a 'non-permanent structure' which meant we didn't have to jump through certain hoops with the county."
From solar power to the rhyme and reason behind how they built their home, the Petersons' ingenuity continues to shine.
"We love the layout and function of the space! Stepping up from 176 square feet to over 500 is a pretty big leap." He sometimes considers if a different foundation would have been a better choice, but all in all the family is quite happy with their home.
At this point, Nick and Shae had fixed the absent family problem. They'd done the traveling thing. And they'd designed and built their own home. Not ones to rest on their laurels, they kept pursuing this thing we call life.
"We wanted a small wood stove," he recalls, even back when they were living in their Airstream, "I wrote a blog post of why we wanted a wood stove and all the options that were available and it got tons of organic search traffic. 90% of our blog traffic went to that one article. Looking at the analytics and what was available," or rather not available at the time, "on the market I knew there was a niche. I bought Tinywoodstove.com in 2013 to be a niche information site with reviews and install info." He had plans to make it an affiliate site, where he'd get a percentage of profits from wood stove manufacturers for sending business their way.
"Every manufacturer I contacted blew me off," he admits. So, after they put their roots back into Idaho's soil, they decided to make their own tiny wood stove. "I could tell from the analytics that people were searching for the Pipsqueak stove out of the UK. I contacted the manufacturer and struck a deal, then did a presale for a pallet that was sold in a week. We were in business! The Pipsqueak turned out to be a toy of a stove so we moved into designing our own line."
This would once again change the family's life.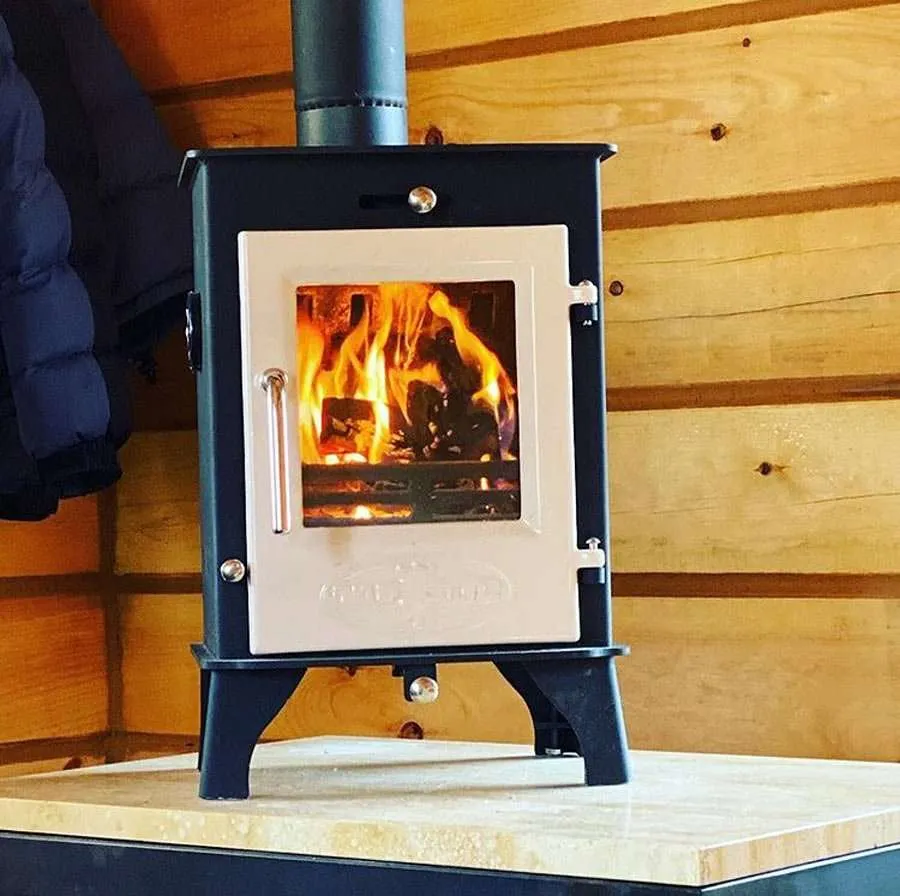 "Tiny Wood Stove has grown beyond my wildest expectations!" he shimmers over the success of the undertaking. "Thankfully it's no longer a solo-preneur endeavor." The first few years, Nick did everything by himself, working 60 or more hours to keep up with emails, getting the stoves out the door and dealing with the many headaches a new business can suffer. "I didn't take a salary for the first year, putting everything extra towards more inventory. It's been almost five years of serious grinding and hustle." Today, Tiny Wood Stove employs ten people, including Nick, and he even gets to take a salary.
"I get to support people on their tiny living journey and hear about their stories. I also get to support our team with flexible remote work. We all live tiny."
Things have gone so well with the wood stoves, Nick has opened another business, this time focused on composting toilets. They'll be available some time this year.
If you're interested in a tiny wood stove of your own, Nick has plenty of information on his website, and stored in the brain which created them.
"Lots of variables," he speaks to the cost in general, for the stove, pipes, the whole shebang, "but the average price is probably around $1500."
Aside from the stoves themselves, Tiny Wood Stove sells the flu, connections, and even stylish accessories like humidifying pots and fire tools, all of which compliment the absolutely adorable (yet rugged enough for the manliest of men!) stove design.
Once you own a tiny wood stove, aside from sourcing or buying your wood, there are a few things to keep in mind.
Like maintenance, though it isn't terribly consuming. You need to empty the ashes, and clean the flue regularly. "That's it!" Nick confirms, "Flue cleaning frequency depends on the quality and dryness of your fuel and how much you dampen the stove down." The more the better, according to his website.
You'll also notice that just buying a bundle of wood like you might on your way to a weekend camping session isn't going to necessarily cut it, due to the smaller size of the wood stove.
"Our largest stove is 12"," the same model they use in their own home, "I like chunks of wood that are approximately 10" wide. If I buy wood I get traditional 18" non-split rounds then cut them into thirds. This makes it really easy to split and a nice size."
Another curious accessory is a metal fan which mounts on the stove, and is then powered by the heat the stove itself puts off, no electrical outlet involved. "Yeah," Nick tells, "it seems like voodoo! From what I understand there's a hot side and a cold side and a thermoelectric module between. As the heat," he then clarifies, "electrons, flows from the hot to cold the module captures this and sends current to the motor. It works well to circulate the heat in small spaces."
If you plan to install one in a van or RV, you'll want to make sure that the unit is securely bolted down, and easy to tear down a bit for movement. He expounds, "It's essential to bolt them down! For mobile spaces we recommend a small removable section of chimney and a cap for when they're beating down the road."
A way to support his family and an incredibly useful tool for tiny living and travelers alike. Nick has created a win/win for everyone.
Aside from the failed vegan meal planning, he has few regrets. Looking back on his life since they decided to make that first transformation nine years ago, he has this to say.
"In one word, worthwhile! All the time, effort, hardships for living more purposeful have been worth it. It's been hard and largely different from our glossy dreams. There's also been lots of pivoting. More often than not we'd make a plan and as we got neck deep in it we'd realize we needed to got another direction. I guess intentional living is kinda like painting a picture. You have something in your head and it may look different once it's on the canvas. It may be better or worse than what you had envisioned but you keep taking stroke after stroke until eventually you have a masterpiece! It may be an abstract masterpiece but a work of art nonetheless!"
His advice for the next family looking to start their own masterpiece?
"Dream! Make a list of the obstacles. Tackle them one at a time!"
Nick, Shae and their youngsters are now looking to do a van conversion this year. They don't plan to hit the road full-time again, but see 2 to 3 week road trips as a way to get them into new places, give their children a chance to see more than their own backyard.
They also want to build a "party barn," as he calls it, on their land. "Part workshop, part house and part gym," he attempts to define it, "a gathering space. This will be our house and we'll use the tiny as a guest space. I'd like a massive greenhouse, half-acre pond, compost heated hot tub, sauna, orchard, treehouse, mountain bike pump track and ultimately invest in developing land that we can pass onto future generations."
Big plans for tiny living, exactly the type of thing that minimizing your life for nearly a decade, being diligent about both your spending and pursuing your desires, can afford.
Livin' Lightly