Saludos from Real de Catorce!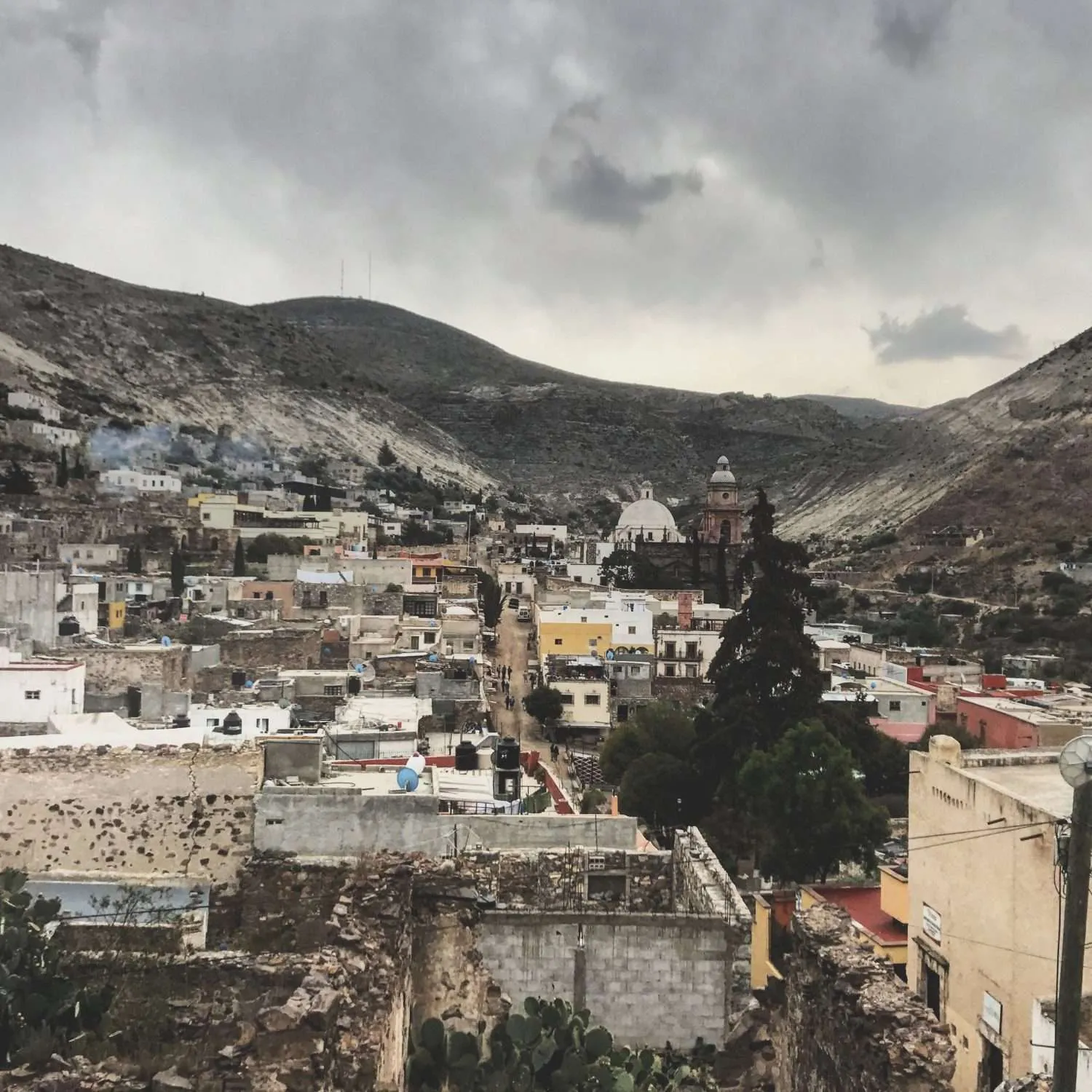 "You'll like Real de Catorce," he said. "There are many hippies."
We tried to reach this fabled city, famous for its peyote festivals which some say are illegal for anyone but native indigenous people to partake in, though we can't say we personally chose to consume such hallucinogens. Something about having kids around that kills that sort of buzz.
Instead, we attempted the 15 mile cobblestone road in our VW Bus, stopping to take photos of the mountains and torry yucca all around, happily chugging along until we reached the steeper grade that led to the two or three kilometer tunnel which separates Real from the rest of Mexico. Our Bus gave in, and we turned around.
I'm not a fan of being stuck in a one way tunnel hundreds of feet beneath tons of dirt with anxious Mexican tourists beeping behind us.
Instead, we found a safe place to store our Bus and caught a cab into town.
The roads after the tunnel were again cobblestone, and even steeper and sketchier than the one leading to town. Our decision not to take the Bus felt more and more right. Though our cabbie spoke as though he'd been many times before, I didn't believe him once it was clear he had no idea where we were going and growled angrily every time his year old car scraped on some hairpin, unevenly graded turn.
Finally arriving at our hotel, a Mexican man took the lion's share of the money we'd brought with us, the equivalent of nearly $100 USD per night, more than we've ever paid in our 15 months in Mexico, and carried our bags to a spacious, if slightly dilapidated, room. The balcony off the room afforded the view seen in the photo above. Life felt grand for the moment.
We walked the hippy lined streets, where guys with stylish Mohawk mullets played guitars and native people whos' name I could never fully understand when told in Spanish sold bracelets and homemade foods. A woman asked us, while watching our kids play in the central plaza, if we'd like to buy some gorditas. We would have, but the ATM / cajero in town was out of service and so we'd need to watch our money if we wanted to eat much more than her gorditas for our two day stay. Instead we told her our plight and reasons for not buying, and she stood and spoke with us for a moment about her lovely hometown. Seventy years in these mountains, it was a somewhat astonishing tale if for no other reason than that.
The restaurants were cheap. Some boasted signs touting craft beers but all were out of said libations, perhaps due to it being Semana Santa, aka Holy Week leading up to Easter / Pascua. So we drank Indios and sangria, ate at a few cheap places and only browsed the various street vendors and their trinkets, and frequented the one restaurant in town that accepted credit cards.
It rained for the majority of the time. So I'd walk through the rain, the blustery cold wind, to find something the kids would eat at night. They told us how they hated staying in hotels. Our hotel's WiFi was snail sludge dripping from a molasses factory slow and so they were forced to find amusement in pretending to make a fire in a fireplace sans wood, and build forts from the bed sheets and linens.
Horseback tours click clacked their way through the steep streets all day long, rain or shine, and the entire place smelled of their exhaust. Ruins on only somewhat distant mountainsides clung with the promise of a grand hike, should the rain let up or more adventurous tourists choose to make the cold and windy climb.
When we left, I had but one thought.
"We should come back here and trip balls some time. Without the kids. Maybe in the summertime."