The Adventure Travel Film Festival 2015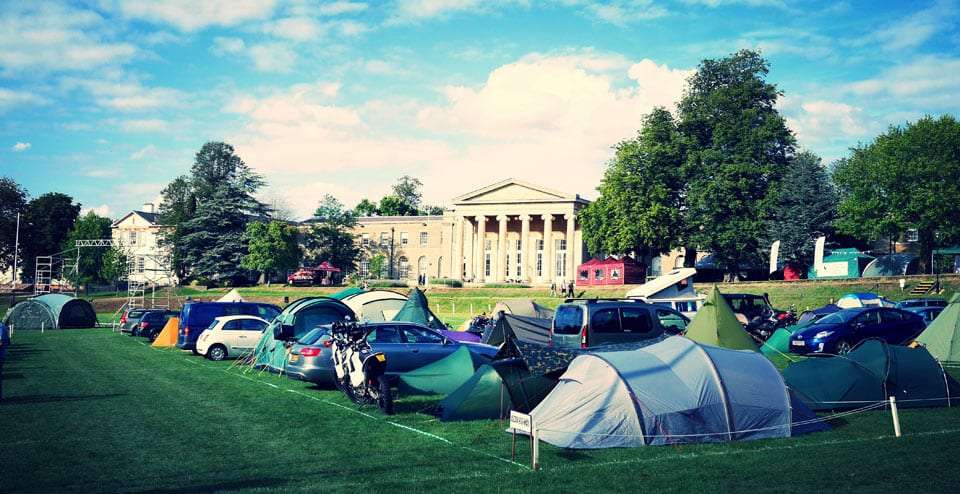 Four of my favourite things on this planet are adventures, travelling, films and festivals, so you can imagine how excitable I was upon discovering the Adventure Travel Film Festival last summer.
I had a great time at the festival last year, watching films all day, drinking and sharing travel tales around the campfire at night, interviewing people and taking lots of pictures for Vagabundo Magazine.
One of my few complaints last year had been: why no films about hitchhikers?
This year, festival curators Austin and Lois took my words on board, and dedicated the entire festival theme to hitchhiking! They even invited little me to come and be on a panel of "hitchiking experts" (cough) along with four guys, (yes, I was apparently the token female), including "famous" French world traveller André Brugiroux, who has spent 50 years visiting every country and territory on Earth, and the guys who made the awesome documentary Hitchtanbul. More on that one later.
Just like last year, I tried to watch as many films as possible, which involved making a spreadsheet, lots of crossings out, and eventual eye-strain. There were two open air Starlight Screenings, one on each night, and live music from Foghorn Leghorn. All this with great food and a really cozy atmosphere—the kind of place where you can walk up to anyone and just start a conversation. The kind of place where strangers approach you with hot marshmallows dripping off sticks and poke them into your mouth.
These are the four best films I saw at the 2015 Adventure Travel Film Festival…
1. One of my main complaints about the festival is still the lack of representation of female adventurers, and the lack of people of colour. Into the Sea was one of the few exceptions.
Directed by Marion Poizeau, the documentary shows how three young women – Irish pro surfer Easkey, Iranian pro snowboarder Mona and Iranian diver Shalha are introducing a new sport in Iran: SURF.
Through the eyes of these three main characters, the viewer experiences the journey from a unique and unusual perspective full of heart and emotion. After introducing the three characters, the film reveals their journey to the remote southeastern region of Iran.
Baluchistan, where Mona and Shalha are going to learn to surf with Easkey. All three share a passion and belief in the power of sport, especially surfing, as a way to break down social and cultural barriers, and to connect with others.
The film shows how these three young women are encouraging more people to join them and how surf is becoming accepted and practiced by the local Baluchi community. Their enthusiasm for this new sport and excitement at the opportunities it could offer grows.
Together they are planting the seed of surfing in Iran and making history by creating the first Iranian surf club.
The film is fantastically well-made and gives an excellent glimpse into life in Iran that challenges all of the usual narratives and stereotypes about the country.
2. In the Saturday night outdoor Starlight Screening of Gold of Bengal, a disarmingly humble young French man, Corentin de Chatelperron, crafts his own boat out of jute fibre (the stuff they make potato sacks from) and sails himself, a rocket stove, a tiny allotment and two chickens, from Bangladesh to Malaysia through the Bay of Bengal.
3. Another film featuring women, hurrah! In Nobody's River, Amber, Becca, Krystal and Sabra paddle their kayaks along the Amur River, across the pristine purity of the Mongolian steppe and the harsh landscape of industrial Russia. "They don't waste time exaggerating their toughness but instead soak up every second of utterly perfect natural beauty and wallow in the gooey joy that only comes from being with friends in wild places." A beautiful film with some really tough parts that will make you shed a tear or three.
Two guys from the Netherlands made a film about hitchhiking through Europe to Istanbul. I wanted to see Hitchtanbul mostly because I've hitchhiked this road so many times myself, and wanted to reminisce. I was definitely not disappointed. This, to me, is the film that shows the reality of hitchhiking clearer than anything I've ever seen before. I'm going to buy the DVD and show it to everyone who asks me what it's like to hitchhike. On top of it all, Dimitri and Karsten are throughly entertaining and witty, with choreographed roadside dances and an unwavering affableness that made me want to hit the road immediately.
…and on top of all that, they are really nice chaps.