Happy Halloween, from Beautiful Black Mountain, North Carolina!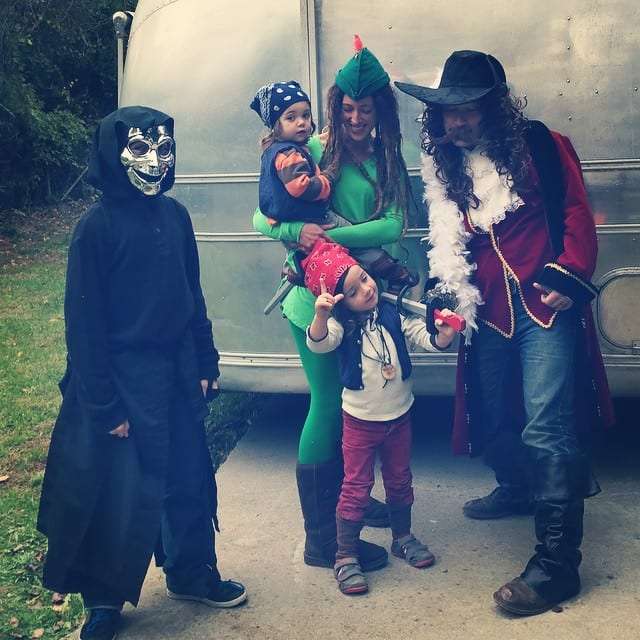 The entire concept of Halloween is basically everything I'm about.
Making your own costume largely from finds at Goodwill. Strangers trusting one another to knock on doors, wearing masks, and exchange a simple password, "Trick or Treat" for a piece of candy or two. Indeed, even the idea of the phrase, "Trick or Treat" is so wonderful.
You can play along, and provide me with a treat…or somehow it's okay to toilet paper your house or leave a bag of flaming dog poop on your porch.
Adults who play along are the winners of life. They're the ones who realize the special nature of a particular night every year where we're given free reign to completely reinvent who we are–if only for a few hours–and dance around in the night the happiness of our foregone youth.
After spending the previous many years dressing as various forms of zombies–space zombies, train robber zombies, Indian zombies, military zombies–we sat around a vacation house in Astoria, Oregon last year and decided that come October 2014, the Lady would dress as Peter Pan and myself as Captain Hook. We had no idea that in the twelve months that would progress between then and tonight that our two youngest boys would fall in love with Jake and the Neverland Pirates, and therefore willingly choose to dress as young pirates themselves to perfectly accessorize our own costumes.
That our oldest, Tristan, decided to invent his own creepy costume and not play along with the family theme was no big deal; indeed, forcing him or even trying to sway him to exchange his version of Halloween for ours is so very parentish…so very Captain Hook. Halloween is all about Peter Pan, it's about a life lived without having to grow up, and only a sneaky snook like Hook would try and rob that from a freshly-turned-teenage boy who may–hormones progressing–decide to bail on the holiday all together next year as his "too cool" adolescents progresses.
So we reveled in the night. In the chocolate, the candy, the pirate costumes and staring at all of the other kids and big, big kids who took part in it. All of this, we did from Black Mountain, North Carolina, where our youngest son Wylder was born, a place dear to our hearts and memories, with an impeding 10 inches of snow in the forecast for the rest of the weekend.
And that, dear friends, is the truly scary part…