Beach Fires & Hops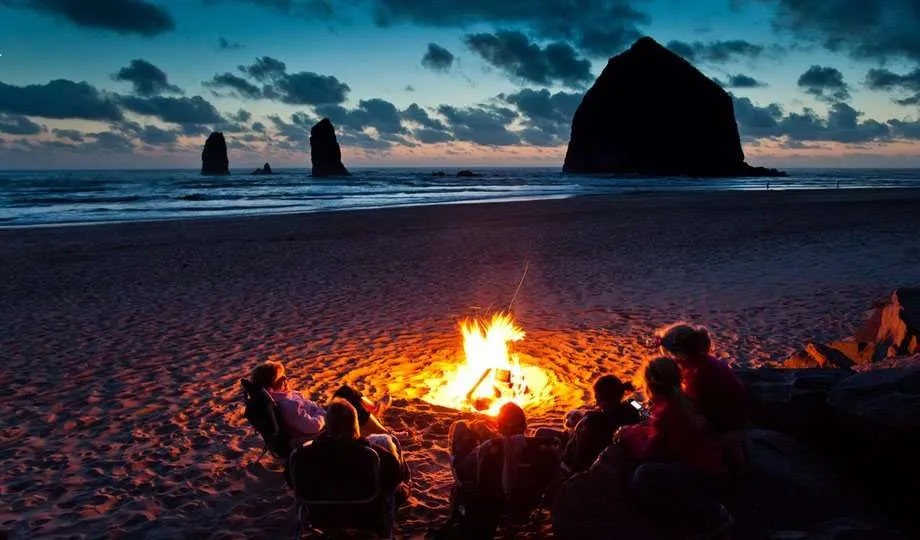 Oregon is no slouch when it comes to breweries.
There are forty of them in Portland alone, nearly all of which have won awards—the city of Portland having held the title of Beer City for awhile, before Asheville, North Carolina sprung up in underdog defiance to steal it away—and some 91 breweries in the entire state. As a lover of IPAs, I have fallen in love with three of these breweries in particular: Deschutes, with their Inversion IPA; Ninkasi, flaunting both Tricerahops and Total Domination IPAs; and my all time favorite IPA to date, Fort George Brewery's Vortex, a beverage so cloudy with flavor you can't see through it from one side of the glass to the other.
Ninkasi was the ancient Sumerian goddess of beer. In 2006, the brewery bearing her name opened in Springfield, Oregon with their debut Total Domination IPA. It's the good stuff, trust us, and you can find it on more than a few taps between Manzanita and Astoria. They've since moved to Eugene, and added a double IPA, a double red and an oatmeal stout to their lineup, as well as a variety of seasonal beers. Total Domination quickly became our go to brew while in the area, as it's sold by the 22 ouncer in just about every gas station and supermarket you can meander into. Not just great beer brewers, they also donate large portions
of their fine elixir to non-profits every year. Nothing says "do a little good" like spreading around everyone's fair share of intoxication.
While Ninkasi is a relative newcomer to the brewery scene in Oregon, and still a small organization by volume sold per year, Deschutes is one of Oregon's biggest boys. They've been providing Oregonians, and a large chunk of the rest of the US, since 1988—yes, back when the idea of finding anything on tap that didn't come out of St. Louis or Milwaukee meant you were going "imported"—with their healthy lineup of crisp, cold ones. While to any true beer snob a brewery rated as #5 in the nation in terms of volume might no longer be "truly micro", they've certainly got it right with their Inversion IPA. If the Manzanita Grocery and Deli is fresh out of Ninkasi, this is for sure the way you'll want to go in the IPA department. Do we seem a little biased towards India Pale Ales? Is there anything else?
For those of you who really get fixated on keeping your microbrews microscopic, our number one pick is definitely Fort George's Vortex. Read all about it in our full interview with those guys, but suffice to say, you can buy it in a can, so anything worthy of a river float is perfect for a day of fire and sand.
Regardless of your particular choice of beverage, however, and as enjoyable as a day spent on the deck of Fort George Brewery might be, the Oregon Coast holds true to one of the most wonderful symptoms ever to speckle an American shoreline: beach fires.
Firstly, it should be made known that every inch of sand, stacks and cliffside that makes up Oregon's Pacific beaches is public land. Governor Oswald West, who seems to have been named specifically to be a governor of this state's mythical lands, made sure of that in the early 1900s, and to this day no individual is allowed to own any part of the beach. This provides the setting for 363 miles of explorable coastline, certainly some of the most gorgeous and sweeping in the nation, even by West Coast standards. When you manage to find a little chunk of beach that you can call all your own for an afternoon or so, often lacking in any signs of civilization once you ascend a cliff, trail through a forest and arrive in the sands, it's easy to imagine you're in some distant time where the world was a bit more fierce, more primal. The stacks dagger out of the water like underwater rebels jutting into the sky in defiance. Waves crash against them as though performing ceremonial victory dances celebrating all the shipwrecks they've claimed over the centuries. This is a world formed by lava flows coming from as far as Idaho, long before any humans had ever stepped foot in these mountains, which traversed an entire modern day state to fill in every hole the landscape had to offer. When the lava cooled, it formed basalt deposits which, over millions of years, as the ocean wore away at the weaker stone and dirt that formed some previous shore, were all that were left. Literally, a prehistoric volcano made this place and it's not hard to imagine a pterodactyl flying around the cliffside or a tribe of Clatsop Indians slowly making their way down over the mountains to put their canoes in for a fishing expedition.
So with the setting established, there is still the question of the laws of man, and in the case of our good fortune here in Oregon, as serious about preserving their beaches as they are, apparently someone in Salem realizes that one of the best ways to spend a day between where the ocean meets the mountains is to sit around a fire with friends, family and a couple of six packs. Oregon Coast Trail hikers setting up camp above any given beach can look down as the sun disappears to watch dozens of fires twinkle like mirrors to the stars all along the water. New lovers dig and roll through the sand as the flames lick their toes. Families with young children poke marshmallow laden sticks into the heat to cook up an evening dessert. Old men sip cans of Pabst Blue Ribbon and add a few inches to every fish story they have left to tell. Piles of driftwood and beach grass lounge the day away between them all to provide a little break in the scenery, and just as they prevent the ocean from eroding the land too quickly, so do they prevent one circle of fire lovers from infringing too heavily on the next.
You can't sleep on the beaches, and given the way high tide tends to cover every inch of sand at some point twice a day, it's for good reason, but there is technically no curfew either, so it's reasonable to assume that as long as one member of your party stays awake and on watch, you could make an all nighter out of it. While a police officer or park ranger in a particularly grumpy mood may be able to spot your fire from the road while passing, the sound of the ever crashing waves and often more than just brisk blowing winds will certainly muffle your voices enough to prevent you from rousing some nearby resident or vacationer into calling in the law to rain on your fiery, stationary parade.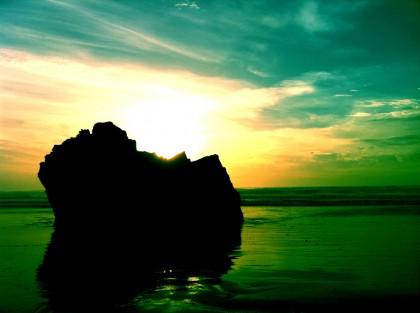 The guys and young boy who'd set the big blue tarp up earlier that day, just after sunset, walk north along the shore on their way to return to their vehicle and call it a beach day well done. They approach a pack of kids in their early 20s, passing around bottles of wine and whiskey and hollering, laughing, sing songing along into what is still a young night for them.
"We're putting our secrets in a bottle and sending it out to sea!" they cry out to the guys and the young boy, who move toward them.
"Want to write down your secret?" a young man tears a sheet of paper from a Composition Notebook and hands them all a pen, first the young boy, then to the dad and his friend. "Write it down and roll it up, then put it in this bottle with ours, we'll throw it into the ocean!"
One of the older guys, the dad's friend, declines, "I don't have any secrets," his excuse. Dad writes something down quickly and stuffs it into the bottle.
"Do you want to throw the bottle into the water?" another one of the young guys asks the kid. He shakes his head no at first, but after a little nudge from his dad, turns, grabs the now corked bottle and runs like a river downhill toward the water, chucking it from the neck with all of his might. The bottle spins, catching glints of moonlight and sending them reflecting back into the open air, cutting through the salt and chill of the night to submerge forever in and back out of the water as it disappears into the ocean. His dad had begun to follow him and they meet just where the waves begin to fall back into the sea.
"So," back at the fire, one of the party goers asks the kid, "What was your secret?"
"That my dad had friends who were cool enough to write messages in bottles," he kids as he pushes into his much larger companion. The two begin to wrestle a little, until dad calls it off and they all head into the dark of the parking lot, leaving the more apt to party generation to their dancing flame.
The words seem to ring truer than any tourism board slogan, as here on this ancient Mother Nature fashion show of a beach, where citizens organize volunteer beach clean up days far more often than tourists toss trash into the sand, where the potential revenue of beach front property does not out-value the happiness of free beach access to everyone, Oregon has managed to create the perfect paradise where the people manage to manage themselves, and where something as simple as lighting a fire to the tune of the moon playing the waves feels like a castaway's message in a bottle:
Stranded, don't come looking, everything's great!