1000 Steps on Stairs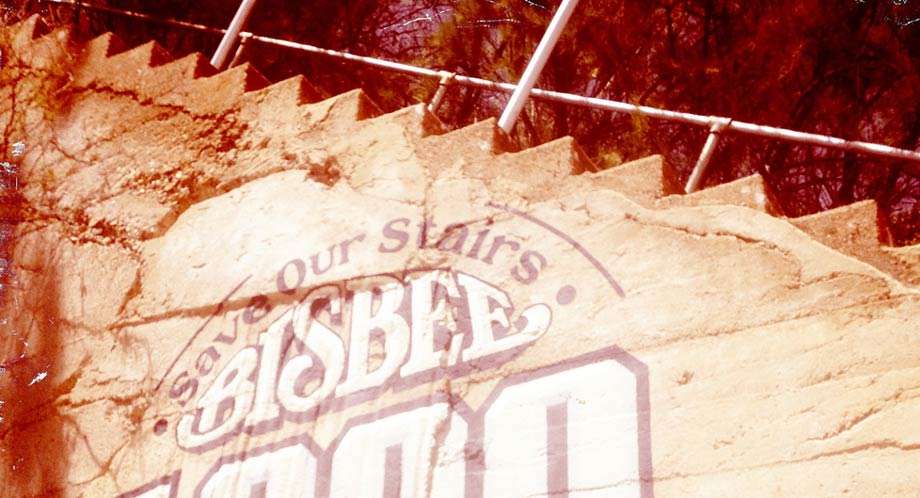 "Do you want to go for a walk?"
Yes, I certainly did. It was early in the desert mountain morning. The sun was stretching its rays in preparation for another day of tourists buying trinkets, hippy heads filling with mushroom mentalities and children to and froing their way to school. The man who asked me if I'd like to take a stroll would become a lifelong friend. His face covered in a tattoo of the tree of life, his eyes cool grey blue like melting ice in a bucket staring at a man who'd gone two days in the desert without water.
"Okay then, let's do it." He retrieved a long, sturdy stick from his truck, an SUV painted red and adorned with a mural of painted dots. We walked side by side over the bricks that lead through the park downtown, up a short flight up stairs toward the Copper Queen Hotel. We turned right on Howell Avenue and then left onto Brewery Avenue.
"They call this the Gulch," he recanted, speaking of the wild times to be had as locals poured nightly from St. Elmo's, a somewhat rowdy bar, lit red and decorated with various stickers ranging from anti-Bush to pro-tipping your bartender. "Back in the day, you know, when this was truly a rough and tumble old mining town, the Germans started up a brewery here. A few actually, I think. So this I guess became Brewery Avenue and down here, this sort of flat stretch of it, is called the Gulch these days." Our steps lead us one, the next and so on passed a massive brick building called the Stock Exchange which, "actually that was a real stock exchange. It was a saloon first, but when Prohibition came around and all stock brokers that were in the top floor came down and put up a huge board listing out the stocks of the day. You'll have to go in there, it's like copper and wheat and grain and steel, real basic stuff like that. I'm telling you man, this sleepy little town wasn't always so asleep."
"And over here," he points to an old foundation on the right-hand side a few paces up the road, "that's our local freecycle." The foundation is covered in a variety of yard sale like items, a stroller, a very old TV, some random boxes, some children's books. "People can come and take what they want, leave what they want. It's a free for all."
We pass a city park, the ruins of an old building now covered in graffiti murals, a car with Hillary Clinton painted on the side. "You ready for the climb?" I nod and we duck off to the right to begin ascending some hundred stairs or so. In some places dilapidated, in others freshly poured cement, the steps lead one after another up and up, winding tightly between houses, some abandoned, some beautifully restored. Concrete retaining walls show the cracks of their burden, a never ending labor of holding the mountain back and houses up. Desert plant life does its best to push back at man's makings. Tibetan prayer flags blow in the wind, tattered and humble from likely years of service to asking the air for peace. The staircases are narrow and I'm now following behind Robert, my friendly guide, his grey dreadlocks skipping off his back and mingling with various feathers and beads he's integrated into them. My breath is heavy, the climb is steep, and my forehead begins to create a curtain of sweat to fall down over my nose, around my eyes and over my cheeks. I couldn't be happier.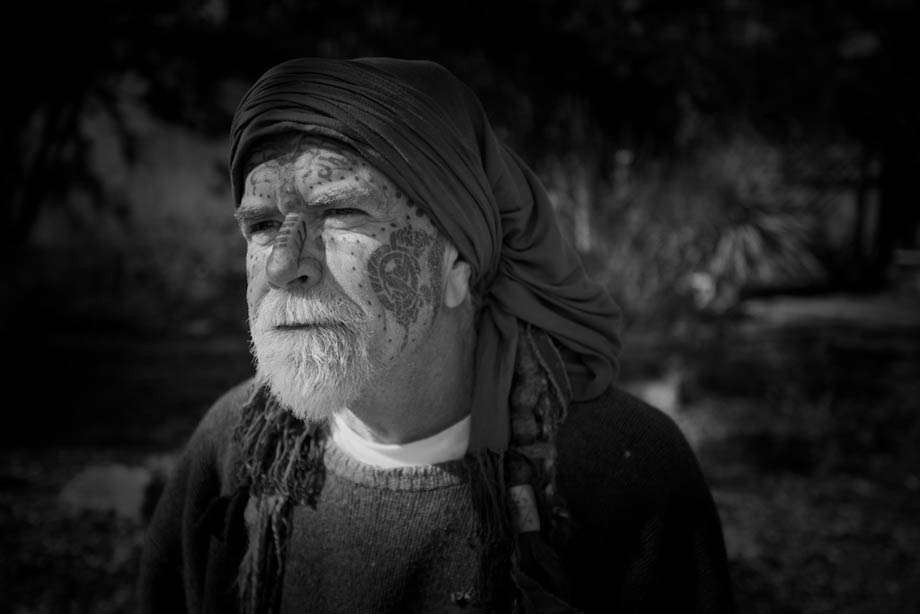 We reach the top of the stairs and a small, weathered, wooden sign points in several directions, essentially stating "Trail to the right, the Big B to the right, Mimosa Market to the left, Katmandu far, far away." I laugh the kind of joy that swells your heart up so much it'll never quite go back to being as small as it was because it becomes clear that these stairs and trails are not just for hiking now and then, not just for the annual Bisbee 1000 Marathon Stair Race, but they're an actual working part of the community, a way for people to get from their house stacked on top of someone else's on the side of a mountain to some other part of town. They're evidence of a disregard for vehicles, of a love of integration with nature. Robert kneels down and produces a few pieces of clay from the ground.
"The turquoise around here," he picks through what's in his hand, throwing some rocks back to the ground, "can still be found now and then if you look hard enough." He dusts some additional leftovers in his hand surrounding a small piece of painted clay, "But…" he hands the shard to me, "this is the kind of stuff I like to find. I could make this into a beautiful bead." Robert is a gypsy bead maker, selling his wares here in Bisbee during the winter and all over the nation come the warmer months.
He proceeds to lead me along various connecting, winding trails. Some seem to wander right through people's yards. Sometimes we veer off the trail and into the yards of abandoned houses to peer into the windows. Stairs connect the various trails here and there. We wind our way the entire way around the perimeter of town and end up at a massive rock protruding from a cliff. "This is Castle Rock," he states as he leans against it. "Go ahead and climb up it." I do, and upon achieving its summit, have a panoramic view of Main Street and all of Bisbee beyond.
Eventually we make our way back to the small park downtown. I'm in love with this town, with these trails, with every building along the way. It seems to be a world of artists and musicians, freethinkers and free souls. It is the exact opposite of what America has become. In lieu of housing developments where every domicile is built the same and must stay the same over time via housing association contracts and neighborly peer pressure, Bisbee praises expressing yourself via rainbow flavored walls and garbage repurposed into art. Where McDonalds and Wal-Mart promise cheap prices along the outskirts and downtowns of so many of America's small towns, Bisbee shuns anything "chain store" and though a tourist destination, still manages to keep everything from coffee to clothing affordable.
We take a seat on the brick wall in the middle of the park and a couple comes down, the male of the two completely sunburned on his face except for raccoon shaped circles around his eyes. They're smiling triumphantly, though at the same time have a worn out look on their faces. "How was it?" Robert asks them.
They both just keep smiling and shake his hand then hug him. At about the same time a businesswoman from a jewelry store across the street walks by and asks Robert, "When are you setting up shop?"
"My hours are flexible today!" he calls out. He later tells me the couple had eaten some psychedelic mushrooms and climbed to an altar at the top of the mountain for the day. The businesswoman, he tells me, often compares her own handmade jewelry with his and tries to tell him he could be charging double, triple for his wares, given their quality. Robert, tattoo faced and so often grinning, is the type of man who can be friends with them all.