From Alaska to Argentina, The Bodeswell VW Family Travels the World in Their Volkswagen Bus
I first met Jason and his family in the parking lot of an Elks Lodge in Beaverton, Oregon.
They pulled up in a bright red and shiny 1971 Volkswagen Bus. One by one they piled out, first son Bode, then wife Angela, and finally Jason himself. A few beers later, the kids riding bicycles and the adults swapping travel tales, I could tell. Jason is a man's man, the kind of fella you don't run into all that often these days, but would certainly be happy to see if you were in a sticky situation that involved wrenches or maps. Though he says they have done a helluva job at avoiding interviews over their six years of traveling the New World, he was kind enough to not only grant me a little of his time, but to answer a few questions I think travelers curious in the possibilities of a PanAmerica trip might find mighty interesting.
"Full disclosure," he begins, "I've been an air-cooled VW guy since my teenage years and I've rebuilt a few engines before this trip."
The term air-cooled refers to the way vintage Volkswagens are cooled. Instead of using water and a radiator, these vehicles rely on air being pulled into the engine compartment to keep things running smoothly.
That he still refers to his travels, though, as "this trip" says something in and of itself. He's speaking to rebuilding the engine in his campervan home on the road in Brazil, using a Portuguese-to-English translation guide to ask the guys in the shop for various tools when he might need them. But before we get into the "boring" details of recreating an engine thousands of miles south of the equator, lets get an idea of exactly what we're talking about here.
Six years. Twenty-two countries. And a growing boy through it all.
"When we took off, Bode was 4. Now, he's almost 11," he recalls, "We continually adapt."
"I'm pretty adamant about being self-reliant and doing all my own repairs," he admits, "we've found that letting others perform even minor work on the Bus typically ends up being trouble farther down the road." This is why I seem him as a man's man. How many male adults from the United States these days can work on an engine? How many have ever even needed to change a tire?
But Jason bought their Bus for $800 and turned it into something entirely different than the heap of nostalgia and old parts it was.
"It needed everything. I squeezed it into our seven foot basement and did the best I could." He painted it himself, got it roadworthy, and the family headed more or less South.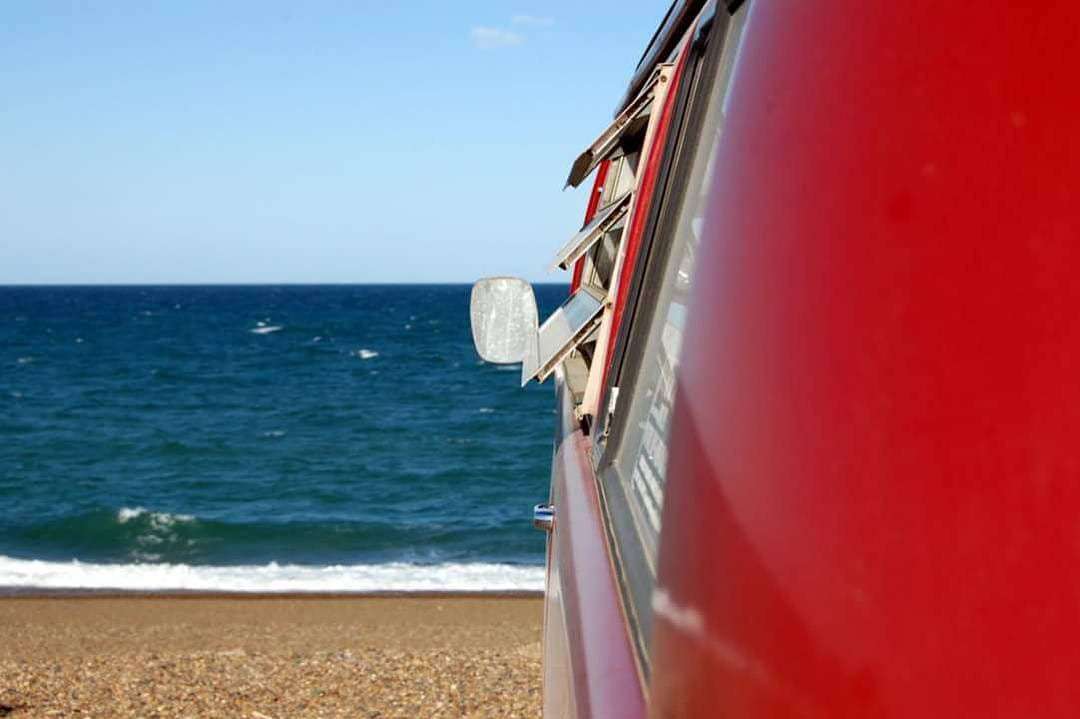 But not before blowing an engine in Portland. "We ended up getting a fresh block early on in the travels."
They'd make it over the Panama Canal and into Ecuador before needing to rebuild them engine again.
By that time, Jason says, "I had plenty of time to learn all the car parts in Spanish." Engine purring again, they continued their southbound migration.
Until, again, they found their Bus ready for another. "We had to do it again in Chile and a fourth time in Argentina. We spent lots of time in the Andes and strained our little 60 HP motor pretty thoroughly—but it was worth it! By the time we got around to the rebuild in Natal," a city nearly at the easternmost edge of Brazil, "it was a pretty familiar situation." That's when Jason found himself in a country that didn't speak English or Spanish (Brazil's national language is Portuguese). He made it work.
To say he had a little help along the way—chugging that red Volkswagen through two continents, up mountains, crossing rivers by raft, and with an entire family (and their gear) in tow—would be fair to say, though.
"We've learned," he continues, "that there are vintage VW clubs just about everywhere, so if we didn't already have a contact in a particular place we could just ask around. There was always a guy that knew a guy.
"So, after hearing our story, somebody would usually offer up space at their house or send us to a sympathetic shop where we could do the work ourselves. We've slept in lots of tallers," Spanish for a workshop and often used by mechanics, "by the time we finished, we'd often end up with new friends all over town, bellies full of asada and a job offer."
Before they could be a roaming family in what amounts to a quarter of an efficiency apartment on wheels though, they had to start somewhere.
"We moved from Austin out to the San Francisco Bay Area for the usual reasons," which is to say they were looking for work. "It was supposed to be a two year experiment, but somehow ten years flew by. Without much thought, we had ended up in the familiar American rat-race career routine. I even started having some health issues related to it. Then, on Bode's 4th birthday, he blew out the candles and made his wish—that dad didn't leave every day for work. It was so simple and honest and it hit me hard. That was the catalyst that turned our casual 'what if' conversations into a deliberate effort to align our reality with our dreams and purposefully live more fulfilling lives."
So the family began doing what Jason calls "following opportunities."
"We've stumbled into our own way of making it work."
Their initial plan sounds somewhat familiar, an idea that they might do some traveling and figure things out as they came. They sold all of their "stuff", saved all of the money they could. "We assumed we would travel for one year and then just figure it out after we returned," he says. So with some cash in hand, and an idea in their head, Jason went into work and quit.
"Fortunately, he was a very reasonable guy and he was keen to have me around a little longer until they could fill my position. I explained our plan to hit the road and get out of the country."
His boss's reaction?
"Damn, I wish I had done that when I was your age."
Jason would go on to work part-time from the road. "They could let me go if it didn't work out." But, he says, "Well, it worked out."
"I continued to work from 19 different countries for the next five years. We also rented our house—the plan was to break even so we didn't have to sell it and could return home after the one year trip. Over time, the rental market increased significantly so it became a source of income. We've even managed to pick up another rental property while on the road and add to the passive income stream. We've been able to manage the properties ourselves remotely. Last April, I quit my job and plan to pick up either contract work as it becomes available," scientific software stuff, as he calls it, "or get a seasonal job wherever we happen to be. Angela is currently working a part-time gig at the local ski resort while we plot our next move."
The job, of course, includes free skiing.
Relying on passive income, quitting a job, being a ski bum and calling it work (wink, wink!)…that may sound like fun but how can that possibly afford this family of three a sensational life of traveling the world, living in paradise and doing as they please?
It's really not as hard as you might think, or as Jason explains, "The costs of living in another country are quite reasonable compared to the costs in most of the United States. We've learned that our version of paradise is pretty cheap, so we've been able to eliminate much of the financial anxiety people," and he thinks it's perhaps mostly Americans, "have about this lifestyle.
So we have a family who's chased the idea of having a career, a child who helped them realize it might not be all that it's cracked up to be, and a plan to head south. But why a Volkswagen Bus? They may have a nostalgia that lingers blocks after they're gone, but they're also not known as the most reliable vehicle to transport your family from one polar end of the world to the other.
"Well, going back to that vintage VW thing…my dad had them. I had them. It's just in my blood. We can sleep in it. I can fix it. It can go just about anywhere we want to take it. And, it opens doors. The worldwide vintage VW community is huge and is like a big family. We weren't really aware of just how many friends we would make because of our vehicle. Every time we pull into a new town, locals want to tell us their childhood VW bus stories. If you like seeing people smiling and waving as you drive by, then it's a pretty good choice."
So Bode gets his birthday wish, and dad, mom and he now have near infinite time to spend together, their entire lives. Jason says it's been incredible.
"He's had a childhood we never could have imagined for him. We both grew up in small towns in Texas, so it's mind-blowing to see your kid having a conversation in Portuguese on Ipanema Beach."
And while his education hasn't exactly been formal, in addition to the myriad lessons of life that this budding young man has achieved, he's not solely been schooled by the road and his parents.
"I guess we call it 'road-schooled'", Jason believes, "but he has also temporarily attended local schools in Chile, Mexico, Guatemala and Bolivia. It's become normal for him. I remember him once saying, 'I understand all the material, but I just need to learn the new words.' He's so adaptable and adventurous. His world-view and understanding of current events, local cultures and empathy for the variety of the world's living standards is developed far beyond his years. Mayan history, conquistadors, The Incas, Brazilian slave trade – sure, he's been there and drank the mate. He's a bright, worldy kid. We're proud parents."
Jason goes on to clarify though that he's not preaching the lifestyle. He doesn't necessarily believe that children who attend a regular public school in the US are doing anything "wrong", anymore I presume he would like to have that opinion pushed on his family.
"Every kid and family is different. I think this lifestyle has been over-glamorized to some extent. It's not all sunsets and cervezas. So far, it's been right for us. Next year, it could change."
"We've met many people who had similar travel dreams and took off, only to change their minds and go back home a short time later. Huge respect for anyone who wants something different in their life and goes for it. But, everyone is different. Living in a van down by the river may not be the answer."
Still, for the Bodeswell VW crew, it's opened up a literal world of possibilities, and helped their son discover himself through it all.
"He's gregarious," Jason boasts a bit, "probably by necessity. He makes friends everywhere. We encourage him to talk to strangers and he knows there's no Boogie Man. The world is full of kind and amazing people. We meet them every day."
They've slept on beaches in Alaska as the sun christened salmon in troves and blueberries colored the hills. They've soaked hot spring deep together, camped with penguins in Argentina and made it back with enough stories to fill a novel. They've driven a 5000km dirt road, and that was just one of many, many in their escapades. Bode and his parents now spend portions of their winters in Colorado skiing and the only thing between them and their next adventure is the amount of time they choose to plot it out.
And they have plans to continue their adventures. One of the last things Jason said struck me as the most profound. Sure, anyone can get wrapped up in the rat race and as Instagram will show you, many people figure out how to get out of it if they want to do so. Some of those people even find that this type of life is for them.
But for Jason, it's not just for him. It earnestly seems to be a way to find more time to not only just live, but to live together as a family.
"After our first year on the road," he recalls, "we had only made it to Costa Rica. It was then that we realized that this was a lifetime project. We will drive all the way around the world, but we're in no particular hurry to do it. Our motto is 'you can't go too slow.'"
They have plans to tour around Europe, explore Africa, and as he puts it, they "reserve the right to modify the agenda at any time." If everything goes south, they will too. "Mexico is our permanent fall-back plan. We've even considered buying a sailboat and switching transportation modes. It's fun to consider all the options. Our current 'worst case scenario' for this spring is just chillin' on the beach and cruising around Mexico (again)! Not so bad, really."
Yet with all of those plans, the reality of their mission shines through best when he explains, "Bode is now on the local ski team here in Winter Park, CO from December through March. We randomly ended up here one winter a few years ago and he loved it. So, we've kept coming back. It's probably the only sport or organized activity that he's ever shown an interest in, so we're going with it as long as he wants to do it. Seriously, all those years of beach fútbol with the locals and he could have been the next Pelé. But, he's had no interest in soccer. Just skiing."
So Winter Park, Colorado is where they bought their second rental property. And now they not only have some additional income, but a place to call home for the winter.
Though, he continues, "We continue to rent it out even when we're here and just move back into the Bus and camp when it's rented." He smiles. "We hustle."
Travel and home. A plan to see the world, whenever they get the urge and knowing that the world will still be there when they do. Sounds like a plan well executed to me.
"People ask us for the secret all the time. There is no secret. Everyone's situation is different. But we've noticed that people doing it have the same things in common – they hustle and they follow opportunities."