The Corner Kitchen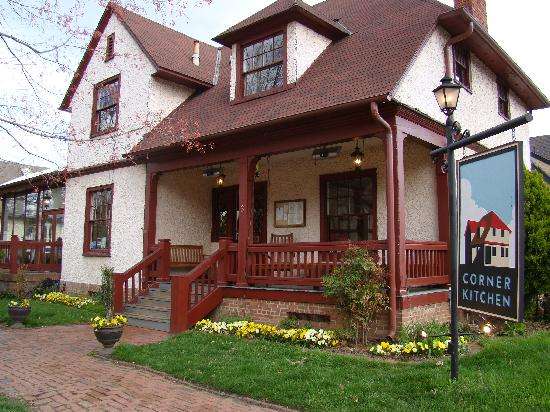 I'm bouncing our one year old on my hip, the streets of Biltmore Village—two miles south of downtown Asheville—overflowing with parked cars on a Sunday morning, most churches having just let out and their congregations swarming the city in search of sustenance, when my baby mama walks out through the door of the Corner Kitchen.
"About half an hour," she tells me. Relatively short considering the number of people waiting on the old farmhouse style front porch of the establishment, the restaurant having been converted from a house that at one time would have been the home of a tradesman working for the Vanderbilts, Asheville's premiere old money family, as they crafted the Biltmore Estate.
The southwest wing is made entirely of glass and boasts an every-seat-taken approach to brunch, and we look on slightly in envy, stomach's grumbling from having been forced to wait through 11am without so much as a quick croissant with our coffees this morning. The restaurant is located in a ritzy part of town though, boutiques and plenty of other restaurants peppering the tree-lined streets crisscrossing and curving to form the neighborhood's fan layout. A few stops in some children's clothing stores attempting to sell 1950s style Easter Sunday best outfits to parents (or more likely, grandparents) with too much money in their pockets later and we're back at the Corner Kitchen, being led upstairs through the old house to one of several rooms full of tables covered in delectable looking hams, eggs and waffles, and lined with satisfied-looking guests. The room is small, quaint, old fashioned. I wonder what young children may have been climbing up bunk beds in some lifetime now past as we wait for our drinks. Water for now, it's still only 11:45am and North Carolina forbids our server from delivering the Bloody Marys we were hoping for until noon strikes and, presumably, God gives the "ok" for consumption of alcohol.
Grandma is sitting next to the baby, and all three of us adults are looking around at the noticeable lack of other young children in the place, all a little on edge hoping his behavior will suit the laid back fanciness of the establishment. By the time our food comes—corned beef hash covered in poached eggs for me, thick slices of ham and chunky breakfast potatoes for the lady, and Grandma sharing a waffle weighty enough to make into a cake—it's 12:01 and we proclaim our need for a little libation. The portions aren't typically Southern, in that they're realistic and don't overflow your plate, but the tastes coming out of every bite are immaculate and no one doubts the wait to be worth each time our forks reach our mouths.
The atmosphere is quiet, except for the occasional emphatic squeal coming from our table as the young one does what he can in pre-speech to express his desire for another round of Grandma's waffles, and though the place can probably hold a couple of hundred people, since we're all spread out into different rooms of the converted house, it feels very small and wonderfully cozy. Our server doesn't bother us too much after bringing our food, though every time she passes I see the corner of her eye filling up with pupils to check that we're all good. Taking our time savoring every bite and each one of us semi-devoted to keeping the baby distracted and happy, I would say we're nothing but good.
When the Bloody Marys arrive though, it's another story. They're strong, and light pink rather than red. Many people wouldn't complain about a healthy dose of vodka in their Bloody, but we're having breakfast with the family, not trying to recover from St. Patrick's Day with round two ambitions in mind. And there's a strange flavor—Grandma guesses it's some type of clam juice—which I don't particularly care to mix my seafood with my tomato juice.
Still, there are plenty of spots around Asheville to get a great Bloody, but when it comes to the food itself, each and every one of us leaves the Corner Kitchen fully aware that we'll be back, perhaps next time with a reservation and a request to supplement the Bloody Marys for Mimosas.