Chinati Springs
There's a little slice of heaven, available at discount Mexican rates, just north and east of the line in the sand they call the Texas / Mexico border.
Texas has these two-laners stitched all along its highway grid called Farm to Market Roads. They were created on the backs of those more major roads that rural communities would take to the market towns. Think old blue pickups hauling in shanks of beef and whatever other goods are dealt in by desert farmers. It was on one of these long hauls, Farm to Market 170 to be exact, that our Volkswagen Bus started acting up. She wouldn't climb even the least sloped of hills at much more than 35mph or so, though once back on flatland she bounced back up to 60 or so. I looked at my companions, namely a nine year old I called son and my girlfriend. I was hoping for some sign of their feelings toward what we were embarking on…a suicide mission or adventure into paradise?
Nothing. She smiled a little. I looked over my shoulder at our water supply, which was overly ample even if we were going to be fifty some miles into the desert. We'd brought enough food for two days of plentiful consumption and a similar amount of beer and cigarettes. These were our prime days, Renee and I in peak physical fitness, the boy Tristan coming into his own Peter Pan-like state of being, and all three of us having been covered in the dusts of the desert for months or longer by now. So, I thought, even if all goes wrong, we'll be fine making our way back out of this end-of-the-line escapade to find the elusive Chinati Springs, possibly the most remote desert hot springs resort in all of the Continental US.
The last big town before you venture off on the two lane, dead end jaunt to Chinati is Presidio. While geographically it exists on the Texas side of the border, culturally it is Mexico. Many people don't speak English at all, the population is almost exclusively Latino, and there is simply a general ambiance of a culture not traditionally our own. As exciting as this was, it proved a bit difficult with regards to us gathering any information about Chinati Springs.
We were told there was a very small town carrying the moniker of Ruidosa which had a general store where we might be able to stock up on things once were out in West-est Texas, if we decided to stay longer or found ourselves in a bind of some sort. An hour's drive later we rolled into what could barely be called a town. A few buildings still stood, some already taken back by nature, the rest clearly losing the battle. One did read "Beer" and looked as though it may have sold some type of beverage in days gone by, but how many of those had actually already gone by since that time was uncertain at best. The founders of Ruidosa must have had some sense of humor, given the words Spanish meaning: noisy.
I looked over my shoulder again, this time less concerned with the amount of water and much more so with the lack of beers.
Farm to Market roads will only get one so far on the quest to Chinati Springs, though. A dirt road, almost a path really, cuts away from the pavement a sharp right, heading east into the desert and bumpy as all hell. The Volkswagen Bus we called our home and transport was over 30 years old. It was from a time when vehicles in Germany were still put together like Legos: simple, light, easy to fix…and incredibly fragile. The metal panels on the old girl shook like Zeus doing the Twist. The sixteen inch tires did nothing to absorb every rut in the road, and they came like ridges in a zen garden, spaced out only hairs apart and by the time we'd made it only a mile off road, there wasn't a one of us who thought we'd make it the remaining five.
Renee was clearly terrified, I could see her imagination running wild, the entire Bus falling apart at the seems, the engine clanking away into a pile of gears and probably some type of television style explosion which left us without water in a land where cell towers had yet to explore. I tried going faster, we shook harder, I tried to slow down, and we shook harder again somehow.
"We're not even sure if there's anything out here," she whispered, looking out the window, trying to remain calm for the boy, I suppose, but clearly at her limit.
She was referring to the fact that, when we'd checked their website days earlier, a message stated "We're all booked up for November 2007."
It was 2009 at the time.
I laughed, made jokes, rubbed her leg trying to keep things calm. But I was beginning to grow a bit nervous myself. Aside from being ridiculously bumpy and incredibly narrow, the road occasionally shot straight up, steep but short hills where you couldn't see what was over the other side until you made it the top, and the Bus not running on all of her cylinders required I floored it the whole way up them, just hoping there would be more road on the other side.
Finally we saw it, a building. Safety, destination, a way to turn off this damn vibrator.
As luck would have it, Chinati Springs indeed did exist. It's owners, perhaps, were just not all that keen on updating the website. But to put it like that, "Chinati Springs indeed did exist", seems perfect. It is a Fountain of Youth, an Atlantis. Everyone hopes that there is a place like this on the Earth, and from the looks of it, we were of the few who ever got to realize it.
There were no other guests. David, the dreadlocked gentleman running the show, was the only other human to be found. He said something about how much the rooms cost, a number that sounded perfectly reasonable, but also mentioned that if we were comfortable just pulling the Bus up to a campsite, that's only $10 a night (Update: It's now $25 / night to camp here). We were. Hell, I was comfortable leaving it just where it was and diving right into this luxury spa with an admission price of less than what we'd spend on lunch at a Subway back in Presidio.
Hot springs, the quaintest little desert cabins boasting mix-matched Mexican blankets and vivid colors, an outdoor shower. Several cabins, the office, and the camping sites all circling a rec room complete with kitchen. Inside, journals full of bird sightings had been recorded by various visitors over the decades. A few kids games missing pieces and well used lived on shelves, instructions on how to do your part to keep everything clean their neighbors. The Hot Springs Creek runs alongside it all.
David helped us settle in a little, his golden retriever Jemima showing us to what was her favorite campsite, and told us that we could walk to Mexico from here. We didn't seem him all that much afterwards, but decided to take him up on his challenge.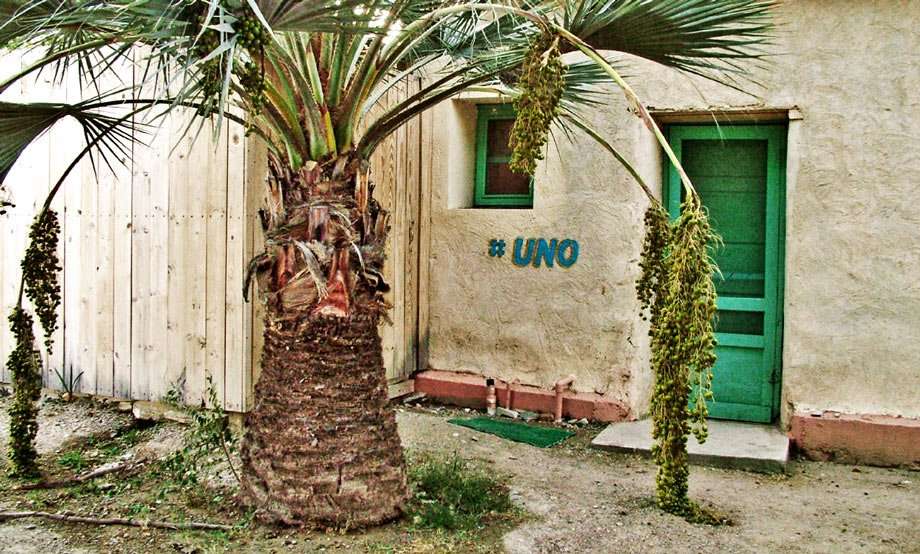 We never quite made it to Mexico, but wandering around in the desert among the killdeer and javelinas, the ocotillos and a blooming agave lechuguilla, and of course the mountain lions which existed only in our imaginations or perhaps just around every bend, a serenity of exclusion, of being as remote as any of us perhaps had ever been up to that point, was overpowering.
When it came time to leave, our only regret is that we hadn't packed enough supplies to stay significantly longer. Firing the Bus up, though, unsure as to how it would fare while executing our exit strategy, we were positive that if we did break down and were forced to stay another few days, we could probably bear to starve just a little in a place like this.