Downtown Inn & Suites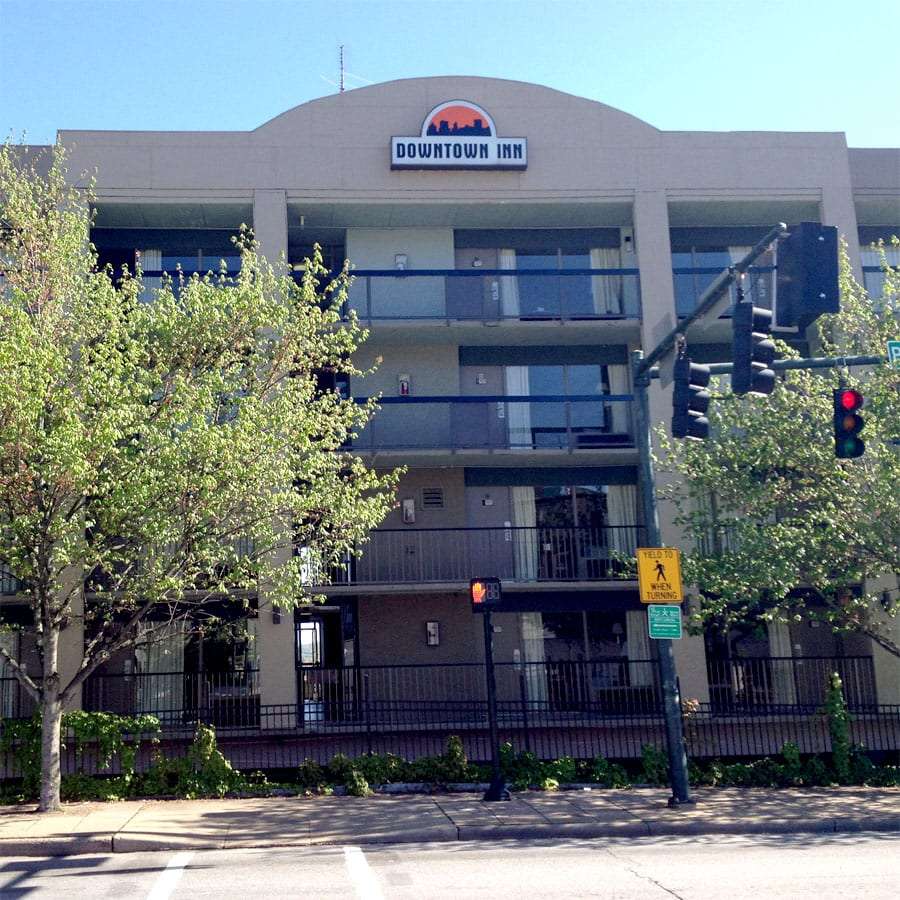 Our bedspread is a faded, pink floral thing that, like the room itself, could just as easily be found in about any old chain hotel room off any given exit in the country.
There is absolutely nothing remarkable about the room, though a few drinks in me certainly makes the slightly dingy feel of it all a bit easier to fall asleep into. I pass out to the sounds of our television competing with the city nightlife, the hotel itself is right in the thick of it all, which is a good thing in my opinion. I love the sounds of a moving, working city, even if as the night goes on they turn less motorized, less businesslike, and more and more the hoots and hollars of drunks shoveling out of the bars. All in all, though, the noise is a comfort, not a burden.
As dawn rolls in and I step out onto our southern balcony, there it is: the sun painting the glass sides of the building with all of it's glorious morning hues as the endless view of mountains off to the East mixes with wisps of smokey mountain morning leftovers, the cool blue fog and cloud mixture drifting between the peaks and valleys beyond. Coffee and cigarette down, I hop into not an unclean shower, but it, like everything in this hotel, is old.
The breakfast buffet again reminds me that we're in your run of the mill hotel here, some sticky buns in plastic containers, a few bananas, some toast. They have croissants though, so that's a delicacy. But complaining about free continental breakfasts is like complaining that cigarettes gave you lung cancer: you knew it wasn't going to be pleasant but you did it anyway.
Luckily, Asheville is packed with great places to eat and plenty to do, and the hotel is only a few steps from all of the action, and within walking distance to all of downtown proper. We have another grand ol' day around town and when we're done for the night, there she is, the Downtown Inn & Suites, so close it feels like home. Not to mention it's the cheapest hotel in downtown by a wide margin (at around $70 before tax, it's nearly half as cheap as any other option that doesn't require a car or a bus ride). Pickier guests leave, complaining of beds not made to their military-style liking or the fact that a group of kids partying on a balcony kept the good times flowing until something like 3:30am. I personally couldn't be more satisfied with the thickness the experience allowed my wallet to retain as we step out into the immediate satisfaction of all things downtown Asheville, though.