On the Edge of the New River Gorge: Fayetteville, West Virginia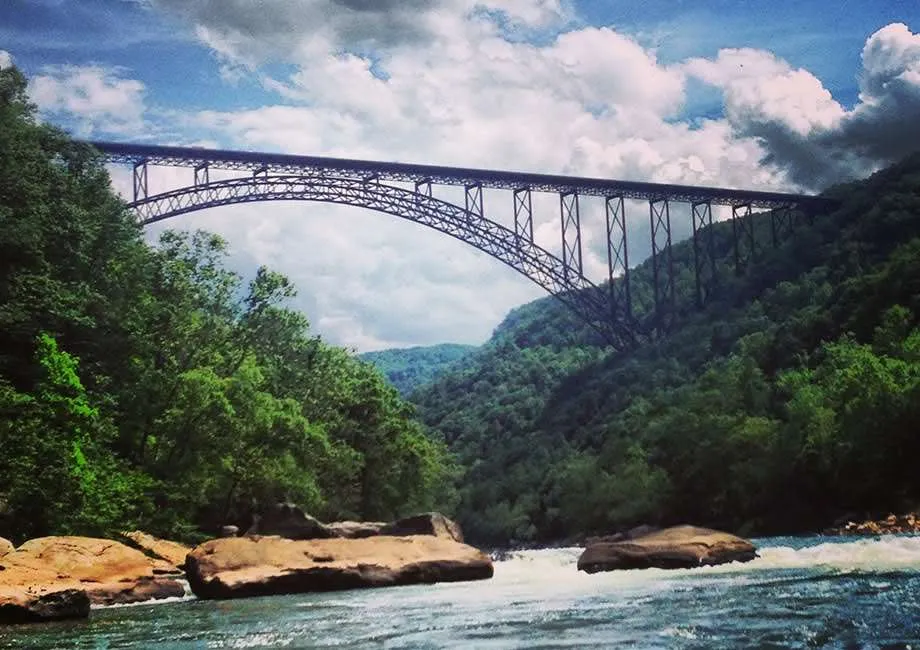 The leaves are singing out half a pack of Crayola crayons as October clings to the sides of the New River Gorge.
It's hard to compete with the show nature puts on every Autumn in the Appalachian Mountains, but on this particular day an even more impressive sight will be seen. More spectacular perhaps than even the 876 foot deep gorge carved through the Appalachians over the past 400 million years or so though will be 400 parachutes opening as, but once a year, the National Park System allows BASE jumpers to leap from the bridge with specialized parachutes and float down into the river's rapids.
That is Bridge Day, held annually in October, and shortly thereafter West Virginia will welcome snow and winter will settle in. As spring thaws this patch of the mountains the river will rise to Class IV and V rapids. For some reference, there are six classes of rapids, with Class VI being the highest and generally considered suicide. Thrill seekers will navigate the frigid waters until the summer months arrive and with hot days and warmer waters, the river will subside to a level manageable by nearly anyone who is comfortable swimming.
An experienced white water enthusiast myself, two of my children are still too young to sit up let alone be expected to manage the exhilaration of floating just one loss of balance away from taking a dip in the river, so we opt for a speedboat tour of the river instead. Hawk's Nest State Park lives on the northern bank of the New River and, with the aid of an aerial tram, we descend into the belly of the gorge. As we approach the tour boat a grizzled old hippie of a man, long grey beard and squinting black eyes, waves us to board.
My Lady greets him with a simple, "Hi!"
"Not this time of day," he replies, smiling and lighting his in-between-tours cigarette. Soon enough we're all aboard and he's cutting high speed back and forth the wide river to give the young ones a thrill, speaking over an intercom about the peculiarities of the region, though we're seated at the back and so the motor is a bit louder than his amplified voice. It doesn't matter, whatever history he's imparting on us, whatever sly humor he uses to get the children interested, surely pale in comparison to the verdant backdrop of the cliff side painting we're speeding through. Small fishing shacks, some nearly reclaimed by the river while others in pristine modern condition, perch along any flat and mildly elevated stretch of riverbank. A family is gathered at one, playing horseshoes and having a barbecue. Finally we arrive at some rapids just a few dozen feet shy of the New River Bridge.
It hovers looming above, allowing US 19 to continue on its path through West Virginia. At 1700′ marvel, it long held the title of longest single span arch bridge in the world, until the Chinese and their march into the Industrial Age overtook it several times now.
"Above us," our tour guide of a captain can now be heard as the engine is but idling, "is the New River Gorge Bridge. Or as we call it around here, the bridge."
Later in the day, zip-liners will attach themselves to long stainless steel cables and fly through the forest canopies we're floating through. In days to come we'll hike several of the 50 or so miles of trails the area has to offer. Campfires will blaze, tents will be erected, rock climbers will scale sheer cliffside and the ancient history of this beautiful piece of America will continue to be written.
When its time to remove your boots, to wash the dirt from your hands and sweat from your brow, the small town of Fayetteville hides only a few blocks from the four lane US Route 19 that crosses the bridge. A small green roadside boasts, "Fayetteville. Coolest Small Town" and if it weren't for that sign we may never have turned off of the highway. But as intended, the signage served its purpose and we wandered into the roughly four or five blocks that comprise this small town's centre.
Gumbo's, a small restaurant, boasts of being the only Cajun restaurant in all of West Virginia. Next door live theatre can be had at the Historic Fayetteville Theatre. An ice cream shop, a breakfast joint, a tattoo parlor underground. Across the street locals and tourists alike are chatting up their adventures over coffee in the Cathedral Cafe, a church gone beanery complete with stained glass windows, espresso and a box full of toys that reads, "These toys are from our homes and the homes of our friends. Feel free to take some home."
We vie for dinner and drinks at Pies & Pints, a local pizzeria and pub where the Lady confesses she's never had a better slice. The beer selection is my aim, and after sampling three different IPAs, including a particularly tasty one from local Bridge Brew Works, I realize we're sure to be back at least a few more times during our stay here.
Eventually we retire to a small RV park just outside of town by the name of Rifrafters, where unlike the rising trend of campgrounds for those of us who prefer to do our camping in recreational vehicles (or our living, in our particular case) to pack as many vehicles in as closely as possible, the guy who runs this place has given each spot its own sizable yard, and positioned each spot in a way so that you're not looking at the back of your neighbor's rig, but instead aligned in a way more likely to spark up some conversation. Indeed, one of our neighbors asks us if he can offer the kids some popsicles, to everyone's delight.
Night falls over us and I imagine us perhaps one day living here for a few months, a year even. Small town friendliness and big time nature are the perfect combination, all too rare in the East these days. A liberal left lean is even more uncommon here in rural West Virginia. Fayetteville is an oasis of that sort, by definition, an ideal peg on any summer roadtrip's plot.