Free Camping with Cell Service in Colorado
It was 2009, October was setting in with plenty of snow by the middle of the month, and my son and I had just ditched our 27′ Class C RV in favor of a 1978 Volkswagen Bus.
Exciting times, indeed. Beyond simply the thrill of having already been on the road for a year, we now were moving into what I thought would be our dream vehicle (and one we still travel in all of these years later). My college sweetheart had found me somewhere between the tweets and comment threads of the world, and it was looking like she'd be hopping into our Bus with us for the adventure ahead.
It took a few months–including all of November and December–in the snow-laden Rocky Mountains for her to fully bail on her existing life in Nederland, Colorado, though. Cold, icy cold months spent scraping snow and sleet from our windshield, trying not to fall off of cliffs or get stuck in snowdrifts. That she had been living in the state for about six years and I had my fill of what the Front Range (essentially Fort Collins through the Boulder/Denver area and down to Colorado Springs) could offer, we pointed our windshield wipers south and never really bothered to come back.
Until this summer. And what a summer it has been. There are few places in these United States where one can find such an abundance of free camping–even on the weekends–and still have majestic views, short drives to some incredibly local small towns, and yes, even cell service for those of us who need to work.
Thus, without further ado, our guide to finding free camping–with cell service–in the State of Colorado.
Further ado: Note that the further you go down this list, generally, the better the cell service and camping experience altogether.
10. Great Sand Dunes National Park
While opinions on this national park tend to be quite varied–largely due to the fact that many folks don't find blasting wind sandpapering their eyeballs out while walking on hot, hot dunes to be overly enjoyable, let alone the mosquitos–we personally think it's one of the most stunning natural areas in the park system. Think rolling prairie and towering snow capped mountains sandwiching the tallest sand dunes in North America, and you may have an idea of what we're talking about.
Best Spot to Camp
For our (lack of) money, the best free camping you can score here is at the former state park which now goes by the name San Luis State Wildlife Area. It's within view (and a short drive) of the national park, and get this–since it used to be a state park, there are electric hookups! Free of charge!
The cell service is not great here but it's certainly doable for checking email and smaller load stuff. We managed to work here for a couple of days before snagging a spot in the park itself (not free, first come first served, and you'll want to show up early).
All sizes of RVs and vans can fit here, and tents are allowed as well. There is no running water, though vault toilets are available, so come prepared.
What to Do in Town
Alamosa is about a half an hour drive away, and while not exactly the most shining example of the state's typically epic small towns, it boasts a brewery and plenty of little restaurants, five and dimes, and sporting goods stores to keep you stocked for your other adventures.
More to Do in the Area
For us, it was absolutely all about the national park. Try and hike the dunes, however high you want to go, early in the day to avoid burning your feet off, or just play in the river and watch the impressive light show that the sun and clouds play on the mountains and sandy hills all the day long.
9. Lyons, Colorado
Easily one of the coolest towns on the Front Range, and one that leans more toward the family-friendly side (as opposed to the very 420 nature the state has embraced), Lyons is perfectly positioned between Estes Park and Boulder to give you easy access to everything from Rocky Mountain National Park to a hip Target.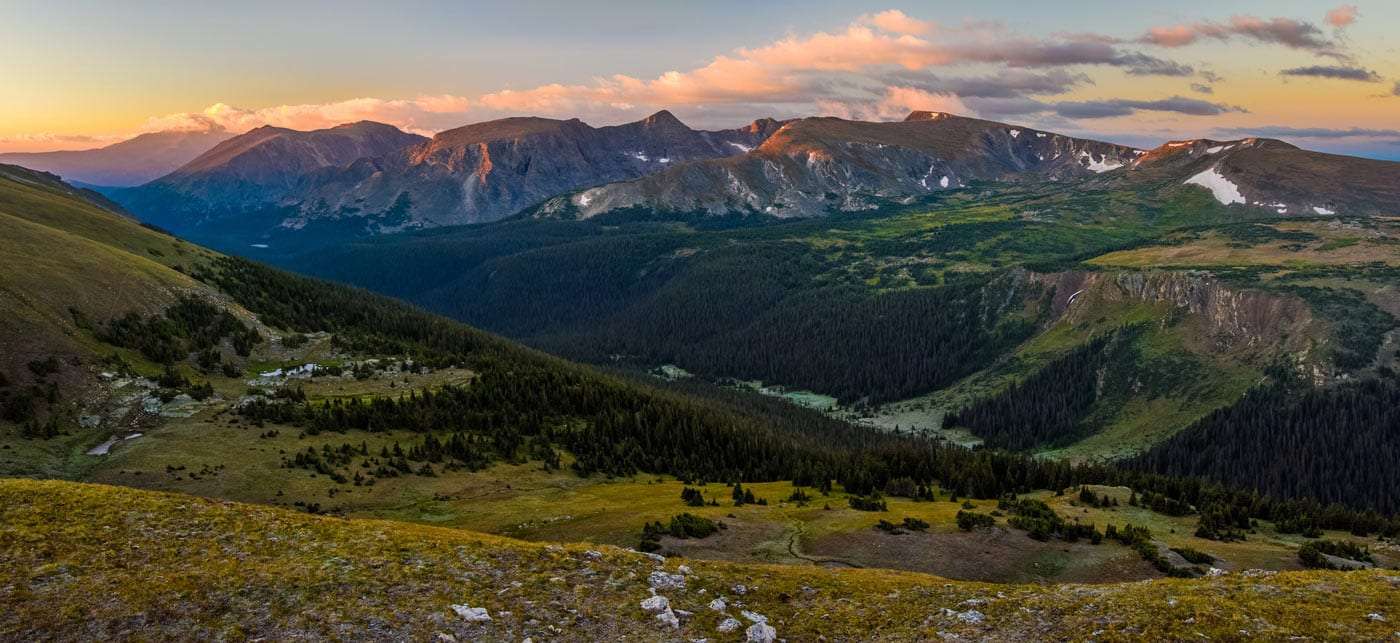 Best Spot to Camp
Button Rock Road Dispersed Camping is not for the feint of heart, or long of trailer, but it's not terribly difficult to access for a van or truck camper. The views are decent, the sites are large (though there are only a few), and as long as you don't show up when the gun lovers are around, it's quiet and peaceful, too.
A note on that, though multiple signs state no fires and no shooting, this doesn't stop a certain element from participating in these activities.
Also, this is one of those spots where cell service definitely wavers in and out. We promise it's the last on this list! But the quick commute to either Estes Park or Lyons made this a very minor inconvenience for our work.
What to Do in Town
You can scoot up to Estes Park, where particularly in the autumn–when most of the tourists have gone back to Kansas and Texas and the leaves and elk are in full effect–you can have a relaxing time as you near Rocky Mountain National Park over ice cream, whiskey or visiting the historic Stanley Hotel. For our good times though, we dip into Lyons and sample the great coffee at Stone Cup or grab a Dale's Pale Ale at the original Oscar Blues location.
More to Do in the Area
Walking the lake in Estes Park is always a nice way to wile away an afternoon, or take the kids into Rocky Mountain to get their Junior Ranger badge. Alternatively, just soak up the hustle and bustle of Boulder–and the big shops that come along with it–as nowhere else on this list will give you easy access to big box stores and other conveniences that the western side of the state are more or less completely lacking in.
8. Buena Vista, Colorado
For some reason the locals pronounce it "Bee-you-na" Vista, which is not only ridiculous given all aspects of reality and understanding of the Spanish language that even the least learned of us Americans understand, but it bothers the britches out of me. Get passed that, though, and it's a happening little town where you can still afford to buy a sandwich every day.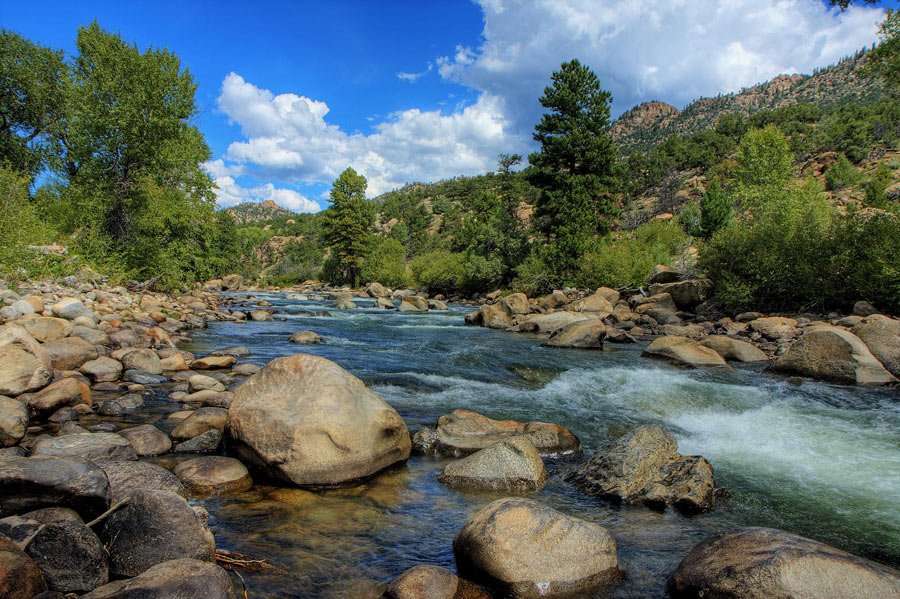 Best Spot to Camp
The Arkansas River runs through town, and just north of Buena Vista is a curious little plot of dirt, rock fire pits and piñon pines. It can be a bit tricky to navigate a trailer or mid-sized RV down here, and it's sort of a one lane, one way escapade, but if you can score one of the spacious spots you'll be treated by no visible neighbors and the hush of the river not far away.
What to Do in Town
There is an excellent park in town that features a skate park, dirt BMX track and easy access to the river, as well as a couple of free spots to fill up on water (a small station near the bathroom and a pump by the skate park). A plethora of outdoor stores run the main drag downtown, and live music is regularly happening at the Lariat.
More to Do in the Area
Locals and long distance tourists alike also take advantage of the very built up, waterparkesque Mount Princeton Hot Springs Resort. Picture a 400′ waterslide into swimming pool like springs with a lazy river, as well as access to the actual river itself, an olympic sized pool, and plenty of local craft beers at the lodge.
7. Winter Park, Colorado
Our first impression of Winter Park? Nothing special.
Upon further review, it became obvious how close knit a community it was. Everyone who actually lives there knows one another. The ski mountain is up and coming and in the summer outdoor biking activities are as plentiful as golden aspens come autumn. Did we mention free music every Thursday at an amazing park where the playground is only dwarfed by the skate park next door?
Best Spot to Camp
Vasquez Ridge doesn't offer the sweeping views of some of the other campsites on this list, but it is a particularly lush forest, with small sites (mostly suitable for vans, tents and truck campers, though some spots are large enough for RVs) tucked between a dirt road and a lovely little river. While you may be able to snag a spot where it's possible to hoof it to town, most of the sites are pretty far away.
What to Do in Town
Hideaway Park in downtown Winter Park is a blast, as previously mentioned. We also recommend the similarly named brewery just down the street. If you plan to buy your own beer to take back to your campsite, skip the liquor store in town (where they seem to mark everything up 50%) and head to Icebox Liquors, part of a little gas station where you can get a much better deal.
More to Do in the Area
A ropes course and epic stage coach and teepee playground in nearby Fraser, Colorado, and of course the all season ski mountain just up the road are a few great starting points when exploring the area. If you head up to Fraser and enjoy the marijuana culture in the state, be sure to check out IgadI in Tabernash (a bit further north) where you can watch them make their edibles and grow their green.
6. Pagosa Springs
A hipper little rafting town you'll be hard-pressed to find than Pagosa Springs. Not much more than a stretch of town along the highway, they pack a lot into a few blocks.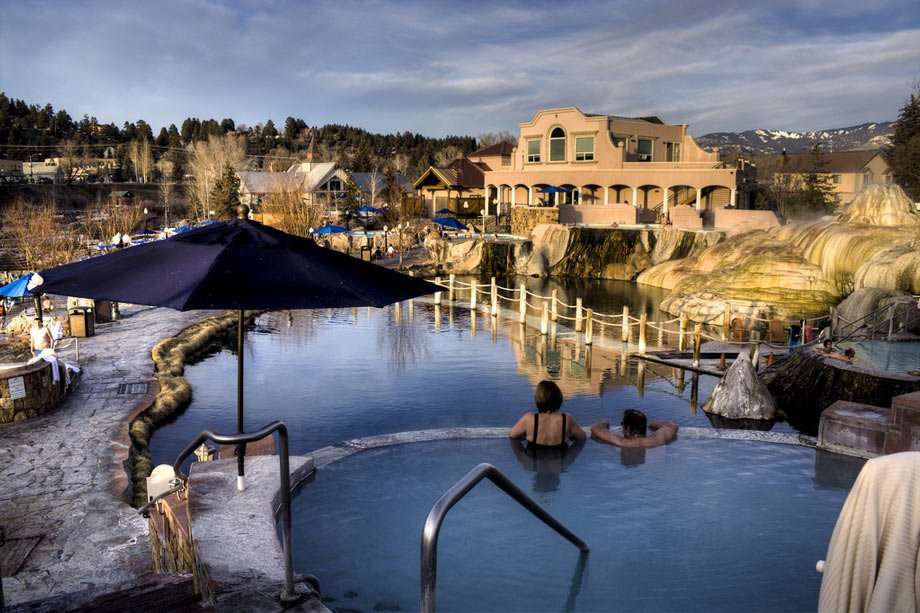 Best Spot to Camp
Jackson Mountain Road, a fifteen minute drive north of town on US 160, has one lonely spot where the cell service still works, but if no one is taking it, it's a perfect blend of wooded splendor and spacious open camping. Even a decent sized RV could fit into the spot, or a few vanlifers would have no problem sharing it.
What to Do in Town
Riff Raff Brewing is a great place to watch the tourists go by from their outdoor seating area, sipping on a brew and pondering which company to ask take you down the river or into the mountains.
5. Silverton, Colorado
Though the general atmosphere of Silverton leans toward the hokey, it's a fun little ex-mining town gone old timey playground to explore, and the drive from Durango or Ouray is spectacular.
Best Spot to Camp
Sultan Creek, south of town on US 550, and a handful of spots just west of town on the same road, offer various spots to camp for free, many of which have a couple of bars of service, as well. You'll be hard-pressed to find a campsite that doesn't have spectacular mountain and/or river views in this area. Most of these spaces have ample room for even the biggest of Class As or fifth wheels, too!
What to Do in Town
Stroll around, this place is a t-shirt buying, cowboy loving tourists dream.
More to Do in the Area
You can also take an old steam train to Durango and back, which will no doubt be one of the most breathtaking train rides you'll ever have to endure (it's three plus hours each way…)
4. Salida, Colorado
This was a tough one to place, as Salida is not the best of Colorado's areas to explore, but it's got a perfect combination for those of us who need to work: great cell service, a happening downtown to explore, and a beautiful place to camp.
Best Spot to Camp
Salida North BLM consists of a handful of spots located in a small canyon–so not always great for solar, but plenty of cell service if you can keep the batteries going. It's also only ten or so minutes to town.
What to Do in Town
There's a cute playground near the river, where you'll find kids tubing all summer long. Amicas Microbrew & Pizza is, if you don't mind a long wait at times, one of our favorite drinking and dining experiences of the entire summer.
More to Do in the Area
We spent most of our time here sitting around a campfire with friends, and the good news is there is an abundance of free wood just up the road from Salida North BLM.
3. Telluride, Colorado
We paid $18 for a crappy hamburger (no thanks RBG) and $5.50 for a small iced coffee one day in Telluride. After that, we made our own food (also expensive at the local grocery store). Then again, we got the second most scenic view of our entire lives camping just outside of town, and the options are abundant.

Best Spot to Camp
Last Dollar Road is a gorgeous drive through some of the most pristine mountainous farmland in the nation. It seems to culminate at a plateau where you'll find plenty of campers–from big RVs to tents–but if you keep going (the first right, not the more treacherous, 4×4 only second one), you'll cross some rocks from previous avalanches, meander through an aspen grove, and come upon another area where the rock slides have left ample room for vandwelling or other small vehicle camping, and views for miles and miles.
What to Do in Town
Town Park is a music venue, playground, baseball field and small pond where kids can fish for free. Holiday celebrations tend to be epic in the summertime here, too. Telluride Brewing Company managed to hold our interest as well.
More to Do in the Area
You can ride the lift to Mountain Village for a second helping of expensive eateries, but just exploring the death-defying backroads around town kept us busy for days.
2. Crested Butte, Colorado
Maybe the best little town in Colorado, Crested Butte is a tree hugging, outdoor adventurer's paradise.
Best Spot to Camp
Washington Gulch is, well, awash in service, places to camp for free and endless wildflower-laden glades backed by the distinct mountains that surround Crested Butte.
What to Do in Town
Anything. The whole place is awesome. We'll recommend starting with breakfast burritos at Camp 4 Coffee and seeing what kind of trouble you can get into from there.
More to Do in the Area
Aside from Washington Gulch, Slate River is a popular free camping spot, though the cell service varies. If you've got a reliable, high clearance vehicle (4×4 shouldn't be necessary unless it's muddy, but the road is a bit gnar-gnar if you get my teenage slang drift) head to the end of the road, a place Google calls Pittsburg, but which is really just a wide open spot full of flowers, bears and a massive waterfall.
1. Twin Lakes, Colorado
Absolutely free camping overlooking a pair of lakes living in the footprint of Independence Pass and Mount Elbert, the tallest in the state.
Best Spot to Camp
Veer to the right as you approach the free camping area known as South Mount Elbert, and watch for a rocky cliffside to your right (coming from the paid campground below that is). Bigger RVs can fit into the beginning area here, but if you can manage to (slowly!) drive up and over the cliff a little, you'll be treated to a ton of wide open views of the mountains, the lakes and everything below. Just before to pack it in, pack it out and get deep into the woods if nature calls…the place is starting to become a bit of a dump. There is a bathroom and water available at nearby Lakeview Campground ($19 / night but if you just go in to use the vault toilets and fill up water, you won't likely be sussed out).
Let's all do our part–even picking up other people's trash–to keep all of this gorgeous free camping available!
What to Do in Town
Go to the general store, there isn't much else as far as "town" goes, but it is an experience unto itself.
More to Do in the Area
Ride or hike the rocky bike trail, or rent a kayak, to explore the old resort, slowly being restored by the National Forest Service, or take a drive to Aspen via Independence Pass. Nearby Leadville, the highest town (as far as elevation goes, wink wink) in Colorado is twenty five minutes north of Twin Lakes, too.