The Most Beautiful Free Desert Camping in the Southwest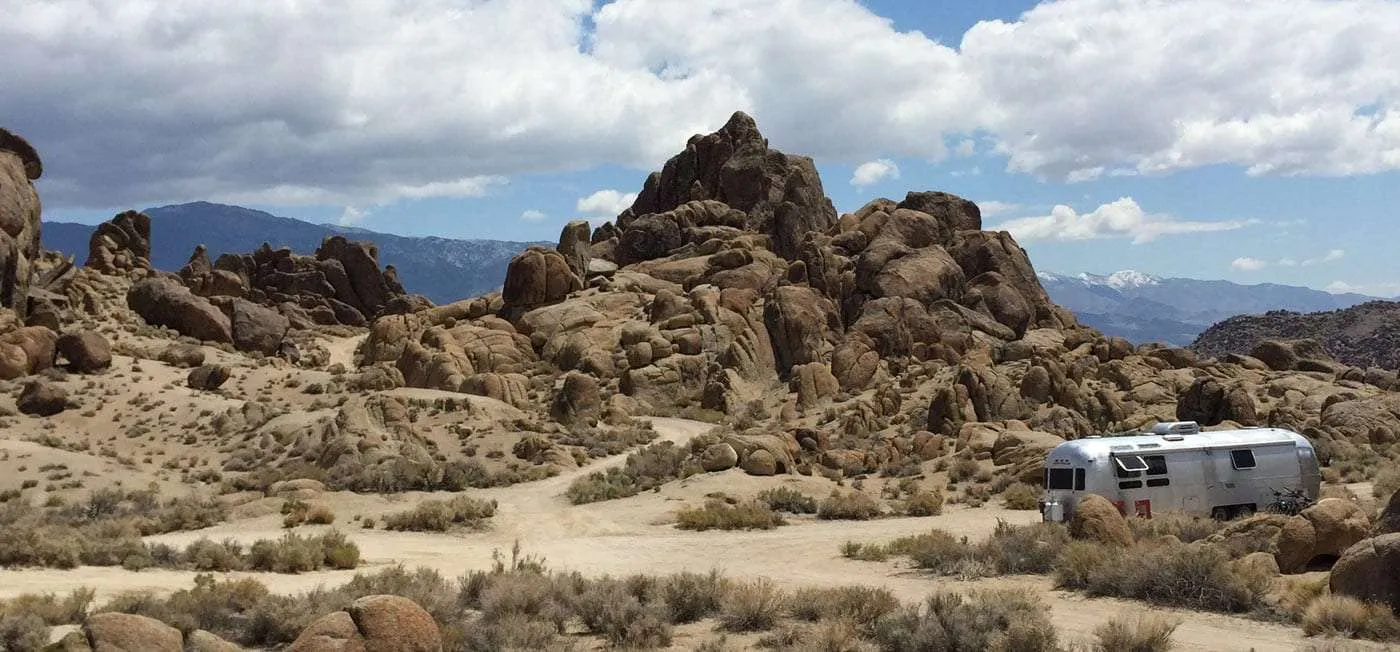 Thanks to humanity's late arrival, and the stewardship of those people who arrived before the Western world showed up to leave its greedy mitts all over the place, the United States is home to some truly astounding terrain.
Particularly in the Southwestern United States, striking mountains, a few ancient forests and expansive wilderness still linger on as far as the eye can see. Where the Rocky Mountains, much of California and the Pacific Northwest made for excellent opportunities to destroy old-growth forests and free flowing rivers alike, however, the desert clime of the Southwest proved a natural restriction against destruction. There is little to gain from clear-cutting a desert.
Today, some of this land is federally protected, such as in our national parks and monuments. To varying degrees, the national forests and BLM land (Bureau of Land Management) is also protected, though our government does so as much to keep it a viable money-making opportunity for generations to come as it does out of concern for nature. What does all of that mean, though?
In short, free camping.
And a ton of it.
That's the rub, though, there is simply so much free camping on this public land that it cannot possibly all be of equal quality, and while a free site is a free site, and camping in a Ponderosa pine forest without immediate views of a mountain can still be absolutely "epic", there is nothing better than paying no rent for the most beautiful views in this country.
Let's explore.
A Few Important Notes
National forest and BLM land belongs to all of us. As such, we all need to pick up after ourselves, since our moms won't be there to do it for us.
Leave no trace means not only packing your trash out, but not trashing the land you find. Don't knock down living plants, leave giant ruts, or clear new camping spaces. Though we all know that Jason Loves Amy, let's face it–it's just not going to last, at least not as long as carving J + A will in some aspen that may outlast civilization itself. When it comes to camping in the wild, just slide on in like cream cheese on a bagel.
Also, navigating some of these wild locations may be rough. Steep dropoffs, big pointy rocks and the occasional stream or dry riverbed may be involved. Especially in the desert, don't camp in a dry wash–that is, anything that looks like it used to be a creek or river bed. Just because it's empty now, that doesn't ensure that a storm miles away won't fill it up while you're sleeping.
Oh, and be cool to the animals. They don't need you to feed them and might poke back if you get too close.
Finally, while many beautiful areas are known as "Recreation Areas," whether national or state, we won't cover them here for one significant principle: they are almost always based around the concept of a dam. Dams hold back water and devastate the canyons upstream and the rivers beneath them at the same time. Man making a recreation area in an attempt to beautify what Mother Nature herself created is like cutting off Lady Gaga's nose to make her more attractive. It doesn't need to be done, as perfection is all that existed in the first place.
The Most Beautiful Free Camping in the Southwestern United States
From the Ancient Puebloans to the Roadrunner and Wile E. Coyote, artists have long appreciated the beauty of these deserts. Sunrises that melt with violet hues, alien landscapes full of well-armed plants and curious looking creatures create an otherworldly landscape found in few other places in this world. Each state in the Southwest seems color coded: Arizona and its red rock canyons, Utah with its orange arches, Nevada dressed in solemn grays lining empty highways and New Mexico bathed in khaki drab as far the eye can see.
Arizona
The Grand Canyon State is coated in free camping, and while every stone left unturned can't all make for the shiniest gem, there are some spectacular nuggets indeed.
Coronado National Forest
In the state's southeastern corner, this national forest boasts a plethora of free camping that's not just desert perfection on its own, but makes Chiricahua National Monument your next door neighbor. Chiricahua is a marble-field of spectacular rock formations and curious creatures like the white-nosed coatis. There's a visitors center and historic area to explore, not to mention the expansive forest–rising up from the surrounding desert–where black bears and tent campers alike vie for the best views possible.
Kofa National Wildlife Refuge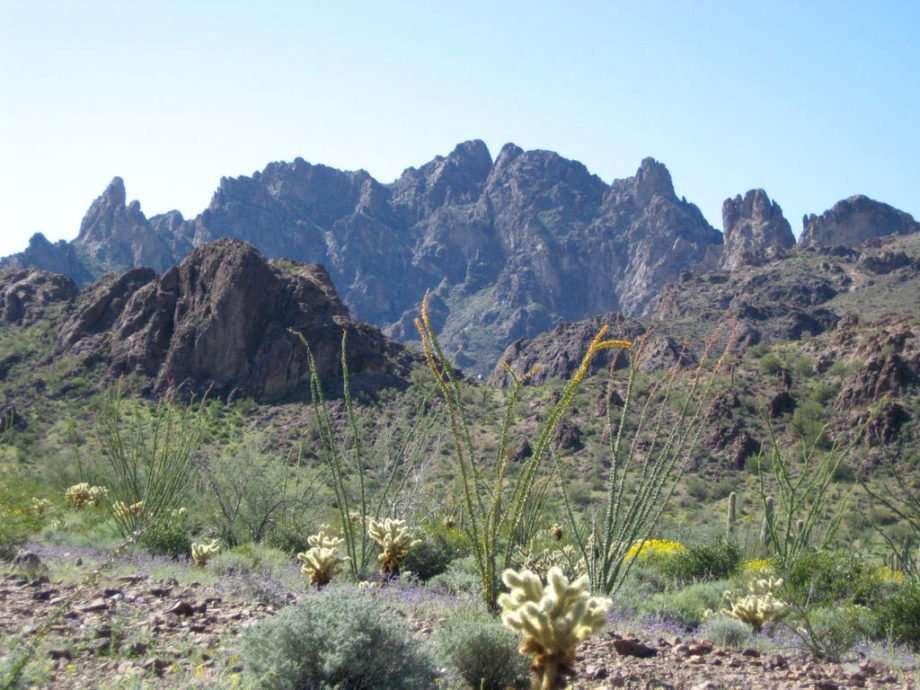 Kofa–short for King of Arizona–National Wildlife Refuge was created to protect desert bighorn sheep, those congregating creatures often known as rams, who tend to herd together in a way that leaves them looking like some multiheaded creature from Greek mythology. Not terribly far from the popular snowbirding locales of Yuma, AZ and Quartzsite, make for a completely different experience than the tiny RV villages that pop up come winter every year in this corner of the state. Aside from this slowly, very slowly recovering population of bighorns, Stevie Nicks' favorite white-winged dove, badgers, desert tortoise and cactus wren frequent the wildlife refuge, apparently making it a prime locale for the return of mountain lions to the region as well.
The majority of Kofa National Wildlife Refuge is designated wilderness area, which means no machinery, including vehicles, so tread lightly knowing this is acreage for wild things and humans should act as visitors, not heirs imminent, to the place.
The Cactus Forests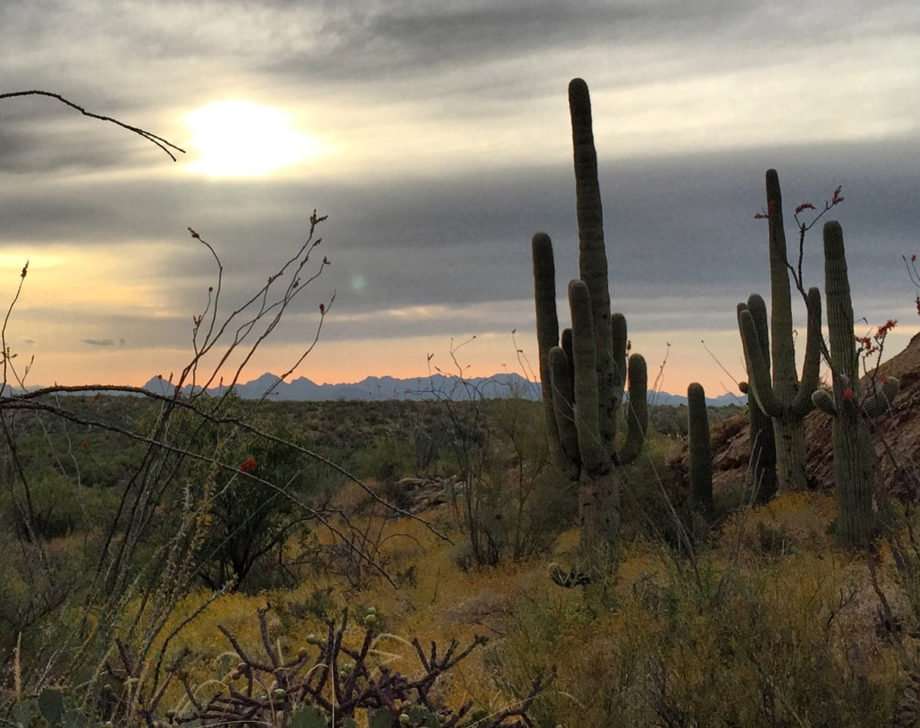 Cactus forests stretch across much of Southern Arizona. The saguaros, those tall, armed cacti you've seen in bugs bunny cartoons, dominate the landscape for much of these magical forests. Living for nearly 200 years, these constantly waving creatures can grow to be over 70′ tall. While less dominant in the United States, pipe organ cacti roam the state's southern border, their many arms growing from a central location, and cholla or prickly pear of all shapes and sizes fill the spaces between. Finding free camping in a cactus forest isn't always easy, Saguaro National Park, perhaps the most well-known of this particular landscape, flanks sprawling Tucson on other side after all, however looking carefully, closely one can find opportunities to live between the spines of cacti absolutely free.
Nevada
Home of "The Loneliest Highway", Nevada is more desolation–of the most beautiful variety–than civilization, and ripe for the adventurous explorer to keep their pocketbook tucked away in favor of free camping.
Snake Range
This mountain range encompasses much of Great Basin National Park while the remainder mostly spends its time in the Humboldt-Toiyabe National Forest. Largely a pinyon-juniper forested area, its a prime example of Nevada's desert clime–towering mountain ranges hollowed out between by vast expanses of wide open space. Mountain lions hunt mule deer along the skyscraper-steep cliffs, while the northern goshawk casts its shadow, pouring along vast meadows climbing to subalpine terrain where the ancient bristlecone pines, the oldest living things on the planet, some nearly twice the age of the legend of Jesus Christ.
The sparsity of population on this eastern edge of Nevada makes for exceptional opportunities for wildlife to thrive outside of the constant buzz of human development, and three wilderness area immediately flank the Snake Range, with even more just a basin away.
Sheldon National Wildlife Refuge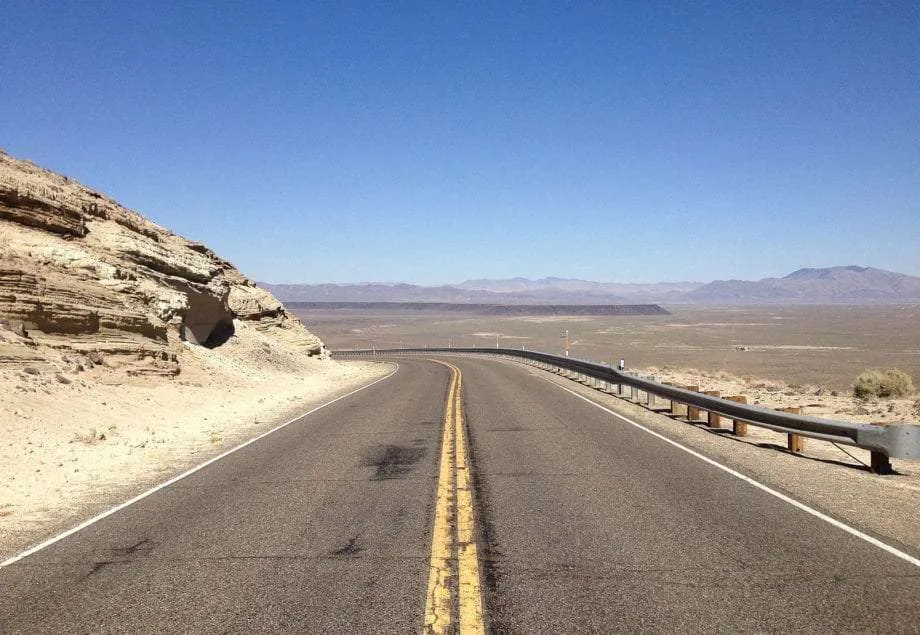 There is no such thing as a wild horse in the United States, and indeed in modern times horses have never been native to the New World. All free roaming horses are descendants of those brought from Europe, first by the Spanish and later other Europeans. Over the few centuries since America was first explored by those from across the Atlantic, some escaped and thus the mustang was created, more properly referred to as feral horses. There was a time when these horses and donkeys roamed Sheldon National Wildlife Refuge in great numbers, but in recent years the US Fish and Wildlife Service has removed them all, a somewhat controversial move as yes, they are a non-native species, but at the same time, one purposefully introduced to the American west which has arguably become a significant part of the landscape.
Given the horses desire to graze–sometimes overgraze given their wildly successful introduction into the area–this may have been for the best, and the endangered sage-grouse, as well as pygmy rabbits and mule deer, now have a better chance at their share of the natural habitat.
New Mexico
Though the poorest state in all of the American West, it's also one of the most charming. Expect as different a culture as you'll find within the continental US, as New Mexico's population–and therefore sensibilities and interests–are as dominated by Native American and Mexican influences as they are modern America.
Rio Grande Region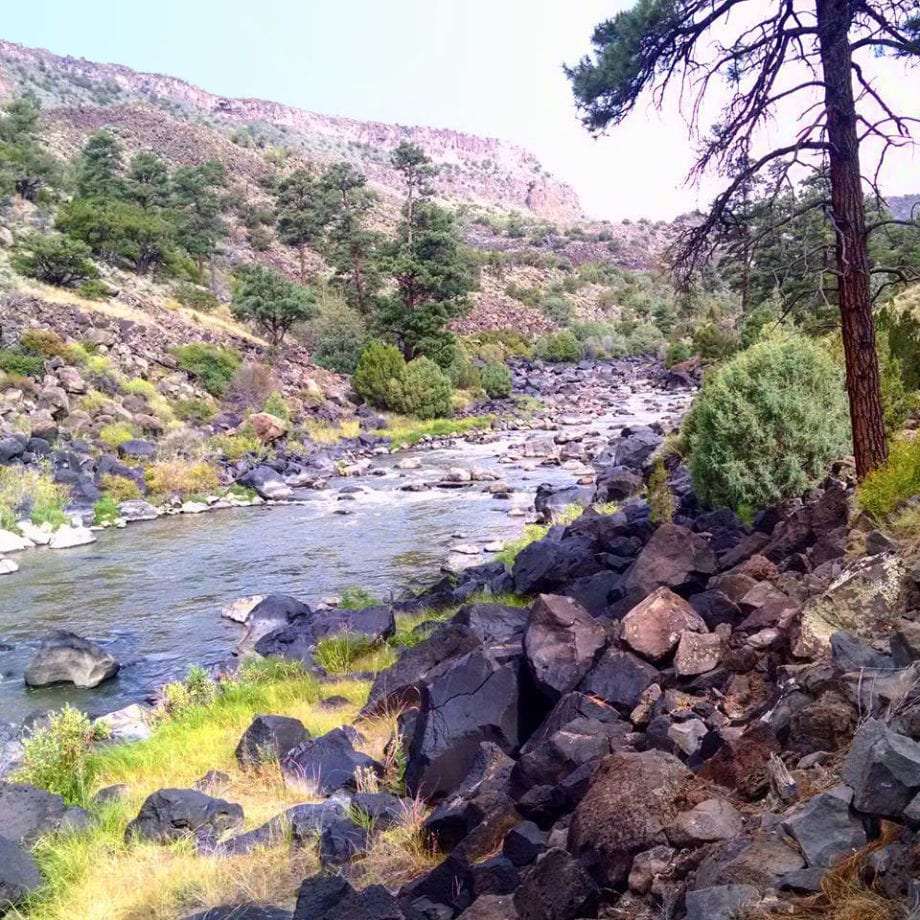 A national monument peppered with volcanic summits, a mighty gorge, a winding road alongside the river and, of course, the wild and scenic Rio Grande River itself culminate in perhaps New Mexico's most beautiful assortment of natural landscapes. Far from its course where it divides the United States from our Mexican brothers to the south, this wonderland where the history of Spanish exploration clash with native peoples is as truly American as anywhere in the country, indicative of the grand beauty, wide variety of cultural influences and struggle of man to find his place within nature abound. Don't believe it? Just watch red-tailed hawks and mountain blue-birds alike and tell me you've seen a Fourth of July display more representative of freedom.
Gila National Forest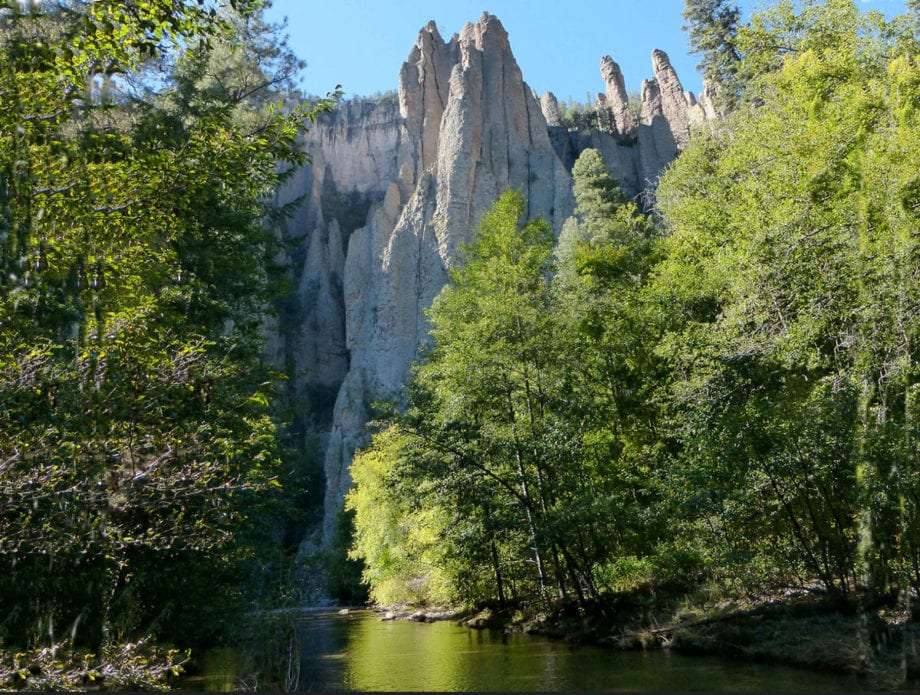 Winding roads go J. Lo curvy through the juniper and oak, Doug-fir and aspen forests that comprise the Gila (pronounced Hee-lah.)
Various endangered and threatened creatures share the Gila name, most notably the 2′ long Gila monster, the largest lizard in North America, and poisonous to boot. There's little reason to fear the monster, though, as it's sluggish and slow — it's also protected in many areas, so leaving it be or viewing from a distance is your best bet.
The Gila woodpecker shares the forest with its monsterous fellow, red-crested, plentiful and making its home in an assortment of trees, including the saguaro cactus–though none of these gorgeous cacti grow here, or anywhere in New Mexico.
Organ Mountains-Desert Peaks National Monument
Stark peaks colored only subtly different from the hazy desert sky behind them, shrub desert expanses in every direction around, the lights of sprawling Las Cruces in the distance, this national monument and striking range in Southeastern New Mexico appears barren from a distance, but upon closer inspection is home to cottonwoods clinging to seasonal streams and American history alike. Approximately half of these mountains are wilderness area, making for untainted natural beauty where humanity's modern devices–from chainsaws to vehicles–can't roam.
Southern California
As with California's coast, much of the state's deserts have been overexploited and sprawling urban development–with its manicured lawns and perfect golf greens–have masked that the desert exists at all. Luckily, not all has been lost and, again like the rest of California, the state continues to prove to contain one of the most astonishing arrays of diversity when it comes to its natural areas.
Joshua Tree National Park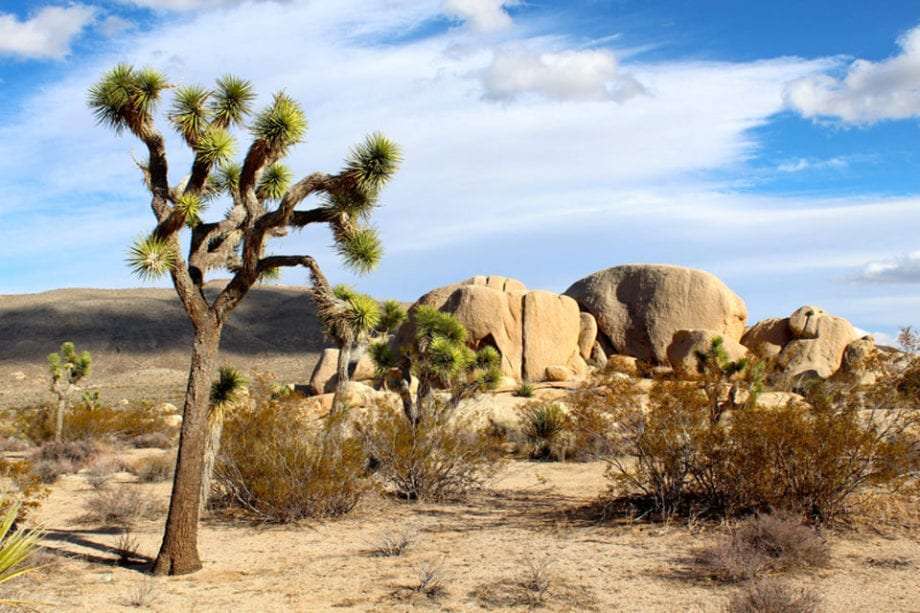 Few national parks boast as much free camping within immediate access of their borders as does Joshua Tree. The park's muppet-like namesake is dying out, solely reliant on a single species of yucca moth–and vice versa–for their existence, this simultaneously makes it a must see and a potential don't go. As those of us with an adventurous outdoor spirit traverse this section of the Mojave Desert, it's more important than ever for us to watch every footstep, leave nothing behind but good vibes and footprints, and pick up after the less considerate. During the 2018 / 2019 government shutdown, visitors were allowed entrance to the park–for free–and proceeded to overflow the dumpsters as the heavy winds were picking up, littering acres of the park with trash.
Stressing the importance of what we have, its value, cannot be overstated. Who would dream of defacing the Mona Lisa or the Statue of Liberty? Yet, when it comes to our natural world, we seem inclined to promote it to some grand dump for our Mountain Dew bottles and discarded banana peels. Please do your part so that our children's grandchildren will know the same beauty we are so fortunate to experience.
In addition to U2's favorite desert foliage, curious lifeforms such as tree frogs, red-spotted toads and Gamel's quails (note them by the curious bobble dangling from the crown of their heads) mingle with racing roadrunners and the most majestic of all North American raptors, the golden eagle.
Mojave Preserve National Monument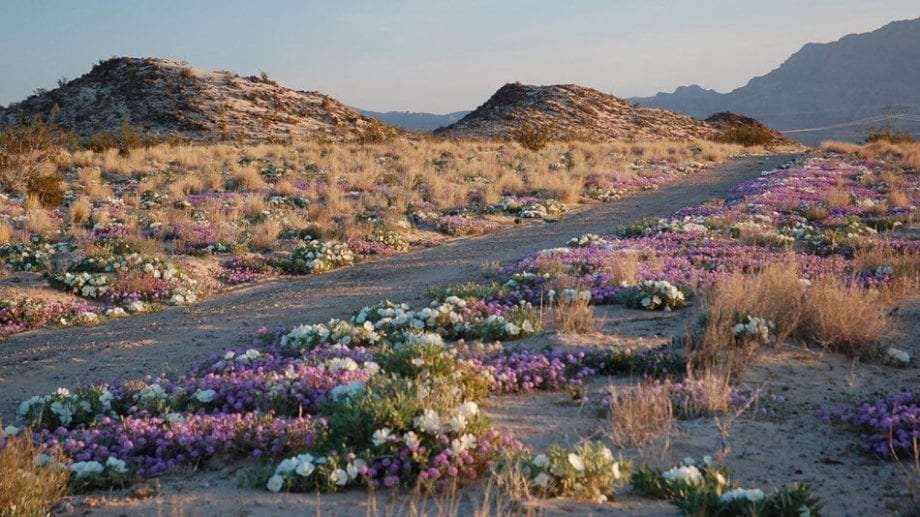 Cinder cone volcanos stand the test of time as their sand dune brethren change with every breath of the wind. Spring blooms greet fortunate travelers on occasion, while Joshua trees watch coyotes chasing cartoonish jackrabbits and bighorn sheep and cougars roam the mountain peaks.
Unlike most of the places discussed here, the Mojave Preserve actually tends to have a ton of cell phone coverage as well, should you be the type of camper who prefers to check Facebook or needs to work their traveling life away (we know the feeling.)
The Alabama Hills
While technically a national recreation area, we forgive the Alabama Hills given the lack of a dam here. Even if they were to build a dam, who could blame the locals as somehow the vast majority of their water is pumped to far away Los Angeles to wet the tongues of that otherwise unsustainable city.
Heavily trafficked, don't expect solitude in these hills, however the rock formations in the area provide for many a place to hide away a small RV or van without blocking the views of the mighty Sierras to the west. Easily one of the most desired place to snap an Instagram photo that's been taken a thousand times before (we're guilt too!), and one of the most serene areas in California hands down. Points north continue to impress, with hot springs and endless desert, towering red firs in the mountains to the west and ancient bristlecone pines in the White Mountains to the east. It wouldn't be an impasse were one to state that you haven't truly boondocked until you've found yourself a night or two in the Alabama Hills.
Utah
It's arguable that Utah is the most beautiful state in our nation. From the orange hued arches defying gravity to the red slick rock smoothed over from ages of rain on rock, snowcapped mountains otherwise craggy and gray to near infinite desert expanses, striped by streams where cottonwoods grow as thick as train engines.
Utah's regions are as vast as its diversity, its beauty and its opportunity for free adventure.
Utah 95

While all of the Mighty Five–Utah's five national parks that dominate the landscape of the state's southern half–provide exceptional free camping options, our favorite route is Utah 95, traversing the civilization-free expanse from Hanksville (east of Capitol Reef National Park) to Blanding in the state's southeastern corner. Bears Ears National Monument and Natural Bridges National Monuments live to the north of the road. Endless opportunities for river and creekside camping exist, particularly in during the spring runoff, with mountain views, hoodoos and other exceptional rock formations in excess, all while fully avoiding the devastation that is Glenn Canyon's Lake Powell.
South from there the splendor of Mexican Hat and the Valley of the Gods continue the theme of impressive orange and red rock formations against bluebird skies.
It would be an entire article all to its own to continue exploring everything that this Mighty Five region has to offer, but we certainly encourage you to put down your phone and take to the highways and dirt roads yourself in an effort to do so on your own. Just bring an extra garbage bag or two and help the cause if you can.
US 40 through Northern Utah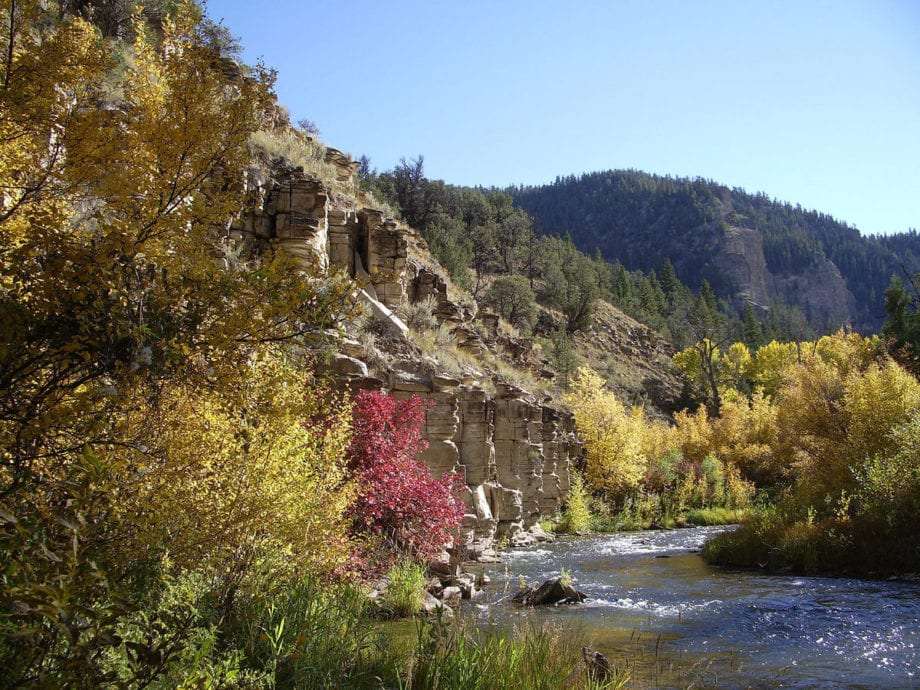 Antelope perch like statues atop crimson red cliffs as strawberry creeks meander through portrait still meadows, cliffs climbing into the sky but never wavering. This entire stretch of road from Dinosaur National Monument in Colorado to the far outskirts of Salt Lake City seems to be captured in a painting and few places on this planet draw us in for long days doing absolutely nothing but watching the vultures circle as US 40 as it stretches east or west from Vernal, Utah.