A Family Friendly Bicycle Route through Pittsburgh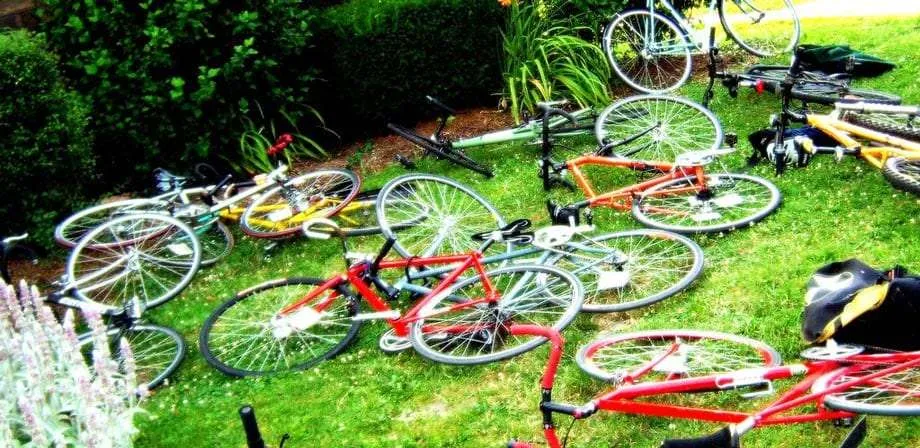 There's a beautiful bicycle route, both strenuous and relaxing, thrilling and family-friendly, which I frequently rode in the early mornings of my days in the City of Pittsburgh.
It begins in the neighborhood of Shadyside, a canopy street-lined, Victorian mansion-filled place where you're as likely to see a gay pride parade turn into a drunken fiasco as you might be to witness children hopscotching chalk drawings on the sidewalk. I have lived all over the city, and there is no place quite like Shadyside. It's cool, but it's not "uber-hipster, I'm afraid to look old at 35". It's quiet. It's calm. It's a party if you want it to be. It's a rich neighborhood, for sure, but it was built on the backs of artists and still today many more mature creators call it home. And so we'll begin here on our little bicycle tour in the East End.
Flipping your first pedal flat, we'll disembark from Shadyside at Highland Avenue, the third of Shadyside's "downtown" strips, where you could have already had your fill of coffee from Oh Yeah! if we weren't ready to embark. While Pittsburgh has it's share of heavily trafficked streets and less-than-agreeable-with-bicyclists-being-on-the-road drivers, we're generally in for a pretty calm ride. Up hills, of course, but calm.
From Highland, head immediately southeast onto Alder Street, passed the private school and cut right onto Shady Avenue. Take a gander left at the Calvary Episcopal Church, a gorgeous piece of gothic structure I've ridden, walked, driven and public transportationed past a thousand times in my life, and not one of those times was I not taken aback by the majesty of its size. I'm not one to support the Church in their attempt to squander money better used on feeding the poor and helping the sick on creating massive temples to an invisible God, but this particular place holds a spot in my heart. It's where I finally told my son that his mother had died, sitting on a sliding board in the playground out back, after an amazingly difficult but calm before the storm wonderful type of day spent doing everything he loved to partake of in the city.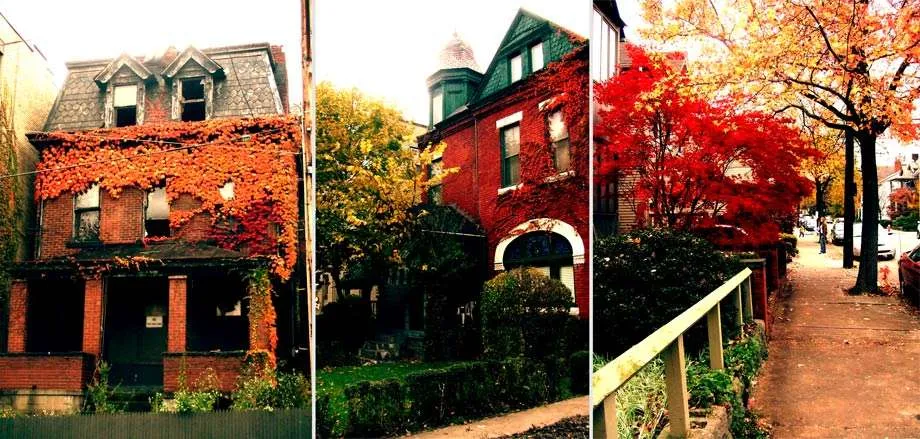 Anyway, by now you're probably well past the church and waiting at the light at Fifth Avenue, one of a handful of Pittsburgh's so major streets that it manages to essentially span the entire width of the city before probably eventually becoming some dirt farm road into the Western Pennsylvanian hills. Head straight through the light and approach what will be our climb for today, the beginnings of Squirrel Hill. It's only a mile up Shady to the center of Squirrel Hill, but it is both steep and somewhat windingly treacherous. There are mansions on this route, however, which are well worth the look, though I'd recommend taking the trek on foot if you want to be afforded the calm and collection that taking in hobbit-hole doored mansions necessitates.
As you've already begun the climb now, the big yellow building on your left being the Pittsburgh Center for the Arts, you're no doubt already experiencing that pain in your chest that comes from climbing the hills of this grand city. For the fittest of you, this will feel like the beginning of a good challenge, for the rest of us, we'll start getting those "I should take a break" thoughts into our heads. Alas, we're only ten minutes into the ride, but the good news is we're cutting left.
Hook the second left, in particular, onto the cobblestone bricks of Mellon Park Road. The bumpy ride is short, you'll almost immediately begin twisting downhill, winding along the perimeter of Pittsburgh's Mellon Park, the first of the city's parks on our route today. At the bottom of your twisty break from climbing we'll turn left onto Beechwood, now heading away from our destination, but only briefly before making the first right and then another quick right onto Reynolds.
We've now dropped ourselves into the neighborhood known as Point Breeze. A friend of mine, around the year 2000, bought a house here for $6000, a bit rundown, for sure, and at that time in a neighborhood that was only a few years away from being not only up and coming, but transitioning from slum to affluent in a matter of months. Today his pad is worth something like $200,000. For us, though, this means a short but tough climb through Point Breeze's downtown area, passed the Point Brugge Cafe and up, up and over the hills of ivy-lined fences and smiling morning-goers.
Reynolds flattens out into a nice, easy ride, if a bit trafficky come rush hour, until you come to an oversized traffic circle. Bare right, then pop onto the sidewalk and duck through the stone trellis onto Tranquil Trail (there are no signs for this, though, but it's an immediate left once you're on the sidewalk). Welcome to Frick Park, the city's largest and most bicycle friendly of all parks. Cut onto the dirt trail to your right to follow Tranquil, and you'll eventually come to a more gravel laden road. You'll want to make a left then a quick right onto an uphill, paved road which will lead you into the heart of Homewood Cemetery. The headstones here range from centuries old ruins to marble obelisks. If you're ready for a break, once you've climbed as high as the hill seems to go in the graveyard, get off, let the young ones run around, sip some water, and explore in reverence over Pittsburgh's past generations.
While riding, you'll see a mausoleum on your right. From here, you can basically just explore the cemetery, which is both beautiful and serene, and various in routes as to how much down and then eventually back up again will be required of you. In any event, you'll want to end up in the southwest corner, near South Dallas Avenue and Forbes (another one of the city's major long reaching streets). You'll know you're there when you see a stone archway of an exit just passed a small lake. Just as you climbed into the graveyard, your route out will take you downhill, in all but one case.
After leaving the cemetery, and Frick Park along with it, I recommend taking the sidewalk right and up the hill that is Forbes Avenue. If you're a young solo guy with nothing to lose, then I say gung ho to the idea of riding up the street, as is technically the law and generally the good idea, but if you're with children, the sidewalk is the way to go. It's a steep hill, there are lots of cars parked alongside the street, and traffic can be hectic. Better to take it nice and easy up hill on the sidewalk, where at the pace you'll be going, it'd be hard to hurt any pedestrians anyway, than to risk you and your youths in the onslaught of what is by now the aftermath of those 10:30am folks rushing to try and not be too late for work.
The climb is long, it's hard, but it's your last of the journey. Once you precipice the top of Forbes, you're in Squirrel Hill, and it's—literally—all downhill from here.
This is one of my favorite neighborhoods. It's got a strong Jewish background, and so Israeli signs and dreidels alike can be seen meandering between the hasidic curls roaming the streets. But like anywhere in this city, it's a melting pot of business suits rushing for a cafe meeting, old Polish women taking their time in the crosswalks, and teenage punkers discovering their particular brand of the same old rebellion. Cafes, bagel shops, bars and jewelry stores abound. There are chain stores here. There are places you can smoke tobacco while purchasing it. There's a beautiful library, great sushi and a Ten Thousand Villages. There's even a breakfast joint where people stand in line for hours for eggs, even while neighboring—and let's face it, just as good —similar breakfast joints struggle to fill tables.
Our route will take us back passed Shady, through the heart of it all, to the Rite Aid on the corner of Forbes and Murray Avenue, where we'll make a left. From Murray, find the sidestreet to your right named Darlington and head east on it. A relaxed ride through the actual neighborhood puts you at Murdoch after a few blocks. Duck left and, watching out for cars, this is a busy one, take the second right onto Beacon Street. You'll begin heading downhill, and if you're sidewalk riding, which I don't necessarily recommend, you'll come to the grassy hill which can literally be catapulted onto via the sidewalk…though I've never personally done it myself. Cut down over the grass hill if it's not too dewy out, or follow Beacon to make a right onto Hobart if you want to stick to the street, either way your goal is to get to the big intersection, it's at Greenfield and Panther Hollow, but you'll see it, and cut just right off of Greenfield as it begins to descend downhill, onto Bridle Trail. You'll know Bridle because, a) I've explained it perfectly, and b) it's just after Overlook Drive. There are usually two port-a-john's just before the dirt and rocky trail ducks into the forest of Schenley Park. This is the real pay off, what you worked so hard to climb that Squirrel Hill for. The trail is all downhill, nice and wide, and at various points affords a grand view of downtown Pittsburgh's skyscrapers, as seen from the thick density of woods that blanket and spot so much of Pittsburgh.
When you emerge from the trail you'll arrive at a kid's playground, a perfect place for the aged adults to take a break while the kids get their second wind on the various romp and stomp whatnots the large funtime has to offer.
From here you could immediately explore Panther Hollow Lake, or dip into the heart of Oakland (though the latter is, with it's incredibly busy streets and city center vibe, not always the best place for kids on bikes). If you take the Charles Anderson Bridge, that is, the Boulevard of the Allies, you'll wind up in a relatively calmer portion of Oakland, where your way through the neighborhood to Bates Street, and then south, beneath an underpass and highly hectic freeway like zone, to the Three Rivers Heritage Trail, where you, a few joggers and rollerblades will be the only thing you and the kiddos will have to worry about.
If you're ready to call it a day, though, Oakland is packed with goodies for solo cyclists, young lovers and kids alike. Check out the Carnegie Museum of Natural History, my favorite spot for family time in that neighborhood.
From the Three Rivers Heritage Trail, literally the city's neighborhoods are at your fingertips. Cross the Hot Metal Street Bridge to Southside, head downtown to the Point, or cross over to the stadiums of the North Shore.
Just remember, you've gone significantly further downhill than when we started, so there's either a long climb home ahead, or just catch up with a Port Authority bus, most of them are equipped with bicycle racks to haul you, your babies, and your two wheels, back to Shadyside.