The Grove Park Inn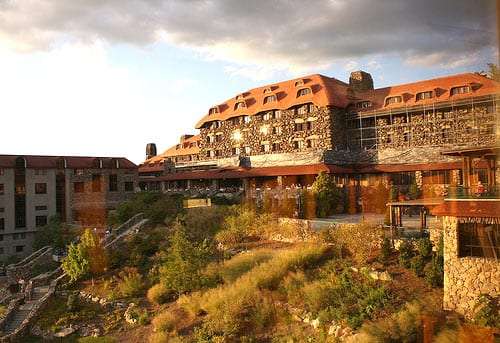 Tourists of all shapes and sizes, though presumably each with thick wallets, sip cocktails and pitch to and fro away the afternoon as they gaze into the fire.
If a fire is a television for campers, the Grove Park Inn's massive fireplace is an IMAX screen. The pianist accompanies the buzzy chatting of the Grand Hall's guests, his fingers dancing across the grand piano, soft light through antique windows flowing in over the entire scene.
If the view of the inn itself—built in 1913, handcrafted from boulders larger than the Cadillacs waiting to be valeted away out front and topped with orange Spanish tile all reminiscent of some majestic hillside castle—is enough to leave your lungs begging for air, once your feet make their way through the back door and onto the rear porch, it's nearly impossible to not proclaim this the best view you've ever seen. The picturesque panorama unveils a miles and miles of purple rolling mountain ranges, layered softer and softer like a cake for some hill goddess' wedding, forests blanketing the entire scene and downtown Asheville itself rising up out of the trees a crown of man's endeavors in a still largely untarnished natural place.
It all sends your eye back up Sunset Mountain to the inn's golf course, indoor spa and stoney gardens leading back up to the very spot you're standing.
Expensive, relaxing, luxurious, and only ten minutes from Asheville by car, the Grove Park Inn is simply put: fabulous. Having played host to historical figures and celebrities ranging from Thomas Edison to Trey Anastasio, Billy Graham to Barack Obama, it's sure to please even the pickiest, deep pocketed of travelers to the region.