Here Until There Exploring Central America
in a Truck Camper
Peter Bryan and Natasha Scheuerman, 36 and 42 years of age respectively, are on an adventure.
Along with their pup, Malta, they're somewhere off in Costa Rica right about now, living out of a truck camper anywhere from a little shack recommended by friends to some remote mountain stretch of open space in the forest. In November of 2015, they threw a Four Wheel Camper onto the back of their Ford F-250 and started heading south from Knoxville, Tennessee.
"We quit our jobs in 2010 to do our first long term trip together," Natasha tells us from wherever they are at the moment, "and for a small part of it rented a motorcycle for a month in Laos. We realized that having our own vehicle was the way we wanted to continue to travel. We began discussing doing the Pan-Am on that trip. We started saving minimally as soon as we came home, but still couldn't give up traveling." She admits that the travel bug hit them hard and perhaps went on a few trips that dipped into said "savings."
"We really buckled down two years before we left," she continues, telling of how they bought their current setup in 2014, nearly two years before hitting the road on this particular venture.
"We have absolutely no income at all," she continues. "For the two years we mentioned above, Pete worked two jobs, and I worked a ton of overtime. So we're just using money that we saved which, unfortunately, is quickly running out."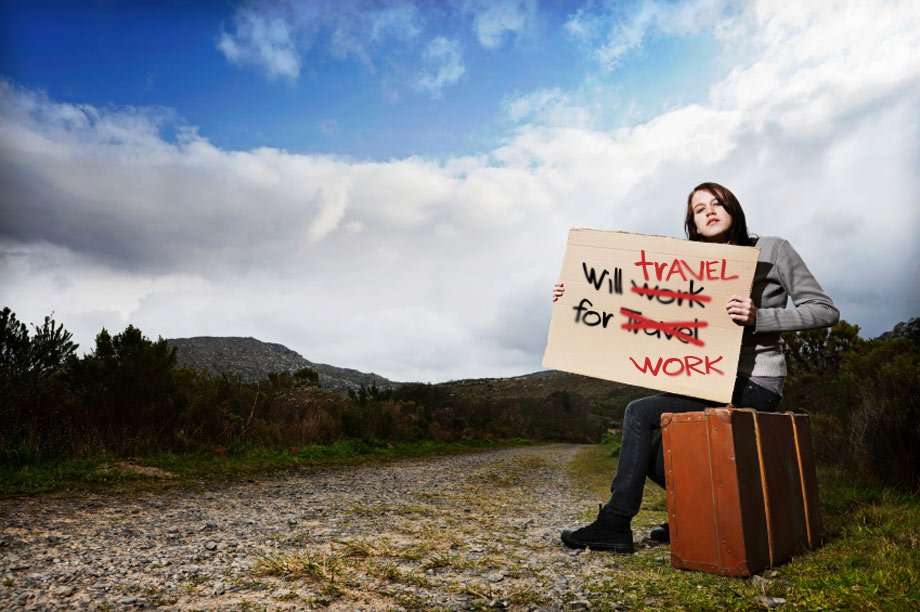 A plethora of information from initial steps to actual positions that are traveling compliant to stories of people who are already doing it. We live and work on the road, so can you!
It's a conundrum many a traveler faces–figure out how to make a living while you travel, the whole sustainable but responsibility-laden approach, or work your butt off beforehand and then take in the views when the time for the trip actually comes–though Pete and Natasha seem to be able to make it stretch a mile or two longer than the average "taking a year off" wanderers we typically meet on the road.
One can only imagine how tough it was during the savings part of this mission, long hours, having money and wondering what you might frivol it away on. They had a vision in mind to help them through, though.
"On the before mentioned trip in 2010," she recalls, "we drove down into Baja for two weeks and loved it. We couldn't wait to get back. After long work days, we used to sit in the camper in our backyard in Knoxville and imagine we were on an empty beach in Baja."
So they had a little experience with Mexico before this trip. Many a traveler uses Baja as a safe way to dip your toes into traveling south of the US border, the couple simply did it because to them, it was a dream.
"Oh the things we heard about Mexico before we left!" they spin the usual tale of what you were told beforehand around on its southern axis. "As you know, so many people in the States are terrified of Mexico. A guy that works at AAA actually told my dad that he should talk us out of going because we were going to get carjacked and kidnapped.
"Who tells a complete stranger that when he's already worried about his daughter?!! It always seemed to be the country that friends and family were most concerned about, and still people from almost every country we've been to ask if we felt safe in Mexico. We never once felt like we were in any kind of danger and almost always felt welcome wherever we went."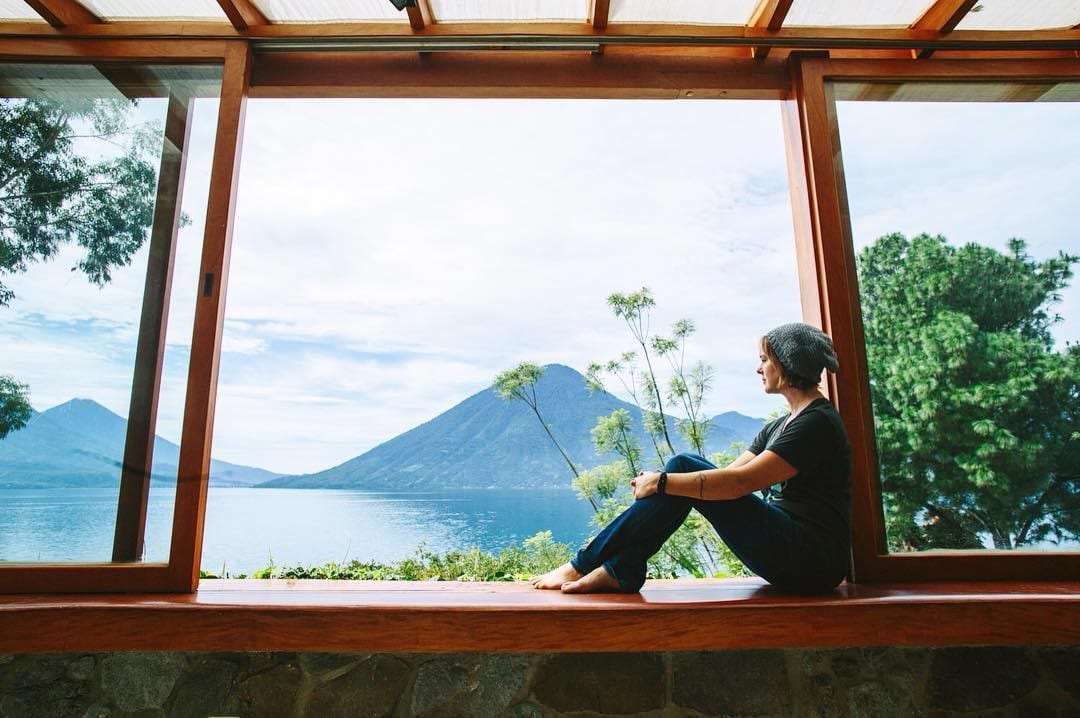 She admits that it wasn't exactly possible to just shuffle all of that negative input right out of their minds and hop, skip and jump on down the road to happiness. "Especially when we crossed the ferry from Baja to mainland Mexico," she confesses, "we made sure our doors were locked when we drove off the ferry, broke out our mace that had been tucked away in the dredges of our camper since before we left, and hid all our expensive electronics. It only took us a few days to realize that mainland Mexico wasn't much different than Baja, except it was a lot more lush and green and the produce selection was way better. We're not disillusioned, we know violence happens there just like anywhere else in the world, but its not generally directed at travelers."
She isn't afraid to testify that they knew nothing about mainland Mexico before this trip. "We were really surprised at how geographically diverse it was. It's silly, we know, because it's a gigantic country. We were anticipating beaches, jungles and deserts, but were happy to also find tall mountain ranges, pine forests, and cold weather."
When asked what they did end up disliking about the country, though, she has a tough time answering. "I suppose it's probably the bureaucracy we dealt with at the border when we tried to reenter from Guatemala, and how completely illogical it all was. And then there are the topes. Fuck all those topes."
They ended up liking Mexico so much that they wanted to stay longer than 180 days you typically get to stay when entering the country. It's simple enough to renew, just go to another country for a day or two, sometimes even a few hours, and get a new permit. Except for Pete and Natasha, it wasn't.
"Mexico has had a law on the books for some time now, that a vehicle with a GVWR over 3.5 tons can't receive a TIP." It should be noted that Mexico has a lot of laws on the books, but which ones apply during any given year, day or even hour may vary. "They just recently, and sporadically, decided to start enforcing it. We were really confused because we had gotten a TIP in Baja without a problem. We wanted more time in Mexico so we decided to do a border run to Guatemala. When we went back to the border they wouldn't give us a TIP and your vehicle can't re-enter Guatemala for 90 days. We ended up stuck in Tapachula for four days trying to figure it out. Eventually, a wonderful woman at the main Banjercito office in Mexico City was able to work out a way to get us a TIP so we could continue our trip."
Left in limbo, far from home, their tiny house on wheels declared too big to get back in to Mexico and tourist visa laws keeping them from going any further south, how could anyone consider an adventure like this a good time?
"We'd both taken long spells off work to do trips before we were married," she recalls. "Pete hiked the AT and I went to India and Nepal which probably helped ease us into the first time we quit our jobs together to travel. So it's never really felt like a crazy thing we're doing. Especially after meeting so many people over the last 19 months that have the same mentality and are doing the same thing. It feels so normal now. The weird part's going to be when we return home."
Indeed, traveling through Central America will often leave you meeting more fellow travelers, and people in general–without even trying–than you could ever hope to in the United States without some serious effort.
"We've only had one incident where we felt like we were in any kind of danger. It happened the first night we camped in Belize, after leaving Mexico. We camped at a free spot in a park with two other overlanding vehicles. Around 3am two men drove up in a truck and shined their lights into our camper for several minutes. They then backed up and pulled up to our friends who were sleeping in a roof top tent and were more accessible. One of them got out and walked towards their ladder while Pete and I were scrambling to get up. Their dog started barking, and we think that's what scared him away. We had no idea what their intentions were, but it was nothing good. Then…around 6am a completely different man in a car pulled under their tent and exposed himself to them. Kind of ironic that for seven months in the 'dangerous' country of Mexico nothing happened, but our first night in Belize we had two bad experiences. I think, though, that we just chose a poor spot to camp, and thought there was safety in numbers," which it turns out there was.
What traveling North America has been like for this lesbian couple living out of a roof top tent on their 97 Landcruiser.
Not to make light of what could have been a terrible situation, but its certainly one of the few times you hear about having a dog on the road with you being a downside of traveling with pets.
"I think the common perception," Pete chimes in, "and the one we left home with, is that people in Latin America don't really like dogs, or are afraid of them, or mistreat them. What we've seen, and this is only our experience, is that there are as many attitudes towards dogs here as there are people. We have had plenty of people walk far around us on a sidewalk to avoid Malta, but also had plenty of people want to come up and ask questions about her and pet her. We've seen so many locals with pet dogs who dote on them like babies, have also seen guard dogs tied to a chain and seemingly ignored and then there's the malnourished, sick dogs we've seen that are seared into our memory. We've seen people chase street dogs away from their business, but have also seen customers, and business owners alike, give them food."
He goes on to tell of stories they'd heard of people throwing rocks at foreigners pets, and others where locals were so afraid of dogs they carried rocks to protect themselves. Wild packs of dogs certainly do roam free, to whatever degree of ferocity their evolution into a feral life may have delivered them.
"We've yet to feel threatened by a street dog, and Malta tends to get along with every one she meets. And she has met a ton of dogs on this trip. They usually do the butt-sniff dance, and then pee on the closest object five times each, and all is well."
Some travelers speak of how they love their dogs, but regret bringing them along for the ride given the difficulties having a pet while living in an RV, van or truck camper (often sans AC).
"Considering our perception before we left," Pete belies their past concerns, "we've been very surprised at just how dog friendly we've found it to be down here. There haven't been that many places that we really wanted to go to that we couldn't bring Malta. It is, however, something we have to consider whenever we're deciding where to go next."
Whether a restaurant will allow their pet, any particular hike or exploration will be suitable, these are the things that make traveling with a dog…different. He says Costa Rica in particular has been more difficult than the rest of Central America.
"A lot of the things we'd like to do are in national parks where dogs aren't allowed," a malady perhaps the United States shares, though it's typically done in the name of the native animals that live in these protected areas.
"We don't have A/C in the camper, but with the fan on, it's only a few degrees hotter inside than out. It doesn't have the same greenhouse effect that the cab of a car has. It's where we would be hanging out if we were at home with her. We don't like to leave her behind, and she doesn't like it either, but when we need to, we can." Aside from the occasional additional hassle at the border, it doesn't sound like Pete has any regrets when it comes to bringing Malta along for the ride.
Perhaps that's one of the reasons they chose to go with a truck camper instead of a van or some other vehicle.
"We looked into a lot of different options," Pete recalls, "from rooftop tents to vans. We knew we wanted four wheel drive. Not that either of us had ever been into off-roading, but we thought having a 4×4 would open up a lot of options for camping that you wouldn't easily get to in a two wheel drive. We also knew we wanted more space than a rooftop tent would offer. A truck and camper setup was very appealing because of being able to separate the truck from the living space. Before the trip I used the truck for work, and at some point we hope to build a small house on a plot of land we have, where we'll also need a pickup. We came across Four Wheel Campers and really liked the low profile and light weight, and also the amount of living space you get, but brand new they were way out of our budget." Though it wasn't easy to find a used one in Tennessee, the couple kept at it and eventually found one in New York.
"We bought it sight unseen, and the previous owner was kind enough to deliver it to friends of ours in Vermont."
A good find and a friendly gesture would eventually turn into their primary means of sleeping, well, wherever they please…or can find.
"It changes based on our location," he speaks to where they stay and how they find these places.
"We free camped a lot in Baja, a bit in mainland Mexico with friends and in the Mountain Pine Ridge Reserve in Belize. Mostly though," he admits, "we pay for camping because we like the sense of security it gives us and we like contributing to the local economy. We do try to find a place that sounds appealing and make that our destination even if it makes our driving day a bit longer. Recently we've started staying at more free spots in Costa Rica because they're everywhere and amazing. It feels a lot like Baja."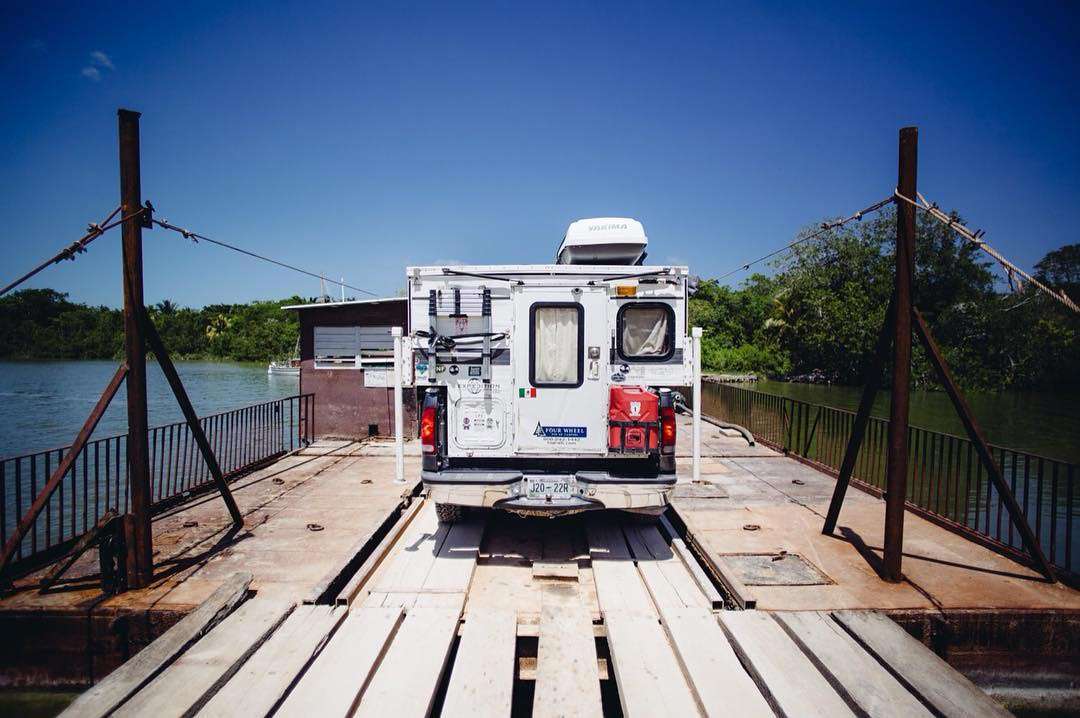 The couple uses a combination of the iOverlander app, recommendations from locals and other travelers, and the occasional guide book to find places to land for the night, or however long any particular area feels appealing.
"We also use social media. Most recently, there was a couple we've never met, but follow on Instagram, that posted a lot of photos of them camping at beautiful, seemingly empty beaches in Costa Rica. I reached out to them just before we got here, and they sent us a list of their favorite spots. We've been to several of them so far and haven't been disappointed." They've mentioned on social media that sometimes it feels less of an adventure and more of just following plots on a map, thanks to apps like iOverlander making it so easy for our current generation of digital nomads to find places to camp in foreign countries, but it seems to have been more of a passing thought.
"As far as iOverlander goes, we use it all the time and, for us, it is an invaluable resource. We're incredibly thankful for it, and often amazed at how people find those amazing, off the beaten path spots. I know some travelers feel like it takes the adventure out of a trip like this, but for the most part, quitting our jobs, living in a camper, and driving south is adventure enough for us.
"That said," she does a sort of half 180 on second thought, "there was a period in Guatemala where it felt like we were going from one tourist destination to the next, always ending up camping at a hostel filled with a ton of backpackers and thinking, 'Well shit we could have just taken a bus.' But we haven't felt that way in a while.
We're still going to those places, but have realized they're "touristy" for a reason; because they're incredible spots, and we are tourists after all, so it's ok."
They go on to state that simply using an app that provides suggestions doesn't mean you're not getting off into some crazy adventure.
"It's pretty easy to get off the beaten path with iOverlander. We just camped on a working dairy farm in the highlands of Costa Rica. Definitely not a common tourist destination."
After feeling a bit like they were just connecting tourist dots in Guatemala, though, they did make a conscious choice to take a few more chances.
"We took a stranger up on an offer to follow him to a lake in Northern Guatemala. It was in a pretty big empty area on the iOverlander map. Not sure how adventurous it really was since we literally just followed him, but it felt like it at the time. We can both be fairly introverted so meeting up with people we didn't know took us out of our comfort zone…but it turned out to be one of the most memorable weekends of our trip and we'd definitely do it again." They ended up scoring a couple of new places on their own, too, and of course adding them to the app for the next folks that pass through.
"They're pretty killer spots though so at least there is that," Natasha smiles.
The couple are not on a mission to finish the Pan-Am. They know they won't make it to Argentina and back. They're just enjoying the time they have and taking things at the pace they choose.
"We had saved enough money to last about 18 months based on our expected daily budget, and we thought that would be enough time to get to Ushuia. It's now been 18 months and we haven't even made it through Central America. We're just in Costa Rica. We extended our visas in Mexico, Belize, and twice in the CA-4. We just fall in love with everywhere we go. It is a little disappointing that we won't see South America this time around, but I feel that traveling as slowly as we have has let us really appreciate the countries we've visited. Even though a year and a half doesn't seem long enough for even one country," Pete smirks. "We're going to ship back to the U.S from Panama at the beginning of September to work and replenish our bank account."
"There's definitely going to be some culture shock," Natasha plays fortune teller, envisioning their return to the US, to working. "It's so much more laid back here. You don't often see people losing their temper and they seem to have a limitless supply of patience. We've grown so accustomed to the organized chaos of Latin America that the U.S might seem a bit too polished.
"On the other hand," she continues, "we're both a little road weary. We've felt this way before and it usually goes away when we go somewhere new, but it's lingering this time. We find ourselves even longing for a schedule and wanting to return to work. Never thought I'd say that! I think we need a rest from the road so we can fully appreciate our surroundings and this lifestyle again. Also, I can't say that we aren't looking forward to hot showers every day, running water, AC, and flushing toilets."
She finishes the interview with a smile, though, and the threesome retire back into their for now normal, every day life on the road.