The 2017 Holiday Gift
Guide for Travelers, RVers
& Vanlifers
Yeah, it's true. Travelers typically love to live small, eschewing possessions in favor of a life of experiences.
That said, some of us still like to be thought of come the holiday season. If you're searching for the perfect gift for that full-time RVer, vandweller or any other type of traveler out there, check out these great ideas, most of them made by travelers themselves.
BareNaked Santa
Want to do some good for families in need, affected by the many hardships of the hurricanes and other disasters that swept through the nation this year? The BareNaked Family is doing their BareNaked Santa fundraiser again this year. For a donation of $25 or more, you'll not only help a family who could really use it this Christmas, but you'll also get a pair of boxer shorts–Santa's boxers by the way–as a sort of ornament / reminder for years to come.
You can even have it sent to that traveler with a sense of humor you know out there!
Clothing Gift Ideas for Travelers
Uncommonly Normal

Andrea Trower was inspired by a friend's daughter to take back her life and hit the road, so in April of 2016 she and her family ditched their stuff and loaded up into an RV to do just that. Along the way, she created Uncommonly Normal, apparel with an outdoor focus, and where 10% of the proceeds go to a scholarship fund for girls in her hometown.
Wand'rly Tees in the Road
We've been planning on selling these shirts we made up for our own kids a few years back for a long time…but were just too busy traveling around the world and having fun exploring life with our little boys. Now that we're taking a minute or two to relax in one place for the holidays, we figured we'd put them out there in the world.
Printed on American Apparel shirts, they're the lightweight, fitting type every hip toddler wants to wear. Or, at the very least, they'll make mom smile. For ages 2 – 12, and you can order them right here on our site!
Shop Wand'rly Tees in the Road
Culinary Gift Ideas for Travelers
Third Coast Woodwork
The Wandering Vores–a family of four full-time RVing out of their motorhome–make these beautiful, handmade, high quality wooden cutting boards in several shapes and sizes. After all, friends don't let friends use plastic cutting boards!
Hardcore Smokehouse
Know a traveler in the US who loves to smoke their own pork? Countless smokers all over Texas' park system can't be wrong. RVer Chris W. Langer's Porkfection is the perfect, no-clutter gift to send their way this holiday season.
Chris and his girlfriend Jinx travel the country in their 2003 Fleetwood Excursion. Decades ago he learned to smoke brisket somewhere in Texas, and began catering events and smoking his own barbecue during their travels. In the last few years he began making his own rubs, and has just begun selling them online.
Busy Bees Reusable Food Wrap
We first met Vanessa in Palenque, Chiapas while she and her family were traveling around Mexico in their van. She's come up with a really cool idea for the environmentally conscious traveler: reusable food wraps.
Coated with organic beeswax and pine rosin, they don't get all gross like regular fabric and don't clog up the oceans and landfills like plastic wraps.
Gift Ideas for the Traveling Drinker
Travel Amateurs
Jenna and Josh left Washington, DC in their truck camper with their sights set on Argentina. Both tend to enjoy an adult beverage or two, and with refrigeration and cool temperatures tending to be scarce as one wanders through the tropics, what better sidekick than these hilarious koozies?
The Roaming Pint
Brian and Maria scour the nation looking for the next best brewery or six pack from their RV / home on the road. Last year they put together a fun holiday guide of their own, check it out here.
Artistic Gift Ideas for Travelers
Get the Camera
Take a beautiful photo of some sweeping natural landscape or the animals that live in those settings…and print it on a board! This truly awesome idea takes the idea of buying someone a gorgeous work of art and sets it apart by printing nature on nature.
ChiChi's Whimsical Crochet
Rachel and her husband have been traveling the US via their 5th wheel travel trailer since 2016. Somewhere along the way she started making these adorable little crochet animals. More and more people requested them, and now she's got a whole Etsy store!
Shop ChiChi's Whimsical Crochet
Vacilando Quilting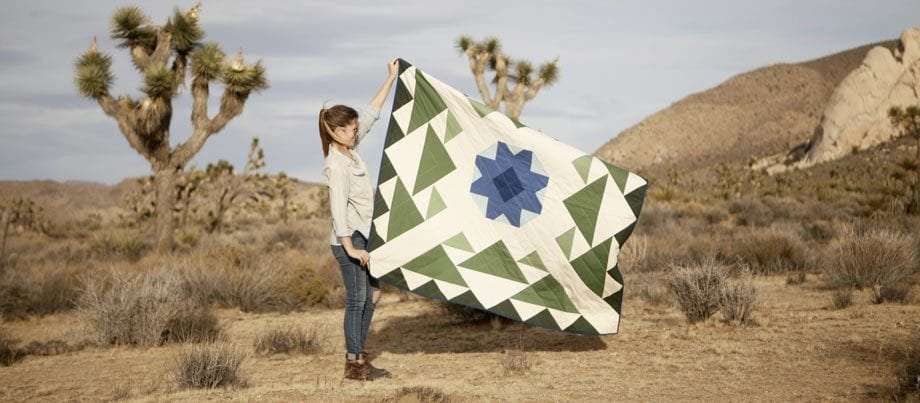 Laura and her boyfriend John began full-time RVing in their vintage Airstream, as the Democratic Travelers. We had the pleasure of meeting them years ago in Banff and have been following their journey all along. Somewhere along the way, she began handcrafting these amazing quilts inspired by the places they've gone.
FanGlasstic Glass Ornaments
Tamsen Arabi makes these adorable glass sculptures that would make a perfect ornament for any holiday-based tree, or just to hang from the rearview mirror!
Big Dog Decal Creations
Judging from the industries' desire to put as many swooshes, swipes and swirls as possible on the outside of all their rigs, RVers must love vinyl graphics! If you know someone who'd like to customize their motorhome or travel trailer, or even their tow car, check out these inventive (and customizable) RV vinyl graphics on Etsy.
Book Ideas for Travelers
Airstream Book
This extremely well made, hardcover book is full of big photos and the stories of people living with Airstreams, traveling families like us and all sorts of other interesting tidbits about the company and culture that has risen up around this true American classic. A great coffee table choice for anyone you know who's already got an Airstream, or those who are dreaming of getting into the scene.
New American Dream Book
This easy-to-read paperback is full of the stories of and interviews with those of us who live the traveling life. It's perfect for that special someone in your life who isn't yet on the road, but dreams of it. From traveling couples like the Vagabroads who traveled from Nashville to Central America living out of a rooftop tent to those of families on the road (ahem, we're in the book), the author breaks things down into bite size, easily digested morsels of goodness. There are also charts and stats that help you figure out which stories are most inline with your own situation, show you how many other people are in a similar situation as you are, and help to overcome any fears you might have of making your own living on the road dream come true.
Gadget Ideas for Travelers
ThePhotoStick Mobile
Ever found yourself about to take that perfect shot of the sun rising over your favorite mountain as a herd of bighorns careens down the hillside, lighting perfect, camera in hand, and then…"Sorry, you have no space left on your phone for pictures" happens?
The Photo Stick Mobile aims to remedy this scenario. It's essentially a thumb drive for your phone, whether it be Android or iPhone, so you never have to miss that perfect picture again.
Cell Booster
We traveled for years without one of these handy little devices, and never knew exactly what we were missing. We'd often give up some of the most beautiful camping spots in North America come Monday morning because, well, no cell service. Ever since WeBoost hooked us up with their Drive Sleek cell phone booster, the opportunities to snag an extra bar or two–or find service where there was no signal before–have opened our world up!
Now, they're not magic…if there is no service to be had, they won't help you. But on average they'll give you an extra bar or two, and sometimes–just sometimes–even manage to rustle up a bar or two where there previously were none.