7 Non-techy Ways to Make a Living
while Traveling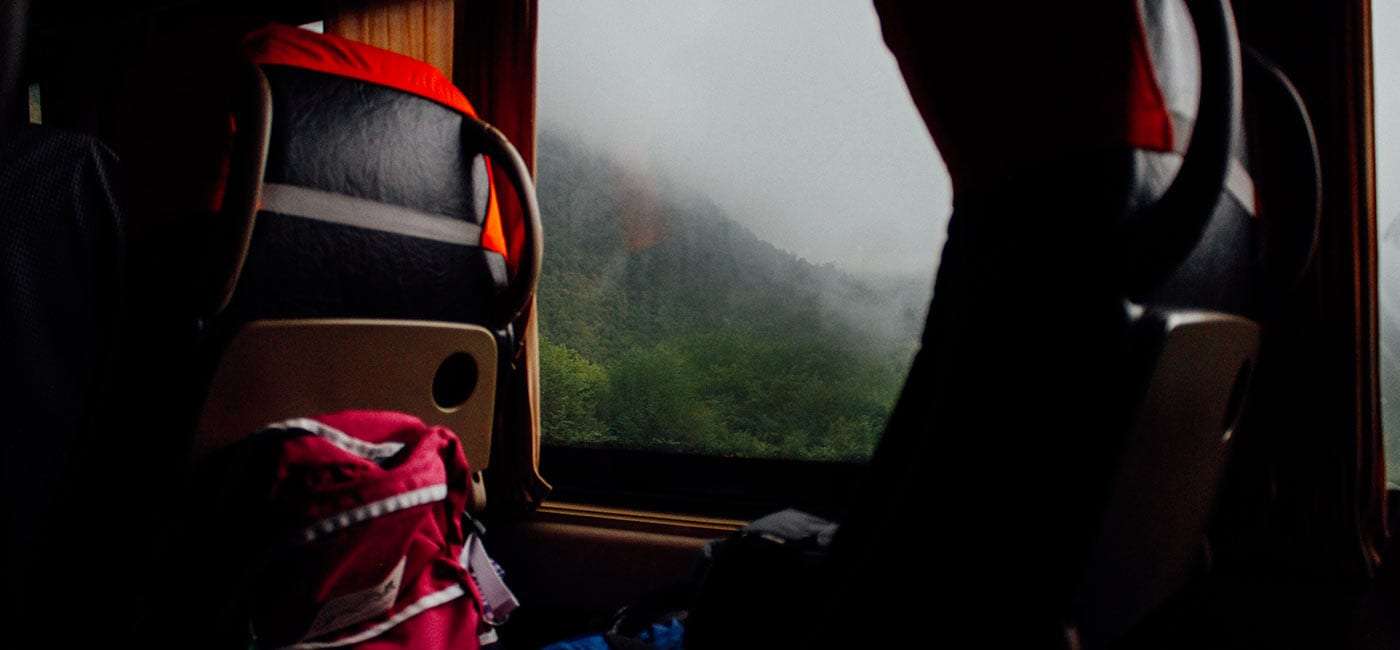 "Well, I'm not a web designer, or a writer, and my job won't let me work remotely so…this life could never work for me."
We hear it all the time. Some people are just making excuses, sure, we all do it about something, but for those who are sincerely looking for a way to live the full-time traveling life, the reality that your skill set–or lack thereof–may limit your ability to fund this way of life is a real thing.
While anything "cubicle" work can typically translate to something you'll be able to do online, from anywhere, not everyone is cut out for that type of work, or even wants to do it. Thus, we present seven different people making money online in out-of-the-box ways.
Enjoy!
Laura Preston, Quilter, Full-time Airstreamer
Our family met up with Laura and her husband John several years ago, when they were going by the Democratic Travelers. At the time, Laura worked remotely as a virtual personal / administrative assistant, but felt like she needed a change. Thus, Vacilando Quilting was born, and–having ordered one from her–we can personally attest to their quality and beauty.
Laura wrote in from a coffee shop in Dallas, Texas. She and John are currently renovating a second Airstream they somehow picked up while renovating their original one…but that's a story for another time!
"I started quilting because I needed a creative outlet where I'd end up with a useful object," she begins the hike forward from memory lane, "No space for impractical things in 200 square feet. After I made my first quilt, I was completely hooked." She spent the next year and a half practicing her art, crafting quilts as gifts, and improving her skill.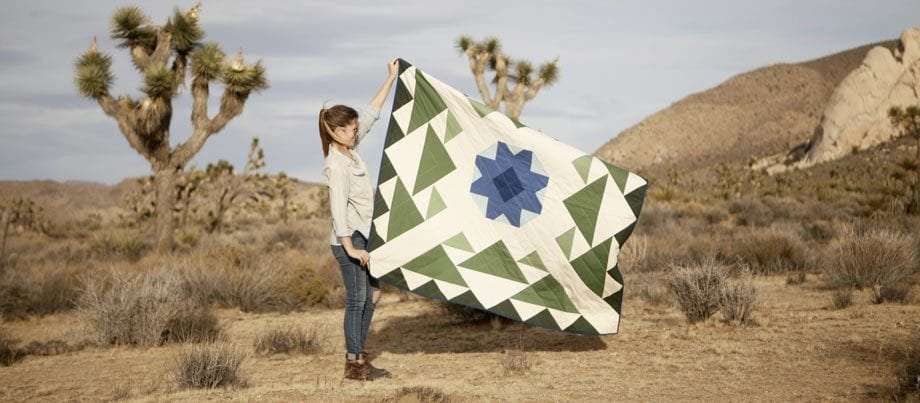 When February of 2015 rolled around, she felt like she was ready to turn her passion into a business.
"I was still working as a virtual assistant and the plan was to keep the day job until I could grow quilting into a full time gig. But in August of that year, the company I worked for went under and laid everyone off, which seemed like a sign to jump into Vacilando with both feet. The timing was way earlier than I planned, but it made me realize that I really had to focus all my attention and time on running a business if I wanted to make it work."
Key take away there, while it's often frightening to try and go it on your own, it's often the only way it's going to work. Dive in, get your knees dirty, make mistakes, correct, repeat, success!
As for spreading the word and getting her initial customers, it was "Almost solely social media, friends and word of mouth. I was lucky to already have a really supportive network through Instagram because of our travels." The couple had been named "Travelers of the Year" by National Geographic, and so had a decent following around the web. That's not to say they were exactly "Instafamous" per se, compared to some people who have tens or hundreds of thousands of followers. We only mention this because you may be thinking, "I need a million followers to make something like this work," when that may not be exactly true.
"Over the years, we've made a lot of online and real-life friends with some amazing people in the Airstream community, as well as full-timers and other travel-centric folks–some of them have been my biggest fans and customers. Aside from that, posting daily on Instagram," and she mentions Facebook, Pinterest and Etsy as well, "collaborating with other like-minded creatives and showing my work at a couple craft shows last year in San Francisco have all helped get the word out. But I honestly don't think I'd be able to make a living doing this without an online shop (and how easy it is to set up one) and access to millions of people through social media. Not to mention all while traveling the country in an Airsteam trailer. Thank god for the Internet, am I right?"
Not to say it was all sewing needles and paychecks, though.
"Pricing has been and continues to be the biggest hurdle for me," she admits. "At first, it was being confident enough in my work to price things appropriately. For the first year, I priced everything at or below wholesale – basically just the cost of labor and materials – because I didn't think people would pay what the quilts were actually worth. But after realizing that method of pricing wasn't sustainable to grow or to even pay myself a living wage, I decided to raise my prices. Even now though, I feel like I have to be very transparent about why my quilts cost what they do. When you can go to a big box store a buy a quilt made in China for $100, trying to convince people to spend seven times that amount can be a hard sell."
So Laura spends plenty of time trying to educate people on what actually goes into making a quilt like this, a handmade, in the USA, product. We think it's a beautiful thing, particularly in a time when so many people are focused on "Making America Great Again", it's important to remember that buying cheap is not going to get us back on that particular road.
Supporting craftsman, artists and makers from our own backyard–even if they do travel full-time all around this great nation–is showing you appreciate quality and are willing to vote for it with your dollars.
"Some people totally get the value of a handmade quilt, see it as a piece of art that should be priced accordingly, understand that it's an investment and something they'll have for the rest of their lives. Some people don't get it and scoff at the price tag, and that's fine too. You can't win 'em all."
While Laura is making it work for herself, she has a few things to say about the complications of traveling and running a crafting business.
"Quilting is definitely possible on the road, but you gotta get creative and organized to make it work. Finding storage for everything is one thing, but finding a space big enough to baste a large quilt," the process of spreading all three layers of a quilt atop one another to pin them together, "is no easy task. I've basted on picnic tables, in parking lots and in warehouses. And if you're quilting as a hobby, it's much less demanding of your time and space. But if you want to turn it into a business, get ready for it to take over your life, space…all your storage. If you value your limited storage space, I'd definitely recommend a craft that doesn't require a ton of space or materials, like jewelry making, embroidery or even knitting. And being organized is absolutely necessary."
She says that of everything that goes into making, promoting and managing this business, storage is the biggest challenge by far.
She admits that while she was starting up her business, they spent a lot of time stationary.
"We spent a year and a half stationary," though they still lived in their first Airstream, "in the Bay Area and honestly, being in one place really allowed me to grow Vacilando more than I could if we had been traveling. But at the end of last year when we decided to get back on the road, we spent a month traveling from San Francisco to Dallas and shipping orders out wasn't a problem. It was kinda fun visiting all the different post offices, but receiving shipments," she orders most of her materials online, "via General Delivery was a pain in the ass.
"It just takes a ton of scheduling, planning ahead and having enough materials on hand to make it work."
Frank Schillaci, RV Armor Installer & Service Advisor, Retired US Marine
Now for something a little more, well, manly.
Frank and his wife Jennifer travel the country in a 39′ fifth wheel. The couple, along with their seven kids, have been on the road for three and a half years. Frank installs RV Armor, which we made the mistake of referring to as "protective covering applied to an existing RV roof" as we interviewed them from their current location in Casa Grande, Arizona.
Jennifer chimed in to clarify, "It is way more than that. What sets RV Armor apart from other 'coatings' is that it's a complete roof system that has a lifetime transferable labor and material warranty directly attached to your VIN number. The product has a virtually seamless look and a watertight seal that flexes up to 800%. A super awesome factor when cross winds hit you when you are driving down the road. At less than 2 credit cards thickness at completion it adds very little additional weight to your rig."
Keep in mind, Frank is the installer–or was, he's been promoted to Service Advisor–and this is Jennifer speaking. How often do you hear someone's partner being so enthusiastic about what their significant other does for a living? We think it's a testament to how much they believe in the company they work for, and the work they're doing.
The work goes something like this. As an installer, you're offered jobs by RV Armor. If you want the job, you take it. If you don't, you don't get the work.
"Chasing the jobs is the best way to get more jobs typically," Jennifer admits, "So back then, as an installer, the jobs often determined our route."
A typical job, assuming no additional repair was required, would take around two days, as long as the weather cooperates. If the job is a bit more involved, maybe six days. If it rains…well, like baseball players know, sometimes you just have to wait out a rain delay.
These days, Frank is a Service Advisor for the company.
"He coordinates the contracts that are generated by the sales team," Jennifer tells us. "He teams up installers to clients and sets up the install. He is also the go to guy for behind the scenes questions at all hours from installers nationwide." More travel flexibility in exchange for more or less being on-call.
Not everyone will get promoted to Service Advisor, of course. What can a typical installer hope to make working with the company?
"Really, there are SO many factors," Jennifer admits, though she's happy to give a ballpark. "A typical install pays out on the low end around $1000. Keep in mind that is work as an independent installer. On average our teams are offered no less than one job a week. In winter it can drop off a bit but RV Armor is also working with insurance companies so there is a very steady stream of inbound jobs."
So, $1000 per week and the possibility of a one job per week. Not too shabby at all.
Rachel Baumann, Etsy Shop Owner, Crocheter
Rachel and her husband, Chris, have been galavanting around the US since May of 2016, in their Class A 2006 Fleetwood Bounder.
Rachel runs an Etsy shop, crafting whimsical crocheted animals and more. She created her Etsy shop six months into their travels, several months after she began making them.
"In April of 2016 I started making some crochet animals and posting them on Facebook. Then to my surprise people started inquiring about buying them. I sold about 60 items in the first two months. Since I was doing pretty good on Facebook it it took me a while to build up enough inventory to start an Etsy shop."
She now makes a few hundred dollars a month from her hobby-turned-business. "My biggest month was December, where I made over $1,000 but that includes income from my first and only craft show, Etsy and Facebook sales."
While she admits that her husband's work is the primary source of their income, the entrepreneurial spirit seems to run through both of them.
"In the past couple months he has also started buying things from garage sales and estate sales and selling them on Ebay."
Multiple income sources, the secret to less stress on the road as many a traveling worker will attest.
"At this point," she admits, "I only make enough to supplement our income. I think it is possible to make more off of it by using different revenue streams like YouTube, blogging or selling patterns."
The idea with the patterns is you build once, and then can sell multiple patterns without the work that comes from crafting and selling the crocheted items themselves. Less work, more money, more time to have fun playing outside.
"Well," she laughs, "right now we are in Carlsbad, New Mexico. I'm currently using our desktop computer in our room when I should be using my laptop and sitting outside. What kind of RVer am I?"
Derek Jeffries, Wine Entrepreneur
"We currently have 3 income streams," Derek tells us from his 32′ fifth wheel, camped along the harbor near Baltimore, Maryland where he, his wife and their son are enjoying views of the water and wildlife. "Selling on Amazon using FBA, reps for a wine tasting club," and he continues, "consulting work for hospitals as projects are available."
FBA stands for Fulfillment by Amazon. If you've got a product, you can sell it directly via Amazon.com, or hook into the online mega-retailer from your own online store, where you can collect the cash and Amazon deals with storing your product and shipping it out to customers.
Multiple income streams, again, provides a security to full-time travelers that those of us who rely on one form of income–whether traveling or not–will never fully be insured for. Even if you make $250,000 working for an incredibly reputable company, there's no guarantee you won't get fired, laid off, etc. If you're a freelancer or have a single business of your own, times change, and you could lose that income stream. Having spoons in several pots gives you the security of knowing that, should one run dry, you've got a two or three others to rely on while you come up with a new recipe.
Derek got into Amazon specifically as a means of income while traveling. "We planned on it being our primary source of income."
"Our involvement in the wine business," he explains, "started when we were approached with the network marketing opportunity. My wife loves wine and we thought in worse case if it didn't work out we would have some good wine to drink.
"The concept of the wine business is to sign up customers to the wine club. We prefer to do this by hosting wine tasting parties at campgrounds as we travel. We then get paid and build a residual income as we signup customers or other business partners.
"Since we are not selling bottles of wine we are not required to have a liquor license. Our company is also the only wine club that can currently ship to 47 states."
Throw a party, get a customer or two, profit! Sounds like a plan to us.
Is it a reliable means of income, though?
"Like any other business the income is based on how much work you put into it. With Amazon we are working to grow it debt free by reinvesting our profits. We are looking to average $1000 – $3000 per month in profits, but know of friends that are making $10,000 – $100,000 per month." They say they expect similar results with the wine business. "We have partners in our team that are making anywhere from $1000 – $30k per month."
No storage required for the Amazon business, and an excuse to throw a wine tasting at a campground? All while traveling full-time? Sounds like the Jeffries have truly found the dream.
Brenda Curtis, Traveling Petsitter
Plenty of travelers who bring their pets along for the ride–whether for a week's vacation or via the full-time traveling lifestyle–know the familiar campground rules by heart.
"Pets must be on a leash no more than 6 feet long. Don't leave them unattended. No pets on trails."
It's a daunting reality we dog owners especially come to realize: if you want to bring Fido along, you're going to limit your ability to get out and explore. Especially if Fido doesn't like anyone walking near your RV, you know, because no one ever walks by a campsite.
Thus, Brenda saw a need for her services even as she travels the country.
"This is all very new at the moment," she admits, "and very different from boarding at home or the pet owners home. I worked that way for 13 years. It isn't as Internet dependent, so it is a lot of being out there, meeting and greeting and letting people get a feel of me, who I am and how I am with pets. It's really me I am selling. It's the best part of my new full-time RV lifestyle. I meet terrific people and their pets everyday."
Having done this before she started traveling gave her a tail's wag into the door, you might say.
"I meet people before I take care of their pets, either natively through walks and visits to the dog park or them asking me about services. When they see how I am with their pet they trust me. Pets know who to lavish kisses on and they are good judges of character! I also have several hundred​ 5-star reviews for my business that people can check and make an informed decision."
As to the legal aspects of soliciting a service in a public or privately owned campground?
"It hasn't been a concern at all. I advise discretion and get to know the park before hitting people up with cards. I have taken cards to the registration desks at surrounding RV parks in addition to the one I am staying at and always get a positive, 'Oh thank goodness, we get asked all the time,' reaction."
She does advise anyone considering such a career path to keep the park's rules and regulations in mind at all time. A case where asking permission, not forgiveness, perhaps is more the way to go.
"It's a job you do for love not the money," she clarifies and states that a walk or drop-in visit runs around $10 – $15 for around thirty minutes. "It's a nice income but I don't expect to get rich doing it. Paying for my travel is the goal. It entails a lot more than people expect–pets have different needs such as medication schedules, physical abilities and social skills. A sitter needs to be aware and know how to work with each pet's needs."
As with any self-employed income source, she touts that the income is based around how much work you want to put into it, but also, "[It] depends on how busy the park is and how transient. There is not as much work in a park where most of the RVers are residents. A great location would be near attractions that don't allow pets like a theme park or a festival or public lands like Yellowstone." She reminds people that, especially in our national parks, even if you were allowed to take your pet on the trail, it's not always the best idea. Dogs have been known to meet brutal ends in Yellowstone's boiling hot springs, for example, and even their owners have suffered such a fate trying to rescue them.
"You can book as many or as few as you'd like for the day. Midday and early evening visits are popular as most people have tended to their pets before they leave and will return later in the evening."
She sounds like she couldn't be happier with her new gig. "It's rewarding work. I get so much love from the animals. Picking up an errant poop beats getting yelled at by a cranky boss any day of the week. I love what I do!"
Luciano Leon, AirBNB Host
From somewhere in (hopefully) sunny California, Luciano is enjoying life as a traveling photographer. He's found another way, however, to subsidize his travels.
As an AirBNB host, renting his Placentia, California home out when he's living out of his van he's named Maxine.
"In my group of friends," he tells us, "growing up, I was always the one responsible for putting together trips. In the days before the Internet, I would type up an itinerary on my Brother typewriter and mail everything out to everyone who was planning on going. I would give each person a responsibility so that everyone was involved in making the trip happen. I'm a firm believer that people support what they create, so this was my way of getting people involved." Luciano has been taking trips to places like Vegas, San Francisco, the Grand Canyon and Baja California since he was a teenager.
"I always had a knack for planning trips."
A little older now, he still plans trips, but tends to do the traveling on his own. "It seems that nowadays people are much more flakey and can't make commitments.
"Rather than get annoyed, I just started planning trips for myself and invite people as an afterthought. In other words, whether they come or stay home, I'm still going. I'm just giving them an option to join me on the trip, or at least one of its legs. However, I don't count on people anymore. It also seems that so many of my friends are fearful of traveling now, or they are chronically broke."
Such is the curse that tends to ail the would be traveler. Even those who can muster up the gumption to get up and go, well, they can't always find the funds to make it happen.
Luciano found his own way around such an infliction.
"A few years ago, I started reading a lot of books on simplifying one's life, living in the moment, and focusing on experiences, rather than things. I had a major epiphany after reading Eckhart Tolle's book, A New Earth. It made me realize what really is important in life, and it definitely is not the accumulation of more stuff."
So, Luciano began a transformation. Less stuff. Find something that's a duplicate? Delete.
"I threw away and gave away dozens and dozens of boxes that contained all kinds of junk that I hadn't used in years. In my kitchen alone, I found four baking rollers and I don't even bake!"
Indeed, it's something many of us who've had the experience of living in houses–aka, basically every American–can probably admit guilt towards. You have space, you accumulate stuff. It almost seems magical how it simply shows up, and then sits there, unused, for decades.
"After reading a lot about the Tiny House Movement and the societal shifting from the accumulation of things to creating experiences, I bought a cargo van that I named Maxine. I bought the van stripped, designed the interior based on reading a lot of web sites and blogs emphasizing the Vandwelling Movement and how people live and survive in their van, and found a place here in Orange County to build it for me. I purposely had it built stealth, so I could camp both out in the wilderness and urban camp in the city.
"From the outside, my van looks just like any other cargo van, but in actually it's almost completely self-sufficient."
His desire to travel in a van clearly comes from these vehicles' ability to be parked nearly anywhere, not specifically in an RV park or even designated campground. This was born from his previous experience with traveling, before vanlife, and likely had an influence on his AirBNB setup.
"I don't enjoy 5-star hotel trips. I travel to get away from the L.A. and O.C. scene, not to relive them in another foreign country. Going to places like Cancun isn't real travel to me. I travel to assimilate myself in other cultures. To stretch my boundaries, learn and grow as a human being."
Last year, he took a solo trip to Ecuador and, as he puts it, "had the most amazing time. I stayed mostly at Airbnbs and hostels. I really stretched myself as a traveler. I didn't know that a culinary delicacy in Ecuador is guinea pig. I thought it was a pet, just like it is here in the United States. As part of the adventure, I ordered guinea pig and thoroughly enjoyed it. It didn't taste like chicken, but it was delicious never the less. These are the kind of experiences I want to have when I travel."
Perhaps these were the reasons he decided to start renting his own home out on AirBNB.
"I still have my home, but I don't live in it full time. I rent it…based on how much traveling I plan on doing. If I plan on going on a really long road trip, I rent my house out accordingly beforehand to be able to save up the amount of money I need to really enjoy my trip. There is nothing more disheartening than traveling broke. I want to have the option to boondock every night if I want, or get a cheap hotel any time that I want. The same goes for preparing my food, or eating out. I don't want my lack of money to dictate how I'm going to travel. When I am traveling, I always rent my house during the time I'm gone. It makes no sense to leave my house empty, if I can leverage it out by renting it, which in essence pays for a big part of my trip."
His AirBNB property–Casa Leon–is a charming three bedroom home touting features like a hot tub and pool, air-conditioning, WiFi, and is even kid-friendly. Everything we personally look for with the comforts of renting an AirBNB versus simply staying in our van while traveling.
"I designed my house in such a way that I kind of created a niche market for myself. The house bio reads like a travel brochure and being that I am a professional photographer, I knew how to photograph my house to emphasize its best qualities and minimize those things that I didn't want prospective guests to focus on. Reputation is everything, and after almost a year of learning how to deal with problematic guests and what I need to do as a host to keep my guests happy, I have been getting 5-star reviews consistently." In fact, Luciano is a "Super Host", something AirBNB bestows on those hosts who prove themselves incredibly responsive, get nearly all 5-star ratings, and take care of their guests in other ways that the company deems exceptional.
Of course, not everyone has a home they can rent out–many of us give up our homes to fund our travels initially, something that may be a bit shortsighted given the growth AirBNB alone has shown in recent years.
"I originally started doing AirBNB as a way of making extra money. When I saw how lucrative it could be, I made it a point to really run it as a business. I got myself into the mine set that this was going to be another revenue stream for me and that I needed to maintain consistency if I wanted to have repeat customers and get people to stay at my place, even if my prices were higher than others in the area. Soon after I realized that when I rented my home, I didn't have to be traveling out of state or the country to enjoy myself. I could spend a few days or weeks out of a given month urban camping locally." This setup gives him the opportunity to spend time with his aging parents as well, "keeping an eye on them without being obvious" as he puts it.
Managing a property might seem like something you'd need ample experience with, or something that might tie you down to the area where it's located. He clarifies that this isn't something he's been doing all of his life. Luciano spent his adult life as a special education teacher, and will be able to additionally rely on his pension from that once it kicks in.
Again, multiple income streams–AirBNB, photography, and in his case, a pension.
"I make money with my photography as well, and now I have the revenue stream from Airbnb. I'll be bringing home almost the same amount of money that I was when I was working and I still have my house as a back up if I wound up in a really bad way. No matter what, it's nice to know that even if somehow I lost every penny I had, I always have Maxine to stay in."
Still, some people may be concerned about renting out their home, even with the securities that AirBNB offers, which–to clarify–the company does provide some amount of insurance, which may change so we won't list it here specifically.
Luciano doesn't pretend that nothing bad might ever happen.
"I will be honest, 10% of my guests are assholes. I don't want to label any particular group, but people who have never owned their own home, have never been married, have been coddled most of their life, have grown up with technology and have never been faced with real responsibility, have this sense of entitlement.
"Yet it isn't based on anything they've earned."
He says that there have been times he's discovered problems upon returning to his home, after someone has complained only to leave the place less than stellar.
"Nobody wants to take responsibility for anything. Thankfully, I have earned the right to vet my guests by virtue of my reviews. I know by experience what to look out for, and I book my guests accordingly.
"The other 90% of my guests are awesome." When his guests respect his property, he returns the favor by giving them a glowing review as a guest. AirBNB hosts can review their guests just as guests can review the properties in which they stay. This is one of the best reasons to use AirBNB, the reciprocity of two way reviews holding guests as responsible as hosts, something hotels or private rentals can't usually provide.
"There will always be a segment of the population who just are a pain in the ass, but there are always ways to minimize the pain."
While some hosts can simply rent out a room, or portion of their property, Luciano rents his entire home. This provides guests with a more private, less "big brother" experience, and allows him the freedom to operate the property–and travel–according to his own methods.
"I can run my business in a way that is comfortable to me. Getting involved with Airbnb is one of the smartest things I've done, along with changing my lifestyle and buying Maxine. I wouldn't change a thing."
Janiece Smith, Certified Teacher
"I have been teaching since 1998 right after I finished my B.S. degree," Janiece explains her background as a teacher a bit, "and became a certified teacher. I did that all at once. Some people go back and take tests, or take classes and adding a teaching certification later on. Either way it goes you have to have at least a Bachelor's degree. I teach and am certified for grades 6th-12th so I have to be certified in the state I am hired to work in."
She goes on to explain that being an online teacher, and the rules associated with it, vary by state. "It's not too difficult to get certified in different states, mostly a matter of paperwork." Sometimes additional testing, and some positions will allow you to be certified in an entire region, assuming you have at least one state in that region under your belt.
Janiece is a science teacher, historically for high school kids, but currently largely teaches 8th graders, and is certified to teach 6th – 12th grade kids.
"It does take some work ahead of time and I encourage anyone wanting to travel while teaching online to become certified in as many states as they can, especially different regions." For example, Janiece is certified in Mississippi, Louisiana and Alabama, and adding Florida, Arkansas and Tennessee in the near future.
"I was certified in Illinois and taught part time for them years ago but I failed to renew it in time so now it will take a little more effort to be certified in that state again but not impossible. Right now, I don't have a need to be certified in Illinois so it is not a priority at this time." If you're not traveling in a particular state or region anytime soon, you could put off the certification for any number of years, perhaps.
"I used to work for a Connections Academy school," she explains that the application is online, "It gives you the state and if it says home based or statewide you are working from home. Some schools do want you to live in that state, others if you are working from home will just want you to come in for meetings so it is a good idea to ask about the specific school's policies."
She currently works for a specific K-12 school, which is hiring as of the time of this writing. She explains that while she's currently in Mississippi, her students are in Alabama and she's only required to attend face-to-face meetings four times per year.
"The downside is that we do have state testing that we have to help out with and that is usually a week or two in the spring so when full-timing we have to make sure I am in that area of testing.
"Again, ask the specific school about their requirements, some are more willing to work with you as long as you are doing your job and are a good employee they will sometimes bend the rules to allow you to be away more often than those that live closer in."
As their travels expand, she's looking into additional options, not simply becoming certified in more states.
"As long as I keep my current job that is tied to the state of Alabama," Janiece recently switched jobs, "my husband and I are planning on finding some place in Alabama during the spring to work camp so I will never be too far away and will be able to participate in this state testing." Alabama isn't a bad place to visit in the spring, weather-considering.
"The other meetings throughout the year are only for one or two days and I can fly in if we are somewhere far off. I am looking into the international [and] national programs where I can still teach online, like I do now, but not have to be tied down to any specific state. Both schools and even some other online schools do have this option, those positions are just harder to come across because the teachers that take those jobs love the flexibility too and don't leave that often.
"I just have to keep looking and trying and the more experience I get locally will help me get there, I hope!
"For now, as long as I am tied to a state we have to work around that because it will be our primary income source with work camping secondary."
Online teaching gigs aren't the only things school hire remote workers for though, she adds, "There are other jobs such as family support and administrative assistants but they vary from school to school and some do require more office time."
As to her work, she clarifies the time commitment further. "This is a full time, actually 8-5 Monday through Friday job. I am required to be available online during this time. I do have 'Live Time' with my students and usually that is between 9am – 3pm. Just like regular teachers I do spend extra time outside these hours for grading work and lesson planning, but the longer I teach a certain subject/grade online the less time this takes me so there are some times I don't have to work past these hours and other times I need to. It just depends on how efficient the teacher is and how much they do. It definitely helps knowing your way around the computer."
Janiece has stated that this is more or less their primary source of income while traveling, but what can an online teacher expect to make?
"Salary does vary greatly from state to state just like regular teaching but it is comparable to what a traditional teacher makes which is not something that will make you rich but it is something that can help support living. Again, some states do pay much better than other states. Since this a full time real teaching job they do offer good insurance benefits and a 401K. It definitely helps having a job with insurance, even with a lower pay, the insurance is a great plus. Also working for the corporation schools they each offer bonuses every year and opportunities for advancements and promotions."
"To show you the difference in states," she hones in a little, "when I was teaching online in Louisiana I was making in the $50,000s, where now in Alabama I am making in the $30,000s." She took the pay cut because Alabama offered more flexibility and freedom, whereas Louisiana wanted her to by physically present more often.
With Alabama, she states "This is also the lowest I will ever making online as well, if I decide to work for the national or international side they typically pay less but no less than what I am making now."
Some of you may be thinking, "Even if I did want to be a teacher, this sounds like it's going to tie me down to a specific region or state quite often."
Maybe. Janiece would simply remind you that teachers get the summer off, so while you may have to take a few flights a year or commit to a region for the school year, come June or so, you're as free as a refill on coffee at a roadside diner.