Indian Beach Family Fun from Dusk til Dawn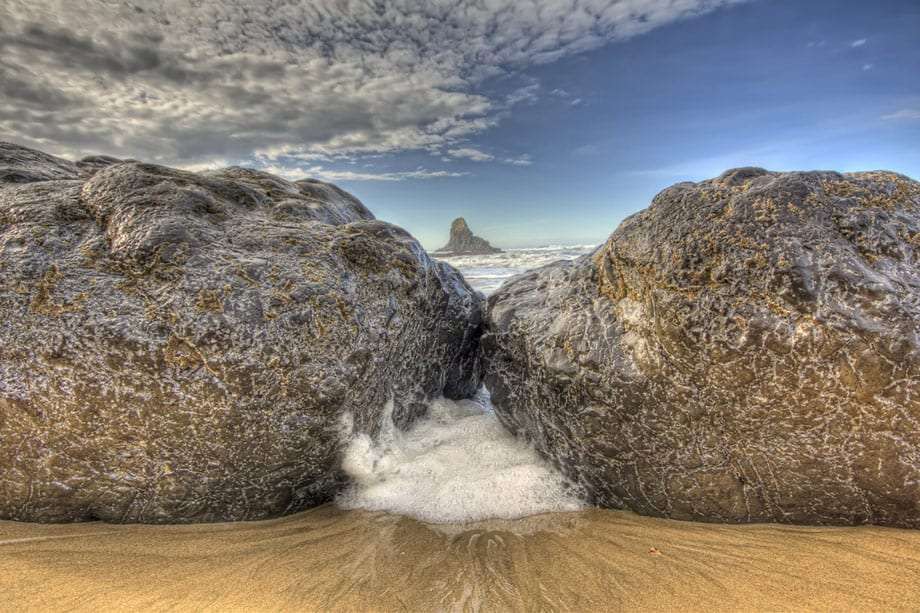 We circled the small village of Cannon Beach, home to the semi-infamous Haystack Rock, a massive stack surrounded by smaller "needles", just off the tourist laden beach that frames the town's western border.
Our mission was surfboards, and my companion was an old friend from high school who still lived every day like the world was his personal skatepark. I'd never been surfing before myself, but we both grew up together daily participating in similar pursuits such as skate and snowboarding. How hard could it be?
The night before we'd driven from Portland, his Volkswagen Jetta screaming empty long before we were anywhere near the coast and quite a ways after the last gas station on Sunset Highway. It didn't seem to phase him, and he toured up and down US 101 looking for a perfect spot for us to drink away the evening around a fire. So as we rolled into Cannon Beach Surf, a thick line of shoppers and would be surfboard renters ahead of us, I was still feeling the previous night's celebration as Web, as we knew him from exchanging random high school nicknames that never really meant anything other than providing the satisfaction of not referring to one another by the monikers our parents would like us to bear, grew thick in the eyes with the potential for our day's adventure.
As we neared the counter, an already stressed at 11:30 am girl behind the register, greeted us. "We're looking to grab a couple of boards," Web made our mission clear.
"Oh, okay," she looked over her shoulder, and then down at a piece of paper, scanning a bunch of names and other crossed out names with her finger. "Well…we only have one left."
Web looked over at me, a little smirk, as if to say Well there goes that plan. "Wait, wait, everyone just calm down," a big man, white of race but red faced and bronzed arms, wearing a somewhat see through white shirt and similarly colored but bushy hair, came walking out of the back. "You ever surfed?" he asked Web.
"No, but I'm all pro at snowboarding." He paused a minute while the larger, older gentleman looked him up and down. "Yeah, well a few times," he admitted.
Somehow we walked out of there, me with the last rental board in hand, and Web sporting the Dewey Webster, aptly named and apparently the owner's personal board.
The ride into Indian Beach is like a one lane cruise through a green velvet bedspread. Every last hemlock, fir and pine that borders the thin, paved state park road is completely covered in thick moss. Undergrowth fills in the gaps between random legacy redwoods and the occasional four legged fauna exploring their government protected homeland. We wind, slowly, always surely with Web at the wheel, turn after turn before popping out in a small parking lot who's designers clearly had not been made aware of the popularity this beach would hold. Surfboards strapped to the top of his car, we survey the trunk's contents: a 30 pack of Busch Light and a few snacks stuffed into a cooler, our wetsuits, a single beach chair. A brief moment of nudity in the parking lot later I'm carrying my board under one arm and the cooler in the other, following Web down a dirt trail, between chainsawed fallen timber that would have otherwise blocked the path, across a small wooden beach where the mountain stream lets out into the Pacific, down a short staircase and across the small rocks piled up at the edge of the shore.
Now, I am not a particularly unfit man, but looking around at the various other surfers, none of which, including Web, shared my tendency to sort of bulge out of my wetsuit, it became clear that this was not the same slacker sport that skateboarding afforded. We buried our beers underneath the beach chair, unzipped our rented surfboards from their bags, and each dove in to the icy cold waters that permeate the Pacific Ocean this far north into Oregon.
I lost Web after a paddle or two out. I watched a few other surfers wait for their wave, swim hard and then hop up to ride the tide in. I got this, I assured myself. After all, I'd seen Point Break at least a dozen times on lazy afternoons spent in front of TBS as a college kid. I missed a wave, slipped off my second attempt, and continued that process for another half an hour or so. I was determined though, and finally, after more tries than a baby learning to walk, I stood up. It was ecstacy, quite simply, and the four or five seconds that my feet were beneath me, on that piece of Americana, the entire span of seemingly endless water and wave behind me, the shore calling me inward, I felt like a surfer.
The water bit just as hard on my way back in as it had the entire time I'd been screwing around with my previous attempts, but at least this time I felt like I had accomplished something. I tried a few more times, with no success, and realized I was incredibly tired. So I loaded myself back onto the board and began paddling back towards land, the promise of a campfire, a cold can of cheap domestic beer, and maybe a tale or two of Web's exploits.
Then it became clear to me that I was not heading inland at all, in fact, I was being pulled out and south down the coast. I struggled for awhile, forgetting everything I'd ever learned about swimming in the ocean and assuming eventually I'd overpower the 187 quintillion gallons that made up the Pacific's power. Looking to my left, I saw the massive stacks that boarded the south end of Indian Beach. Jagged, black islands of pure volcanic rock, waiting to have me crushed against their sides by incoming waves. I pictured them screaming "Hello, here's another sucker!" as they pummeled me against what was sure to be one of the more beautiful places I could die.
I struggled some more. I looked around for someone who might recognize my plight. Nothing but waves surrounded me. I finally remembered, Swim sideways to beat the undertow!, and tried first doing so by heading north, but the angle of the incoming waters made that every stitch as hard as heading back to sand. I decided then, given that swimming south seemed only more likely to send me more quickly into the stacks, that I would surrender myself to the tide. I allowed myself to rest on the board, the taste of salt in my mouth, the sun on my back, a grand tomb this would make.
I closed my eyes and gave into my fate.
Suddenly, I was on the shore, my feet dragging through the sharp rocks being shuffled just underneath the final break of waves on their several times daily voyage up the shoreline and back out. I looked back out to sea for a moment, stood up, grabbed the board, and looked around to see if anyone had noticed the miracle that was now me walking a hundred yards or so back to our particular spot on the beach.
Web and I drank beers that night around a fire, met some other travelers, and then hiked the trail up into Ecola State Park, where shelters full of French guys hiking the Oregon Coast Trail awaited us. I scored a bunk in one of the simple shelters, Web slept on the base of a Sitka Spruce stump.
It's several years later, and I'm back at Indian Beach, this time with my family. Grandma, the boys, Lady, we're all in nearly the same spot on the beach, I have a fire going, the boys are crafting sticks to cook hot dogs over the fire. We've upgraded to a Ninkasi Total Domination IPAs, in smaller amounts, and no one felt like surfing today, perhaps after hearing my previous visit's story. An hispanic family is cooking up something garlicky a few yards down from us, leaving our impaled hot dogs feeling like microwaved leftovers. Two guys with a young kid, maybe eight or nine years old, are tying a giant blue tarp up to some driftwood at the far end of the beach, making a little shelter while they try and start their own fire to cook scallops in tin foil. A group of incredibly hip hairstyled Asian kids are tucking into wet suits before they gung ho it into the water and are up on their feet in the time it took me to even think about getting mine wet.
Back in Cannon Beach, tourists are taking the easy route and dipping into a variety of shops that sell expensive, ocean-style art, such as a statue of a whale encased in glass and all formed into the shape of a coffee table, or refrigerator magnets claiming that "Life's a Beach, and then You Go Back to Portland". A few US 101 bicyclists stop in at Bill's Tavern to sample some of their local brews, while working vacationers dip into Bella Espresso to get a few minutes of email checking in between updating their Facebook with "how jealous are you" photos.
The guys down the beach have managed to get their tarp strung up to the driftwood, a little to the dismay of those beachgoers who've come for the beautiful view, but apparently in no way to their own chagrin. They have a fire lit in no time, and just as the smoke from their day's homemade cooktop begins to pour out from the roof of their makeshift shelter the rest of us realize why they've gone through such trouble: thick storm clouds begin to wrap around Tillamook Head, and in no time the all too common drizzle of the Oregon Coast begins to spend its own evening at the beach. Though they're the only ones with shelter, it's hard to believe the persistent mist that is a coastal rain isn't seeping in through the sides of their abode, and no one else seems all too concerned as the amount of downpour isn't even enough to cancel out our modest fire. As quickly as they rolled in, so do the cumulonimbus visitors make their way further south or inland or anywhere except over our particular heads.
When it's time to call it a day, we wind our way back out of the moss laden road that connects our vehicle from Indian Beach to the main stretch of Cannon Beach, where Haystack lives, pull over, and walk down a staircase made of driftwood for one last toe plunge into the sand. A sun that can only be seen in this particular stretch of America slowly sets blazing orange and reflecting into the sea as we hesitate to pick it up and head back to Manzanita. It's a common tale to the end of a day on the Oregon Coast, sunset being as beautiful as a post card on a wedding cake and as common as a bathroom break during an extra long Sunday church service. We pack up, pick up and go, the sun disappearing on it's way further west to visit the good people of Asia, just as the moon rises up over the trees to reassure us there's always a celestial body looking down.