Jackery Portable Solar Power Station
There are few possessions in this world that I find valuable enough to recommend to someone else.
I have gifts from loved ones, tokens from friends and family that I could never put a price on. I have a few other things that make my life livable or considerably more easy, such as a laptop to earn money with and a van to travel around in. I love my coffee cup, but another one would do just fine.
This little orange and black box by the name of Jackery, though, has substantially eased our vanliving family's life. It's a portable battery accompanied by a solar panel. It's a portable power station. It's the difference between me running an extension cord from the inverter in the back of my van some night and wondering if I'll use up too much of our van's house batteries typing away at my computer all the night's whatever thoughts come to mind. It's a jump start should we kill the van's starter battery on accident one morning 10 miles down some dirt road and alone. It's a way to get my LiFePO4 batteries back above the low state they may find themselves in which would prevent my Zamp solar charger from wanting to get them going again.
It's a beautiful thing.
Full Disclosure: The folks at Jackery did send us one of these for free and asked for a review. But there are no affiliate links in this article. There was no requirement for a positive review. The following are real experiences born from our actual, happy customer selves after a couple of months of using this thing.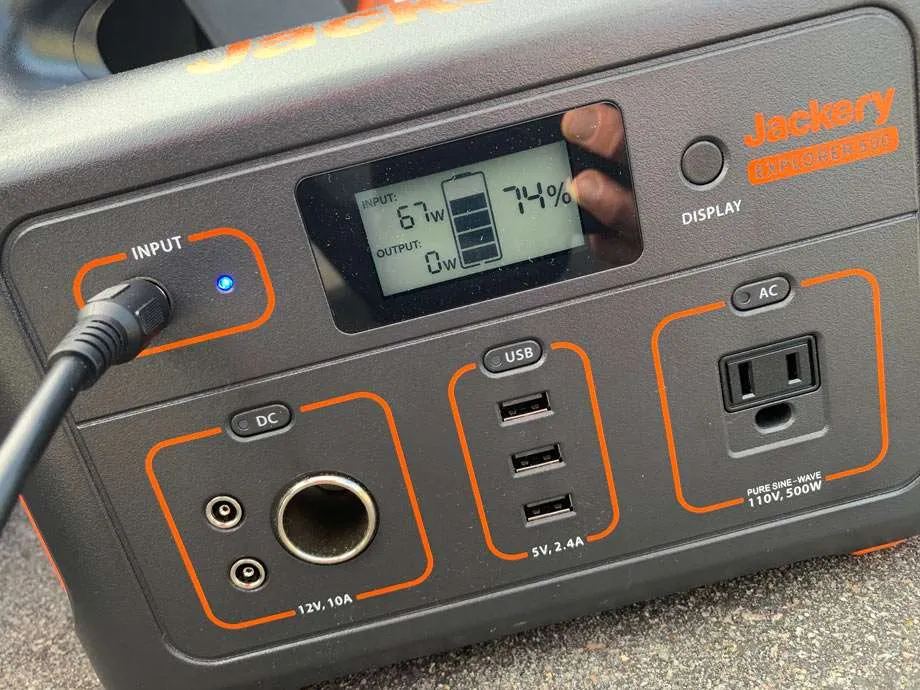 Review of the Jackery 500
Firstly, this is the "vanlife" size for us. When I say "every inch is valuable," I mean it. We're in a Ford E-350, with a pop top, and there are five of us. Our 8 and 9 year olds sleep up top. My lady and our 5 month old get a queen sized bed in the back. I sleep on the bench seat where the boys all sit during the day when we drive. We all have clothes. We eat food. A few tools, less electronics, and there's a small kitchen in here. When people ask us, "Do you want to take these leftovers and this extra blanket with you?" we politely decline the blanket and eat the turkey on the spot, there's just not room to spare. I love to play guitar, but I'd need to get rid of at least one child's clothes and school books to fit one in. We have a decent LEGO collection, and that's about it for toys.
So the Jackery 500 fits into our life in a meaningful way. It's about the size of two shoeboxes stacked and, if I wasn't using it every day, it wouldn't have a place in our rolling home.
What it Does
The Jackery came with a 100w solar panel and a little black case with an AC plug. It can be charged by either. One stormy night as we waited out the aftermath of Tropical Storm Eta in North Carolina's Outer Banks, I got us a hotel and we plugged it into your standard outlet there. Otherwise, we've just been hooking it up to the solar panel it came with and using it as needed.
One port accepts both the AC charger and the solar panel.
It can output via a variety of methods, from the cigarette lighter style 12v plugs to USB, and there's a full on AC inverter style plug too. We've used all three of those in various circumstances already.
Jackery Use Case #1: Secondary Power Source
So we're camping in the Outer Banks, and we have this perfect spot where the van can be parked in the sun all day and soak up solar, but there's a grove of trees behind our campsite as well for daily shade. There's also a picnic table in that area, which will serve as our LEGO table and my office. It's about 20' from the van's inverter, though, and so I'd definitely need to run an extension cord to keep my laptop running all day out there.
Perfect situation for the Jackery, I figured. So, I got to work as usual, running off of the laptop's battery.
I get to work around 7am and by 10am, my MacBook Pro was at 10% battery charge.
I pulled out the Jackery, which was at 100%.
This is one benefit of the Jackery. Unlike my solar charge controller which will tell me vaguely if I'm at 0%, 25%, 75% or 100% battery, the Jackery works like a phone. It tells you exactly what percentage you're at, so no wondering if 13.2v means "80%" or 12.1v means "20%". And while I don't understand everything about battery power, if my phone and iPad and laptop can all report battery percentages, for the life of me I don't know why charge controllers can't reasonably do the same (if none of this makes sense yet, check out our article on solar panel simplified for vanlife here.)
So the Jackery is at 100%, my MacBook Pro, a fairly heavy power hog as far as electronics go, with its 15" screen and "Touch Bar," is at 10%, at 10am.
By 10:40, my Mac was at 54%.
The Jackery has only been drained to 90%.
By 11:40, my Mac was at 100%.
and the Jackery at 74%.
So in an hour and forty minutes I was back to full power. Which, with this laptop, would last the rest of my workday and then some.
I set the Jackery's solar panel and the battery itself in the sunshine and, with the November sun blazing over the Outer Banks, by late afternoon it had recharged back to 100%.
I'd note that though the solar panel is a 100w panel, the Jackery reports 78w coming in, via full sun but also if you plug it directly into an AC outlet, it reports the same.
To have a power bank just for my laptop, and the travel-sustaining life it gives us, would be a good enough reason alone for me to own this little beast.
The next night, however, I used it to power an iPad Pro from 3% to 45%, had my iPhone 11 plugged in and remaining at 100% charge, and powered my MacBook back up from 5% to 100%. By the end of the task, the 100% charge in the Jackery has dropped to 17%. We had all the power we needed to watch a movie, my phone was good to go ahead and deliver me my "after the boys go to bed" Walking Dead (2 episodes) and I had a completely fresh MacBook to work from in the morning. Our solar setup in the van is sufficient to do this all as well, but maybe not all in one post-sunset evening. The van's system has no reason to be taxed at all, ever again, now that the Jackery is just sitting around soaking up its own sun for these needs.
And if we wanted to camp in the shade? Or it rained for a few days? Suddenly I have a secondary source of power independent of the main solar. No need to choose between using the fridge or working for the day. No need to stress if streaming a movie will kill the battery. Just good, clean solar-powered fun for days!
Jackery Use Case #2: Jumpstart Your Battery Bank
Our particular charge controller, a Zamp 30s to be specific, will not recharge our 100Ah Battle Born LiFePO4 battery if it gets below a certain voltage. Which is annoying, because if this happens—even if the sun comes blazing down the next day—we need to jump the battery back to nearly 12v (I don't know the exact voltage it cuts off). I haven't had this issue in the past with other charge controllers and standard deep cycle RV batteries, but for reasons I have no yet explored, this is the case.
One way to resolve this issue is by hooking the Battle Born battery up to our van's starter battery, but that's annoying and perhaps not the best idea all around. Think 20′ worth of jumper cables dangling around, clanking against the metal of the van, and nobody can open any doors while I perform such a dastardly feat.
With the Jackery, and a LiFePO4-specific battery tender, I can just get the necessary charge right out of our little portable power station. This feature all on its own would be worth the space the device takes up.
Jackery Use Case #3: Jump Start Your Van's Dead Starting Battery
One day in the Sunshine State, after multiple days of rain, we went to fire up the van to get the hell out of the mud…except, nothing. Something had drained the starter battery low enough that we couldn't get the thing to start.
It was still raining, but unlike the previous few days of our camping experience in the Ocala National Forest, it was downright dumping hairballs and dog shit. I had purchased this set of jumper cables that Jackery makes (though apparently no longer sells on their website.)
I popped open the hood, stacked the Jackery atop the engine and hooked the cables up to the battery. Ten minutes later the van was ready to get us out of the rain and back onto the road again. Should you find yourself some 10 miles down a forest road someday, this is the type of scenario where your wife and children will finally commission that bronze statue of you as a hood ornament one day. Or at least be grateful for a few hours worth of driving time.
Any one of the uses for this little device mentioned above would be reason enough for me to buy it. Seriously, being stuck miles down a dirt road with no way or one to jump my starter battery? Having a chunk of extra juice to consume whenever I'd like, without consequence to my main battery bank? Just being able to "jump start" my battery bank alone. These are all things the Jackery not only does, but does well, and in a compact form.
Did I mention that I can't recommend it enough?