Downtown Pittsburgh's Market Square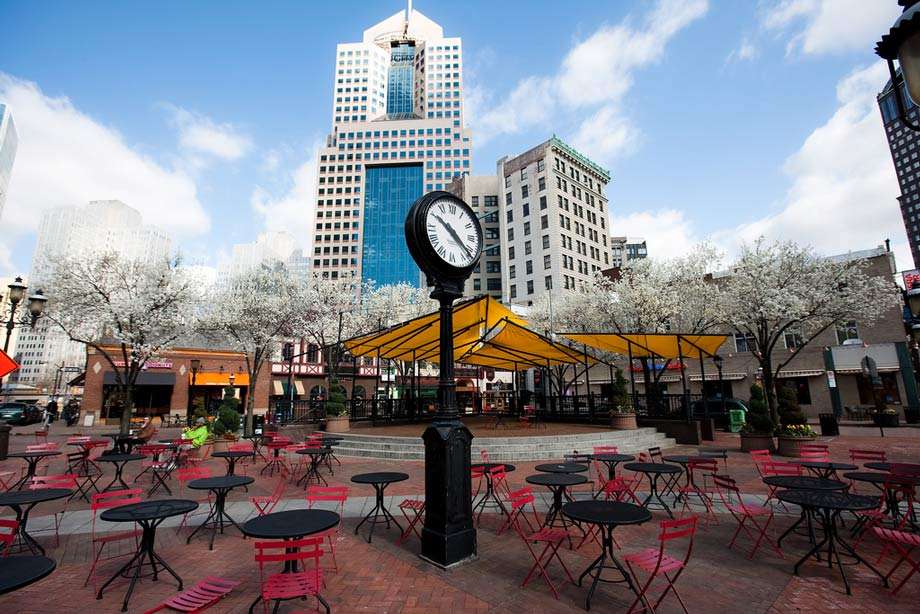 If you haven't heard of Pittsburgh's Primanti Brothers, with their stacked high with meats, coleslaw and french fries sandwiches, you probably have no idea what the Best Sandwich in America contest is.
That's fine, you probably don't have a TV or read magazines dedicated solely to meat, cheese and condiments piled thick between slices of even thicker white bread. No one is judging you, it's just that you should know: you're missing out on life. Or so the folks at Primanti's might want you to think, provided you haven't been before.
They're all over Pittsburgh (and apparently, for whatever reason, in Ft. Lauderdale, too) but we're specifically referring to the location in the downtown pedestrian mall known as Market Square. I've been to this establishment countless times. Sometimes a dude with a local accent thick enough to make the question "Have you ever been in Southside and tried to get downtown during a Steelers game?" come off as "Y'ever been dahna Sahseye'n tryta get dahntahn dur'n a Stillers game, n'at?" and other times a seemingly-trashy-but-really-just-locally-comfortable-in-her-too-shorts-and-tank-top girl have dropped off my Yuengling and sandwich. Always, though, I laugh at the caricatures of the plethora of local sports heros&emdash;Pittsburgh is home to the formerly great Pirates in baseball, randomly great Penguins in hockey, and always spectacular, six time Superbowl Champs, more than any other team in the NFL, the Pittsburgh Steelers&emdash;and the toilet downstairs that feels like you've literally crawled into a relatively clean sewer.
From what you've read so far, you're probably not dying to drop into this somewhere-between-a-dive-bar-and-a-roadside-diner. That is not my intention at all. The sandwiches have made their way onto so many Travel, Food and probably even History Channel shows, and brought home accolades that would make even a trophy shelf in the Manning brothers house look like a pile of plastic participation awards. They're simply fabulous. When she's pregnant, my Lady wants to eat here three meals out of the day when we're in the city, when she's not, she still orders enough to bring home for leftovers the next morning.
But Market Square drops a bomb with a significantly larger blast ratio than just Primanti's. In our college days, I'd sit on the square's former brick walls and write poems which she would later find me doing specifically to have a chance at reading them. They were secret love notes to her, which none of us pretended wasn't obvious, but never quite spoke up about it all the same. The glass walls of PPG Place, literally a castle made almost entirely of glass, reflect the entire city's downtown back to anyone traveling at a slow enough pace to enjoy the view. On St. Patrick's Day, Market Square overflows with drunks celebrating everyone's Irish descent in vivacious inebriation. A monument colloquially deemed the "Tomb of the Unknown Bowler", for it's four bowling ball-esque adornments, is around Christmas time converted into an ice skating rink surrounding a festive tree who's lights reflect a million times back and forth in the the glass windows.
It's a place to have a business meeting over coffee and documents, to picnic with a girl you hope to call your lady some day, or to celebrate some latest festival. Market Square is a micro-testament to the city's transformation, once a block full of bus smoke and crack peddlers, now a modest transformation where anyone can take a seat, read the paper, and sip some late morning coffee.