My Mom Goes
to 8 Mile…For Fun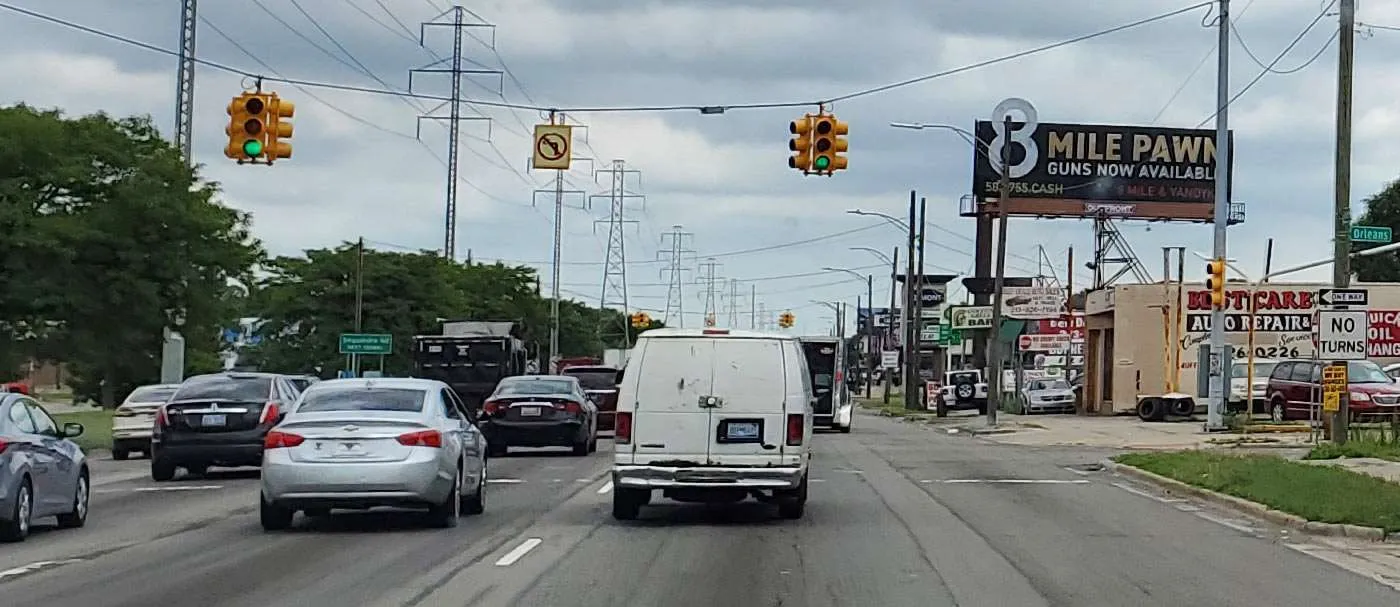 Coming out of what started to feel like an eternity, we left the seclusion of the Upper Peninsula and the inconvenience of its partial hook up RV sites.
State park camping in this area was limited for people like us. You know, the kind of people who have never been ambitious enough to make reservations, even in the height of tacky tourist shirt season. A characteristic of the traveling lifestyle we often leave out of conversations when friends and family ask, "Where are you guys heading off to next?"
"No offense Carol, but it's best we don't know everything about each other, ok?"
However, our cocky attitude was humbled real fast when it seemed most campgrounds in the Midwest could not accommodate our extravagant home on wheels. From Duluth to Detroit, we struggled to find 50-amp service in a 30-amp world full of handheld meat pies and mountains of iron ore.
Ah, excuse me? What's that now? The last time I checked, it was 2020, and this was America.
It had been nearly twenty years since we had been to Detroit. Months into our first year on the road, we crossed into Canada from Motor City, touring our way to Toronto. Before passports were required, all they needed to hear was a simplified explanation of why you were coming in and where you were planning to go. But when Greg, who went into tourist mode, began to ramble off the philosophies behind our untethered wanderings around North America as a full-time RV family, shit got weird.
"Texas, huh?" the customs agent asked as he glared at Greg's driver's license. "Sir, grab your family and step out of the vehicle, please."
Here's a little life lesson for you. If you're crossing an international border with Texas plates, you can bet your ass customs believes in the proverbial idea we carry loaded guns everywhere we go and will tear through your vehicle every time.
Oh, Canada, sorry to disappoint. But we're from Austin, a little blue dot in a sea of red, so we're more likely to have a stash of rolling papers and Willie Nelson CDs. But hey, like I told Carol, "it's probably best we don't know everything about each other, eh?"
Here we were, two decades later, rolling back through Detroit, ready to plug into the first 50-amp full hook up site we've had in months. Though the old, weathered sign out front described this as an 'RV Resort', the waterslide ruins and overgrown picnic areas suggested they should rethink their marketing on Google maps. Greg carefully pulled our giant rig around the remains of an aging trailer park. The feral appearance and roots growing through sewer lines made it difficult to get plugged in. But still, we managed and settled into our creepy accommodations on an uneven concrete pad.
"Where to first?" Greg asked the next morning as we drove straight into the heart of Detroit.
"8 Mile," I answered.
I am fascinated with places that require true grit to dream big yet keep people humble enough to remember where they came from. For every blonde-haired rapper that breaks out of a place like 8 Mile, several more will work that much harder towards their own success. Yeah, that's the kind of place I want to see.
Without hesitation, Greg adjusted the GPS and navigated us into a place most wouldn't dare set foot in.
Vibrant murals painted on the passing water towers outside my window depicted an all-American work ethic that built this town long ago. Though Detroit resembled an abandoned metropolis, glimpses of its people and the ingenuity behind its pop culture history were still alive and well.
"Oh, look! There's a White Castle burger joint", I pointed out.
Neither of us could remember if we'd ever had White Castle, so plans were made to lunch there later that day. Pandemic style, of course. That meant chowing down in the front seat of our truck while trying not to get ketchup all over the leather seats and cowboy stitching.
I'll admit, we were a little apprehensive about heading into the rough crowds and gritty streets of Detroit's 8 Mile. It was somewhat of an awkward time to be there. Black Lives Matter protests were in full effect all across the country. Depending on what news station you get your nuggets from, it was either inspiring or terrifying to step foot in the arena while humankind was in the process of making history.
But within our first few minutes there, things began to feel strangely familiar to me. I grew up in low-income housing while living in some challenging parts of San Antonio for most of my childhood. The little Mexican firecracker I became, as a result, gave me the confidence to know I can hold my own in a place like this. Though Gringo Greg, who grew up on a farm, better play it cool.
Generational mixes of family members, young and old, filled the front stoops in a neighborhood situated off of 8 Mile Road. While some houses had been in shambles with boarded up windows and rotted out rooftops for decades; others were pridefully kept behind chain-link fences. Always under the watchful eyes of long-term residents. Cheap lawn décor that decorated neatly groomed yards provided a pleasant distraction from the copious amounts of defunct dwellings they were sandwiched in between.
As a kid, I played in neighborhoods like this and learned tough exteriors like these often yield to the kindest of people. No matter what, kids almost always use old fashioned prefixes when addressing the elderly watchdogs who sit on the porch, monitoring the neighborhood's comings and goings.
"Mornin', Mrs. Jackson!"
Gah dang, if we weren't in the middle of a pandemic, I'd be out here on foot, hoping to strike up a conversation with these same elders who gestured a friendly wave as we passed by.
Broken down cars made for some tight squeezes as we casually idled our truck down the narrow corridors of housing. A man clothed in tattered rags pushed his lawnmower down the street, reminding us pedestrians have the right of way as he cruised along the side of our passing truck.
I understand this kind of sightseeing might sound frightening to some, but I believe in the theatre of life. Places like this are the stage, and the people of the world are the main act. I promise we also do visit places like the Grand Canyon and Mt. Rushmore from time to time.
As we wrapped up our morning of neighborhood musings, the GPS spit us out into a busy intersection. Before we had the chance to plug our next destination in, we had been thrust into the commercial side of 8 Mile. The busy streets and crowded bus stops were a far cry from the quiet, neighborhood crawl we had just done. Not quite ready for White Castle and unsure of where we were heading next, we simply followed the flow.
Dollar Stores and paycheck cashing places whizzed past us by the dozens, but it was the local retail and its urban couture that caught my eye. Funky designs, brightly colored clothing ensembles and outrageous athletic footwear tempted my unemployed, pandemic budget.
"Champagne wishes and caviar dreams," right?
Apparently, Detroit speaks my fashion language. Neon colors, yes, please. Ghetto fabulous jogging suits, I'll take two. Flair combined with attitude, yep, that's me.
"Treat yourself!" I hollered as I gathered my hand sanitizer and face mask.
Because safety first.
My husband, who switched from the role of Gringo Greg to Sugar Daddy in the time it took to park the truck, obliged my request for some shoe shopping. After all, it's essential to support the local economy and stuff. Never in all my travels have I fallen in love with shopping the way I did that morning. And I'm a Kohl's credit card holder y'all.
Having worked up an appetite and on our way to lunch, we rolled out of 8 Mile. Within seconds, we found ourselves in Detroit's lap of luxurious multimillion-dollar estates. This happened almost instantaneously, leaving us sort of dumbfounded. It felt as if we had magically transcended into this posh zip code because it sure as hell didn't make sense that these two places shared the same coordinates, much less a sidewalk. On the same stretch of road, joggers adorned in Calvin Klein athletic wear filled the view out front while the poverty and strife of 8 Mile still lingered in our rear-view mirror. I had to do a double-take, looking back and forth with my own eyes a few times, to make sure I witnessed this correctly.
"What the fuck" doesn't even begin to describe what it felt like crossing an invisible boundary that granted a life of privilege and wealth to some while others lived on pennies a few steps away. From my experience, it usually takes at least a few miles to drive out of those seedy sides of town. Damn, slow your roll, you Motor City, you.
So yeah, Detroit has mansions. Rich people. Blondes. I get it. Next.
In our travels around the country, we've spent many miles driving around lots of big cities. Most are complicated, dirty, congested, and stressful. But somehow, Detroit didn't abide or subscribe to this. As we toured the heart of the city from the safety of our front seat, its lanes looped us around serene locations with picturesque waterfront views.
The city pace was steady but calm, and the streets were clean and peaceful. Historic buildings were like sculpted pieces of art depicting a long history of genuine work ethic and pride. And just when I thought Detroit Rock City could not get any cooler, I was forced to put the chase on a guy who blazed past me on the highway. Anyone who knows me knows that I'm a huge Sammy Hagar fan. I mean huge. So, I about lost my shit when a red Jeep fully decked out in all things Red Rocker passed me by. I followed those custom Cabo license plates as I darted in and out of traffic, trying to catch up to my fellow geek. The closer I got, the more Sammy Hagar paraphernalia this guy had all over his car. I've never had an orgasm while driving, but this brought me awfully close. Those red and black stripes made famous by Eddie Van Halen came into sight as I finally caught up to him. The two of us exchanged a few waves and a couple of thumbs up before he went his way, and we went ours. For the record, neither one of us was driving 55 either.
Hey Gringo, I'm gonna pull over. I think that sign says Mexicantown ahead. Surely, they don't call it…oh, ok, they do. Cool, cool. I jumped off the highway and slowly steered the truck into Detroit's Hispanic district. I was beside myself as we passed everything about home I had so longed for. I missed the food, the beautiful and friendly people, and most of all, the familiarity and happiness that comes from being around things my culture represents. As a Mexican in Mexicantown, I was on high alert for freshly made tamales, and when I spotted a place, I had us making a mad dash towards its door. Masked up and with our mouths watering, we stood outside counting what little cash we had on hand since they didn't take credit cards. We're in the middle of a pandemic; who carries germ-ridden cash on them anymore? With no ATM in sight and nearing the end of our already long day, we walked away from our first shot at tamales in over a year, empty handed. That's just a pain too hard to put into words, folks. So, I'm gonna leave it at that.
Most places were closed due to the pandemic, so we spent the rest of our drive through Mexicantown admiring all its splendor from a much calmer speed of 35 mph.
It might not have been enough for tamales, but our last stop of the day, a few blocks out of Mexicantown, had us pulling out those dollar bills once again. Pandemic or not, I will forever be the kind of person who stops at a kid's lemonade stand whenever I see one. It's just good for the world, you know. Though everything we do has to be calculated for safety these days, there was no way we were passing an enthusiastic group of young entrepreneurs set up in front of their house.
Before we stepped out of the truck, both of us agreed the likelihood of us eating any food prepared by strangers in a pandemic is next to none. But hey, the least we could do is support their efforts. In true Detroit fashion, we were greeted by a friendly family, making the best out of life with their homemade side hustle.
At the end of a perfect day in a perfectly good ol' American city, we laid the last of our cash down on a few cookies, a couple cans of coke, and a brownie.
Later Detroit.
"You did what?!?" our parents gasped later that night when we informed them of our fabulous adventure around Detroit.
I thought it would be a one-time kind of response. But weeks later, when checking into an RV park in upstate New York, the office lady damn near clutched her imaginary pearls and said the same thing as I reminisced of our time there.
Months later, "You did what?!?" has remained everyone's response, making Detroit one of my favorite cities and travel stories of all times.
Like my daughter told her friends recently, "don't fuck around with my mom. She goes to 8 Mile. For fun".
Oh, and by the way, White Castle sucks. Gross.