7pm: Grab a Slice in Trumansburg, a True Small Town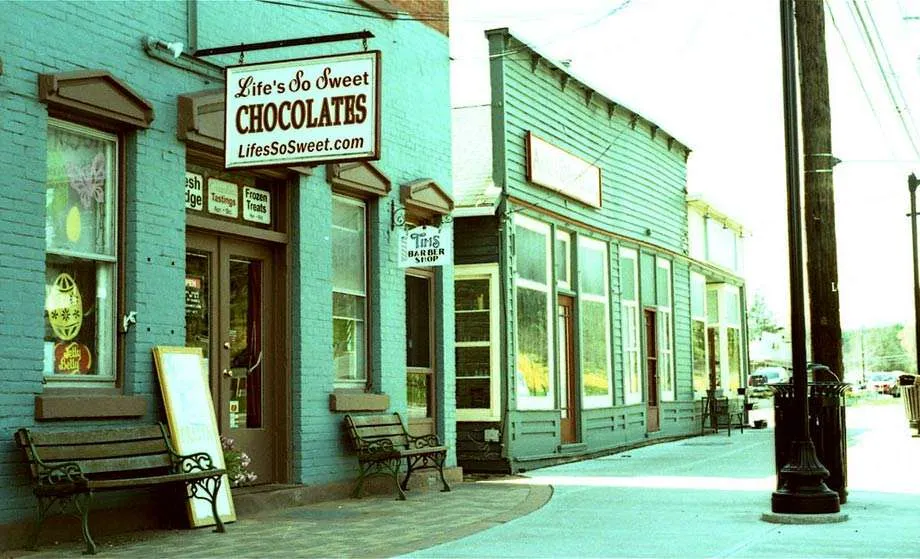 Norman Rockwell is alive and well, living in Trumansburg, New York.
At least, his idea of slow town America is anyway. Devoid of fast food chains, stop lights and just about any reason for anyone to carry a briefcase, this 1800 person town is quintessentially Main Street. A chocolate shop, an antique store and B&Bs pepper the actual Main Street running through the center of town and wearing restaurants like too many earrings. A small river relaxes its way underneath it all and between old brick buildings harking back to town's late 19th century inception.
Bob Moog pioneered his electronic synthesizers here. Where mills and general stores once served the surrounding agricultural area, though, long gone since the days when the road to Ithaca was too rough for most self-respecting ladies to travel, today Trumansburg is primarily a tourist destination and most of its residents either facilitate that cause or have chosen to remove themselves from the smaller yards and tighter quarters of the city south.
The Rongovian Embassy to the US, colloquially known as the Rongo, is one of those small town bars that actually manages to bring in big name acts. You can toss back great beers with your buddies while bands from across the country ring true in your ears, or take the family over for a meal and a little chit chat with the locals.
A barber in town cut my hair and offered a straight razor shave. I declined the latter but he chatted me up full-time about every random goings on in the town and never once bothered or assumed I wasn't a local.
To us, Trumansburg is the epitomy of what every small town should be. Smiling faces on this side of the street, children petting stranger's puppies on the other side. Vivid gorgeous autumns and sled riding winters. A pizza shop where they know what you like and can recognize you over the phone.
We slipped into New York Pizzeria, a tiny pie shop on the bottom floor of a three story brick structure which, like most other buildings in the downtown, has probably seen more businesses come and go over the last fifty years or so than there are pepperonis on a pizza. They're serving exactly what I think of when I hear the words "New York pizzeria": thin, floppy slices, each one large enough to be used as a bikini bottom and sauce sweet enough to ask to your high school prom. They pretty much strictly do pizza, and they do a damn decent job at that.
If you long for the days before Papa Johns was the defacto standard for American pizza pies and wish for a town where the milkman and the paper boy might actually still be in business, be sure to round off a day spent driving around the lake, or just a twenty minute drive north of Ithaca, here in what's left of the 1950s.