A Walking Tour of Pittsburgh's Music Scene with local DJ and tour guide Ian Friend
The notion that Pittsburgh was a thriving music scene was never one to cross my mind.
During my tenure in the fair city I had the opportunity to witness a few great shows, from Roger Waters to Devendra Banhart, but aside from those, once catching Slash open for Billy Idol, and a Rancid concert, finding music I loved in the City of Bridges was as easy as getting from Southside to Northside. That is, difficult to figure out where to go and by the time you get there, wondering was it even worth it.
That's not to say the city is absent of sound, or always has been. Jazz thrived downtown and moreso in the Hill and East End neighborhoods. Hip hoppers Coolio and the RZA hail from Allegheny County, as does pop diva Christina Aguelera, hippy sound experiment Rusted Root, cock rocker Donny Iris and political punkers Anti-Flag. The city hosts a massive festival at the Point, a state park at the tip of where the three rivers, the Ohio, Allegheny and Monogahela, convene. The Three Rivers Arts Festival has hosted acts the gamut of Kris Kirstofferson and Andrew Bird, the Blind Boys of Alabama and the Black Keys.
But where does one go to find local music? The guys toting around their own equipment today, who'll be selling out festivals of their own in the years to come?
We spoke with local DJ and my former college roommate, Ian Friend, about what's been going in, on and around the Three Rivers as of late. Ian's been spinning records in Pittsburgh since 2001 at places like the Lava Lounge and the Smiling Moose, both in the Southside. He's agreed to take us on a tour of the best spots to hear music in the city.
"I first started out playing independent dance friendly music," he goes on to name a few bands I'd neither ever heard of, nor could find much about on a quick Google search, always an intimidating sign when speaking with anyone in the music scene, and nothing leaves you feeling older and out of touch with "the kids these days."
"But," he progresses, "I got tired of that whole scene and turned away from playing that type of music. There was simply too much music coming out every week to keep up with and the crowd began to shift on to other things." Ian went on to spinning Motown and rarer soul and funk records, which is where he's found the current groove he's been metaphorically spinning through for the past several years. He talks about Northern Soul, which as he describes it originates with mods from Northern England finding their way in a 1970s world where hippies and disco were overtaking the airwaves. To hear him speak it, he's playing the music of the working man from an era when bell bottoms could be covered in patchwork and flowers or cocaine and sparkle. It's punk rock from a time before the Sex Pistols in a year where we seem incapable of another music revolution. It fits perfectly with Pittsburgh, which is in and of itself kind of a punk rocker of a city, just now finding its major label legs.
"It's just deep music that happens to have a dance friendly beat. It's passionate, gritty and hits you right in the chest." He goes on to admit, though, that "it helps these days to have a background in punk rock in order to totally understand northern soul. It's fast uplifting music that has all the raw emotion and energy that any former punk rocker would crave." He talks about a sort of melting pot of music that's finding it's way into the local scene.
"I am trying to take my audience on a virtual tour of the late fifties through today while still staying true to the soul music core. I want to achieve a true music experience unlike anything else happening in Pittsburgh."
Ian doesn't bring in stadiums, but in the post-Napster, post-album world we live in, where the best bands are choosing to make their records on Macbooks and the MTV generation is only now learning how to use iTunes, he's part of the new world of music. One that is about rediscovery as much as it is reinvention.
"DJing in Pittsburgh is unlike any other city I have ever been to. This city will eat you alive because there are literally hundreds of DJ's in this city. There are parties ranging from soul and funk nights, to hip hop, to EDM nights and even a bunch of hipsters playing whatever they have on their laptops. Each party has its own atmosphere and the competition is pretty fierce. Some parties feel like intimate house parties and others like the ultimate European clubbing experience." I ask him where he'd send someone, which direction he might point a young and clubber looking to shake whatever groove thing God gave their particular money maker.
"Title Town is a soul and funk party," which he describes as a more hip hop oriented affair that brings in a big crowd, typically, to fill the Shadow Lounge, a former coffee shop gone full blown bar, music venue and club. He talks about Title Town doing something similar to his own gigs, but admits that "The Shadow Lounge is one of the best places to see live music and DJs in Pittsburgh."
Located in the "created" neighborhood labeled East Side, which is really just a stretch of the formerly poorer, predominantly black neighborhood of East Liberty–where it butts up against the railroad tracks dividing it and the more affluent Shadyside–, the Shadow Lounge is the type of place where you can see what a city that largely embraces racial and cultural integration is capable of.
"They cater to a very diverse crowd," Ian continues, "despite the fact that they were originally started in a predominately black and lower income neighborhood. Due to severe gentrification this neighborhood is beginning to become much more geared towards young people with money than the hard working lower income families that have thrived there for ages. The music has a heavy hip hop, reggae or jazz influence; however they have had many types of shows put on throughout its long and productive life."
Headed west into the city, Ian takes us to Bloomfield.
"The Bloomfield Bridge Tavern is a bar/restaurant located in," you guessed it, "Bloomfield, which is where I live now, and is host to a drum and base/EDM dance party that is unlike anything I have ever experienced. They have a very hardcore fan base and pull out everything in their imagination to make their parties a true 'rave-like' experience. They pull out everything from lights to homemade costumes to gimmicks in order to give their fans the ultimate party experience." He also goes on to extol a side effect of partying with the DJs at the BBT, that it's a Polish restaurant and therefore comes stocked with that particular blend of ethnic food and drink. Think Mrs. T's pierogies without the frozen box.
"Bloomfield is also host to my local stomping grounds which is Howler's," a venue just up Liberty Avenue from the BBT. "This is one of my favorite places to see bands. It has a very close knit crowd of regulars but is always filling with curious people looking for something new and different. The drinks are moderately priced and the bar is dark. When there is not a live show the juke box is always playing an eclectic mix of everything from classic rock to indie rock, soul music to hip hop or country music to oldies. The crowd there is as diverse as the segregated city streets. I have seen everyone from Wanda Jackson to the local Punk Rock Karaoke band. This place has a great sound system and they will even record your band and give you a live recording of your show. The only drawback to this bar is that it happens to be cash only."
I've been lucky enough to hang out at Howler's. It feels like a party in your friends basement but instead of your friends showing up, it's a thick, hot mess of sound and people who look like they've walked out of a White Stripes video. If you're into a good, loud time, it's the kind of place you're looking to find yourself. BYO tattoos, for sure.
Taking us to the edges of Bloomfield, before it descends the hill into Lawrenceville on Penn Avenue, Ian calls it like it is. "The Brillobox is the crème de la crème of hipster hangout. You walk into an intimate downstairs bar that looks like something straight out of New York City. Then you go up the steep stairs to the venue portion of the club. On any given night you can see any number of indie rock banks or any number of DJ's trying to bring you a night of pure pleasure. The upstairs venue is not extremely big but has enough room to accommodate some pretty popular music. This is the ultimate place to hang out if you are in your early to mid-twenties, ride a fixed gear bike and wear terrible clothing that you purchased with your parents money. This is no my favorite hangout but many of the locals love it and they have an impressive vegetarian and vegan menu. If you are into the hipster pseudo indie lifestyle this place is a must."
I chuckle, because it's true. A friend of mine once got cursed out by a manager at Brillobox for laughing about some graffiti on the bathroom walls. The place is decorated like a scene from Mad Men but the clientele is more likely to be wearing their little brothers skinny jeans than a coat and hat. Still, it's an experience worth observing, and if you were to stay downstairs, with the velvety red walls and good beer selection, you'd never know that a host of sweaty too coolers was dripping on one another like a Clockwork Orange inspired root canal above.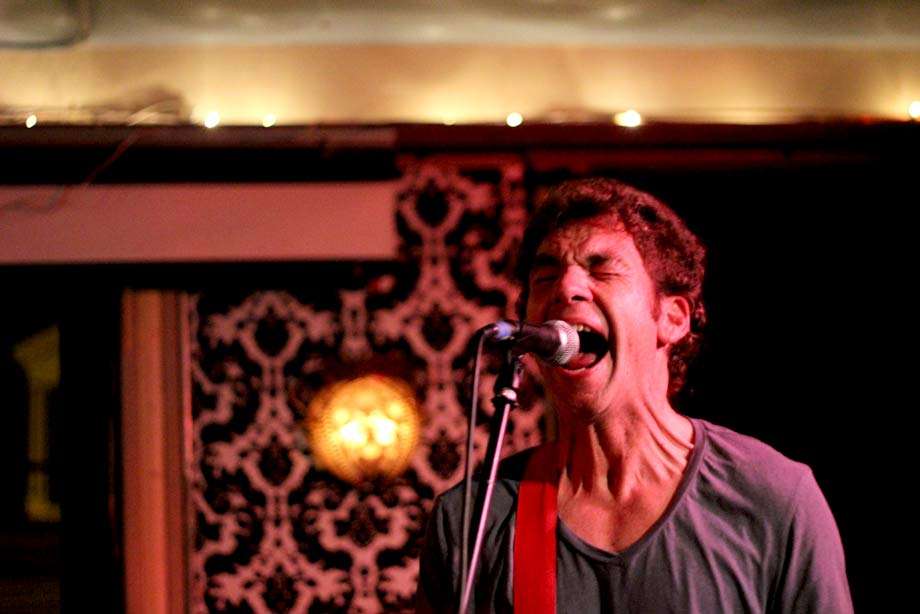 Ian takes us down the hill, into Lawrenceville next. "Similar to the Brillobox is Remedy…the dive bar version for the Brillobox but boasts three stories, a back patio and an even more impressive beer selection. This is one of the bars that I used to DJ a reggae, ska and rocksteady night at. This night was mainly punks and skins getting down to the vintage reggae sound. Always a great time and always a very drunken night for me. This bar now hosts many electronic dance parties from straight up techno to indie music like MGMT blended with hip hop and groups like the Buzzcocks. They have a pretty great menu of food and proudly display local artwork that is for sale. A very interesting bar to say the least and a great place to check out while you're in town." He goes on to push the idea of just hitting Lawrenceville hard if you're looking for a good selection of unique bars, restaurants and music in general. "That's always a great place to start when coming to Pittsburgh. You can literally walk up and down Butler Street and find multiple places worth checking out. They have everything from the Round Corner Cantina, Belvedere's Ultra Dive, The Thunderbird Café, Hambones, Arsenal Cider House and New Amsterdam, just to name a few. There are also unique shops and boutiques like Pageboy Salon and Boutique, Wild Card and 720 Records. Lawrenceville has and will continue to be the up and coming neighborhood that is flooded with new and old talent alike."
He mentions the 31st Street Pub in the Strip District as a punk rocker's, metal banger's landmark in Steel City. "They have risqué bartenders during the day and at night the loud and proud come out to drink the night away to the best rock and metal bands to be found."
He rips on the Southside a bit, playing up on its reputation as the puke stained bathroom that is the morning after Pittsburgh's turn of the century party. "On the weekends you can expect to find everything from ultra-drunk 20 something's, locals that grew up on its rough streets, college students seeking the best parties, suburbanites looking to rebel from their bland surroundings and the gangster contingency looking for a release. This is the neighborhood that some people avoid like the plague and others flock to for the excitement. There are however, quite a few gems on the south side, or sah'side as most yinzers would pronounce it." Yinzers is the colloquial term for hardcore, old time locals in the city. Multi-generationals who have somehow turned the phrase "you all" into "yinz".
It's not all bad news and walks of shame, though, Ian admits. "Dees Café is the local dive bar that many people in Pittsburgh have basically spent their buffing lives in at one time or another. It boasts ornery bartenders that lighten up the more they get to know you, pool tables, juke boxes and cheap beer. What more can you ask for in a dive bar. They do not have DJs or live music but is surely worth a mention.
[ad p="6297″]
"The Smiling Moose is the former punk rock bar turned middle of the road republican. They have turned the downstairs bar into a wannabe upscale restaurant with decent food and the upstairs live venue space is host of everything from high school indie bands to old school punk acts looking to make a return to the stage.
"The Lava Lounge is a bar that is decorated and sculpted to resemble a factory built under a volcano. It's a very chic place but they have a great selection of rotating beers and are host to everything from a drunken spelling bee to karaoke to indie bands, 80's nights and my own soul and funk party. The Lava Lounge to me is a bar that has the best of both worlds. It has locals that have spent the last twenty years there, bar crawlers seeking somewhere to party, to people just looking for a place to saddle up relax and forget about a hellish work day or lost love. It is one of those places that's generally pretty busy but not overwhelmingly crowded. The only drawback of this bar is that people have one hell of a time finding the restrooms."
Ian brings us back to the East End on our tour of the Three Rivers, to Polish Hill, a neighborhood situated sort of below Bloomfield, out of the way, but worth the trip down into the valley.
"Gooski's and the Rock Room," he mentions specifically. "Polish Hill is host to traveling squatters, hard working class citizens, punk rock party houses and young people just seeking an affordable place to purchase a home. It's a cavern of twisty and steep hills and ultra-cheap drinks. Gooski's is a place that I spent much of my early to mid-twenties. They are the ultimate dive bar in my opinion. A very large selection of microbrews and imports, all decently priced and they have probably the best juke box in the entire city and boast some of the most creative bands I have ever seen. The Rock Room is not far from Gooski's and is the perfect place to get a $1.00 Pabst Pounder and listen to some live music. It's a fairly small bar that is always filled to the brim with cigarette smoke," Pittsburgh being one of those few places left where some bars (and the state government) still allow smoking, "and those looking to drown their sorrows. They are host to everything from rockabilly DJ's to extremely loud punk and oi! bands. It is a hard venue filled with hard as nails patrons that just want to revel in loud music or drown their sorrows. I personally have a love/hate relationship with this bar but inevitably end up there every few weeks to see some bands."
Indeed, I've found myself a few too many in Polish Hill and wondering how I would get out of the trenches, even if I had a ride, was there a way back up to the surface?
As for acts coming out of the 'Burgh, Ian has faith.
"Pittsburgh to me is truly a diamond in the rough when it comes to music. There are many great musicians and performers in this city. You can find anything from bluegrass to rockabilly to reggae. You can turn the corner and bump into five different musicians that are each in three different bands. It's amazing to me that you can see a good show seven days a week here."
Ian goes on to mention a dozen acts or so, "Elliot Sussman who is a great dust bowl type of musician that does everything from a one man band to collaborations with artists from around the country. The Armadillos are Pittsburgh's own Americana band. The Pressure, the only true rocksteady band in the city. They play a classic mix of rocksteady, ska, two-tone and skinhead reggae. Always a great time and some great friends of mine. The Harlan Twins are favorites to many people in this city and they play a mixture of Folk, Southern Rock and spaced out psychedelic sonic landscapes. Donoroa are Pittsburgh's pop sweethearts and play often at places like Brillobox. Oh Shit They're Gonna Kill Us play a spastic mix of punk rock and 80's style heavy metal. Kim Phuc is a punk band that cannot truly be categorized. The Silver Thread is a tonal assault of rock-n-roll reminiscent of the Velvet Underground with but an ultra-modern aesthetic. Drugula grab a hold of the epic weirdness and wrap tightly in a psychedelic drug induced haze. They are one of those bands that truly understand their roots but always try to push the limits of the psychedelic rock medium. Then we have working class heroes the Tradionals who's blend of punk and Oi! have earned them legions of fans all over Europe and the Iron City Hooligans who were recently signed to Rebellion Records. This could go on forever because as I expressed earlier there is literally and endless supply of talent in this city and sadly I do not have time to take it all in."
So how does one make a decision with all of this neighborhood spanning, seven nights a week music to choose from? "The answer to the $500,000 question is simple, "Ian lays it out. "Just follow my leads, pull up a barstool and talk to the locals about their favorite haunts. Don't be afraid to seek out a good time because the best places here can often times be the hardest to find."
Just when I assume the tour's over, Ian—an actually rather calm guy for being such a party loving music goer—explodes with a last bit of advice.
"Damn! I almost forgot the best thing about Pittsburgh! Jerry's Records, The Attic Records, 720 Music, Sound Cat Records, Mind Cure Records and D&J Records in Carnegie." I guess the end result is, if you don't like what you hear and can't find what you do like, then get your ass into the studio and making something you do.